by
Jordan Roberts
Racer X Race Report: Indy
Sunday, March 17, 2013 | 12:30 AM
Since 1968,
Thor
has maintained its position as a top motocross apparel brand. From trails, deserts, to the most famous racetracks in the world,
Thor
supports racing on the track and off with its sponsorship of race reports.
Tweet
Ryan Villopoto is officially on a roll. The Monster Energy Kawasaki rider has now won four out of five races in the series with his only recent defeat coming from that of James Stewart. Marvin Musquin is now starting a streak of his own, securing wins in both the heat race and main event after his first career supercross win at Daytona. However, few could have guessed the way the night had played out simply by reviewing the results.
The results of the heats and LCQ didn't come as a surprise to many—Ryan Villopoto and James Stewart took wins in their respective heat races while Weston Peick and Bobby Kiniry duked it out in the LCQ for the two transfer spots. Not exactly exciting on paper, right?
The main event took a quick turn soon after the gate dropped. Mike Alessi, Jake Weimer, Bobby Kiniry and Justin Sipes went down in the first turn. Many other riders were tangled in the mess but were able to escape the carnage.
James Stewart and Davi Millsaps found themselves leading into the second corner, and Millsaps was able to prevail over Stewart upon exiting the 180 degree bowl-turn. Fast company followed the two riders. Matt Goerke nailed an excellent third-place start with Ryan Villopoto and Ryan Dungey following to round out the top five. Villopoto made quick work of Goerke in the first lap to move into third. Stewart was also able to move past Millsaps and into first on the second lap.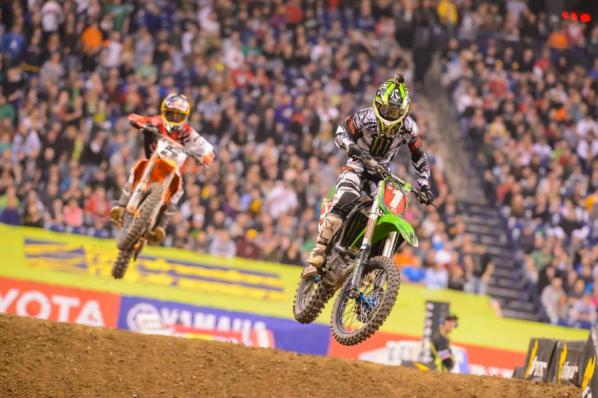 RV and Dungey had an epic battle in Indy.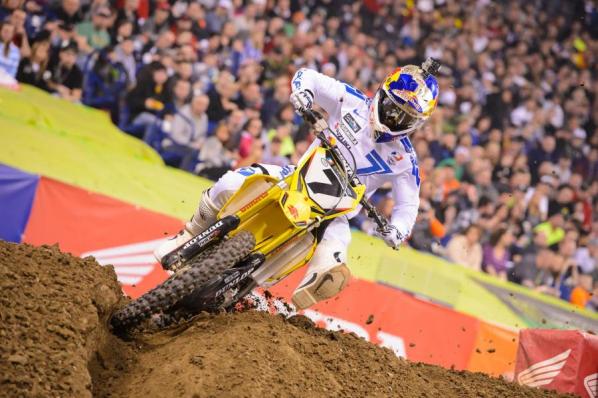 Stewart came back to finish third.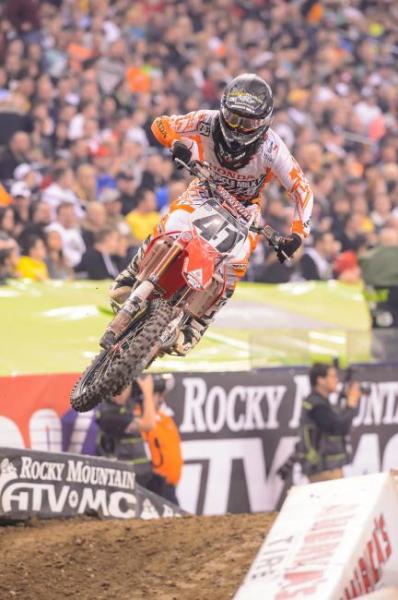 Canard is okay after a big crash in Indy.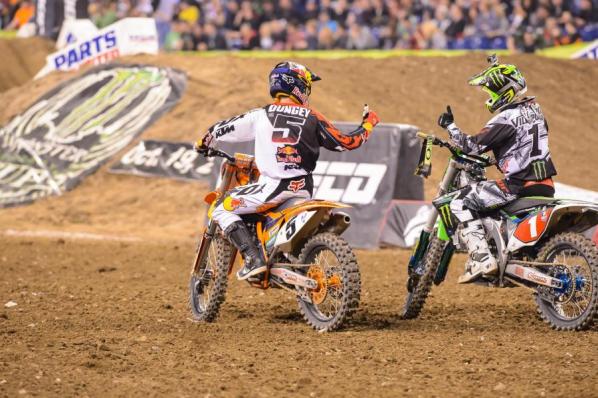 Mutual respect.
Simon Cudby photos
More chaos ensued when Justin Barcia and Trey Canard crossed the finish-line jump at the start of the third lap. It was difficult to tell if the two made contact midair, but something led to Canard getting whiskey throttle upon landing. Trey slammed hard and ended his night, but was able to walk off the track under his own power. We talked with his team after the race and X-Rays came back fine on his shoulder. We later saw Canard in the pits, bruised but not broken.
Villopoto caught and passed Millsaps at the end of the fourth lap, but Millsaps fought back to regain his position until ultimately losing it to Villopoto by the end of the seventh lap. Dungey was close to the two as well. Meanwhile, Stewart had a slight tip-over in an off-camber turn and stalled his bike. He wasn't able to restart it immediately and fell outside of the top five. Dungey pushed past Millsaps shortly after.
Halfway through the race it was Villopoto, Dungey, Millsaps, Short, Stewart, Barcia, Goerke, Tomac, Reed and Peick for the top ten. Stewart snuck past Andrew Short and into fourth just past the halfway mark.
Dungey lost and gained ground on Villopoto throughout the rest of the race, but was never able to show Villopoto a wheel. Stewart caught Millsaps and inherited third after Millsaps washed out in the corner following the finish line. The podium awaited Villopoto, Dungey and Stewart.
Marvin Musquin won his heat race in convincing fashion over the likes of Jimmy Decotis, Jeremy Martin, Cole Thompson and Kyle Peters, while Blake Wharton capitalized on a chaotic start to win the second heat. Dean Wilson crashed hard on his own while fighting for the lead with Justin Hill shortly after the start. Hill held on for second, with Wil Hahn rounding out the podium. Wilson got back on the bike after much delay and cruised for a couple laps. He and Zach Bell were sent to the LCQ after their crashes. Bell showed up to win the LCQ, but Wilson went to the hospital to be examined.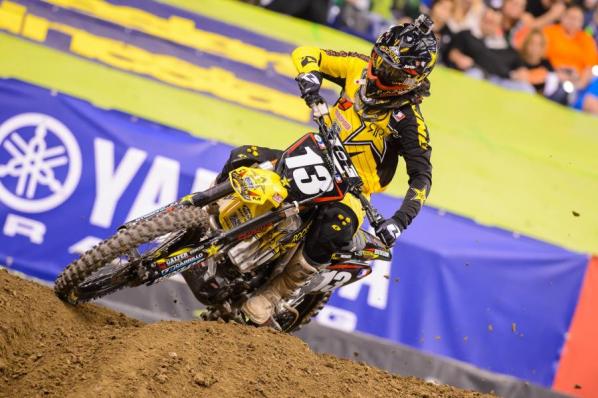 Tough break for Blake Wharton, who threw away a late lead.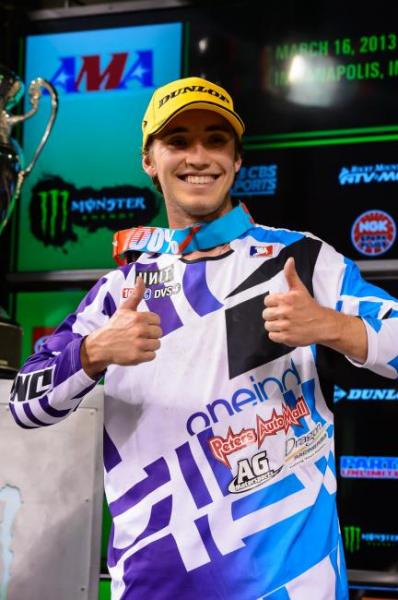 Kyle Peters scored his first career podium in Indy.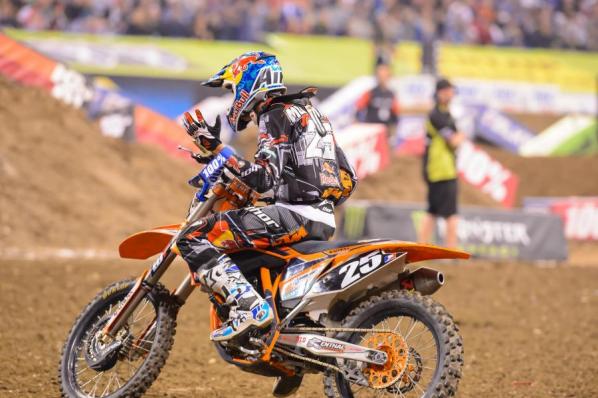 Two in a row for Musquin.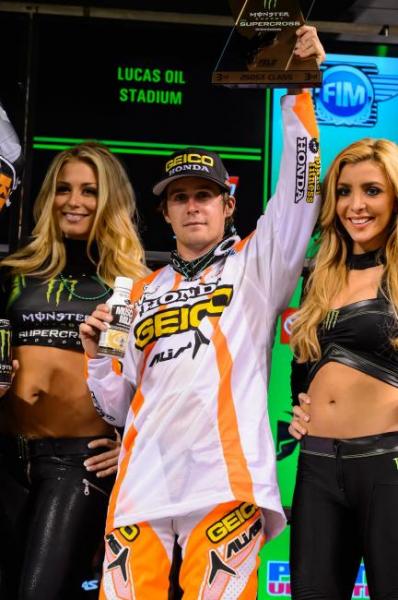 Wil Hahn is still the points leader after a third in Indy.
More chaos arose in the start of the main event when two long tuff blocks were dragged onto the track by riders fighting through the first turn. Wharton escaped it and shot out front, but a handful of other notable riders weren't so lucky. Caught up in the tuff blocks were points-leader Hahn, Musquin, Larsen, Jeremy Martin and more.
These riders had to fight through the pack while Wharton, Peters and AJ Catanzaro upheld the top three positions and began to stretch out their lead. Between Musquin and Hahn, Musquin was able to move through the pack just a little bit better, but they both made up ground considerably quick. The two riders made it inside the top five after the halfway mark, but didn't settle there. Musquin rode determined and passed Peters for second, but Wharton seemed to have the win in the bag.
In an incredible turn of events, Wharton crashed in the whoops with half a lap left in the race. Musquin inherited the lead, Peters second, and Hahn made it past Catanzaro for third. Wharton was able to get back on his bike, but his win was gone. Musquin continues his win streak, Peters secured an impressive first-time podium with second-place finish and Hahn held onto the points lead with a third. Catanzaro finished a career-high fourth and Wharton salvaged fifth (Update: Wharton's final position was readjusted by the AMA for cutting a portion of the track after his crash. Official results placed Wharton in ninth by night's end.)
450 Overall
1. R. Villopoto
2. R. Dungey
3. J. Stewart
4. D. Millsaps
5. J. Barcia
6. C. Reed
7. A. Short
8. M. Goerke
9. E. Tomac
10. W. Peick
11. B. Tickle
12. J. Hill
13. J. Brayton
14. P. Nicoletti
15. K. Partridge
16. J. Sipes
17. M. Alessi
18. R. Kiniry
19. T. Canard
20. J. Weimer
450SX Class Season Standings
1.      Ryan Villopoto, Poulsbo, Wash., Kawasaki, 227
2.      Davi Millsaps, Murrieta, Calif., Suzuki, 218
3.      Ryan Dungey, Belle Plaine, Minn., KTM, 210
4.      Chad Reed, Australia, Honda, 178
5.      Justin Barcia, Ochlocknee, Ga., Honda, 168
6.      Trey Canard, Shawnee, Okla., Honda, 165
7.      James Stewart, Haines City, Fla., Suzuki, 155
8.      Andrew Short, Smithville, Texas, KTM, 136
9.      Justin Brayton, Fort Dodge, Iowa, Yamaha, 112
10.   Broc Tickle, Holly, Mich., Suzuki, 109
250SX
1. M. Musquin
2. K. Peters
3. W. Hahn
4. A. Catanzaro
5. J. Hill
6. V. Friese
7. M. Oldenburg
8. G. Faith
9. B. Wharton
10. P. Larsen
11. S. Clarke
12. J. Decotis
13. Z. Bell
14. Z. Freeberg
15. L. Kilbarger
16. C. Thompson
17. D. Herrlein
18. J. Richardson
19. L. Vincent
20. J. Martin
Eastern Regional 250SX Class Season Standings
1.      Wil Hahn, Decatur, Texas, Honda, 112
2.      Marvin Musquin, France, KTM, 103
3.      Blake Wharton, Pilot Point, Texas, Suzuki, 88
4.      Dean Wilson, Scotland, Kawasaki, 87
5.      Kyle Peters, Greensboro, NC, Honda, 67
6.      Justin Hill, Yoncalla, Ore., Kawasaki, 67
7.      Vince Friese, Cape Girardeau, Mo., Honda, 65
8.      Jeremy Martin, Millville, Minn., Yamaha, 53
9.      Gavin Faith, Fort Dodge, Iowa, Honda, 53
10.   James Decotis, Peabody, Mass., Honda, 52
Share this article:
Did you like this article?
Check out MOTO GIFT GUIDE
in our Latest issue of Racer X available now.

Our annual gift guide has something (or maybe even a few somethings) for everyone on your holiday list. Page 146.
Look for the verified symbol
The Conversation