Racer X Race Report: Denver AX Night 2
Sunday, March 17, 2013 | 9:05 PM

Since 1968,

Thor

has maintained its position as a top motocross apparel brand. From trails, deserts, to the most famous racetracks in the world,

Thor

supports racing on the track and off with its sponsorship of race reports.

Tweet

By Dave Deringer

Team Faith Fly Racing KTM's Jeff Gibson swept both main events on the final night of AMSOIL AMA Arenacross in front of a packed house at the Denver Coliseum, but it was Monster Energy Amsoil Babbitts Kawasaki's Tyler Bowers who took a second overall on his way to capturing his third straight Arenacross title.

Gibson, the veteran, Ohio-based rider, was only five points behind Bowers going into the night. But Bowers would add another point after winning the head to head bracket race later in the night over his teammate Zach Ames.

Gibson holeshot the first main event and set sail. The 2009 Arenacross champ knew he had to win both mains and have a little luck on his side via a miscue by Bowers if he wanted to secure his second title.

But Bowers wasn't about to let that happen. He started in third just a few sports behind Gibson and Gibson's teammate Kelly Smith. Bowers and Smith had a few run-ins throughout the year, so it was setting up to be an intense battle, but Bowers got by Smith cleanly on lap four and Smith didn't retaliate with much of a fight.

Gibson had a healthy lead and he would take it to the checkers as Bowers closed in on the final laps. Bowers teammate Ames would also get by Smith in the later stages of the 12-lap race and came across in third.

"Well, I only gained one point on him here so were back down to five," Gibson commented on the results. "I guess it will all come down to this final race."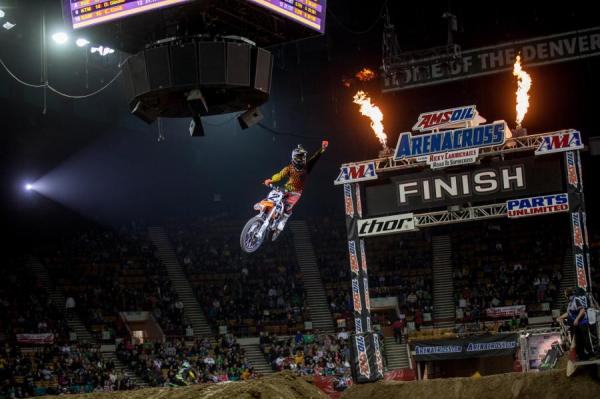 Gibson ended the year with a bang. Two, actually, with double main event wins.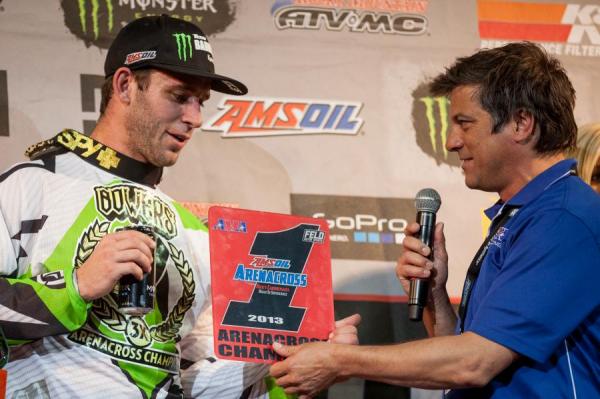 But Tyler Bowers is once again the AX Champion. Here, the AMA's Kip Bigelow presents him with his third-straight title.
Courtesy Arenacross
With the number 16 briefcase picked by the crowd, all the riders' gate picks would be inverted for the second main event. Moose Racing Cycra's Michael Willard was the early leader of the second main with local hero Travis Bannister, Mandingo Pickles' Dave Ginofi and Spinechillers KTM's Nathan Skaggs in tow. Gibson rocketed out of his second row gate pick and was fifth while Bowers was near the back of the field in 14th and had his work cut out for himself.
Willard led for several laps as Gibson moved his way into second quickly. Gibson would make his pass on Willard for the lead on lap eight as Bowers was now up to seventh. Ames, who started sixth would get by Willard next, and was up to second.
With the laps winding down, things reached nail-biter status, as Bowers needed a few more spots to firmly secure the title. He did it in the closing laps as he dug deep and passed Mike McDade, Willy Browning and Willard for the final podium spot in what was truly a championship ride.
Gibson won his second main event of the night, but in the end, it was Bowers and his second place overall finish on the night that would wrap up the title by a mere three points.
"I knew what I had to do tonight and I had some weird issues in practice but the people behind me made it all work out," Bowers said. "I broke my collarbone a few weeks ago and didn't tell anyone about it and we got through that and some other things and we pulled it off. It feels real good right now."
Gibson was happy with his ride but as expected, was slightly disappointed with second overall in the series.
"Tonight's results were great and haven't done that all year so I'm super happy about that," Gibson explained. "But, man I really wanted another number one plate. I'm getting toward the end of this career and not sure if I'll be able to fight for another title much longer."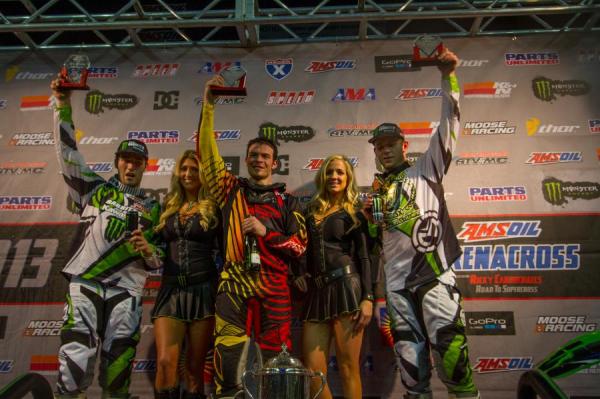 (Left to right) Ames, Gibson and Bowers on the box.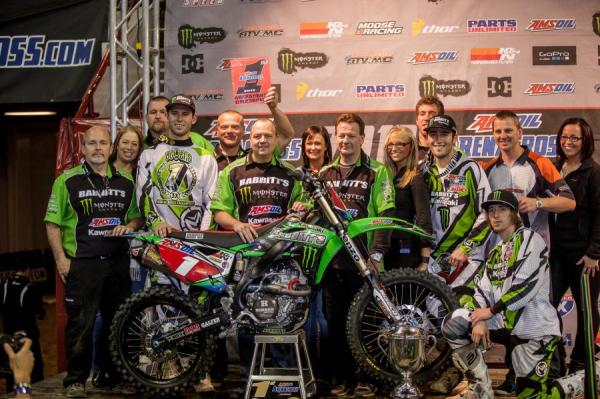 Then the deck was clered for the championship celebration.
Courtesy Arenacross
Letko KTM sponsored Tanner Moore grabbed the early lead in the Lites final and took off for a wire-to-wire win. Friday's winner Maxx Malatia on his BWRengines.com FHK Alias backed Honda rode to a safe and consistent second place result behind Moore, and with that finish, Malatia would also lock up the Western region Lites Arenacross title.
"We're just having fun racing the Arenacross series and I ended up winning it," Malatia explained of his first AMA title. "I have to thank all the sponsors that supported me and the team this year for their help. This is unreal."

Saturday night results:
1. Jeff Gibson  KTM  1-1
2. Zach Ames  KAW 3-2
3. Tyler Bowers KAW 2-3
4. Mike McDade KAW 5-6
5. Kelly Smith KTM 4-7
6. Willy Browning KTM 7-5
7. Nathan Skaggs  KTM 6-8
8. Michael Willard KTM 12-4
9. Daniel  SUZ 8-10
10. Tanner Moore  KTM 11-9

Arenacross Lites:
1. Tanner Moore KTM
2. Maxx Malatia HON
3. Travis Bannister KAW
4. Cody Church KAW
5. Scott Zont KTM

Arenacross Final Point Standings:
1. Tyler Bowers 146
2. Jeff Gibson 143
3. Zach Ames 135
4. Mike McDade 112
5. Kelly Smith 108
6. Willy Browning 98
7. Daniel Blair 88
8. Nathan Skaggs 85
9. Dave Ginolfi 82
10. Gared Steinke 69

Arenacross Lites West Final Point Standings:
1. Maxx Malatia 106
2. Kyle White 87
3. Michael Lang 86
4. Tanner Moore 81
5. Tyler Villopoto 69
Share this article:
Did you like this article?
Check out KING CAIROLI
in our Latest issue of Racer X available now.

Americans know very little about seven-time FIM World Champion Tony Cairoli, but in Europe he's treated like royalty. Page 102.
Look for the verified symbol
The Conversation