by
Jason Weigandt
The Moment: Red Lights and Yellow Flags
Sunday, March 3, 2013 | 8:55 PM
The Moment is brought to you by
Factory Effex
who is a world leader in graphic kits, Custom number plate back grounds, high end Factory Wheel sets and components; specializing in cutting edge decorative accessories for your motorcycles and ATV.
Tweet
"That was some great red flag racing," said one team member after the main, coating the quotes with sarcasm.

"It's not done yet, the results are not official," said an AMA official down on the floor, while the riders were shaking champagne.

Lots of drama during the St. Louis main event, but also plenty after it, as Ryan Villopoto's final pass on James Stewart for the lead took place right near a bunch of waving red cross and yellow flags. Had Villopoto violated the rules? Would he be penalized?

It was hard to get answers, at first. The AMA truck was empty as race officials met with team people. I saw Rockstar Energy Racing folks come into the AMA truck looking to file a protest. While I waited for the 450 outcome, I went looking for some other riders to interview, and found Dean Wilson inside the Monster Energy Kawasaki rig. I finished talking to him, climbed down from the riders lounge, and saw Villopoto and the team watching video of the alleged infraction. I tried to play fly on the wall, but they shooed me away.

I headed back to the Rockstar Energy truck. "They're in a meeting, you don't want to go in there," they said.

Finally, after some time, the results were made official, and Villopoto remained the winner. Why? After watching today's CBS broadcast of the race, it sure seemed hard to tell. So I got ahold of the AMA's Kevin Crowther to get a further understanding of the decision.

It boils down to the AMA Supercross and FIM World Championship rule book. Here are the rules for flashing red lights on a triple, the red cross flag, and yellow flags (all which were in use in different areas where Villopoto set up and then made the pass).

Section 4.15 Flags and Lights

a. Operational Flags / Lights
4.
Red Flashing Light:
A red flashing light may be displayed at the beginning of a triple jump or a series of jumps. Riders must roll each jump individually with no passing and exercise extreme caution until they are past the area of concern,this includes the sighting or cool down laps.

b.Warning Flags
1. Yellow Flag Or Yellow Light
:
Waving Yellow Flagor Yellow Flashing Lights
:Indicates serious hazard on or near the track.
This includees the sighting or cool down laps.
• Passing is allowed
• Proceed with extreme caution.

3.White Flag with Red Cross:
In Supercross this flag or a red flashing light may be displayed at the beginning of a triple jump or a series of jumps. The riders  must roll each jump individually with no Passing and exercise extreme caution until they are past the  area of concern this includes the sighting or cool down laps

Crowther and FIM Race Director John Gallagher carefully studied tape from multiple angles, and they determined that Villopoto had closed in on Stewart under the red cross flag, but had not passed him. Villopoto's bike never edged ahead of Stewart's through the red light or red cross section. For that matter, you can also note that Justin Barcia, third at the time, also gained on Villopoto through that section, leaving the lead three riders nearly, but not quite, even as they rolled the triple. However, they singled all the jumps, and no one made a pass in the red cross or flashing red light section. So they didn't break any rules.

After the triple came a set of rollers. By then the yellow flags were out (once a rider passes the area with the flashing red light or red cross flag, and then rides under a yellow, they revert to yellow flag rules). Passing is not illegal under yellow flags, but the riders must "proceed with extreme caution." Since the downed rider, Bobby Kiniry, was already up and restarting his bike, there wasn't much inherent danger in that section, so when Villopoto edged further up alongside Stewart, and then made the pass in the next corner, he was not in violation of the rules, because he passed under the yellow (which is legal).

Here was Villopoto's take on the incident when Steve Matthes asked him about it last night:

"We rolled the triple, passed the red cross, and then it was two yellow flags and then Kiniry was up on his bike getting ready to take off and that's what the dispute is about. We had already passed the red cross and we didn't double anything and I passed in the next turn."

What Villopoto did, essentially waiting until he had passed the red cross and entered the yellow flag section to make the pass, was legal. So his win was upheld.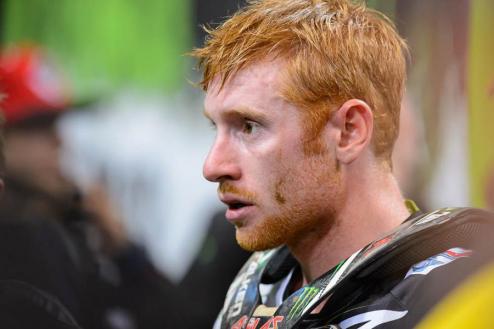 Villopoto's win was not without controversey.
Cudby photo
There was a little more drama, though. The Rockstar Energy Racing people were not looking to protest Villopoto, but actually Ryan Dungey. Earlier in the race, when a red flag came out for a downed Kyle Chisholm, Villopoto passed Mike Alessi and Dungey passed Davi Millsaps. Villopoto was penalized because he passed Alessi by doubling out of a triple with the red light on. He was docked three positions on the red flag restart.

But Dungey actually passed Millsaps in the double out of the turn, the one that came before they got to the takeoff of that triple. Millsaps saw the red light coming up, and rolled the double. But the rules say you can race up until you get to that red light. Millsaps did not have to roll the jump, but he did. Dungey doubled and passed Millsaps on the jump that came before they got to the red light. So he was not penalized. Once the Rockstar team was given this explanation, they elected not to protest.

Quite a bit of drama there—and ironically it all happened at the exact moment the season passed the halfway mark, which was halfway through the St. Louis main event. Everyone has played nice so far this year, but with the championship closing in, expect tension to keep rising. It sure was in the pits on Saturday night.


Share this article:
Did you like this article?
Check out MONSTERBALL
in our Latest issue of Racer X available now.

Playing soccer on 250cc motorcycles might sound like a strange form of riding, but in Russia they do it with great passion—and for very little reward. Page 112.
Look for the verified symbol
The Conversation