by
Davey Coombs
30 Day Countdown to A1: #5 Rick Johnson
Monday, December 31, 2012 | 2:35 PM
Tweet
We are down to the top five! The Monster Energy Countdown to Anaheim is winding down, and we now begin rolling out the five best supercross riders the sport has ever seen. After much debate, discussion, bench-racing, and back and forth, we give you #5, Rick Johnson.
There was a time in the late eighties when Rick Johnson was the undisputed king of the motocross world. He was the champion of AMA Supercross, outdoor motocross, the Motocross of Nations, the Tokyo Supercross, the U.S. Grand Prix.... If it involved dirt bikes—even in that talent-packed era of Jeff Ward, David Bailey, Johnny O'Mara, Ron Lechien, Broc Glover, Jeff Stanton, Jeff Leisk, Micky Dymond, the older Bob Hannah, the younger Jean-Michel Bayle, and anyone else who showed up—it was Rick "Too Hip" Johnson that everyone in the stands expected to win.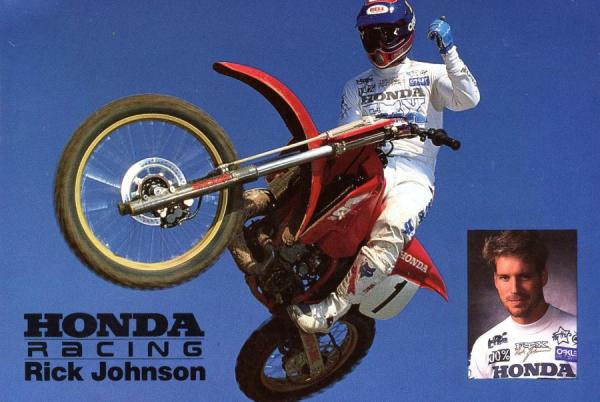 Between 1984 and February '89, Johnson won a record-breaking twenty-eight main events and two AMA Supercross titles.
Racer X Archive photo
The epitome of cool, Johnson was a handsome kid from the El Cajon Zone, riding for Team Honda by '86, wearing trick Fox Racing gear, riding the tidal wave of supercross when the series itself was just coming into its own with TV and mainstream coverage. RJ was the first rock star of supercross, greeted as such every year at the Paris-Bercy Supercross, where the French fans went wild every time his name was said. He was inventive on the motorcycle, dedicated off it, and a thorough competitor.
If there was a chink in his armor, it was inconsistency. Johnson had a way of getting himself in trouble at the worst possible times, and it cost him more than one championship. But he also had the unique ability to transcend the sport in ways only a few others could do—men whose names have yet to called out on this countdown. He had a killer instinct that made him want to win so badly that the bigger picture might get blurred and risks taken that were not really necessary—but RJ would never settle for even second.
At the 1987 Los Angeles Coliseum SX, Johnson crashed in the first turn and started dead last. All-time underdog Guy Cooper was out front and pulling away, and it would have been amazing to see Cooper get what would have been his one and only win in AMA Supercross—but everyone in the stadium new that Johnson would do everything he could to come from last to first and win. And he did, entertaining the crowd to the finish with cool whips and no-handers off the bigger jumps. Sure, it was a dagger to Guy Cooper, but RJ didn't care. He was there to win, nothing less.
Between 1984 and February '89, Johnson won a record-breaking twenty-eight main events and two AMA Supercross titles, and he was at his peak at the very moment he met his downfall. Johnson had started the '89 season with five straight wins, then finally lost the Atlanta SX to his younger teammate Jeff Stanton after crashing. Eight days later, Johnson was in practice at the Gatorback National opener when he was involved in a random practice collision with Honda support rider Danny Storbeck and suffered a broken wrist. Johnson would never make a full recovery, and he would never win another SX in the dozen or so races he rode over the next two years. (For those of you working the stats and win percentages, an argument exists that those last twelve should not count, as Johnson was doing the SX equivalent of racing with his throttle hand behind his back.)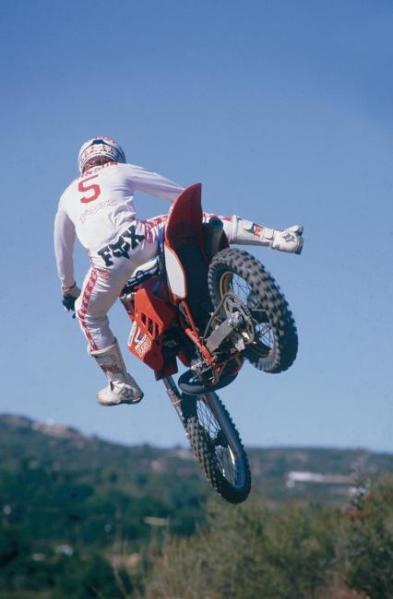 There was a time in the late eighties when Rick Johnson was the undisputed king of the motocross world.
Racer X Archive photo
For his wins, his titles, his creativity, and his showmanship, we rank Rick Johnson as the fifth-best supercross racer of all time. RJ paved the way for a generation of fast showmen who were coming up through the minicycle and Pro-Am ranks, even while he was still out there trying in vain to get his throttle wrist back in full working order.
The 30 Best Supercross Racers of All Time Tracker:
#6 Chad Reed
#8 Jeff Stanton
#9 Jeff Ward
#10 Jean Michel Bayle
#11 Damon Bradshaw
#12 Mark Barnett
#13 Kevin Windham
#14 David Bailey
#15 Ryan Dungey
#16 Mike Bell
#17 Jeff Emig
#18 Johnny O'Mara
#19 Doug Henry
#20 Jimmy Ellis
#21 Mike LaRocco
#22 Ezra Lusk
#23 Broc Glover
#24 Ron Lechien
#25 Jimmy Weinert
#26 David Vuillemin
#27 Donnie Hansen
#28 Larry Ward
#29 Mike Kiedrowski
#30 Marty Tripes
Share this article:
Did you like this article?
Check out MONSTERBALL
in our Latest issue of Racer X available now.

Playing soccer on 250cc motorcycles might sound like a strange form of riding, but in Russia they do it with great passion—and for very little reward. Page 112.
Look for the verified symbol
The Conversation