Yamaha Wake-Up Call
Monday, October 29, 2012 | 6:00 AM Tweet

Can-Am GNCC Championship




XC1 Points Standings


Kailub Russell 291pts KTM
Paul Whibley 290pts Yam
Rory Mead 219pts KTM
Thad DuVall 211pts Hon
Charlie Mullins 198pts KTM
Jordan Ashburn 175pts Yam
Chris Bach 157pts Yam
Garrett Edmisten 145pts Kaw

Nathan Kanney 143pts Hon

Takeshi Koikeda 139pts. KTM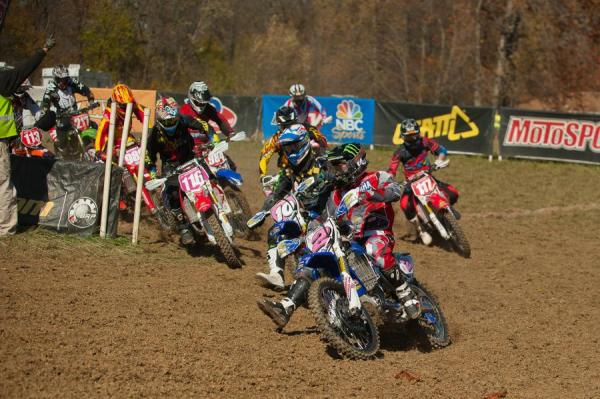 Paul Whibley (2) trails Kailub Russell by one-point with one round to go.
XC2 Points Standings
Steward Baylor 267pts KTM
Jason Thomas 266pts HSQ
Andrew Delong 250pts. HSQ
Jedediah Haines 196pts YAM
Brad Bakken 159pts YAM
Jesse Robinson 156pts HSQ
AJ Stewart 145pts. Yam

Scott Grills 123pts. Hon

Michael McGinnis 110pts. KTM

Zach Nolan 107pts. KTM

GEICO AMA EnduroCross
Idaho Center -  Boise, ID
Expert Overall
1. Taddy Blazusiak KTM
2. Cody Webb Beta
3. Cory Graffunder HSQ
4. Justin Soule Kaw
5. Kyle Redmond HSQ
6. Geoff Aaron Hon
7. Colton Haaker Kaw
8. Bobby Prochnau KTM
9. Gary Sutherlin Kaw
10. Jamie Lanza Hon
11. Ryan Sandoval Yam
12. Taylor Robert Kaw
13. Destry Abbott Kaw
14. Bryan Roper KTM
15. Bobby Garrison Kaw
16. Eric Rhoten Kaw
17. Keith Wineland Hon
18. Keith Sweeten GAS
19. Ty Tremaine KTM
20. Harrison Oswald KTM
21. Travis Coy KTM
Expert Points Standings
Taddy Blazusiak 189pts. KTM

Taylor Robert 132pts. Kaw
Cody Webb 129pts. Beta

Mike Brown 114pts. KTM
Cory Graffunder 105pts. Hon

Colton Haakeer 98pts. Kaw
Justin Soule 94pts. Kaw
Kyle Redmond 89pts. HSQ
Geoff Aaron 75pts. Hon
Kevin Rookstool 71pts. Hon
Blazusiak won a thriller in Boise.
Drew Ruiz photo
Australian Supercross Championship
Round 2 – Phillip Island
SX Open Overall
Chad Reed Hon
Jay Marmont Kaw
Dan McCoy Yam
Lawson Bopping Yam
Jake Moss Hon
Todd Waters Suz
Tye Simmonds hon
Ben Townley Hon
Cheyne Boyd Hon
Billy Mackenzie Kaw
Jacob Wright KTM
Matt Haworth
Craig Anderson Yam
Jason Reed
Sam Duncanson Yam
Tim Vare
Justin Carafa Kaw
Nicholas Geck
Chris Camilleri
Luke Wilson
Open Point Standings
Jay Marmont 47pts. Kaw
Daniel McCoy 42pts. Yam
Lawson Bopping 36pts. Yam
Jake Moss 36pts. Hon
Todd Waters 30pts. Suz
Tye Simmonds 30pts. Hon
Chad Reed 25pts. Hon
Cheyne Boyd 25pts. Hon
Billy Mackenzie 25pts. Kaw
Jacob Wright 22pts. KTM

Reed took home the overall in his debut.
Shayne Rice photo
SX Lites Overall
Gavin Faith Hon
Geran Stapleton Hon
Ryan Marmont KTM
Steven Clarke Suz
Luke Clout Yam
Scott Coloumb Suz
James Booth-Elliot Hon
Taylor Potter KTM
Tristan Cachia KTM
Kade Mosig Kaw
Nicholas Sutherland Kaw
Kim Ashkenazi
Corey Lucas
Lincoln Nichol Hon
Casey Turner Husq
Chris Plouffe Husq
Mitchell Norris Yam
Luke Styke Yam
Errol Willis Suz
SX Lites
Gavin Faith 50pts. Hon
Geran Stapleton 37pts. Hon
Ryan Marmont 36pts. KTM
Steven Clarke 36pts. Suz
Kade Mosig 33pts. Kaw
Scott Coloumb 28pts. Suz
Luke Clout 23pts. Yam
Nicholas Sutherland 22pts. Kaw
Luke Styke 20pts. Yam
James Booth-Elliot Hon 18pts. Hon

Gavin Faith won his second straight in the Lites class.
Shayne Rice photo
Share this article:
Did you like this article?
Check out THE MOTOCROSS OF 40 NATIONS
in our Latest issue of Racer X available now.

The 2013 FIM Motocross of Nations at Teutschenthal, Germany, hosted teams from a record forty countries. Here's how it played out for each of them. Page 90.
Look for the verified symbol
The Conversation