Yamaha Wake-Up Call
Monday, October 8, 2012 | 9:00 AM Tweet

Can-Am GNCC Championship
Powerline Park - St. Clairsville, OH

XC1 Overall
1. Kailub Russell KTM
2. Charlie Mullins KTM
3. Paul Whibley Yam
4. Thad DuVall Hon
5. Rory Mead KTM
6. Takeshi Koikeda KTM
7. Garrett Edmisten Kaw
8. Jordan Ashburn Yam
9. Jimmy Jarrett Hon
10. Nathan Kanney Hon
11. Adrian Smith Yam


XC1 Points Standings


Paul Whibley 274pts Yam
Kailub Russell 270pts KTM
Rory Mead 205pts KTM
Thad DuVall 186pts Hon
Charlie Mullins 168pts KTM
Jordan Ashburn 160pts Yam
Chris Bach 160pts Yam
Garrett Edmisten 137pts Kaw

Nathan Kanney 133pts Hon

Takeshi Koikeda 126pts. KTM


Kailub Russell won the overall at Powerline Park.KTM photo
XC2 Overall
1. Jason Thomas KTM
2. Aaron Plessinger Yam
3. Andrew Delong HSQ
4. Scott Grills Hon
5. Steward Baylor Jr. KTM
6. Jedediah Haines Yam
7. Christopher Douglas KTM
8. Zach Nolan KTM
9. AJ Stewart Yam
10. Ryan Lojak Yam
11. Brad Bakken Yam
12. Philippe Chaine HSQ
13. Brett Zofchak KTM
14. Michael McGinnis KTM
15. Damon Rummel KTM

16. Jeremy Daudelin Yam
17. Larry Silvia KTM
18. Nick Davis HSQ
19. Lucas Statom Yam
20. Morgan Moss Yam
21. Ryan Echols Yam
22. Chris Robertson Yam

XC2 Points Standings
Jason Thomas 241pts HSQ
Steward Baylor 237pts KTM
Andrew Delong 229pts. HSQ
Jedediah Haines 183pts YAM
Brad Bakken 156pts YAM
Jesse Robinson 156pts HSQ
AJ Stewart 131pts. Yam
Zach Nolan 107pts. KTM

Scott Grills 105pts. Hon
Cody Gragg 102pts. Yam

Maxxis British Motocross Nationals
Little Silver, Exeter
MX1 Overall
1. Shaun Simpson
2. Kevin Strijbos
3. Brad Anderson
4. Gert Krestinov
5. Alex Snow
6. Kristian Whatley
7. Nicolas Aubin
8. Luke Hawkins
9. Ross Rutherford
10. Jamie Law
MX1 Final Points Standings
Kevin Strijbos 530pts.
Shaun Simpson 477pts.
Gert Krestinov 363pts.
Matiss Karro 308pts.
Jamie Law 272pts.
Martin Barr 261pts.
Kristian Whatley 240pts.
Alex Snow 229pts.
Dorron Coutts 212pts.
Stephen Sword 198pts.
MX2 Overall
1. Elliott Banks Browne
2. Bryan MacKenzie
3. Graeme Irwin
4. Mel Pocock
5. Adam Sterry
6. Stuart Edmonds
7. Nathan Watson
8. Lewis Tombs
9. Shaun Simpson
10. Steven Lenoir
MX2 Final Points Standings
Elliott Banks-Browne 447pts.
Mel Pocock 442pts.
Bryan MacKenzie 343pts.
Graeme Irwin 335pts.
Nev Bradshaw 334pts.
Steven Lenoir 318pts.
Nicolas Aubin 269pts.
Stu Edmonds 238pts
Lewis Tombs 183pts.
James Cottrell 168pts.
GEICO AMA EnduroCross
National Western Complex - Denver, CO
Expert Overall
1. Taddy Blazusiak KTM
2. Taylor Roberts Kaw
3.
Mike Brown
KTM
4. Geoff Aaron Hon
5. Justin Soule Kaw
6. Cory Gaffunder Husq
7. Kyle Redmond Husq
8. Gary Sutherlin Kaw
9. Wally Palmer Christini
10. Cody Webb Beta
11. Kyle Calderini Suz
Expert Points Standings
Taddy Blazusiak 129pts.

Taylor Robert 98pts.

Mike Brown 96pts.
Cody Webb 93pts.
Colton Haaker 74pts.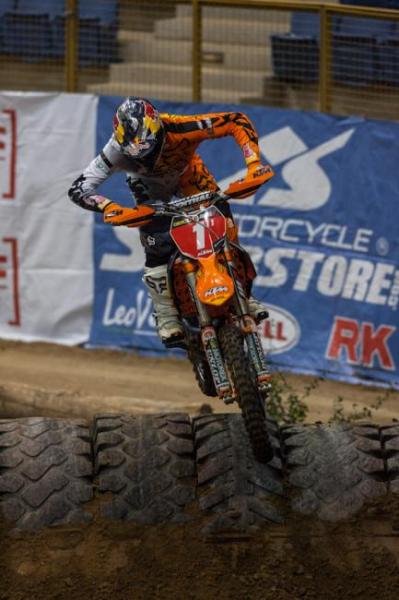 Taddy Blazusiak captured the overall in Denver.

Drew Ruiz photo
J Day Offroad
Round 13 - Wild West GP
Overall
1. Jon Girroir 1-1
2. Josh Cennamo 3-2
3. Dylan Macritchie 2-3
4. Jason Connel 4-4
5. Tom Pierce 6-5
Share this article:
Did you like this article?
Check out MY LIFE IN MOTORCYCLE RACING
in our Latest issue of Racer X available now.

Jean-Michel Bayle, the iconic superstar of yesteryear, raced motocross for the first time in twenty-one years at the Vets MXdN in England. Page 126.
Look for the verified symbol
The Conversation