by
Jason Weigandt
The List: Ten Greatest Moments in Seattle SX History
Wednesday, April 13, 2011 | 4:10 PM
Developed in the USA and tested on the toughest tracks in the world, Maxima Racing Oils are proven to increased horsepower, prolong engine life and offer unsurpassed engine cleanliness. Maxima has been committed to MX & SX for over 30 years and is used by more factory teams, engine builders and racers. Know you're running the best with championship winning products. Maxima – Race Grade Formulas.
Tweet
10. 1996:
The latest challenger to the "Next McGrath" title is Damon Huffman, who dominated the 125 West Region SX chase in 1994 and 1995. Huffman takes the first few races of his rookie 250 season to get some experience, but by round four, Huffy is gaining confidence and ready to challenge The King. And they go at it, passing back-and-forth in a great main event battle. Huffman has the speed through the whoops, but MC handles a technical dragon's back jump a bit better. With a few laps to go, Huffman's clutch begins to fade, he stalls, and MC wins. It would appear that race would signal many great Huffman versus McGrath battles in the future, but for whatever reason, Huffman never seems to find that magic again.
9. 2010: Something for the young, something for the old. Ryan Dungey wraps up the championship in his rookie year, becoming the youngest AMA Supercross Champion ever at age 20. But the vet fans have something to cheer for as well, when 32-year-old Kevin Windham wins the race.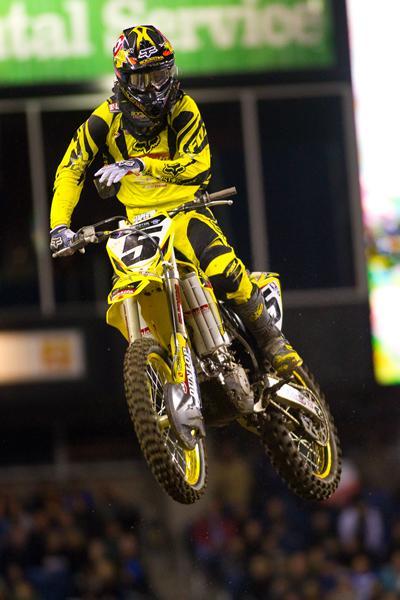 Dungey became the youngest AMA Supercross Champion in Seattle last year.
Photo: Andrew Fredrickson
8. 1998: MC is back! After a tough 1997 season on a Suzuki, McGrath switches to Yamaha. He's consistent through the first few rounds and holds the points lead, but he doesn't get his first win on blue until round four in the Kingdome. Also, defending champ Jeff Emig has one of the worst races of his career, starting up front and dropping all the way back out of the top ten without crashing. Emig would never quite be the same in supercross, and MC's path to the championship was set.
7. 2006: Seattle returned to the schedule in 2005 with the open-air Qwest Field, and the 2006 event was a mudder. Bummer for Andrew Short, who was battling Grant Langston for the Lites West Championship and slid off the track in the slop. GL won the race and the title, making him the first rider to ever win a 125 GP Title, an AMA 125 National Championship and both the east and west Lites SX Titles.
In the SX Class, James Stewart tops Chad Reed in a mudder. They both close up on Ricky Carmichael in points, as RC also goes off the track and very nearly crashes the points lead away on the slippery floor. He saves it and preserves a small lead heading into the next weekend's finale in Vegas, where he finishes second to win the AMA SX Title.
6. 1993: McGrath won his first career supercross a weekend earlier in Anaheim. Impressive for a rookie, but he's not alone. Suzuki's Brian Swink, who won back-to-back 125 East Titles in 1991 and 1992 (while McGrath did the same out west) is ready to win a 250 race of his own. He and McGrath battle it out, with MC pulling away late to snag career win number two. Swink? Never quite the same after this one.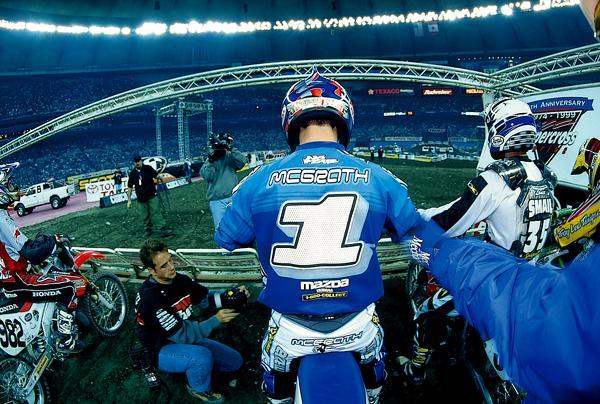 McGrath had numerous sucesses in the now defunct Kingdome.
Photo: Moto Verte
5. 1980: Bob Hannah becomes the first supercross superstar by winning the 1977, 1978 and 1979 SX Titles. But he breaks his leg before the 1980 season and misses the whole year—his title is up for grabs. Mike Bell grabs it. Seattle's double-header serves as the 1980 opener, and "Too Tall" wins both main events on his way to the 1980 championship.
4. 1983: Hurricane II. Hannah struggles to find his old form in 1981 and 1982. But he gets a new lease on racing with a works Honda in 1983, promising to kick ass and take names like only The Hurricane can. And he does in Seattle, winning both nights (rounds two and three of the series) to take the points lead. The Hurricane II but patch takes effect, and Hannah is easily the fastest rider in the series. But a broken wrist ends his title hopes.
3. 2009: The best moments are reserved for the home-town boys. After struggling a bit early in his rookie 450 season, Ryan Villopoto wins first career supercross at Qwest in 2009, racing away from the field. He's been on quite a roll ever since.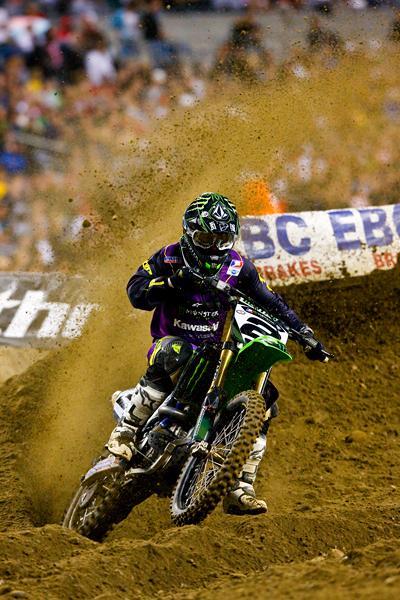 Homegrown Ryan Villopoto got his first career Supercross win in Seattle in '09.
Photo: Simon Cudby
2. 1990: One of the most memorable races ever, the Kingdome hosts "Blockpass Fest" '90 between Washington's own Larry Ward, and Jeff Matiasevich. The early 90's saw the peak of rough riding in supercross, and this race may have been the pinnacle of it all. After they ram, bump and bang for a few laps, Ward motors away to take his first career SX win, and the first Seattle win by a Washington native. The fans go nuts.
1. 1999: Ward becomes a one-hit wonder for awhile, as he doesn't find victory lane at a supercross again for eight years. By 1999, the Kingdome is set for demolition, but not before one last AMA Supercross. And, fittingly, Ward wins it, sending the big building off with another home-track victory.
Share this article:
Did you like this article?
Check out MOTO GIFT GUIDE
in our Latest issue of Racer X available now.

Our annual gift guide has something (or maybe even a few somethings) for everyone on your holiday list. Page 146.
Look for the verified symbol
The Conversation