by
Davey Coombs
40 Day Countdown To AMA Motocross Opener: 1972
Tuesday, April 12, 2011 | 4:10 PM
Tweet
As we approach the kickoff of the 40
th
Annual Lucas Oil Pro AMA Motocross Championship, Racer X Online and
AlliSports.com
will count down the days to the May 21 opener—the
Hangtown
Motocross Classic—by taking you through history of the world's biggest and most prestigious motocross championship year by year. As it turns out, there are forty days left before
Hangtown
, parts of which will air live all over the world on various television networks, including Fuel TV here in the U.S., Motors TV in Europe, and also live and free on
www.AlliSports.com
.
We begin our countdown in 1972, with the birth of the AMA Motocross tour.
1972
Motocross migrated to America from Europe in the fifties and sixties, and it was known for the most part as "scrambles." The American riders of the era were no match for their Europeans counterparts, especially from racing hotbeds like Belgium, England, and Sweden. But it was difficult to learn from riders on the other side of the ocean.
That started to change in the mid-sixties when a man named Edison Dye began importing Swedish-made Husqvarna motorcycles into the U.S. Dye came up with the idea of also importing Swedish talent into the country, beginning with reigning world motocross champion Torsten Hallman in 1966. Hallman trounced the Americans, but he taught them invaluable lessons. He kept coming back, and Dye kept adding races until it become the Inter-Am Series.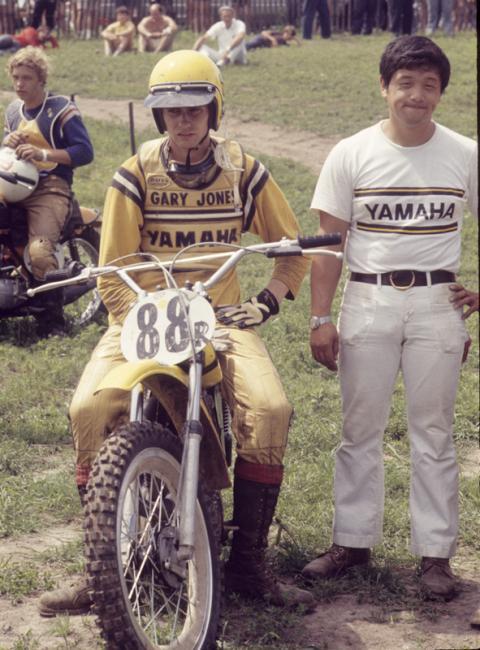 Gary Jones was the 1972 AMA 250cc National Champion.
Photo: Wally Wallenberg
In 1970, the American Motorcyclist Association (AMA) began to compete with Dye's tour through its own Trans-AMA Series, and the "top Americans" in that autumnal series would be declared the U.S. National Champions. Turns out the top American in that inaugural Trans-AMA tour in 1970 was a University of Michigan college student named Dick Burleson, who would gain much more fame on a motorcycle when he chose to go into enduro racing full-time. The following year, the de facto national champs would be Mark Blackwell (500cc) and Gary Jones (250cc) based on their top-American status in the Trans-AMA and Inter-Am Series, respectively.
For the next couple of years the European visitors continued to dominate the Inter-Am and Trans-AMA tours, but by '72, motocross in America had grown to the point that the AMA felt domestic riders deserved their own series—to that point, no American had won so much as a single Trans-AMA race! So the idea was put into place to start a standalone AMA Motocross Championship, but because they did not want to compete with the sanctioned Trans-AMA Series for 500cc, they rolled that class' points into the Trans-AMA tour later that fall for a grand total.
As for the 250 class, there was still some animosity between the AMA and Dye, the founder of the tour. So there would be no joint events; the AMA Motocross tour would run up until the Inter-Ams started on June 25 in Boise, Idaho, then rest until a single September finale at Talladega, Alabama. (And between national races in the summer was another pivotal moment in motocross history: the running of the first Superbowl of Motocross at the Los Angeles Coliseum, the first modern supercross race.)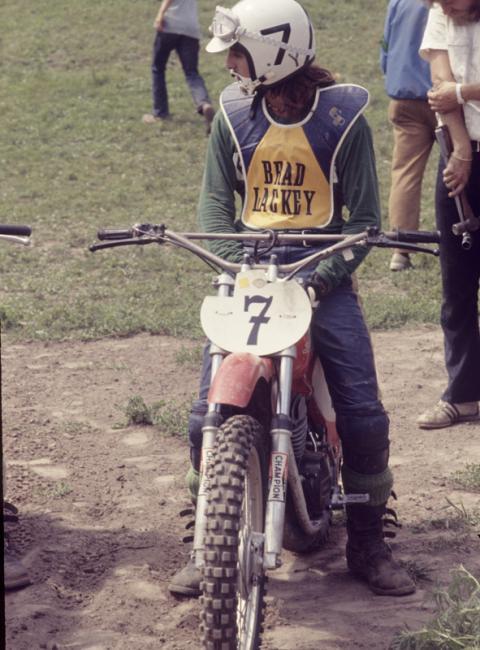 The Pinole, CA native 'Bad' Brad Lackey took the 500cc AMA National title in 1972.
Photo: Wally Wallenberg
The AMA Nationals began on April 16 next to a road track for cars and bikes called Road Atlanta, right outside Atlanta. There were two championship classes that day, for the 500cc class and the 250cc class. The winners were both New Yorkers, both on Czech-made CZ motorcycles: Schenectady's Barry Higgons and Port Washington's Sonny DeFeo (Filter Publications Publisher Scott Wallenberg was there with his father to watch this historic race). The race was considered a modest success; it had nowhere near the star power of those epic Trans-AMA races, but it was a good start to something.
The second round was held three weeks later outside Memphis, Tennessee, with the same two winners, Higgins and DeFeo. Next came the Cal-Expo event held at the Cal-Expo Fairgrounds, and it was won by Swedish transplant Gunnar Lindstrom, a Husqvarna factory rider in the 250 class. NorCal rider "Bad" Brad Lackey would take the 500cc class, his first win on the march to the title.
Here's an interesting side story to the 1972 event in Sacramento. It was not held at the Hangtown facility in Plymouth, CA . Nor were the Dirt Diggers the promoter. It was held at the Cal-Expo Fairgrounds in conjunction with an actual fair. Race winner Gunnar Lindstrom remembers extreme heat, very dusty, and no elevation changes. The pits were in dry grass and a fire broke out! And the trivia question of the day...who was the promoter? None other than the father of Supercross Mike Goodwin.
Racers followed at such soon-to-be-famous SoCal tracks as Saddleback (Orange) and Carlsbad, a pair of legendary tracks won by future AMA Hall of Famers Gary Jones (Yamaha) and Jim Pomeroy (Bultaco) in the 250 class, while Lackey kept winning aboard his CZ in the 500cc class.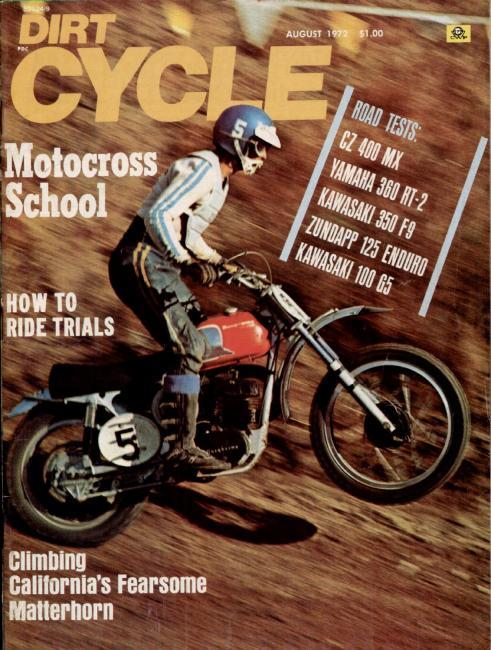 Swedish import Gunnar Lindstrom brought star-power to the series.


Of the rest of eight-round "standalone" 500cc races, Lackey would win all but one, losing only to fellow CZ rider Wyman Priddy in Washington, Indiana. A bigger story was Lackey's switch from CZ to Kawasaki for the last round, handing the class title to the Japanese brand that was just getting started in motocross here in the States. Gary Jones and Bultaco-mounted Gary Bailey would exchange wins in the last four 250 races, but the Yamaha-backed Jones had the upper hand in the final rankings and became the first true AMA Motocross Champion in the 250cc class.
Jones added to his laurels by also taking the overall in the Inter-Am Series, which also incorporated 250cc equipment but was struggling at that time to attract top international talent. While European stars like the veteran Torsten Hallman and fellow Swedes Arne Kring, Hakan Anderson, and Arne Lindfors took race wins, Jones and his 16-year-old counterpart Marty Tripes each took wins—Tripes in the first Los Angeles Coliseum race aboard a Yamaha—signaling the growing competitiveness of the young Americans.
For the 500cc class, their results kept going as the Trans-AMA tour got rolling on its own—and then ran into the buzzsaw of European greats like Ake Jonsson, Roger DeCoster, and Heikki Mikkola, who shut the Americans out of the podium, let alone the winner's circle.
When all was said and done, Brad Lackey was the lead American by far. Runner-up in the standings—based on his performances in the Trans-AMA tour, for which he jumped over to a German-made Maico motorcycle since Yamaha was not yet making big-bore bikes—was Gary Jones.
All told, the first AMA Motocross Championship was enough of a success to bring it back for 1973. The Hangtown Classic outside Sacramento has remained on the schedule every year since, albeit at a new racing facility. As for the champions, Gary Jones and Brad Lackey, their names grace the trophies given to the championship-winning OEM each season to display for one year, Jones in the 250 class (which now resides at GEICO Honda following Trey Canard's win last year) and Lackey in the 500 class (and currently on display at Rockstar/Makita Suzuki based on Ryan Dungey's 2010 championship in Lucas Oil AMA Pro Motocross).
1972 AMA 500cc Motocross Championship
4/16 Atlanta, GA    Barry Higgins, Schenectady, NY CZ
5/7  Memphis, TN    Barry Higgins, Schenectady, NY CZ
5/14 Sacramento, CA Brad Lackey, Pinole CA    CZ
5/21 Orange, CA Brad Lackey, Pinole, CA   CZ
5/28 Carlsbad, CA   Brad Lackey, Pinole, CA   CZ
6/11 Washington, IN Wyman Priddy, Ft. Worth, TX    CZ
6/18 Lake Tahoe, NV Brad Lackey, Pinole, CA   CZ
9/2  Talladega, AL  Brad Lackey, Pinole, CA   Kaw
1972 AMA 500cc National Standings
Brad Lackey, Pinole, CA   2030
Gary Jones, Hacienda Heights, CA    829
Wyman Priddy, Ft. Worth, TX    750
Rich Thorwaldson, Cerritos, CA 726
Jim Pomeroy, Yakima, WA   665
Bryan Kenny, Cleveland, OH     582
Jim Weinert, Middletown, NY    542
Mike Runyard, West Covina, CA  513
Gary Chapin, Cayucos, CA  496
Mark Blackwell, Mission Viejo, CA   480
1972 AMA 250cc Motocross Championship
4/16 Atlanta, GA    Sonny DeFeo, Port Washington, NY    CZ
5/7  Memphis, TN    Sonny DeFeo, Port Washington, NY    CZ
5/14 Sacramento, CA Gunnar Lindstrom, Sweden  Hus
5/21 Orange, CA Jim Pomeroy, Yakima, WA   Bul
5/28 Carlsbad, CA   Gary Jones, Hacienda Heights, CA    Yam
6/11 Washington, IN  Gary Bailey, Torrance, CA Bul
6/18 Lake Tahoe, NV Gary Jones, Hacienda Heights, CA    Yam
9/2  Talladega, AL  Gary Bailey, Torrnace, CA Bul
1972 AMA 250cc National Standings
Gary Jones, Hacienda Heights, CA    995
Jim Weinert, Middletown, NY    781
Gunnar Lindstrom, Sweden  775
Peter Lampuu, Finland     430
Bob Grossi, Brookdale, CA 430
Mike Runyard, West Covina, CA  428
Bill Cooke, Carlton, OR   376
Robert Harris, Windsor, NY     373
Sonny DeFeo, Port Washington, NY    310
Tony Wynn, Sherwood, AR   304

2011 MX Sports Pro Racing, Inc. All rights reserved.
Share this article:
Did you like this article?
Check out MONSTERBALL
in our Latest issue of Racer X available now.

Playing soccer on 250cc motorcycles might sound like a strange form of riding, but in Russia they do it with great passion—and for very little reward. Page 112.
Look for the verified symbol
The Conversation