by
Chase Stallo
Racer X Notebook: Monster Energy Cup
Tuesday, October 22, 2013 | 4:00 PM
Tweet
Monster Energy Kawasaki's Jake Weimer was in good position for the overall following a third in the first main. But things turned for the worse quickly. Weimer was involved in a pile-up in the back section during the second main, which led to a 22nd. Crashes would also spell his downfall in the third main, leading to a 19th.
Also involved in the pile-up in the second main was Lucas Oil/Troy Lee Honda's Malcolm Stewart. According to the team, Malcolm jammed his wrist during the crash. Malcolm pulled out of that moto and was a scratch for the third main.
The split start claimed Zach Osborne in the final main. The GEICO Honda rider went down hard and did not return.
Despite a seventh in the first main, defending Monster Energy Cup champion Justin Barcia still had a chance to repeat heading into the final main. He took second in race two then started the third main in good position before losing ground and then getting together with Cooper Webb trying to slice through the pack. Barcia was unable to get his bike restarted and finished with a DNF.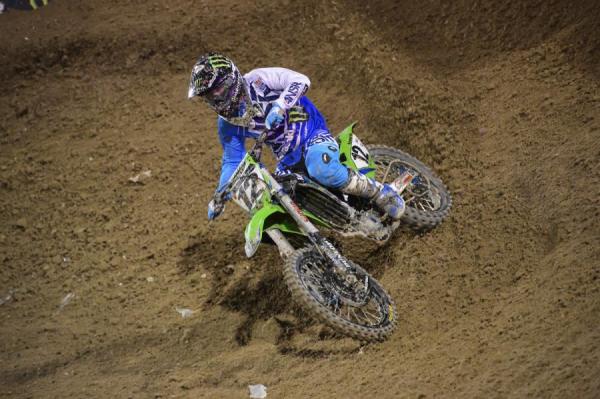 By the end of the night, you probably saw Jake Weimer being lapped while James Stewart and Ken Roczen battled for the overall. But earlier in the night, Weimer was a contender.
Simon Cudby photo
Jimmy Albertson was back for the first time since the Toronto Supercross, and debuting a new team—MotoSport.com/Crossland Racing. The team purchased the old JDR rig and had a very lavish set-up in the pits. Albertson, who had little prep time coming in, made his way in through the LCQ before finishing nineteenth overall.
Monster Energy/Pro Circuit Kawasaki's Dean Wilson was back for the first time since shoulder surgery this summer. Wilson told us earlier in the day that he, "just wanted to have fun and get some gate time." Wilson ran fourth early in the first main, but washed out, leading to a twentieth place finish. It proved costly, as Wilson rebounded with 5-6 finishes, which would have had him in contention for the overall podium. Wilson will now drop back down to the 250 for Monster Energy Supercross and Lucas Oil Pro Motocross in 2014.
Wilson also has a change in his training program. He is now working with Ryan Hughes. "We've been going hard for about eight weeks," said Wilson. "It's going good." Wilson's Pro Circuit team owner Mitch Payton explained that night to our Steve Matthes: "I think the goal was to try to get a top five and I think if he wouldn't have had the go-down in the first one I think that was still doable. We didn't want to overdo it but we were trying to really, truthfully have achievable results out of the thing, get some of experience out of it, and just see where we're at. He's been working with Ryno a lot. They wanted to do this just to kind of see where they're at and I think it was a good idea. Happy with it and he's in much better shape than he was in the past. I think now coming into the season with the time to build I think he's going to really do good."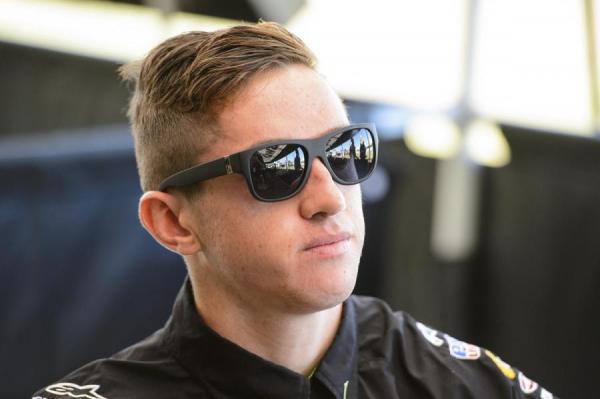 Try to remember what Dean looked like racing a 450, because you won't see it again for another year.
Simon Cudby photo
It's looking more and more like Alex Martin will be back with Rock River Racing Yamaha for 2014. An official announcement from the team should be coming out shortly. Ben LaMay is also expected to return to the team.
It was hard to take your eyes off the Ryans in the first main event, especially after Dungey's mental lapse on the last lap. Marvin Musquin was the beneficiary of the Dungey mistake—RD was docked five positions, giving Musquin second. Musquin's great ride went largely unnoticed, though. The Frenchman took over fourth when Wilson went down and subsequently held up Ken Roczen. He then went after Jake Weimer, making a pass stick late in the main. Although Musquin had very little prep coming in, he was able to hold on for a top five overall finish. "I was back in France for five weeks so just got back here like a week ago and rode a couple times. I don't want to say that I was not ready but..."
Musquin wasn't the only rider slated to race 250s this year who showed he could mix it up with the big boys. Besides Wilson's solid rides, Lucas Oil/Troy Lee Honda's Cole Seely also rode well, logging fifth in the final moto on his CRF450R. Seely finished right behind Musquin in sixth overall. By the way, the TLD team was wearing James Stewart's Seven brand of race gear for the weekend, but don't be confused—Troy Lee Designs actually produces the Seven gear.
GEICO Honda's "next" in its long line of stars over the years, Jordon Smith, seemed to have the most hype heading into the Monster Energy Cup Amateur All-Stars event. But the win went to RJ Hampshire, and the team ends up hosting the winner anyway, because last night on the Pulpmx Show Hampshire announced that he has now signed with GEICO Honda as well! Hampshire has come a long way this season, really stepping up his game through the Spring Nationals and rounding into one of the fastest experts in the nation. He was a standout at the Ricky Carmichael Amateur Supercross at Daytona, and at Loretta's he took a sold third overall in Open Pro Sport behind graduating stars Matt Bisceglia and Shane McElrath, so he definitely has speed.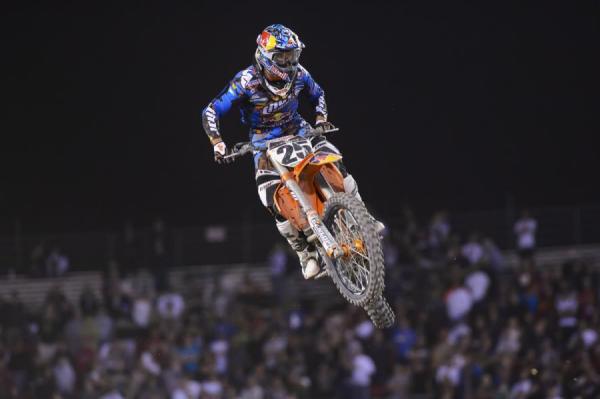 Marvin Musquin said he never felt at a disadvantage riding the 350SX against the 450s.
Simon Cudby photo
The Amateur All-Stars overall came down to the final lap with Hampshire and privateer Jace Owen locking horns. Owen, who finished second in the first main, was ahead of Hampshire on the final lap and in-line for the overall. Hampshire came on strong in the corner after the first rhythm section after the finish line jump, block passing Owen and knocking him down, and then riding off to a third place moto finish and the overall win. Owen would finish the race tenth—and the whole situation even set up a nice little Twitter battle between the two future pros.
Smith also had his chances. He made a late dash for the win in moto one, which in hindsight cost him the overall. While charging after Hampshire, he crashed spectacularly in the sand section on the final lap. Smith would remount to finish ninth. The second main was all Smith, and if he would have settled for second in the first main, his 2-1 would have topped Hampshire's 1-3. Hey, hindsight is always 20-20.
Paul Coates was also in good position for the overall after a third in the first main, but a costly crash in the rhythm section would spell his demise. He would finish the race fifteenth.
TLD amateur star Justin Hoeft had a scary crash in the first main that left him on the stadium floor writhing in pain. Hoeft came up short on the big triple and was later taken to the hospital. We contacted his team today and the confirmed he broke a bone in his ankle and wrist.
Share this article:
Did you like this article?
Check out THE MOTOCROSS OF 40 NATIONS
in our Latest issue of Racer X available now.

The 2013 FIM Motocross of Nations at Teutschenthal, Germany, hosted teams from a record forty countries. Here's how it played out for each of them. Page 90.
Look for the verified symbol
The Conversation