by
Chase Stallo
Monster Energy Cup Race Report
Sunday, October 20, 2013 | 2:50 AM
Since 1968,
Thor
has maintained its position as a top motocross apparel brand. From trails, deserts, to the most famous racetracks in the world,
Thor
supports racing on the track and off with its sponsorship of race reports.
Tweet
The third annual Monster Energy Cup packed a punch that only Vegas could handle. The one-off event, still in its infancy, provided some of the best racing of 2013 with James Stewart returning to the top of the podium with consecutive main event wins after an eighth in the first main. Ryan Dungey overcame a mental mistake in the first main where he forgot to take Joker Lane—which is mandatory—and was docked five positions to finish second overall. Dungey's teammate Ken Roczen would round out the podium.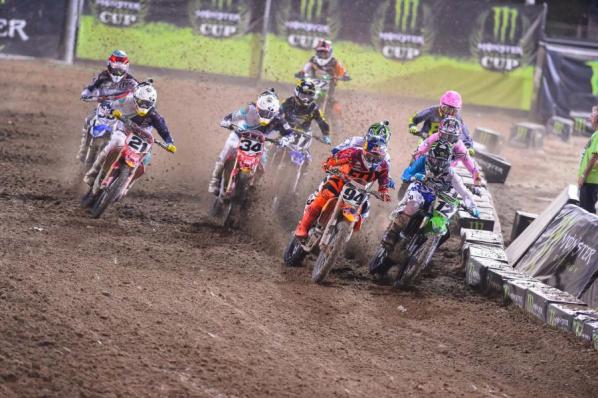 Following two gate malfunctions—the same problem that caused havoc a year ago—racing got underway from the Sam Boyd Stadium in Las Vegas.
Simon Cudby photos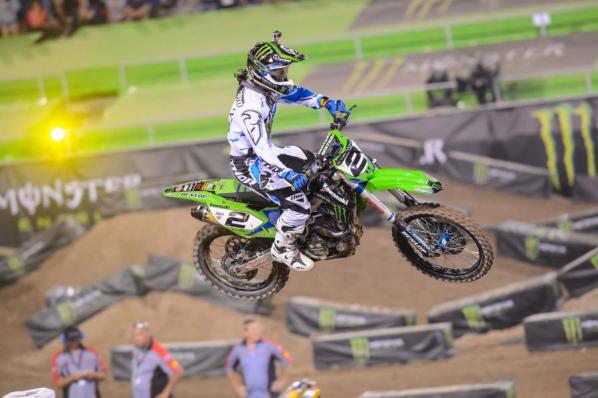 Ryan Villopoto was firing on all cylinders in his first race back from off-season surgery. He held off a late challenge from Ryan Dungey to take the first main event win.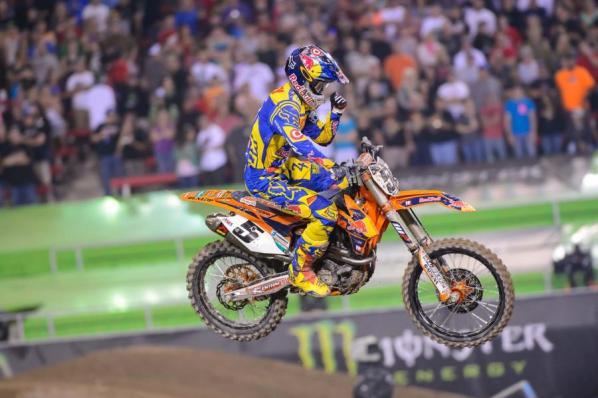 Although he crossed the finish line first in the first main, Ryan Dungey made a mental mistake in not taking the Joker Lane, which cost him five positions.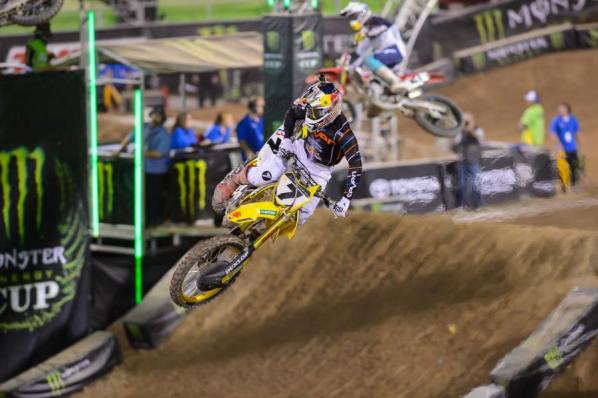 After going down in the first main and finishing eighth, James Stewart looked like a long shot to win the overall.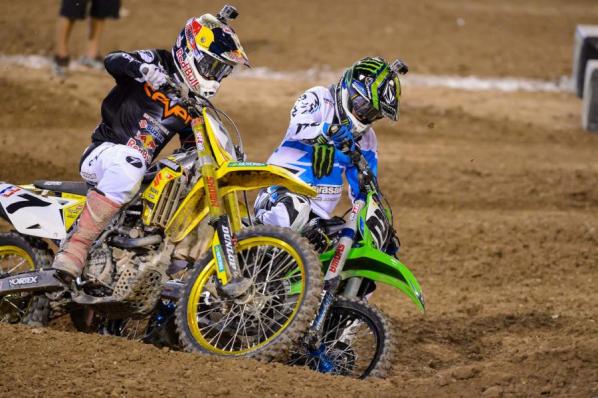 Stewart and Villopoto had a packed house on their feet as they traded paint in the second moto. Stewart held the early lead, but Villopoto battled back to take the lead. The two traded the lead several times, with Stewart leading down the stretch. This time, Villopoto made the mental error, forgetting to take Joker Lane on the final lap.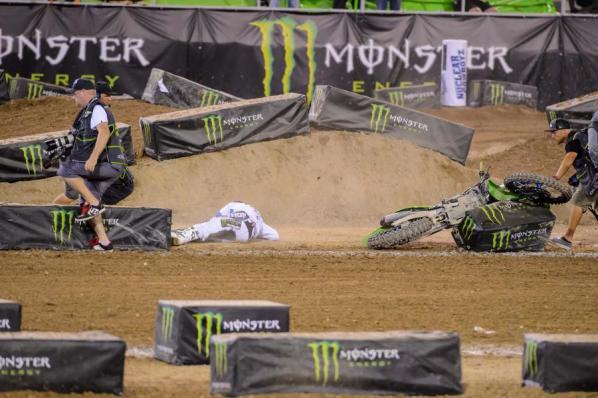 Moments after taking the lead from Stewart (he would have been docked five positions for not taking Joker Lane) Villopoto had a huge get-off when he mistimed the rhythm section. As of press time there was no official word on his status, but a Fox Sports TV report by Erin Bates said the three-time Monster Energy Supercross Champion was only suffering from general soreness.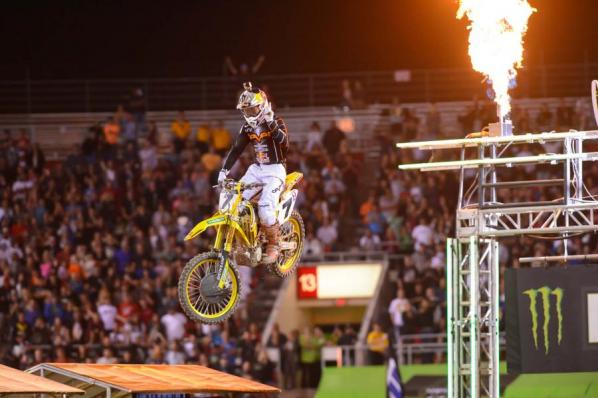 James Stewart would take the second moto win, but was still in need of help to win the overall, as Ken Roczen's 4-4 would lead the way heading into the final main event.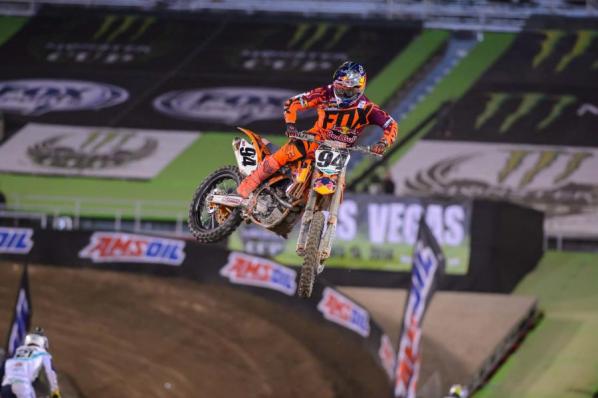 Roczen was in prime position for the overall when he grabbed the early lead in the third main event. But he had major company in the form of Dungey and Stewart. Stewart, knowing he need a win for a chance at the overall, pushed the pace early, before taking over the lead from Roczen.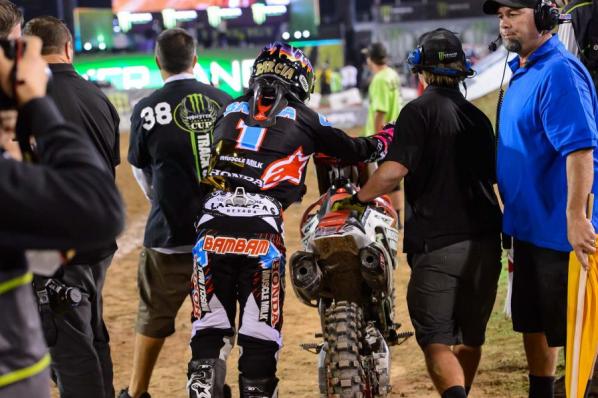 Justin Barcia was running third in the final main, but had two setbacks, and was unable to get his bike started and DNFd the main.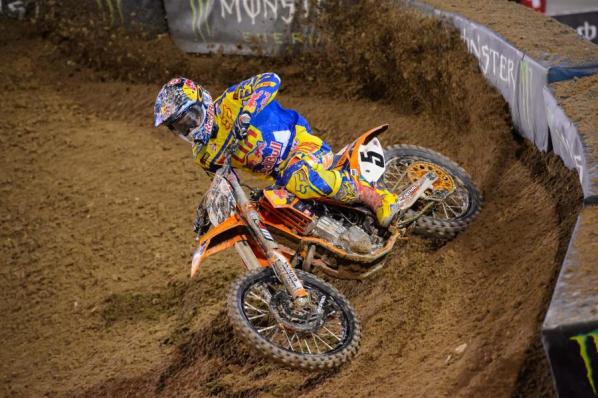 Ryan Dungey was still in contention for the overall and decided to take the Joker Lane early, while Roczen and Stewart waited. The decision paid off and lead to some late race drama.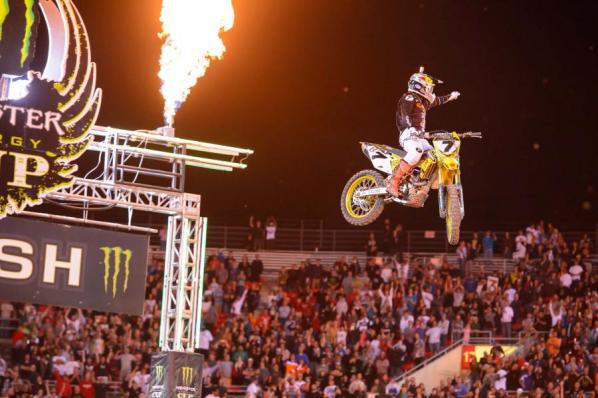 Both Stewart and Roczen waited untill the final lap to take Joker Lane. The decision worked out for Stewart, as he held off a charging Ryan Dungey to take the win and the overall. Roczen didn't have the same luck. He was passed by both Dungey and Eli Tomac, who took the Joker Lane earlier in the race.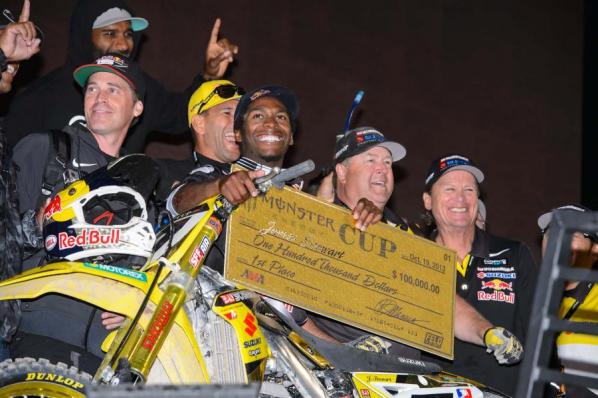 All smiles for James Stewart after taking home the overall.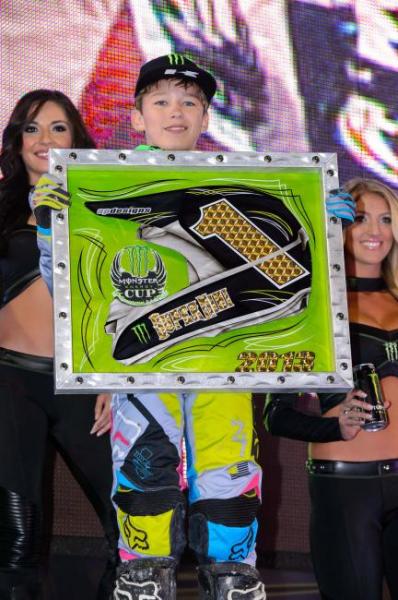 Austin Forkner was the cream of the Super Mini crop, dominating both main events en route to the overall.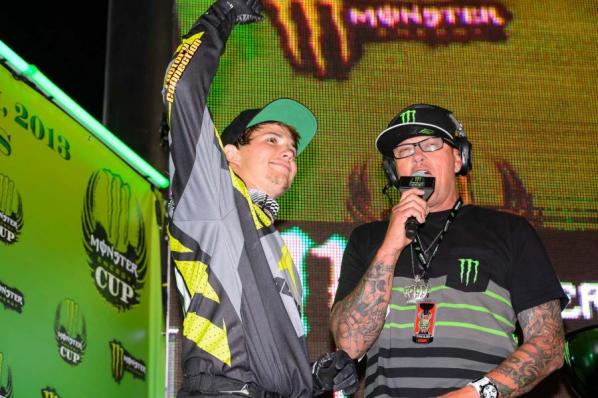 RJ Hampshire held off Jordon Smith and Jace Owen to win the Amateur All Stars race.
Monster Energy Cup Class Overall Results:
1.     James Stewart, Haines City, Fla., Suzuki (8-1-1)
2.     Ryan Dungey, Bell Plaine, Minn., KTM (6-3-2)
3.     Ken Roczen, Murrieta, Calif., KTM (4-4-4)
4.     Eli Tomac, Cortez, Colo., Honda (5-6-3)
5.     Marvin Musquin, Corona, Calif., KTM (2-9-8)
6.     Cole Seely, Murrieta, Calif., Honda (13-7-5)
7.     Broc Tickle, Holly, Mich., Suzuki (10-8-9)
8.     Justin Barcia, Pinetta, Fla., Honda (7-2-18)
9.     Dean Wilson, Wesley Chapel, Fla., Kawasaki (20-5-6)
10.  Josh Grant, Corona, Calif., Yamaha (15-10-7)
Amateur All-Stars Class Overall Results:
1.     RJ Hampshire, Hudson, Fla., Honda (1-3)
2.     Zachary Commans, Camarillo, Calif., Kawasaki (5-4)
3.     Jordon Smith, Belmont, N.C., Honda (9-1)
4.     Mark Worth, Queen Creek, Ariz., Kawasaki (6-6)
5.     Jace Owen, Mattoon, Ill., Honda (2-10)
6.     Darian Sanayei, Monroe, Wash., Kawasaki (11-2)
7.     Ryan Surratt, Corona, Calif., Yamaha (7-8)
8.     Thomas Covington, Murrieta, Calif., Kawasaki (8-9)
9.     Paul Coates, Cairo, Ga., Yamaha (3-15)
10.  Keith Tucker, Fuquay Varina, N.C., Yamaha (4-18)
Super Mini Class Overall Results:
1.     Austin Forkner, Richards, Mo, Kawasaki (1-1)
2.     Chase Sexton, La Moille, Ill., Yamaha (3-3)
3.     Michael Moisman, Sebastopol, Calif., Suzuki (7-2)
4.     Robbie Wageman, Newhall, Calif., Yamaha (6-4)
5.     Brock Papi, Mc Murray, Pa., KTM (5-6)
6.     Casey Keast, Kelowna, BC, Yamaha (4-12)
7.     Cameron Cannon, Anderson, S.C., Yamaha (10-8)
8.     Bas Vaessen, Temecula, Calif., KTM (9-9)
9.     Carson Brown, Ravensdale, Wash., KTM (13-7)
10.  Mitchell Falk, Costa Mesa, Calif., KTM (2-21)
KTM Junior Supercross Class Overall Results:
1.     Matthew Leblanc, Breaux Bridge, La., KTM
2.     Jordan Biese, Appleton, Wis., KTM
3.     Liam Everts, Limburg, Belgium, KTM
4.     Slade Varola, Simi Valley, Calif., KTM
5.     Tyler Blankenship, Bakersfield, Calif., KTM
6.     Gavin Towers, Venetia, Pa., KTM
7.     Syrus Butts, Goshen, Utah, KTM
8.     Hamden Hudson, Danville, Va., KTM
9.     Justin Stalling, Newark, Ohio, KTM
10.  Austin Driggs, Duncan Falls, Ohio, KTM
Share this article:
Did you like this article?
Check out MY LIFE IN MOTORCYCLE RACING
in our Latest issue of Racer X available now.

Jean-Michel Bayle, the iconic superstar of yesteryear, raced motocross for the first time in twenty-one years at the Vets MXdN in England. Page 126.
Look for the verified symbol
The Conversation