2014 Husqvarna Line Unveiled
Monday, October 7, 2013 | 1:45 PM Tweet

By choosing the Swedish venue for the model launch, Husqvarna Motorcycles paid homage to the brand's long and distinguished associations with the country. 

Husqvarna was a major protagonist in the pioneering era of motocross especially in the late 1950s and 1960s with legends like Bill Nilsson, Torsten Halmann and Rolf Tibblin. This tradition continued in the 1970s with riders like Bent Aberg and Heikki Mikkola, and era when American heroes like Malcolm Smith also chose Husqvarna as their racing weapon of choice. 

In keeping with the brand's core business, the new Husqvarna model range focuses on offroad competition bikes for both motocross and enduro racing disciplines. The range underlines the Husqvarna tradition of top quality as expressed in the six new motocross bikes, including an 85 cc minicross bike for the youngest offroad riders, and seven enduro models. 

Now with the re-launch of the brand, Husqvarna is set to satisfy today's leading riders in the two racing disciplines by delivering a full range of high performance machines. All Husqvarna motorcycles are manufactured in the production hub of Mattighofen in Austria, a plant considered one of the most advanced in Europe. 

All of the 2014 Husqvarna bikes feature a super light chromium molybdenum steel frame with polyamide rear subframe, a completely new innovation for motocross machines. They all have advanced, fully adjustable WP suspension and are driven by powerful and reliable engines ensuring they are firmly positioned at the top end of the offroad segment.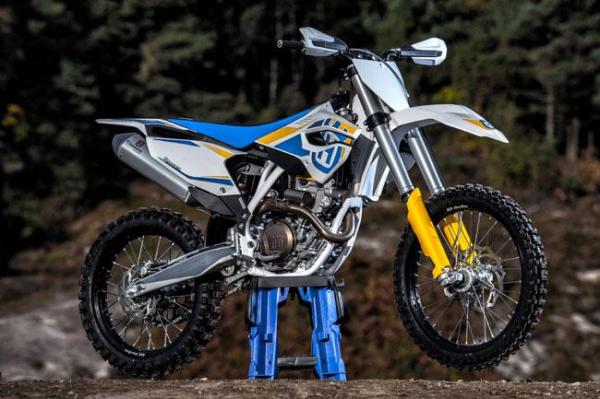 2014 FC250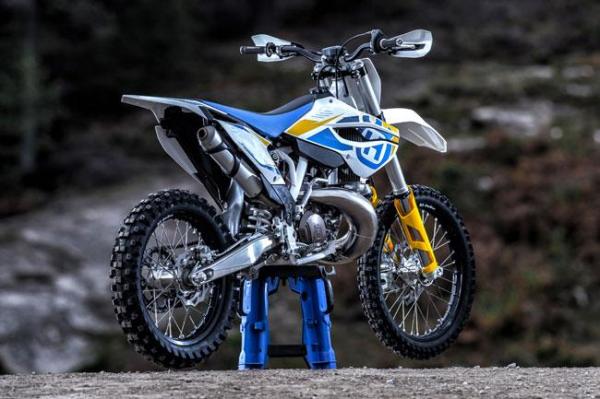 2014 TC250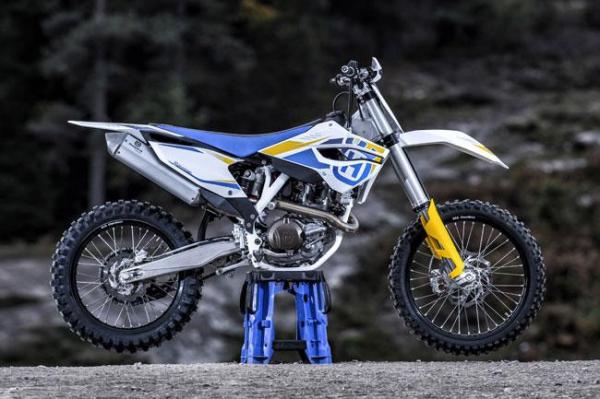 2014 FC450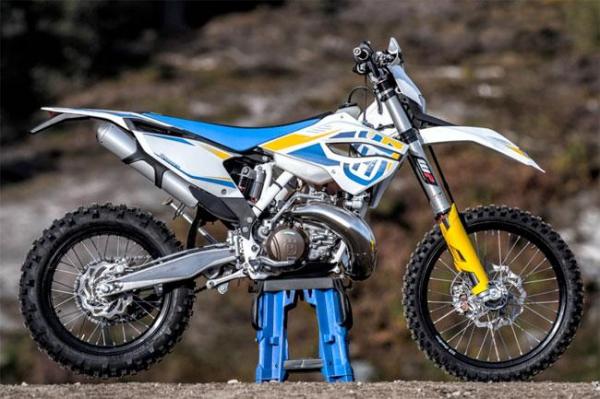 2014 TE300
Motocross range
The new Husqvarna range illustrates a loyalty to the popular two-stroke machines in both 125 and 250 cc displacements. The range includes 250, 350 and 450 four-stroke models plus the 85 cc minicross, ensuring there is a model of choice for every customer. 

With innovation at the forefront, Husqvarna offers technical details completely new to motocross such as the polyamide rear subframe, which ensures both improved stability and flexibility. This allows the subframe to spring back into its original position very easily while at the same time offers optimal protection for air filter, battery and electric cables.
Enduro Model Range
For 2014 Husqvarna offers a big range of very competitive two and four stroke high-tech enduro bikes. The TE125, 250 and 300 cc with two stroke engines goes together with the four stroke FE250, 350, 450 and 501 cc. All models feature the advanced WP 4CS closed cartridge front fork with four separate chambers, which represents a premium class, front-end suspension system. The enduro range – except the TE125 – feature electric starters. 

The rear features an advanced shock with linkage system especially developed for enduro use, which is robust and effective for easy handling over rough terrain and for absorbing big hits. At the same time, the bikes are designed to provide optimal traction over smaller ruts and bumps. 

The new Husqvarna 2014 models are available from all authorized European Husqvarna dealers from the beginning of November 2013.
Update: October 9th
"Reuniting what belongs together!" After 25 years apart, Husaberg and Husqvarna have come back together, reconnecting the heritage, classic style and innovative craftsmanship that introduced motocross to America. The first generation of this revitalized brand reflects a time that both Husaberg and Husqvarna can trace their roots back to - a time when blue, yellow and white Swedish-bred bikes ruled the off-road world. Husqvarna is now proud to recapture the spirit of this dominant era with the 2014 line of Austrian-built motorcycles, and return the iconic brand to the highest ranks of off-road competition.
Husqvarna kicks off this all-new chapter in its 110-year history with a full range of off-road and motocross bikes. Ten different models will be available in the United States and Canada, including two- and four-stroke motorcycles in a variety of sizes - from 501 all the way down to 85cc!
Several of Husqvarna's key innovations can be found on the full line of 2014 machines - most notably the polyamide rear subframe. Uniquely housing the airbox and electronics of each model, the high-tech composite construction of the polyamide subframe is designed to offer optimum rigidity while also allowing more flex than a traditional aluminum structure. The unique three-piece fiberglass-reinforced subframe also provides an ideal grab handle, and gives the bike greater impact resistance (polyamide will bend back into place unlike aluminum).

The innovative subframe is applied to every new Husqvarna - even the TCs which marks the first time a composite rear subframe has been offered on a production two-stroke motocrosser. The subframe is carefully calibrated to work in harmony with the lightweight chromium molybdenum (chromoly) frame. Precise longitudinal flex helps absorb impact from the rear wheel while torsional rigidity enhances handling and stability.

The single-component casting process of the aluminum swingarm eliminates the need for welds, further enhancing the 2014 Husqvarna chassis. Strong but light, the swingarm puts the Husqvarna power to the ground while offering the rider the utmost in comfort and confidence. The rear chassis assembly also incorporates a linkage system, standard on all Husqvarna motorcycles*, along with a fully adjustable WP shock.

Each model in the 2014 line also utilizes WP front suspension mounted by Husqvarna's distinctive CNC-machined black triple clamps*. With precisely engineered flex, the triple clamps provide even clamping force on the fork legs, and allow the tubes to flex under stress. In addition, the handlebar can be mounted in four different positions to adapt to rider preference.
*excluding TC 85

Motocross - FC & TC
Motocross has changed a lot since first coming to the United States at the hand of Edison Dye in 1966. Armed with two Husqvarna motorcycles and a Swedish world champion named Torsten Hallman, Dye kicked off America's fascination with motocross racing. The machinery has progressed significantly since then, but the Husqvarna marque remains the definitive emblem of the era. This emblem will once again adorn state-of-the-art motocross bikes, as Husqvarna's 2014 line is elevating the brand back to a world-class level.

Husqvarna is breaking ground in the youth motocross segment in North America with the all-new TC85. "We see quite a bit of opportunity in the minicycle segment in the United States," said Husqvarna's Andy Jefferson. "We're excited to introduce the Husqvarna brand to the youth motocross crowd."

The TC 85 brings Husqvarna's full-size performance into a small package. Young racers have a no-compromise approach to motocross with the same quality components as the big bikes - WP suspension, hydraulic clutch, and a high-performance two-stroke engine complete with power valve and six-speed gearbox.

Step-by-step advancement into the premier ranks of motocross is possible through Husqvarna's 2014 model range. Joining the TC 85 in the two-stroke motocross category are the TC 125 and the TC 250. Both the 125 and 250 feature class-leading two-stroke performance fed by Boyesen reed valves, and are tunable through a power valve and two pre-set ignition curves. The TC 125 and 250 ride on WP suspension, featuring the closed-cartridge fork and CNC machined triple clamp up front, and a fully adjustable link-mounted shock in the rear.

On the four-stroke side, Husqvarna has the FC 250 and FC 450 duo ready to go toe-to-toe with the best in the world. Husky is headed straight to the top of motocross competition with the all-new FCs, featuring potent engines, the ultimate in chassis and suspension technology, fuel injection, electric start and a host of state-of-the-art components.

The dual-overhead DOHC cam design of the FC 250 features a König forged box-type piston, titanium valves and DLC-coated finger followers. Fed by Keihin EFI and a 44mm throttle body, the FC 250's power is put to work by a five-speed gearbox. The Brembo hydraulic clutch enables smooth and consistent operation of the CSS (coil spring steel) clutch.

The FC 450 is powered by a single overhead cam engine, featuring DLC-coated rocker arms, Pankl crank and connecting rod. Like the 250, the FC 450 is equipped with a König forged box-type piston and five-speed gearbox, but the 450 utilizes Husqvarna's innovative DDS (damped diaphragm steel) clutch. Brembo clutch hydraulics ensure smooth action and easy control of the FC 450's exceptional power, which climbs to a breathtaking 60 hp.

The power plants of both the FC 250 and FC 450 come together in streamlined, compact designs thanks to the advanced production process of the engine cases. High-pressure die-casting allows for thinner wall thickness and lower overall weight without sacrificing strength. To reduce weight even further the FCs do without the kickstart casting.

Dunlop MX51 tires, a tapered aluminum 827 Renthal Fatbar, hand guards and Brembo brakes complete the finishing touches of Husqvarna's 2014 motocross family.

Off-Road - FE & TE
Husqvarna's legacy wouldn't be nearly complete without its numerous off-road championships! From National Enduro to World Enduro, Husqvarna has myriad titles to its credit, and considering the cutting-edge technology and wide range of the all-new 2014 line of FE and TE machines, there are many more championships to come!

Like the motocross family, Husqvarna's off-road line has something for everyone with two- and four-stroke models in a variety of engine sizes. Husqvarna's TE (Two-stroke Enduro) line offers a 250 and 300 model while the FE (Four-stroke Enduro) line comes in three displacements: 250, 350 and 501.

All FE and TE models feature WP's advanced 4CS closed-cartridge 48mm fork. The four-chamber system brings the sophisticated capabilities of a closed-cartridge fork together with the benefits of an open-cartridge design, while also providing on-the-fly adjustability. The 4CS fork provides a decisive advantage in terms of tunability, responsiveness and consistent damping while sacrificing nothing when it comes to plushness and rider comfort.

Leading the way in off-road two-stroke technology are Husqvarna's elite TE 250 and TE 300. The ultimate in lightweight handling, this potent duo offers an unmatched power-to-weight ratio to riders, while also providing the ease of an electric start (with kickstarter backup). Both the TE 250 and TE 300 carry Boyesen reed valves, a six-speed gearbox and Brembo hydraulic clutch. The innovative DDS (damped diaphragm steel) clutch system enables smooth action and easy control, further enabling the ground-gripping power of the TEs.

Torque characteristics are further optimized through the use of an advanced power valve, allowing the potent two-stroke mills to harness power even at the lowest RPMs. Due to the wide ranging demands of off-road competition the ignition curves of the TE 250 and TE 300 are also adjustable. The CDI unit features two ignition curves that can be switched by changing the plug connection.

Husqvarna's FE family includes the nimble FE 250, the mid-sized FE 350, and the largest displacement model in the 2014 line, the FE 501. Like their motocross counterpoints, the FE models carry their potent power in a sleek package thanks to high-pressure die casting of the engine cases. The high tensile strength of the production process allows the use of thinner casing walls without compromising the strength or resistance to chipping.

Keihin EFI and a 42mm throttle body feed the motor on all three FEs while a six-speed transmission spreads power into a wide and useable range. The 250, 350 and 501 all carry the innovative DDS (damped diaphragm steel) clutch system. Using a diaphragm spring instead of coil springs, and an integrated damping system for optimal traction, the DDS ensures smooth, easy control in even the most demanding conditions.

Additional features of the FE family such as the electric start and built-in radiator fans make life on any trail easier. All three models also come equipped with USFS-approved spark arrestors and are clean-burning enough to earn them each a California green sticker.

At the heart of the FE 250 beats a König forged bridged-box-type piston. Like its FC sibling, the FE's DOHC head utilizes titanium valves and DLC-coated finger followers, but is tuned specifically for off-road by way of unique cams. The torque of the FC 250 is focused in its mid-range, making it optimum for tough enduro-style terrain while a dedicated flywheel further improves traction. The Pankl crankshaft and connecting rod ensure durability and long service intervals.

The FE 350 also carries the Pankl crankshaft and connecting rod, but receives its own unique Vertex forged piston. The high-revving 349.7cc DOHC engine is the ideal balance between a 250 and 450, and its peak power of over 45 hp make it more than capable of keeping up with premier class competitors. Titanium intake valves are operated by DLC-coated finger followers, which ensure low friction and high revs. Cam timing and Pankl crankshaft are tuned for enduro-style riding, and also ensure ample durability and long service intervals.

The big power of the FE 501 is housed in a 510.4cc SOHC engine, optimized for extreme enduro use. The DDS clutch system and Brembo hydraulic clutch make the wide power-spread of the FE 501 easy to use while DLC-coated rocker arms ensure excellent durability. The König bridged-box-type piston is closely related to the FC 450's piston in order to lower oil consumption and optimize performance
2014 Husqvarna Motorcycle Highlights

All models (excluding TC 85)
WP suspension front and rear
CNC-machined triple clamps with four handlebar positions
Link-mounted rear suspension
Polyamide rear subframe
Black D.I.D. rims, CNC-machined hubs
TC (85, 125, 250)
Closed-cartridge WP fork
Power valve
Boyesen reed valves*
CDI with two ignition curves, switchable by plug*
Hand guards, Dunlop MX51 tires*, tapered aluminum 827 Renthal Fatbar
TC 85 has Formula brake and clutch hydraulics, six-speed gearbox, black Excel rims with CNC-machined hubs.
TC 125 has Vertex piston, Magura hydraulic clutch, standard coil clutch system and six-speed gearbox.
TC 250 has DDS clutch with Brembo hydraulic clutch and five-speed gearbox.
300cc kit available for TC 250 through Husky Power

*Excludes TC 85
FC (250, 450)
Closed-cartridge 48mm WP fork
Pankl crankshaft and connecting rod
König forged bridged-box-type piston
Electric start only
Keihin EFI, 44mm throttle body
Five-speed gearbox, Brembo clutch hydraulics
FC 250 has DOHC engine with DLC-coated finger followers and standard coil clutch system.
FC 450 has SOHC engine with DLC-coated rocker arms and DDS clutch.
TE (250, 300)
4CS closed-cartridge 48mm WP fork w/ easy on-the-fly adjust
DDS clutch system with Brembo hydraulics
Electric- and kick-start
Boyesen reeds and blocks
CDI with two ignition curves, switchable by plug
Six-speed transmission
FE (250, 350, 501)
4CS closed-cartridge 48mm WP fork w/ easy on-the-fly adjust
DDS clutch system with Brembo hydraulics
Pankl crankshaft and connecting rod
Keihin EFI, 42mm throttle body
Six-speed gearbox with Brembo hydraulics
FE 250 has DOHC engine with König bridged-box-type piston
FE 350 has DOHC engine with Vertex forged piston
FE 501 has SOHC engine with König bridged-box-type piston
Electric start only
Electric radiator fan
USFS-approved spark arrestor silencer
Green-sticker homologation
Share this article:
Did you like this article?
Check out MONSTERBALL
in our Latest issue of Racer X available now.

Playing soccer on 250cc motorcycles might sound like a strange form of riding, but in Russia they do it with great passion—and for very little reward. Page 112.
Look for the verified symbol
The Conversation