by
Davey Coombs
450 Words: The Red Knights
Thursday, October 3, 2013 | 11:30 AM
Yamalube oils, lubricants and care products have been proven to enhance performance, lower ownership costs and lengthen the lives of Yamaha motors. Give our entire line a test drive, and we think you'll find you've changed more than your oil; you've changed your entire experience.
Tweet
So far we've heard, read, and in some cases written all the excuses for why Team USA lost the 2013 Motocross of Nations in Germany on Sunday (but did, to be fair, finish second). It's been blamed on Ryan Dungey (who led us to three recent wins), Eli Tomac (the fastest of our guys in his first MXoN), Justin Barcia (who crashed in the first turn, like Clement Desalle of the winning Belgian team), Roger DeCoster (team manager and former rider involved with thirty-eight previous wins in the MX and Trophee des Nations), the track preparation over there, the track preparation over here, the airline that canceled two of Dungey's connections, the undue-yet-well-deserved pressures and expectations on Team USA (I know, a contradiction in terms), and even DeCoster not being "American enough" (even though one of his sons is a U.S. Marine and another works as a diplomat).
We've also heard the expected hyperbole from across the pond that "Euros have taken over" and Ryan Dungey is no longer fast and our riders are soft because our tracks are smooth and all of the other little digs than anyone can get in on Team USA because, well, we don't lose very often.

Having been there and enjoyed a great weekend of motocross, let me add a new wrinkle to all of this that I haven't really noticed in all of the shouting/typing: The best team on Sunday won this team race. Belgium didn't win any motos, they didn't win their classes, and they didn't get all caught up in the back-and-forth tapestry of texts and taunts that is still circulating above the Atlantic Ocean. Instead, they raced as a team, and they won as a team.
When I saw the press release two weeks ago introducing the Red Knights of Belgium—Clement Desalle, Ken De Dycker, and Jeremy Van Horebeek, managed by the ever-kind, ever-competitive Joel Smets, a five-time world champion yet always underrated by most of us Americans—it caught my attention because it seemed authentic and enthusiastic. The Belgians have a motocross legacy even greater than ours, and they literally wore it on their sleeves with a silhouette of the late Georges Jobe, a multi-time FIM World Champion who suffered through years and years of defeat at the MXoN at the hands of the Americans.  By tying that legacy together with a theme—the Red Knights stand for strong character—Belgium formed a unified front as they rode into Teutschenthal, pretty much under the radar of everyone else.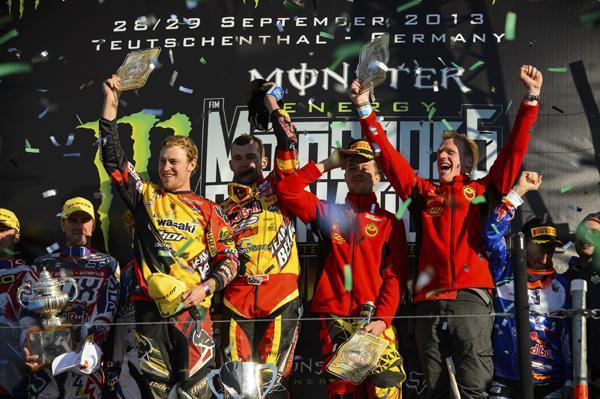 They received no individual accolades, instead Team Belgium won the Motocross of Nations as a team. Simon Cudby photo
But when it all came together for Belgium at the end of the third and final moto, even the most partisan fan of Team USA, Germany, Italy, France, or anywhere else had to tip their visors to Smets and his Red Knights. They haven't been atop the MXoN podium since 2004—incidentally, the last time the Americans didn't show up. We were there this time, and we were defeated as individuals in the motos by Cairoli and Roczen and as a team by Belgium.
Team USA will be back, including Dungey and DeCoster, and there will be more wins, and there will be more losses. But just like we saw last year when Germany won, and in the seven years before that when Team USA won, the best team wins the Motocross of Nations and the Peter Chamberlain Cup. The rest is just bragging rights and online ammo.
Well done, Belgium. All hail the Red Knights.
Share this article:
Did you like this article?
Check out 10,000 MILES FROM HOME
in our Latest issue of Racer X available now.

Australian Dean Ferris hopes to follow in the footsteps of some of his legendary countrymen. Now contesting the FIM Grand Prix series, he made a huge impression at the Motocross of Nations. Page 138.
Look for the verified symbol
The Conversation