10 Things to Watch: RedBud
Friday, July 5, 2013 | 1:30 PM Tweet

By Aaron Hansel, Chase Stallo and Jason Thomas

The Jump
Not just a jump, but THE jump. LaRocco's Leap is without a doubt the most famous and iconic jump on the entire circuit. Named after local hero and legend Mike LaRocco, who was the first to tame the beast some twenty plus years ago, LaRocco's Leap is a massive triple jump that easily stretches over 100 feet in length. It's not a problem for the power of today's 450s, but depending on conditions it could prove to be an occasional separator in the 250 Class. And of course, there's sure to be a few scary instances of riders coming up short! For a firsthand view of what that's like, fast forward to the 35-second mark of this GoPro footage.-Hansel

Michigan Mafia
Although Nick Wey has got to be pumped just to be back racing after suffering a terrible crash last year at Millville, he's probably not too pumped on how his season has been going so far; scoring points in only seven of twelve motos isn't what he's used to. But RedBud is Wey's home race, and he'll be racing in front of a whole lot of family and friends. If he's going to have a breakout ride, odds are it'll come this weekend. How will the Don do in the sacred grounds of the Michigan Mafia? -Hansel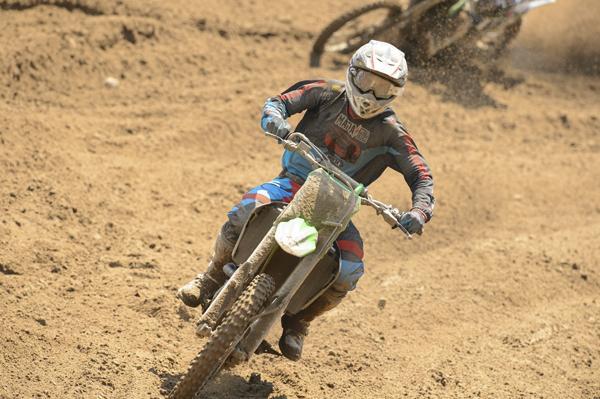 Nick Wey looks to regain his form at his home race.
Simon Cudby photo
Staying in the Fight
Marvin Musquin had a bad day at Southwick. In the first moto he crashed in the first turn and was only able to come back for tenth. In the second moto he had a better start, but simply got shuffled back to ninth after running in second. It was disastrous for him in the points, and he now faces a 43-point deficit behind his teammate Ken Roczen. Can Musquin rebound at RedBud, or will he find himself even deeper in what is already a sizable hole? -Hansel

The Upswing
How about Andrew Short's first moto at Southwick? If you tuned into the broadcast halfway through, you probably did a double-take when you saw Short's name scroll across the top of the screen in first. When it looked like Short just might hang on for the win, your slack-jawed expression probably gave way to big silly grin. Shorty fan or not, who doesn't like a surprise winner? Well, he didn't end up winning the moto, but he did hang on for second, which is still an amazing feat. He also set the second-fastest lap of the race behind James Stewart. Will running up front provide the shot of confidence Short needs to do it again this weekend at RedBud? -Hansel

Second Half Players
With six races down, it's safe to say that the newness of the season is officially long gone. With limited races remaining in which to score valuable points, the thought process of those still in contention now starts to transition from, "It's a long season" to, "Every moto counts." With a sense of urgency beginning to take hold, how will the Championship leaders, as well as the men within striking distance of them, handle the pressure as Lucas Oil Pro Motocross enters its second half? -Hansel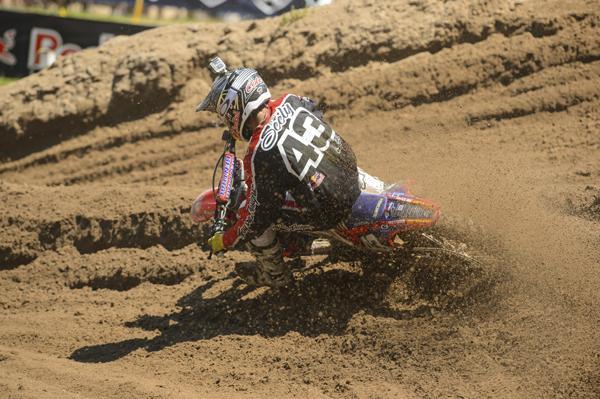 Can Seely continue his hot start going at RedBud?
Simon Cudby photo
New Winner?
Through six rounds of Lucas Oil Pro Motocross Ryan Dugney and Ryan Villopoto have sweep all twelve motos—RV with nine and Dungey three. Justin Barcia and James Stewart have each led laps—with Andrew Short jumping in the mix at Southwick—but neither has been able to seal the deal. Will RedBud bring a new moto, or overall, winner to the 450 Class? – Chase Stallo
Seely Steady
Following Budds Creek, Cole Seely said that he "had a good twenty-five minutes" in him, but not much after. Injuries sidelined Seely all of the 2012 Nationals and admittedly he "definitely lost more than he thought last year." Southwick is one of the toughest tracks on the circuit, but Seely was able to piece together one of the best rides on the season finishing sixth overall. Seely said following the race that he didn't get "as tired as [he] usually does" and "was able to actually regroup in the last moto at the 25 minute line." Seely's outdoors season has been a surprise thus far; will it continue at RedBud? - Stallo
Canard Returns
The last time Honda Muscle Milk's Trey Canard raced RedBud was all the way back in 2010. Due to injuries, Canard has not been back at the historic venue since his overall victory in '10. While he has only raced RedBud twice (2008 and 2010), his track record has validity with a second overall (2008) and a win (2010). Will Canard be a player in his return to RedBud? - Stallo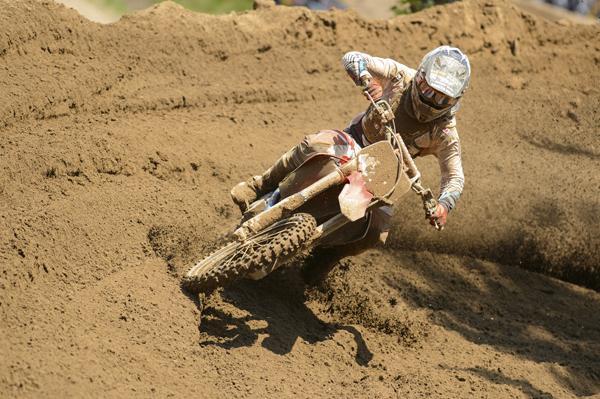 Trey Canard returns to RedBud for the first time since 2010.
Simon Cudby photo
Feeling the Flow
Red Bud is a track that a few guys really seem to excel at. Although it isn't their home track, Josh Grant, Mike Alessi and Trey Canard have all had breakout rides in southern Michigan. Some needing it more than others, can one or all of these three use their previous success to jump up in the results this Saturday? - Jason Thomas
Sipes Rebound
Opening the season like a man on fire, Ryan Sipes has hit a few bumps in the road. Bad starts and crashes have since plagued Kentucky's finest but Red Bud is a great place to rebound. Speed is one of Sipes' strengths but if he is on the ground or buried in the pack, no one gets to see it. Saturday is a great chance to put himself back on the radar. - Thomas
Share this article:
Did you like this article?
Check out MOTO GIFT GUIDE
in our Latest issue of Racer X available now.

Our annual gift guide has something (or maybe even a few somethings) for everyone on your holiday list. Page 146.
Look for the verified symbol
The Conversation