Wake-Up Call
Monday, April 29, 2013 | 2:00 AM Tweet

Monster Energy Supercross
Round 16 - Rice-Eccles Stadium - Salt Lake City, UT


450SX Overall

1. Ryan Villopoto Kaw

2. Davi Millsaps Suz

3. Ryan Dungey KTM

4. Trey Canard Hon

5. Justin Barcia Hon

6. Justin Brayton Yam

7. Josh Hill Suz

8. Andrew Short KTM

9. Weston Peick Suz

10. Chad Reed Hon

11. Broc Tickle Suz

12. Ben LaMay Yam

13. Jake Weimer Kaw

14. Robby Kiniry Yam

15. Phil Nicoletti Yam

16. Vince Friese Hon

17. Chris Blose Yam

18. Cody Gilmore Kaw

19. Adam Enticknap Hon

20. Kyle Partridge Hon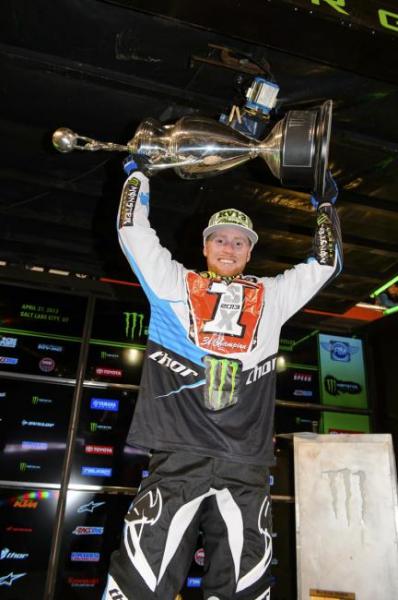 Ryan Villopoto clinched his third straight title in Salt Lake City. Simon Cudby photo
450SX Point Standings
1. Ryan Villopoto 346pts Kaw *Clinched title
2. Davi Millsaps 318pts Suz
3. Ryan Dungey 315pts KTM
4. Justin Barcia 261pts Hon
5. Chad Reed 224pts Hon
6. Trey Canard 220pts Hon
7. Andrew Short 202pts KTM
8. Justin Brayton 177pts Yam
9. James Stewart 174pts Suz
10. Broc Tickle 165pts Suz
11. Matt Goerke 139pts KTM
12. Jake Weimer 139pts Kaw
13. Mike Alessi 107pts Suz
14. Weston Peick 91pts Suz
15. Josh Hill 86pts Suz
16. Robby Kiniry 57pts Yam
17. Eli Tomac 52pts Hon
18. Phil Nicoletti 48pts Yam
19. Vince Friese 45pts Hon
20. Chris Blose 44pts Yam
250SX West Region Overall
1. Jason Anderson Suz
2. Cole Seely Hon
3. Martin Davalos Kaw
4. Malcolm Stewart KTM
5. Christian Craig Hon
6. Eli Tomac Hon
7. Ryan Sipes Suz
8. Tyla Rattray Kaw
9. Joey Savatgy KTM
10. Travis Baker Yam
11. Kyle Cunningham Yam
12. Zach Osborne Hon
13. Dakota Tedder Kaw
14. Topher Ingalls Hon
15. Scott Champion Hon
16. Tyler Bereman Kaw
17. Casey Hinson Hon
18. Ross Johnson Hon
19. Austin Politelli Hon
20. Bracken Hall Hon
...
DNQ... Ken Roczen KTM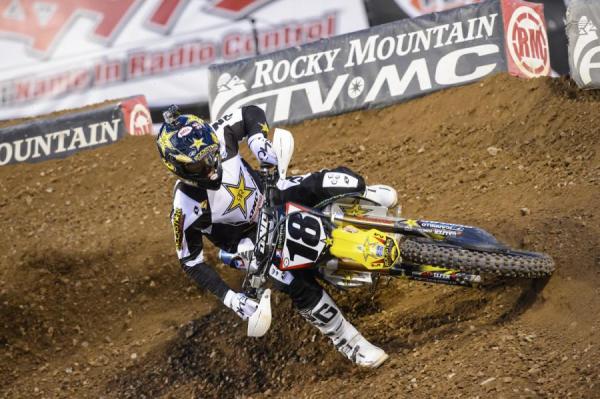 Davi Millsaps finished second behind RV.
Simon Cudby photo
250SX East Region Point Standings
1. Wil Hahn 178pts Hon
2. Marvin Musquin 173pts KTM
3. Blake Wharton 153pts Suz
4. Vince Friese 103pts Hon
5. Dean Wilson 87pts Kaw
6. Gavin Faith 83pts Suz
7. Cole Thompson 83pts Hon
8. Kyle Peters 78pts Hon
9. Jeremy Martin 71pts Yam
10. Justin Hill 68pts Kaw
11. Lance Vincent 66pts KTM
12. Jimmy Decotis 66pts Kaw
13. AJ Catanzaro 62pts Kaw
14. Mitchell Oldenburg 61pts Hon
15. PJ Larsen 54pts Yam
16. Jackson Richardson 42pts Hon
17. Levi Kilbarger 40pts Hon
18. Steven Clarke 39pts KTM
19. Zach Bell 37pts Hon
20. Zack Freeberg 36pts Hon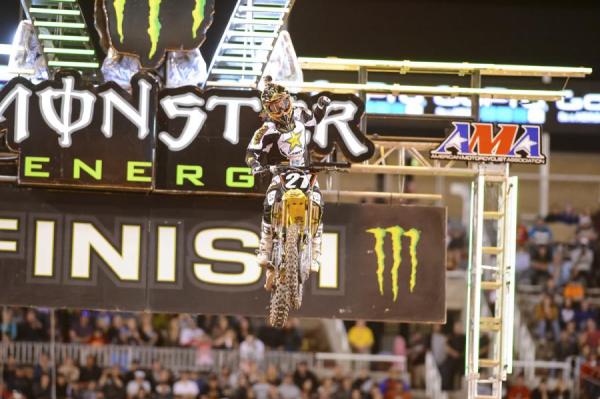 Jason Anderson won his first career 250SX race in Salt Lake City.
Simon Cudby photo
250SX West Region Point Standings
1. Ken Roczen 163pts KTM
2. Eli Tomac 158pts Hon
3. Cole Seely 135pts Hon
4. Jason Anderson 124pts Suz
5. Martin Davalos 114pts Kaw
6. Zach Osborne 111pts Hon
7. Kyle Cunningham 96pts Yam
8. Christian Craig 87pts Hon
9. Tyla Rattray 87pts Kaw
10. Joey Savatgy 87pts KTM
11. Malcolm Stewart 74pts KTM
12. Austin Politelli 74pts Hon
13. Travis Baker 70pts Yam
14. Jessy Nelson 60pts Hon
15. Ryan Sipes 59pts Suz
16. Max Anstie 38pts Suz
17. Josh Cachia 29pts KTM
18. Jake Canada 28pts Hon
19. Scott Champion 23pts Hon
20. Jean Ramos 21pts Kaw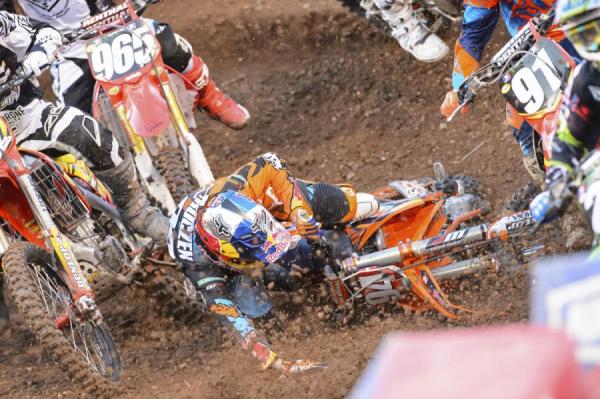 Crashes lead to a DNQ for Ken Roczen, but he still holds the lead in the championship.
Simon Cudby photo
AMSOIL Grand National Cross Country Series

XC1 Pro Point Standings
1. Charlie Mullins 115pts KTM
2. Kailub Russell 105pts KTM
3. Chris Batch 70pts KTM
4. Josh Strang 63pts Kaw
5. Thad DuVall 63pts Hon
6. Paul Whibley 59pts Yam
7. Ricky Russell 53pts Yam
8. Jordan Ashburn 51pts Yam
9. Takeshi Koikeda 50pts Hon
10. Adam Bonneur 44pts Kaw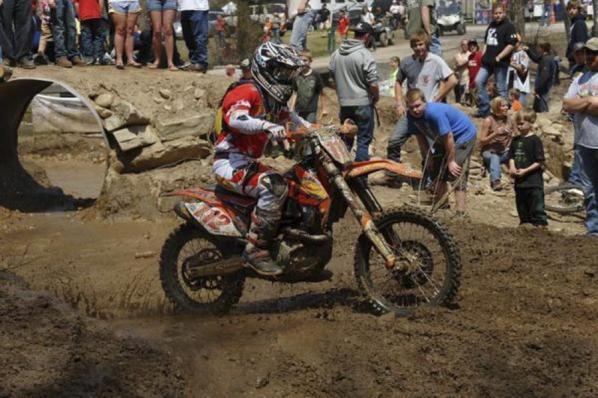 Charlie Mullins leads the XC1 class.
Ken Hill / GNCCRacing.com photo
XC2 Pro Lites Point Standings
1. Andrew Delong 108pts HSQ
2. Grant Baylor 87pts KTM
3. Jason Thomas 81pts KTM
4. Shane Hufford 62pts KTM
5. Jedediah Haines 52pts KTM
6. AJ Stewart 52pts Yam
7. Aaron Plessinger 51pts Yam
8. Zach Osborne 42pts Hon
9. Travis Coy 38pts KTM
10. Mark Heresco 31pts KTM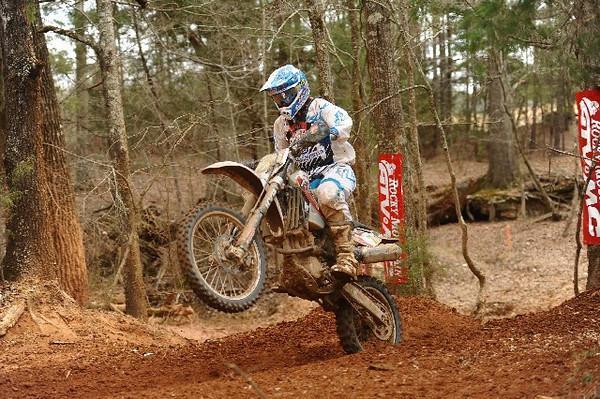 Andrew Delong leads the field in XC2.
Ken Hill / GNCCRacing.com photo
Women Point Standings
1. Maria Forsberg 78pts KTM
2. Kacy Martinez 76pts KTM
3. Jessica Patterson 74pts Yam
4. Mandi Mastin 61pts KTM
5. Ashley Copeland 57pts HSQ
FIM Motocross World Championship

MX1 Point Standings
1. Antonio Cairoli 235pts KTM
2. Gautier Paulin 195pts Kaw
3. Clement Desalle 189pts Suz
4. Ken de Dycker 183pts KTM
5. Kevin Strijbos 160pts Suz
6. Tommy Searle 147pts Kaw
7. Rui Goncalves 109pts KTM
8. Max Nagl 100pts Hon
9. Xavier Boog 90pts KTM
10. Evgeny Bobyshev 87pts Hon
11. David Philippaerts 86pts Hon
12. Tanel Leok 79pts Hon
13. Jeremy van Horbeek 78pts Kaw
14. Joel Roelants 76pts Yam
15. Davide Guarneri 74pts KTM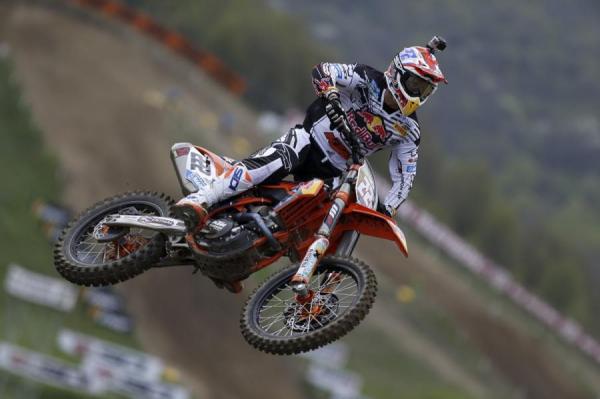 Antonio Cairoli continues to lead the MX1 class.
Ray Archer / KTM Images photo
MX2 Point Standings
1. Jeffrey Herlings 250pts KTM
2. Jordi Tixier 185 KTM
3. Glenn Coldenhoff 157pts KTM
4. Jose Butron 143pts KTM
5. Christophe Charlier 137pts Yam
6. Max Anstie 128pts Suz
7. Dean Ferris 115pts Yam
8. Alessandro Lupino 109pts Kaw
9. Jake Nicholls 104pts KTM
10. Romain Febvre 98pts KTM
11. Mel Pocock 87pts Yam
12. Petar Petrov 80pts Yam
13. Julien Lieber 71pts Suz
14. Dylan Ferrandis 64pts Kaw
15. Pascal Rauchenecker 64pts KTM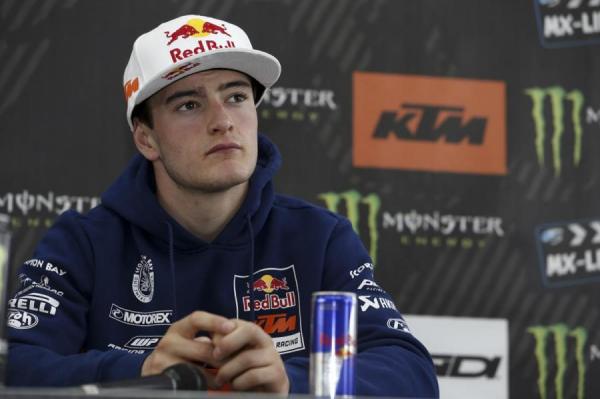 Jeffrey Herlings has yet to lose in 2013.
Ray Archer / KTM Images photo
Monster Energy Australian Motocross Championship
Round 2 - Murray Bridge, SA
MX1 Overall
1. Todd Waters
2. Billy Mackenzie
3. Jake Moss
4. Lawson Bopping
5. Matt Moss
6. Tye Simmonds
7. Jacob Wright
8. Cody Cooper
9. Ford Dale
10. Cody Mackie
11. Daniel McCoy
12. Cheyne Boyd
13. Kirk Gibbs
14. Robbie Marshall
15. James Booth-Elliot
MX1 Point Standings
1. Todd Waters 141pts
2. Billy Mackenzie 122pts
3. Lawson Bopping 109pts
4. Jake Moss 107pts
5. Matt Moss 107pts
6. Cody Cooper 105pts
7. Tye Simmonds 98pts
8. Ford Dale 85pts
9. Cody Mackie 83pts
10. Jacob Wright 80pts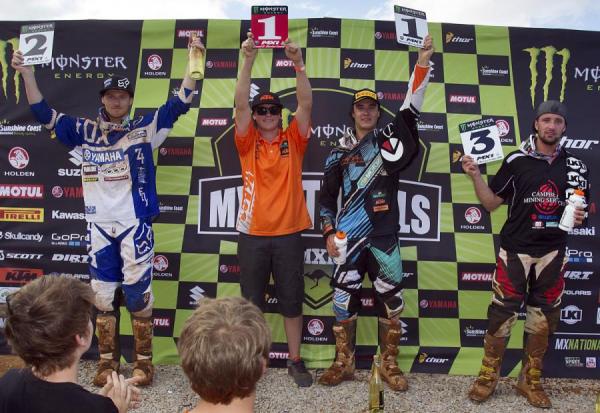 Todd Waters (center) won for the second time in 2013.
KTM photo
MX2 Overall
1. Luke Clout
2. Luke Styke
3. Brock Winston
4. Kale Makeham
5. Ryan Marmont
6. Dylan Long
7. Geran Stapleton
8. Rhys Carter
9. Kayne Lamont
10. Matt Ryan
11. Takeshi Katsuya
12. Kyle Webster
13. Matt van Sloten
14. Josh Adams
15. Tristen Cachia
16. Josh Cachia
MX2 Point Standings
1. Luke Styke 135pts
2. Luke Clout 122pts
3. Kaie Makenham 112pts
4. Brock Winston 109pts
5. Geran Stapleton 90pts
6. Kayne Lamont 90pts
7. Matt Ryan 90pts
8. Josh Cachia 88pts
9. Takeshi Katsuya 82pts
10. Kade Mosig 73pts
Dutch Motocross Championship
Round 3 - Germert

MX1 Moto 1
1. Shaun Simpson TM
2. Marc de Reuver KTM
3. Mike Kras Suz
4. Filip Bengtsson KTM
5. Augusts Justs Hon
MX1 Moto 2
1. Tanel Leok Hon
2. Shaun Simpson TM
3. Mike Kras Suz
4. Filip Bengtsson KTM
5. Stuwey Reijnders Hon
MX2 Moto 1
1. Jeffrey Herlings KTM
2. Glenn Coldenhoff KTM
3. Jordi Tixier KTM
4. Brian Bogers KTM
5. Jeffrey Dewulf KTM
MX2 Moto 2
1. Jeffrey Herlings KTM
2. Jordi Tixier KTM
3. Glenn Coldenhoff KTM
4. Ceriel Klein KTM
5. Petar Petrov Yam
Carport Empire Contingency Cup
Motocross Of Marion County
450 Pro Sport
1. RJ Hampshire
2. Michael Picone
250 Pro Sport
1. Jerry Kopoian
2. Michael Ashe
3. Brandon Slane
RJ Hampshire won three titles over the weekend.
450 A
1. RJ Hampshire
2. Michael Picone
3. Heath Harrison
250 A
1. RJ Hampshire
2. Michael Picone
3. Michael Ashe
Rekluse/AMA National Enduro Series
Round 5 - West Point, TN
Overall Results
1. Charlie Mullins
2. Nick Fahringer
3. Russell Bobbitt
4. Andrew Delong
5. Mike Lafferty
6. Grant Baylor
7. Jesse Groemm
8. Brad Bakken
9. Ian Blythe
10. Jordan Ashburn
Overall Point Standings
1. Charlie Mullins 130pts
2. Russell Bobbitt 110pts
3. Nick Fahringer 108pts
Share this article:
Did you like this article?
Check out 10,000 MILES FROM HOME
in our Latest issue of Racer X available now.

Australian Dean Ferris hopes to follow in the footsteps of some of his legendary countrymen. Now contesting the FIM Grand Prix series, he made a huge impression at the Motocross of Nations. Page 138.
Look for the verified symbol
The Conversation