Yamaha Wake-Up Call
Monday, April 1, 2013 | 2:00 AM Tweet

Monster Energy Supercross


450SX Point Standings
1. Ryan Villopoto 252pts Kaw
2. Davi Millsaps 240pts Suz
3. Ryan Dungey 230pts KTM
4. Chad Reed 196pts Hon

5. Justin Barcia 184pts Hon
6. James Stewart 169pts Suz
7. Trey Canard 165pts Hon
8. Andrew Short 148pts KTM
9. Justin Brayton 122pts Yam
10. Broc Tickle 122pts Suz
11. Matt Goerke 119pts KTM
12. Jake Weimer 94pts Kaw
13. Mike Alessi 84pts Suz
14. Weston Peick 59pts Suz
15. Eli Tomac 52pts Hon
16. Josh Grant 40pts Yam
17. Jimmy Albertson 38pts Hon
18. Kyle Chisholm 38pts Yam
19. Josh Hill 37pts Suz
20. Bobby Kiniry 37pts Yam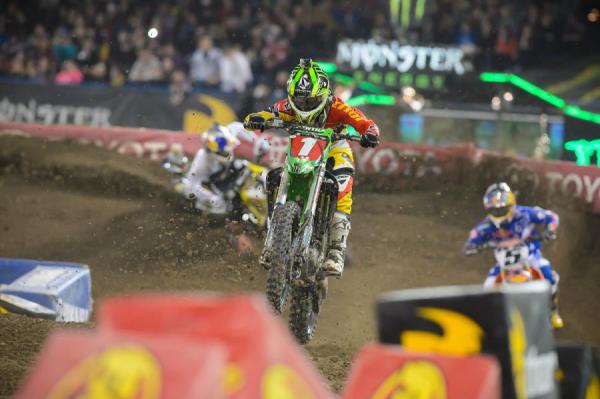 Ryan Villopoto has won four straight on holds a 12-point lead in 450SX.
Simon Cudby photo
250SX East Region Point Standings
1. Wil Hahn 134pts Hon
2. Marvin Musquin 128pts KTM
3. Blake Wharton 108pts Suz
4. Dean Wilson 87pts Kaw
5. Vince Friese 81pts Hon
6. Kyle Peters 78pts Hon
7. Jeremy Martin 71pts Yam
8. Justin Hill 68pts Kaw
9. Gavin Faith 66pts Hon
10. Jimmy Decotis 66pts Hon
11. Cole Thompson 57pts Hon
12. Mitchell Oldenburg 49pts Hon
13. AJ Catanzaro 45pts Kaw
14. PJ Larsen 40pts Yam
15. Lance Vincent 38pts KTM
16. Zach Bell 37pts Hon
17. Zack Freeberg 35pts Hon
18. Jackson Richardson 26pts Hon
19. Levi Kilbarger 24pts Hon
20. Steven Clarke 16pts KTM
250SX West Region Point Standings
1. Ken Roczen 138pts KTM
2. Eli Tomac 121pts Hon
3. Cole Seely 95pts Hon
4. Jason Anderson 88pts Suz
5. Kyle Cunningham 83pts Yam
6. Martin Davalos 82pts Kaw
7. Zach Osborne 82pts Hon
8. Joey Savatgy 62pts KTM
9. Christian Craig 62pts Hon
10. Jessy Nelson 60pts Hon
11. Tyla Rattray 58pts Kaw
12. Austin Politelli 57pts Hon
13. Travis Baker 53pts Yam
14. Malcolm Stewart 46pts KTM
15. Max Anstie 38pts Suz
16. Ryan Sipes 31pts Suz
17. Josh Cachia 29pts KTM
18. Jake Canada 21pts Hon
19. Jean Carlos Ramos 21pts Kaw
20. Michael Leib 16pts Hon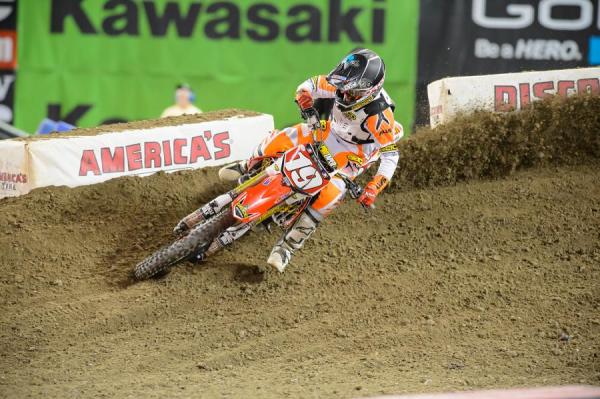 Wil Hahn holds a six-point lead in 250SX.
Simon Cudby photo
AMSOIL Grand National Cross Country Series
XC1 Pro Point Standings
1. Kailub Russell 55pts KTM
2. Charlie Mullins 55pts KTM
3. Josh Strang 39pts Kaw
4. Thad DuVall 37pts Hon
5. Paul Whibley 33pts Yam
6. Chris Batch 31pts KTM
7. Ricky Russell 25pts Yam
8. Takeshi Koikeda 24pts Hon
9. Adam Bonneur 21pts Kaw
10. Jordan Ashburn 21pts Yam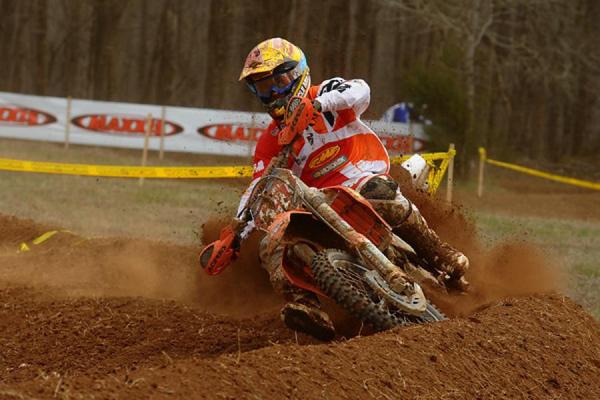 Kailub Russell is tied for the points lead in XC1.
Harlen Foley / KTM photo
XC2 Pro Lites Point Standings
1. Andrew Delong 50pts HSQ
2. Grant Baylor 41pts KTM
3. Zach Osborne 39pts Hon
4. Jason Thomas 35pts KTM
5. Shane Hufford 31pts KTM
6. AJ Stewart 25pts Yam
7. Jesse Groemm 24pts Yam
8. Ian Blythe 23pts KTM
9. Mark Heresco 21pts KTM
10. Scott Grills 19pts Kaw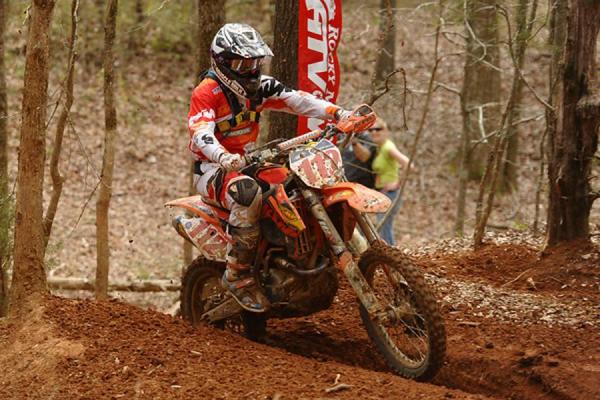 Charlie Mullins is tied with Russell.
Harlen Foley / KTM photo
FIM Motocross World Championship
Round 3 - Valkenswaard, Netherlands
*Note: Racing begins today.
MX1 Qualifying Overall
1. Tony Cairoli
2. Ken de Dycker
3. Clement Desalle
4. Gautier Paulin
5. Evgeny Bobryshev
6. Jeremy van Horebeek
7. Joel Roelants
8. Kevin Strijbos
9. David Phillippaerts
10. Tanel Leok
11. Shaun Simpson
12. Xavier Boog
13. Jonathan Barragan
14. Tommy Searle
15. Steven Frossard
16. Max Nagl
17. Augusts Justs
18. Matiss Karro
19. Davide Guarneri
20. Rui Goncalves
MX1 Point Standings
1. Antonio Cairoli 95pts KTM
2. Clement Desalle 87pts Suz
3. Gautier Paulin 78pts Kaw
4. Ken de Dycker 70pts KTM
5. Tommy Searle 64pts Kaw
6. Kevin Strijbos 55pts Suz
7. Rui Goncalves 52pts Hon
8. Evgeny Bobryshev 47pts Hon
9. Steven Frossard 47pts Yam
10. Xavier Boog 41pts Kaw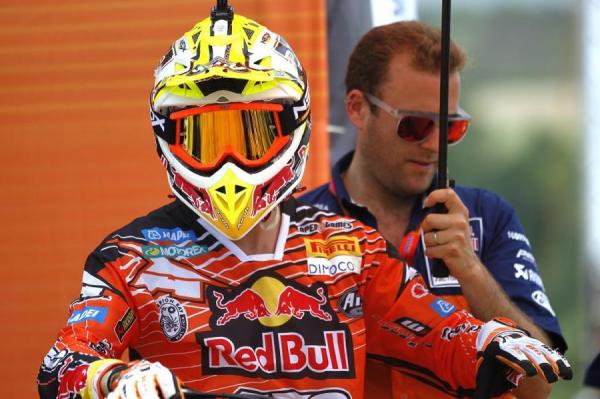 Cairoli is the MX1 points leader after two rounds.
Ray Archer / KTM photo
MX2 Qualifying Overall
1. Glenn Coldenhoff
2. Romain Febvre
3. Jake Nicholls
4. Max Anstie
5. Jordi Tixier
6. Petar Petrov
7. Jose Butron
8. Christophe Charlier
9. Julien Lieber
10. Maxime Desprey
11. Elliott Banks-Browne
12. Tim Gajser
13. Even Heibye
14. Pritt Ratsep
15. Kjer Stefan Olsen
16. Pascal Rauchenecker
17. Brent van Doninck
18. Harri Kullas
19. Ivo Monticelli
20. Roberts Justs
40. Jeffrey Herlings

*Note: Jeffrey Herlings was disqualified for receiving outside assistance. Herlings gets final gate pick today.

MX2 Point Standings
1. Jeffrey Herlings 100pts KTM
2. Romain Febvre 82pts KTM
3. Dean Ferris 69pts Yam
4. Christophe Charlier 65pts Yam
5. Glenn Colderholf 63pts KTM
6. Jose Butron 60pts KTM
7. Jordi Tixier 57pts KTM
8. Alessandro Lupino 56pts Kaw
9. Julien Lieber 47pts KTM
10. Max Anstie 37pts Suz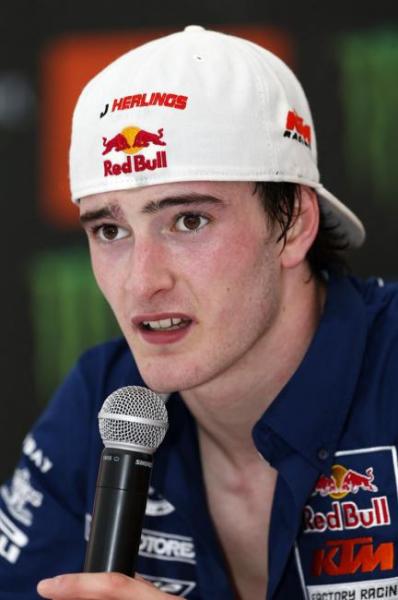 Herlings leads the MX2 class.
Ray Archer / KTM Images photo
New Zealand Motocross Championship
Round 4 - Taupo, NZ
MX1 Point Standings
1. Cody Cooper 289pts Suz
2. Billy MacKenzie 241pts Yam
3. Todd Waters 235pts KTM
4. Daryl Hurley 185pts Suz
5. Justin McDonald 174pts Hon
MX2 Point Standings
1. Scott Columb 233pts Yam
2. Brock Winston 217pts KTM
3. Rhys Carter 215pts KTM
4. Ethan Martens 195pts Yam
5. Peter Broxholme 181 Hon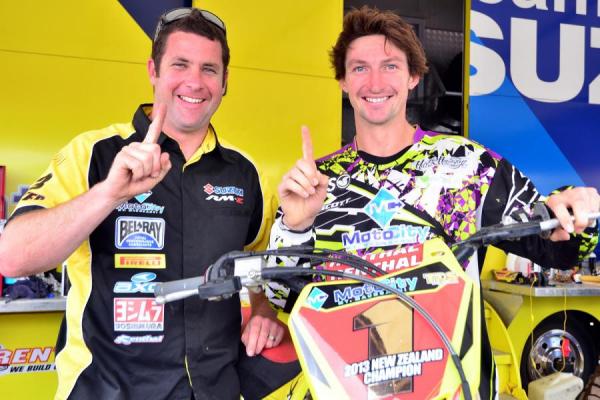 Cody Cooper (right) won the New Zealand Motocross Championship.
Andy McGechan, BikesportNZ.com photo
Share this article:
Did you like this article?
Check out MY LIFE IN MOTORCYCLE RACING
in our Latest issue of Racer X available now.

Jean-Michel Bayle, the iconic superstar of yesteryear, raced motocross for the first time in twenty-one years at the Vets MXdN in England. Page 126.
Look for the verified symbol
The Conversation