FLASH TRIVIA - Indy SX Tickets
Monday, March 11, 2013 | 12:05 PM Tweet

EDIT: WINNER IS ROBERT SCHMIDT.

The correct answer is Alan King, 1982, Daytona.

Our friend Timm Lucher was nice enough to lend his Indianapolis Supercross tickets (one pair, 2 tickets) for a special FLASH TRIVIA contest. The only guidelines are this, TO WIN YOU MUST BE A VETERAN OR WOUNDED WARRIOR WILLING TO TRAVEL TO THE INDIANAPOLIS SUPERCROSS RACE THIS WEEKEND. Read that again, YOU MUST BE A VETERAN OR WOUNDED WARRIOR ABLE TO ATTEND THE RACE THIS WEEKEND. Maybe you're not a veteran, but know the answer? Let a vet know and they can submit to win! Here's the trivia.


Name the RIDER, RACE TRACK, and YEAR in this photo below. Email your correct answer to [email protected]. And remember, YOU MUST BE A VETERAN OR WOUNDED WARRIOR ABLE TO ATTEND THE INDY SX RACE THIS WEEKEND. Thanks and good luck!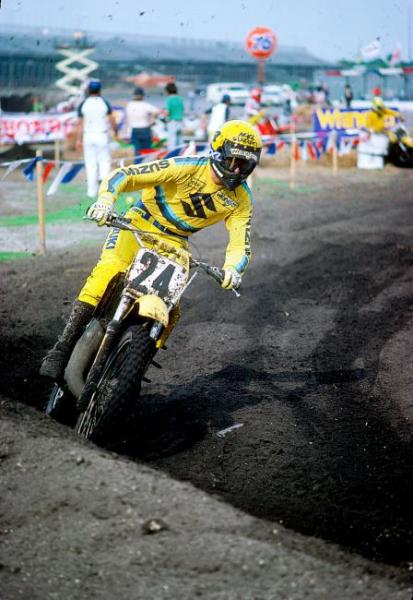 Edit: We have had a lot of guesses, but nobody eligible to win has been correct so far. Here's a hint, it's NOT the following riders, which many have guessed already.
Glover, Barnett, Burnworth, Myerscough, Shultz, Ryan
Keep your guesses coming in and remember to list the RIDER, YEAR, and TRACK.
Share this article:
Did you like this article?
Check out KING CAIROLI
in our Latest issue of Racer X available now.

Americans know very little about seven-time FIM World Champion Tony Cairoli, but in Europe he's treated like royalty. Page 102.
Comments are disabled for this post.