by
Jason Weigandt
St. Louis Morning Report
Saturday, March 2, 2013 | 2:35 PM
Tweet
Could tonight be the return of the good dirt everyone is hoping for? Could tonight's track finally lend itself to multiple lines and passing opportunities the previous stops have lacked? Those are the big questions everyone is asking heading into tonight's St. Louis round of Monster Energy Supercross.
Because we already know the players. No major news to report from the camps of any of the top riders, as this year of "anyone can win" rolls along. And when the field is that deep, the start plays an even bigger factor, regardless of if the track is hard, easy, or somewhere in between.
But the tracks are still a hot topic. The dirt certainly seemed softer than most tracks this year during the track walk, but some riders still fear it will dry out. There's a nice coating of water on it right now, but that will soon dry. Then we will see what it really has to offer.
Everyone does feel the dirt is soft enough to really get beat up in the whoops. The section is very long but the whoops are spaced closely together, and Chad Reed remarked that it will make them act, "like a straightaway." Maybe for the 450s, but in the early untimed practices, it was enough to slow the 250s considerably. But if things rut out or get cupped out, as many think they will, it could become more difficult. For the untimed practices, the track builders laid some tuff blocks down the left side of the whoops to prevent that line from getting rutted. It's a nice attempt, but once the two timed practices begin (where the track must remain clear) the section will take a beating.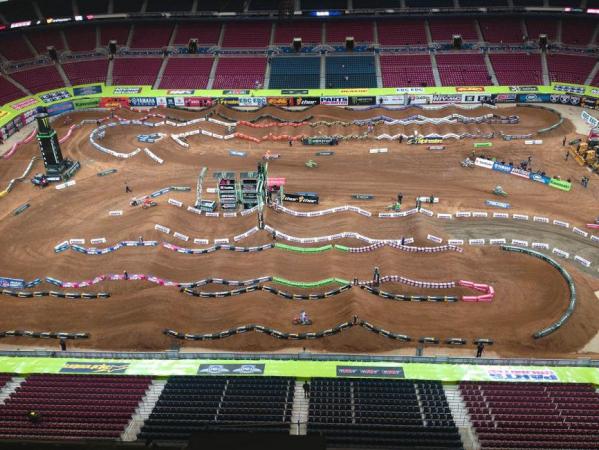 STL track.
Weege pic
As far as passing spots, the track offers four decent 180-degree corners, and if the dirt on the inside maintains some traction, you could see some dives to the inside.
One rhythm lane looks tricky, as the fastest line, early, seems to be a double triple double into the corner. But there's a lot of hang time on that center triple, and of course if things get rutted, it could all change. But after the first untimed practice session, we didn't see much variation, especially in the 450 group.
As for news and notes, Andrew Short said he had a day of testing this week on his new BTOSports.com KTM, but he's still really just trying to get used to the bike more than he's making actual big changes, yet. Josh Hill is way under the weather this weekend, said he felt good all week but just caught something a few days ago. And the next stop for Hill and his team is Ricky Carmichael's house in Florida, so the gnarliness has just begun.
New JGR Toyota Yamaha rider Kyle Chisholm got a day of testing in this week with his new team (in Atlanta, he had never even ridden the bike until press day at the track). Bad weather kept him off the bike for most of the week, but one day is better than nothing.
Did you like this article?
Check out ACTION FIGURE
in our Latest issue of Racer X available now.

Troy Lee Designs/Lucas Oil Honda's Cole Seely is a man of many talents— skateboarding, BMX, import drifting … and he's pretty good at this motocross thing, too. Page 156 .
Look for the verified symbol
The Conversation