by
Andy Bowyer
Rev Up: Anaheim 3
Thursday, January 31, 2013 | 2:55 PM
Dragon
is a leading mx goggle manufacturer with innovative new styles like the NFX frameless goggle with patented lens technology. To win a  pair of these premium NFX goggles, go to Dragon's
Facebook
or
Instagram
page and pick this week's 450 AMA Supercross winner.
Tweet
Hello, everyone, and welcome to the Rev Up. It was your typical southern California day with t-shirt weather in the pits under the sun, then a hoody to knock down the cool air under the lights. I stood with some friends on the upper deck above rider seating holding a beer and preparing for the night's racing. There was a constant static and everyone was talking about Ricky Carmichael beating Jeremy McGrath in San Diego. Carmichael had now beaten "The King of Supercross" a couple times, one being Daytona, then now in a stadium. Showtime fought back after a slam session at the second Anaheim and it was undecided if the torch had been passed. There are moments that bury themselves in your mind and the capacity crowd was on the cusp of, something, and they seemed to know it.
My buddies and I were elbowing each other watching the two roll out for the parade lap and I can still see the sparkle off of McGrath's spokes. No racer has ever owned swagger like Jeremy McGrath and he could make simply coasting along look cool. He was wearing new custom No Fear gear and there were rumors of him doing something big for opening ceremonies. Anaheim was his house and as his elbows rose to tackle the first couple jumps, the fans stood up. He nor they seemed to pay much mind the rider in his shadow who seemed to be content in letting both have their moment. Noise climbed from the crowd as the duo approached the triple, then it happened. McGrath floated his way up the takeoff and seemed to fidget with his left glove, then the focus changed. Carmichael sent one of those whips he used to do where you gasp at first thinking he was crashing. There was a brief silence mid flight, then the crisp scream of RC's KX250 panic revving his whip back under control brought a thundering roar from the fans. McGrath had won 72 supercross main events to that point and he is still the King of Supercross.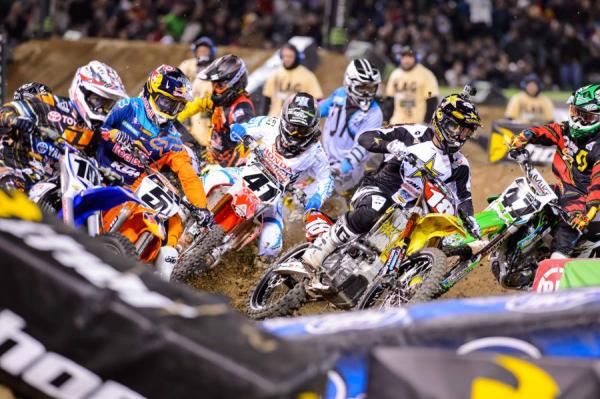 Davi Millsaps (18) looks to keep the rest of the pack at bay and retain the red plate another week.
Simon Cudby photo
This weekend marks the 12th anniversary of this moment in history as the charge returns to Anaheim for round five of the 2013 Monster Energy Supercross series. While still in its infant stages, the series is maturing into a championship points chase that will make for some fantastic live television this Saturday night. That's right, LIVE on SPEED! There is so much positive energy fueling the race to come and we should all as fans be grateful that our heroes remain somewhat intact. Continuing to race the best SX of his career, Rockstar Energy Racing's Davi Millsaps extended his point lead over Muscle Milk Honda's Trey Canard to seven following his runner up finish at Oakland. Meanwhile the defending champion, Ryan Villopoto and his Monster Energy Kawasaki have dominated the last 40 laps of competition and is only eight points shy of the red plate. The 20 laps to come hold the opportunity to change the tide of the series and he is primed to do just that.

Few things make a sport greater and fuel fans excitement like a points chase. Former champion's Ryan Dungey and Chad Reed are still alive, but need to begin a push right now so they can leave California firmly in the game. Reed suffered his first poor finish in Oakland, while Dungey produced his best showing of the series with renewed aggression and speed. Those two are the hunters and will be attacking the consistent Canard and the steadfast Millsaps. There is so much racing remaining, but both champions know it is time for them to roll. They need to feel the confidence of leading the pack and find the flow that placed #1 plates on their mantle.

Speaking of positive energy, Red Bull KTM's Ken Roczen has felt the warmth of his first supercross victory in 2013 and will push his orange machine into the starting gate with an 11-point lead. It's a different pace for the tiddler guys with only five rounds remaining in their series. That noted, it only took a few laps for GEICO Honda's Eli Tomac to throw away the championship lead. In my opinion his biggest problem isn't the flying German, its Lucas Oil/Troy Lee Honda's Cole Seeley. He is the middle-man who can crack the series wide open by leading the last five laps instead of the first 10 like he has done the last two races. Suffice to say, it is going to be interesting in the 250 class from now until its conclusion. They are no preamble, rather a separate and equally compelling championship fight.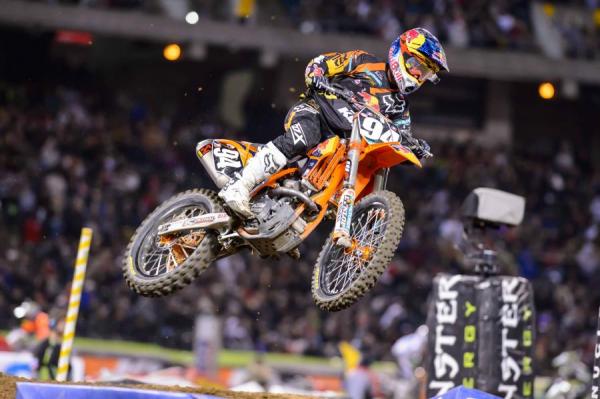 Ken Roczen will be donning the red plate for the first time in Anaheim.
Simon Cudby photo
We're over a decade removed from what I consider the most poignant moment in supercross. There have been champions that spread their glory out throughout an entire series to victory, but there are only a few instances of absolute power in overtaking. Ryan Villopoto has a chance to harness the history from Anaheim 3 and make such a statement. When Carmichael performed his feat he started outside the top ten then raced so fast his head was getting yanked back from catching backside so hard. His corner speed and momentum seemed impossible. Sound familiar? But the sport has grown and so much has changed since 2001. Davi Millsaps has just as good of a chance to race to another podium and protect the red plate. He and Canard have yet to stumble. As mentioned, we're only four rounds into the beast. Reed, Dungey, and even James Stewart could blow the doors completely off the hinges with a breakout win. The first two bikes to the first corner last time the gate dropped were the Toyota/JGR Yamahas, and perhaps the most astonishing fact to date is Mike Alessi has yet to holeshot.

It's time to enjoy the feeling that only supercross rewards us with and we're going back to Angel stadium for the last time in 2013. What's the energy going to be like for opening ceremonies? For the lucky fans that saw Anaheim 3 in 2001 and will be using the same set of eyes this Saturday night, it will be special. The series is growing and maturing, and the times they are a changing. Let's feed off the positive rush and think about the smell of the fireworks and the sparkle of the spokes. Think about the exhilarating and uncomfortable sensation of anticipation before the gate slams down. I hope these words will have you taking it around with you until showtime Saturday night. Most of all, let's get ready to have a good time! Bring it on!

Thanks for reading, see you next week.
Share this article:
Did you like this article?
Check out MONSTERBALL
in our Latest issue of Racer X available now.

Playing soccer on 250cc motorcycles might sound like a strange form of riding, but in Russia they do it with great passion—and for very little reward. Page 112.
Look for the verified symbol
The Conversation