by
Jason Weigandt
450 Words: A1 Press Conference
Friday, January 4, 2013 | 2:10 PM
Yamalube oils, lubricants and care products have been proven to enhance performance, lower ownership costs and lengthen the lives of Yamaha motors. Give our entire line a test drive, and we think you'll find you've changed more than your oil; you've changed your entire experience.
Tweet
Chad Reed, now entering his 11th season in the premiere division of supercross, summed it up best at yesterday's Monster Energy Supercross pre-season press conference. "It's funny," he started. "Every year it's the same thing. Everyone is so serious. Everyone's bike is the best it's ever been, they're in the best shape they've ever been in and all of that crap. I just want to be here surrounded by people I like being with, and race my dirt bike and have fun."
And thus this year's push and pull began. The fans, press and industry people—and certainly the series promoters—want some drama, some fireworks, some trash talk at these things. They want mustard on their press conference. The riders? Well, if you're a genuine title contender (and anyone who gets to take to the stage at the press conference is) you don't want any of that. You want everything to be low key, because it's a long season, and if you get too emotional or too excited at any point of it, you could go down. So they just throw in some standard comments and move on.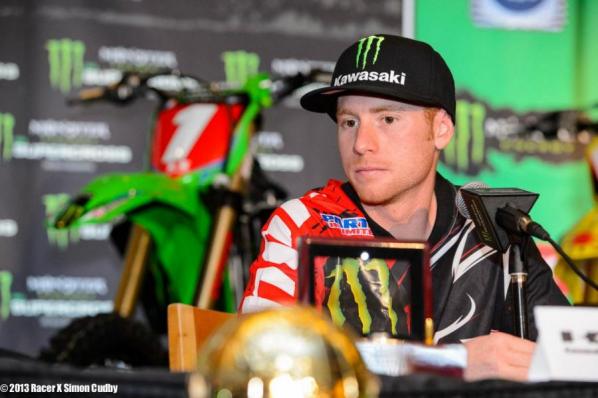 "I set a goal this season and that's to [win championships] three years in a row." - Ryan Villopoto
Simon Cudby photo
That's especially true after last season. The five riders who won races in 2011 all missed significant time with injury in 2012. All of them. So it seemed like everyone is focused more than ever on staying on two wheels, staying consistent and not getting too high or too low.
Reed and Ryan Dungey are known best for their consistency, and while some pine for them to hang it out more and get crazy, they seem to be further entrenched to their old style. "You have to be there every weekend and have to be in it to win it," said Reed, repeating the mantra he's carried his entire career. "I'll just try to do my thing as always and be there in Vegas with a shot at this thing [the championship]."
Dungey was asked if this year's deep competition would force him to up his aggression and get out of his comfort zone. He sidestepped it. "It's definitely going to be a tough year, there's no hiding that," he said. "Testing has gone well and I feel strong mentally, but time will tell on Saturday night when we line up and for the next 17 rounds everything will be settled."
Yes, to the riders, round one needs to be treated no differently than round two, round 10 or round 17. Anaheim 1 is just one piece of a large puzzle, so they resist the urge to oversell the opener. We, on the other hand, keep asking for more.
"I set a goal this season and that's to [win championships] three years in a row," said Ryan Villopoto, the two-time and defending champion. "But, we're here in Anaheim and you have to take it weekend by weekend, and that's what's driving me to keep doing what I need to do and be there in the end."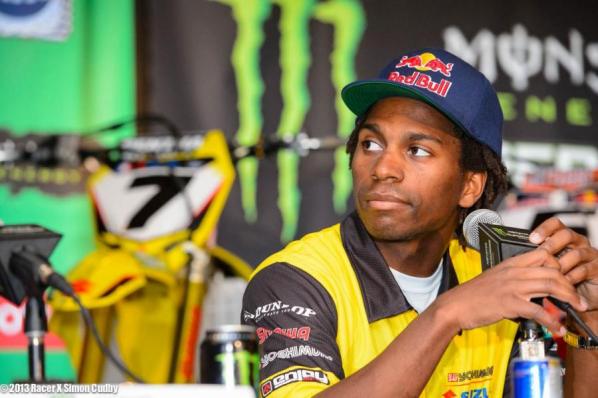 "I'm sure you guys will tell me everything that I'm doing wrong, there's no secret with that." - James Stewart
Simon Cudby photo
Maybe the only one with a statement to make was James Stewart, but his words weren't aimed at the competition, but rather the press itself. "I'm sure you guys will tell me everything that I'm doing wrong, there's no secret with that," he said. "I feel like if I just focus on what I'm doing, and I had a good off-season with the guys. I feel like I do things right. This off-season has been perfect, so I'll just let you guys worry about what you guys worry about, and I'll worry about myself."
As for the racing Stewart had a much less pointed comment. "I don't know, we'll just have to wait and see, I guess."
It's easy to get mad at the riders for not stirring it up more, but it's a necessary evil to build a championship. Last year, intense competition led to four winners in the first four rounds, followed by a mass exodus with injuries. Seems like this year might start with a little less drama—but hopefully it will end with a lot more.
Share this article:
Did you like this article?
Check out MOTO GIFT GUIDE
in our Latest issue of Racer X available now.

Our annual gift guide has something (or maybe even a few somethings) for everyone on your holiday list. Page 146.
Look for the verified symbol
The Conversation