The Vault: Ryan Villopoto, Part I
Friday, December 28, 2012 | 10:50 AM Tweet

2002 Loretta Lynn's 85 (9-13) Mod

Weege: Ryan was a good prospect for Yamaha in these days, but his profile shot skyward when he battled amateur phenom Mike Alessi wheel-to-wheel all week at Loretta's. He even took his first moto win at the Ranch. Team Green scooped him up after this, and a rivalry was set.

Matthes: Yeah, I don't know much about RV back in these days. I'm sure he was fast but I just think that Yamaha shouldn't have let him go. I mean really, the blue guys had Alessi, they had Villopoto and their future was set. I know revisionist history is easy to do and I'm no Wes Williams/Vurb Moto but I really think Yamaha should've kept both guys.

Results from 2002 Loretta Lynn's

2003 Loretta Lynn's 105 Supermini

Weege: Oh, the Loretta's vault is a glorious place of stories within the story. Click on the results below and you'll see the constant struggle for Villopoto against the Alessi Amateur Championship Assembly Line. In '03, Alessi went 1-1-1-1-1-1 in his six motos to Villopoto's 2-2-2-2-2-2. And by the way, have a look at who got third in the supermini class that year—never mind the extra r on his name of the Florida address, it's the same guy you think it is.

Matthes: In the words of the great Tony Alessi, "Ryan Villopoto never, ever, beat us in amateurs."

Results from 2003 Loretta Lynn's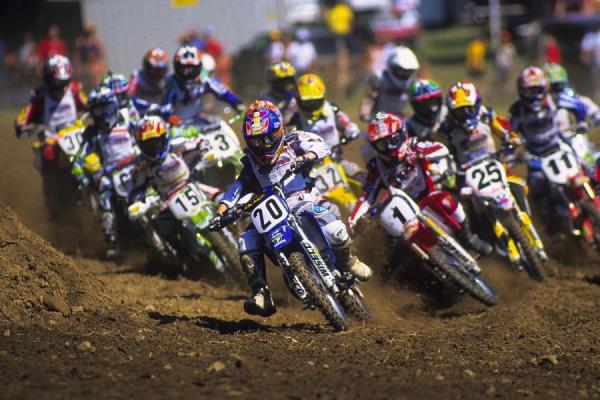 That's Ryan Villopoto (20) on a Yamaha in 2002. Talk about a flash back in time.
Chris Hultner photo
2005 Loretta Lynn's 125 A
Weege: Once Alessi moved to big bikes in 2004, Ryan looked set to finally win some Loretta's minicycle titles, but he broke his collarbone before the race, which ruined his week. In '05, he was pitted against the trash-talking legend known as J-Law, who famously said after taking a moto win against him, "I keep hearing Ryan Villopoto is supposed to be the next big thing, but I haven't even seen him all week."
No J-Law in 125 A, and Villopoto finally got his title. And look who finished second!
Matthes: Yeah, uh, this was awesome. Loretta's is so awesome, these kids are so fast, nothing will ever go wrong with them and they're ALL going to make so much money once they turn pro. I don't know why Weege puts these in here, does anyone care about old amateur results?
Weege: Dude, Alessi vs. the World drama in the amateur ranks matched any of the drama in any of the pro races. In fact, it was probably better.
Results from 2005 Loretta Lynn's
2005 Glen Helen National
Weege: Suffice to say a lot went down in this race—home of the infamous "Mike Alessi stands on Ivan Tedesco's kill switch" incident—and lost in that is Villopoto, in just his third pro race, going 2-2 for second overall behind his Pro Circuit Kawasaki teammate Grant Langston. Check out the results from this one—Alessi was DQed and The Vault lists him in the ever rare "zeroth place" position.
Matthes: This kid from Washington was supposed to be pretty good and getting a ride right onto the Pro Circuit team indicated that but in talking to all these amateur race dorks, none of them would have said that they predicted the awesomeness of RV's career. If they tell you they did, they're lying. Villopoto was a solid prospect for sure but no one, not even his dad, thought he'd be this good, this fast.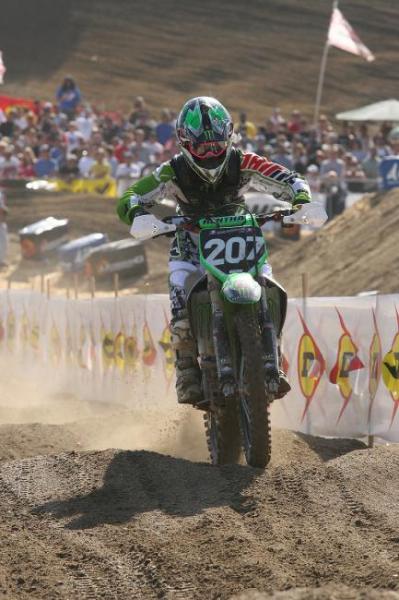 RV burst onto the pro scene in 2005.
Matt Ware photo
2006 Budds Creek National
Weege: Villopoto had a solid rookie pro season going, with a supercross win in Dallas and a National MX win at High Point. But Budds Creek was the one that changed everything. There, he suffered a bad start but ran down long-time rival Alessi, then threw in some contact on the pass to take Mike down. And RV didn't shy away from admitting the pass was powered partially by all the frustration of racing him in the amateur ranks. From this day forward, RV has been an absolute beast outdoors. He easily won the Lites MX title in his rookie season.
Matthes: Villopoto's confidence just grew and grew and I remember this race because I think Josh Grant was flying through the pack, RV dominated, Alessi's mechanic Paul Delaurier hit RV with his pit board or something like that and Broc Hepler was fast. Sweet Jesus, this is just six years ago but it could have been 6000.
2007 San Diego Supercross
Weege: RV was ready to add a Supercross Lites title to his mantle, and he won the Anaheim opener. Christophe Pourcel won round two and looked ready to be a challenger, but he soon broke his leg. From there, RV won five-straight races to wrap the Lites West Championship up in February. That's clinching early! He made it six in a row with a home-race win in Seattle later in the season.
Matthes: I think Weege is drunk and high here, Pourcel just went back to Europe after the first two races. I don't even know anything about breaking his leg but I could be wrong. But I think Weege is. You could see that Pourcel would be back and he'd be pretty good when he did.
Weege: The friggin' TV coverage of the Anaheim 2 race even has Pourcel coming up short on a double and breaking his shin. Pretty sure it happened in practice. If the dude really came and saw, won a race and just left, you don't think that would have been more legendary?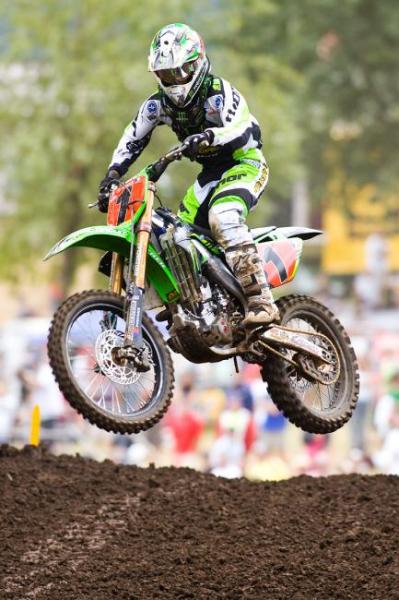 RV rocking the #1 plate for the first time in his career in 2007.
Andrew Fredrickson photo
2007 Hangtown National
Weege: An outdoor battle was looming between RV and teammate Ben Townley, who won the East Lites SX title and also packed an MX2 Championship from the GPs. At the Hangtown opener, they split moto wins, and it was obvious this battle was going to be a good one.
Matthes: BT and RV were so much better than anyone else this entire year it was ridiculous. The cool thing was that hanging out in the Pro Circuit truck for much of the year, you could see that both guys were very friendly with each other and there was lots of respect for the others talents. So it's sort of the exact opposite of Dean Wilson and Blake Baggett nowadays.
2007 Spring Creek National
Weege: The Villopoto/Townley duel was super intense, but at Millville, something turned. RV, oddly, waved Townley by and gave him the first moto win. But he blew everyone away in moto two, and seemed to gain an upper hand on Townley after that. He won Steel City and Freestone to open a points lead and clinch the title at the Glen Helen finale.
Matthes: After an early injury, Brett Metcalfe came back from injury on the Pro Circuit team and he could keep the BTRV train in sight for a little bit, but that was about it. Did I mention how much better these two were? Weege is right though, near the end of the year Townley seemed to wear down or Villopoto got stronger, one of the two.
Results from 2007 Spring Creek
2008 Atlanta And St Louis Supercross(es)
Weege: A crash with Josh Grant in the Atlanta main knocked him out of the race. He scored zero points, and was left with a huge deficit to rookie Trey Canard. In a crazy finale, Canard won with an aggressive pass. But really, that was desperation time for both--the hole dug at round one was just too much for Villopoto to overcome.
Matthes: RV had a wrist problem this year, he wasn't fully recovered when the series started and then this opening crash made it worse. As for the St. Louis finale, the race was epic for sure and I still don't see anything wrong with Canard's pass he made on Ryan but I know Ryan did. The two guys still don't really speak all that much from this series to the point where this past off-season Canard was close to signing with Kawasaki and put in a call to Ryan to make sure that he was cool with Trey coming onto the team.
Weege: Good job Matthes, we already covered the St. Louis story in the Canard Vault a month ago. This is about Atlanta, where RV finished 22nd. Check the results below. Look, Martin Davalos finished second! Still going, baby!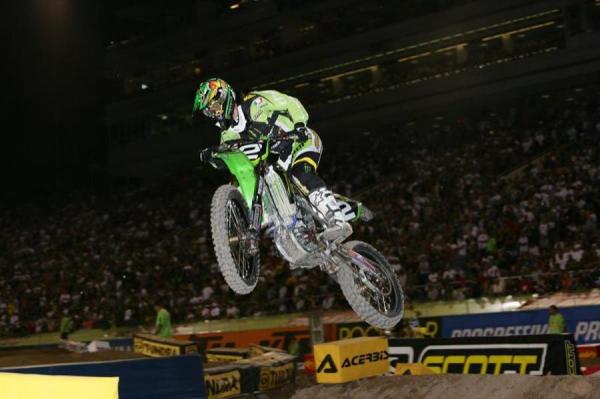 RV was upset by Trey Canard in the 2008 Lites East Region.
Simon Cudby photo
2008 Unadilla National
Weege: The very first national of the year made it look like there would be some competition for RV: Jason Lawrence won a moto, and Austin Stroupe won the overall. Hmmm, those are some dudes we need to look up in The Vault!
But losing the opener only "make RV angry." He won seven-straight Lites Nationals, culminating with this 1-1 at Unadilla. Late in the year, though, Ryan Dungey was beginning to stir and took a few wins away, but Villopoto claimed his third-straight title, putting in some rare company. Plus, who cares what that Dungey guy did, it's not like he'd have to battle him again on 450s, right?
Matthes: So so weird that Villopoto has never won at Washougal, his home track. This year he had everyone covered badly once again but Dungey started to get better and better and at Washougal, captured the overall over RV. Anyways, yeah Unadilla. Awesome race for sure. Huh?
Weege: I was just trying to point out that he won seven in a row there. And yup, that's pretty much all I remember from it. Look, Nico Izzi got fourth on his factory Suzuki! Is that news? Screw it lets put the Washougal results in here, too. The J-Law threat was over, but now Villopoto was going to have to deal with that Dungey guy for the foreseeable future.
Share this article:
Did you like this article?
Check out MOTO GIFT GUIDE
in our Latest issue of Racer X available now.

Our annual gift guide has something (or maybe even a few somethings) for everyone on your holiday list. Page 146.
Look for the verified symbol
The Conversation