by
Chase Stallo
Privateer Profile: Michael Leib
Thursday, December 27, 2012 | 3:50 PM
SHOEI
combines state-of-the-art manufacturing technology and the most advanced materials known with over 50 years of experience to deliver the finest handcrafted motorcycle helmets available. Recognizing that the privateer is the heart and soul of motocross,
SHOEI
is proud to present to you the Privateer Profile.
Tweet
Hours after news broke that Michael Leib had been released from his contract with CLS Kawasaki in Europe, I spoke with him via phone. "I'm not really sure what I'm going to do yet," Leib told us in late October. "I'm not sure if I will be here [United States] or over there [Europe], which is hard because it is so late in the season."
With most, if not all teams, already locked in with riders, Leib was left to secure help from a familiar place. His father Don, who owns and operates Rocket Exhausts, and mother Andrea, owner of On Track, stepped in and created a team behind Leib and former AMA Horizon Award winner PJ Larsen.
After a season of extreme highs and lows, Leib is ready to get back on the track and show what made him a breakout star last season. We talked to Leib before the holidays to see how preparations for Anaheim 1 were coming.
Racer X: This off-season has been quite the rollercoaster ride for you. You had a deal with CLS Kawasaki (in Europe) sever, and now you're back and getting ready for A1. What deal do you have in place for next season?
Michael Leib: Yeah, just pretty much putting last year behind me and trying to take the good out of it. I'll have Rocket Exhaust and On Track behind me and go race supercross like we did last year and try to make the best of some crappy things that took place and try to rebound from that.
A couple of months ago, A1 probably wasn't on your radar, as you were preparing for the World Championships. How tough has this transition been for you? And where do you think you stand in terms of preparation with A1?
It has not been easy. Emotionally, it has been a struggle. I think I've finally gotten a handle on it now and am putting it all behind me. I got a good year of West Coast supercross under my belt last year and I've just trying to duplicate and progress from that. We are basically using 2010 bikes right now, and Malcolm Smith is helping us get 2012 bikes for the season. That's kind of where we are at. There really isn't much of a plan; we are just putting things together as the days count down.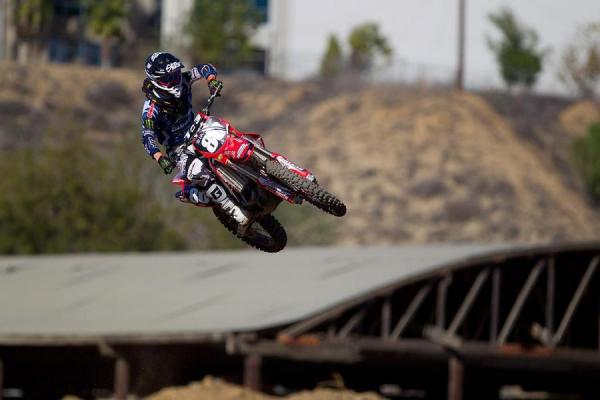 After an up and down 2012 season, Leib is ready to start a new season at A1.
Carlos Aguirre photo
So as of right now you are riding a 2010, but will be riding the '12 model at Anaheim 1?
Yeah, I will be riding the 2012 at A1. Hopefully we will have it freshened up here in about a week and have it ready for A1.
How much time will you have on the 2012 before A1?
Probably about a week, so not much time. I race dirt bikes—that's what I do, and I really don't think that much will be different about it. At the end of the day the gate is going to drop at A1 and I can't wait to be on it.
Actually last year we rode a 2011 and not much has really changed from the bike. From the '12 to the '13 it changed quite a bit. I'm not really worried too much about the bike change. The bikes we have here, we try to keep them as fresh as possible.
After a couple seasons in Europe, you made your supercross debut in 2012. How much more prepared and comfortable will you be coming into next season?
I think I'll be a lot more prepared. Hopefully I can pick up close to where I left off last year and progress far past that and get closer to the podium. I think top 5's will be my goal at first and then I will just go from there. I'm a lot more comfortable and confident coming into this year. After all the events that took place last season, I think I have something to prove to myself. If anything I feel more confident in myself to go out there and do what I have to do.
You came into last season under-the-radar but after some solid results, that's no longer the case this year. Has that placed any added expectations on you heading into the season?
I have a goal in my life that I want to achieve and the rest will come with it. I'm able to go out there and prove to myself, and as long as I'm doing that, things will come to me to allow me to be where I want to be. As far as added pressure, to me there is zero. If anything there is a little less. I know what I'm capable of and I know my mom and dad have put a good program behind me.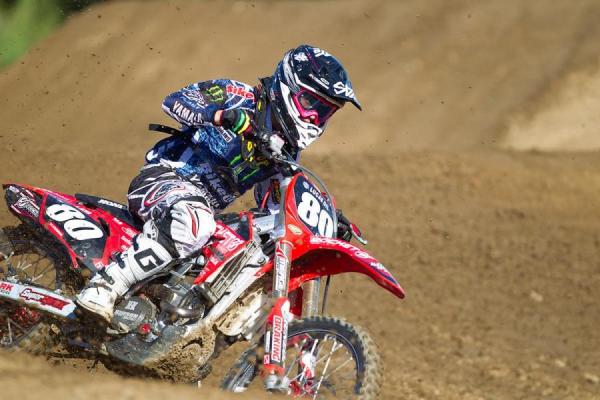 Leib hopes to build off a solid rookie SX season last year.
Carlos Aguirre photo
What have been some of the things you learned from supercross last year that you were able to apply to your off-season preparations?
I think the biggest thing is to not take life too seriously. Things happen and things come up, and I think you just have to try and make things go smoothly. You have to stay as confident as you can going into each race and not get too down on yourself. I think this biggest thing is to take my experience from last year, and even the GPs—I learned a lot there, especially getting on the podium—and apply it to this season.
Has that been a something you've tried to mentally prepare for—being able to brush things off and roll with the punches, so to speak?
That's what I was trying to do for a while and I realized that if I wanted to go racing I would have to be able to brush it off. More or less, if I want to improve I can't hang on to the negative things. Everyone has to walk away from something difficult at some point, and I guess this is just one thing in my life I've got to walk away from and continue on and chase my dream.
Thanks, Michael. Who would you like to thank for helping you out this season?
I would like to thank A'ME, Aguirre Imaging, Alexander Orthopedic, Asterisk, Boyesen Engineering, Braking, CYCRA Racing, DT1, Dubya, Dunlop Tires, EKS, Eleven10 Mods, Gaerne, GoPro, Hinson Racing, J27, Leatt, Malcolm Smith Motorsports, Merge, Milestone MX, Mika, Motion Pro, Moto 2 Fitness, Moto Hose, Moto Tassinari, MSR, On Track, R&D, Race SoCal, REC-MX, Renegade, RK/Excel, Rocket Exhaust, SDG USA, SDI, Seal Savers, Split Designs, Tamer, Vortex and WPC.
Share this article:
Did you like this article?
Check out MONSTERBALL
in our Latest issue of Racer X available now.

Playing soccer on 250cc motorcycles might sound like a strange form of riding, but in Russia they do it with great passion—and for very little reward. Page 112.
Look for the verified symbol
The Conversation