TUNE IN: Loretta's MX on TV
Friday, November 9, 2012 | 2:00 AM Tweet

Red Bull PR

In this new video, Sal Masekela delivers

an exclusive interview with Ricky Carmichael

on the significance of Loretta Lynns and what it means for amateur racers from around the world.   Please see below for tune-in details for Saturday's TV show at 2:30 pm ET on NBC.

LORETTA LYNN'S MOTO CHAMPIONSHIP AIRS ON NBC AS PART OF RED BULL SIGNATURE SERIES
Legendary Amateur Motocross Event Airs Saturday, November 10 at 2:30 p.m. ET on NBC

New York – November 8, 2012 – As part of the Red Bull Signature Series, the 2012 Red Bull AMA Amateur National Motocross Championship airs Saturday, November 10 at 2:30 p.m. ET on NBC.  Fans will see the top amateur motocross racers in the country meet at the famed Loretta Lynn's motocross track, the proving grounds for up-and-coming racers in the sport. Catch a highlight preview of the action.

In addition to Saturday's one-hour Red Bull Signature Series show on NBC, two additional TV shows will highlight even more action and stories from Loretta's. Check out the additional coverage this Sunday, November 11th at 4 p.m EST on the NBC Sports Network (cable) and another new Loretta's broadcast next Sunday, November 18th, again at 4 p.m. EST and again on the NBC Sports Network.

2012 Loretta Lynn MX TV Schedule:

Saturday, November 10 at 2:30 p.m. ET on NBC.
Sunday November 11th at 4 p.m EST on the NBC Sports Network
Sunday, November 18th at 4 p.m. EST and again on the NBC Sports Network


The Loretta Lynn Ranch in Hurricane Mills, Tenn., has been the home of the world's largest and most prestigious amateur motocross racing program for over 30 years.  As part of the season, amateur racers vie for the overall title and a place in history at the same track that gave rise to the successful professionals that came before them.  Host Sal Masekela will take viewers on a ride through the 2012 season, introduce them to the top riders and present the excitement of the culminating races.  Matt Bisceglia, who overcame a season of injuries to remain one of the top motocross prospects in the world, is competing for a coveted first place position.  Viewers will witness his aggression and determination on the track as he works towards being the next big name in pro motocross.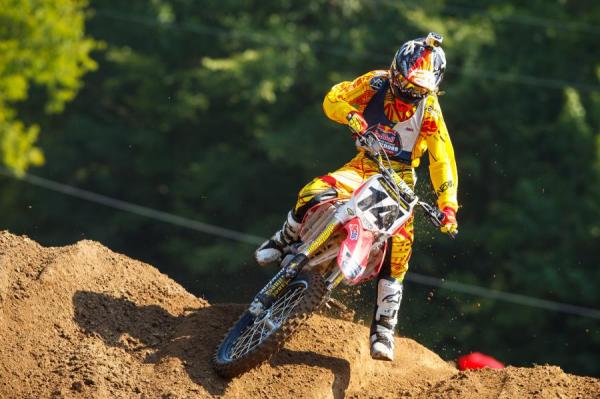 See Zach Bell's Horizon-winning performance Saturday on NBC.
Simon Cudby photo
Loretta Lynn's is part of the Red Bull Signature Series – made up of 35 hours of one-of-a-kind programming on NBC and NBC Sports Network all year long.  Red Bull Media House and Alli Sports, a division of the NBC Sports Group, are showcasing the most progressive and innovative snowboarding, mountain biking, freestyle motocross, ice cross downhill, skiing and BMX events, on custom courses from the inspiration of the athletes themselves.  Go to www.redbullsignatureseries.com for preview videos, photo galleries and to see more of the action that makes up the Red Bull Signature Series.   

Upcoming Red Bull Signature Series programming includes:

·        Red Bull Rampage (December 8 at 2 p.m. ET on NBC): Freeride mountain bikers take part in building the treacherous, unforgiving course in Virgin, Utah and compete for the title in one of freeriding's most aggressive and fearless events.
·        TORC (December 29 at 2 p.m. ET on NBC): The Off Road Championships is the fastest, most punishing short course racing series on the planet, packed with the most challenging form of high-octane off-road competition on natural terrain racetracks.

# # #
Share this article:
Did you like this article?
Check out THE MOTOCROSS OF 40 NATIONS
in our Latest issue of Racer X available now.

The 2013 FIM Motocross of Nations at Teutschenthal, Germany, hosted teams from a record forty countries. Here's how it played out for each of them. Page 90.