Race Report: J Day Off Road Hits Central Village
Thursday, November 8, 2012 | 1:15 PM Tweet

For the 3rd year, the final round of the J Day GP series closed out at the Central Village MX Facility. The Central Village track was groomed to perfection complete with sandy trails, loamy berms and a  glorious KTM X-Treme Hill Climb.  Despite hurricane Sandy sweeping through the area just a few days before, the track was in excellent shape, for what many people would call the best race of the year. With over 400 riders signed up, every single line was packed with bar banging action!

In addition, the 125 pro class was packed, providing fans and spectators with a show to remember. The 125 rippas battled from beginning to end, swapping positions all over the track.  The eventual winner of the class would be none other than 2012 J Day Champion, Jon Girroir. Second place went to Kyle Hangos who was riding a 1997 Honda CR 125!  Kyle showed impressive speed and will be a serious threat to the 125 Pro class in 2013.  Third went to Jared Boothroyd, fourth place went to Jimmy Decotis and Jason Connel picked up fifth.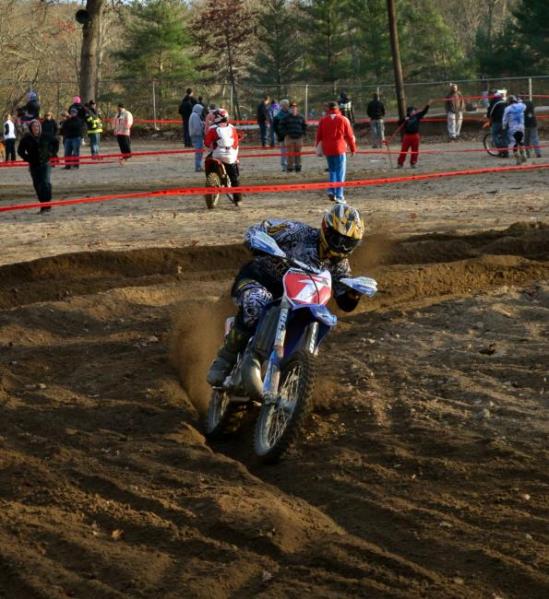 The pro class was absolutely stacked for Central Village.  The Pro race was a perfect example of why J Day style woods racing is unlike any other form of off-road.  Pro racers battling bar to bar through the trees, hanging off the back of their bikes and providing epic spectating.  In the first moto, Jon Girroir started by grabbing the holeshot and pulling a 17 second lead over second place by the end of the first lap. Girroir rode like the champion he is, finishing about a minute ahead of second place Kyle Hangos. Hangos battled with Jason Connel and Derrick Barnaby for the first half of the lap until Derrick Barnaby crashed out, and Mike Treadwell entered the pack. These three raced wheel to wheel for the majority of the race giving the fans all of the racing action they could handle. At the end of the moto it was Kyle Hangos in second, Jason Connel in third and Mike Treadwell in fourth. Fifth place went to Jake Abbott.
With the final moto of the year on the line, there was a certain energy in the air that everyone could feel. The flag dropped and it was Jon Girroir grabbing the final STS Motorsports Holeshot award with Josh Cennamo and Kyle Hangos right on his rear wheel. Jon Girroir would never look back, putting in six of the fastest laps of the day finishing just 20 seconds ahead of Kyle Hangos. Kyle Hangos had a third place start and would move past Derrick Barnaby on the second lap to take over second and push towards the front. Despite matching a few of Girroir's lap times, Hangos could not get through the lappers as quickly as Girroir. Third Place went to Mike Treadwell who, despite a bad start, made quick passes to get into the front pack. Fourth and fifth place went to Derrick Barnaby and Cody Williams.
With the last moto of the season in the books Jon Girroir ended with 24 of the 30 motos wins this season and 13 of 15 overall wins. Jon Girroir is young and will come into next season as the favorite to win, will he be able to defend his championship.
All of us here at J Day Offroad look forward to seeing everyone at the Winter Triple Crown in early 2013 stay up to date on the dates and locations at JDayoffroad.com.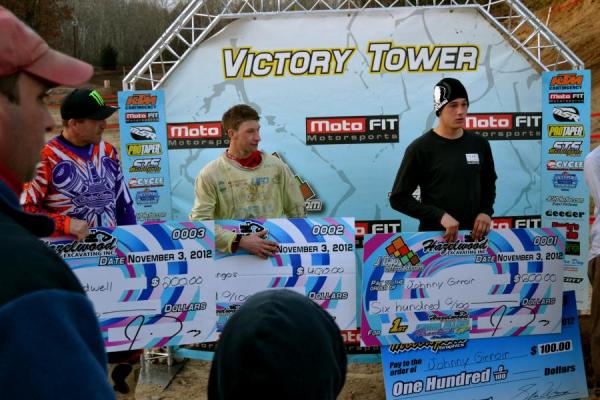 Click here and here for some cool video edits of the day's action.
J Day Offroad - Central Village GP
Round 15
Pro Overall
Jon Girroir         1-1
Kyle Hangos        2-2
Mike Treadwell  4-3
Cody Williams    6- 5
Jake Abbott          5-9
Nick Batten          9-6
Jared Boothroyd 8-7
Billy Ainsworth   7-10
Josh Cennamo      12- 8
Ben Kelly        10-12
Pro 125 class
Jon Girroir
Kyle Hangos
Jared Boothroyd
Jason Connel
Matt Frantz
Joshua Toth
Paul Goyette
Max Clickstein
Guy LaFleur
Share this article:
Did you like this article?
Check out MOTO GIFT GUIDE
in our Latest issue of Racer X available now.

Our annual gift guide has something (or maybe even a few somethings) for everyone on your holiday list. Page 146.
Look for the verified symbol
The Conversation