Yamaha Wake-Up Call
Monday, October 22, 2012 | 5:00 AM Tweet

Monster Energy Cup
Sam Boyd Stadium - Las Vegas, NV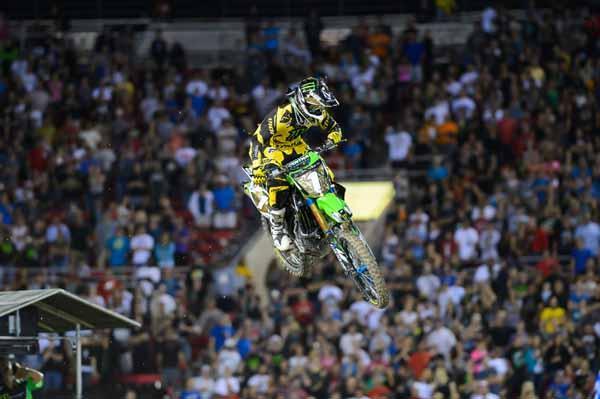 After winning the first main event, Ryan Villopoto would crash in the second knocking him out of contention for the overall.
Simon Cudby photo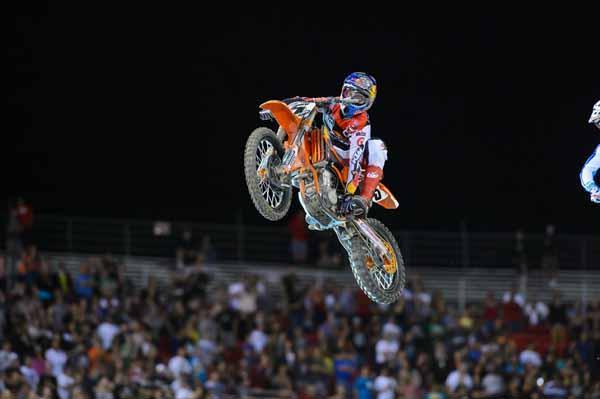 It was a bizarre night for Ryan Dungey, who dealt with a shifter problem in the first two races. Dungey would finish second overall on the night.
Simon Cudby photo
Main Event 3 Results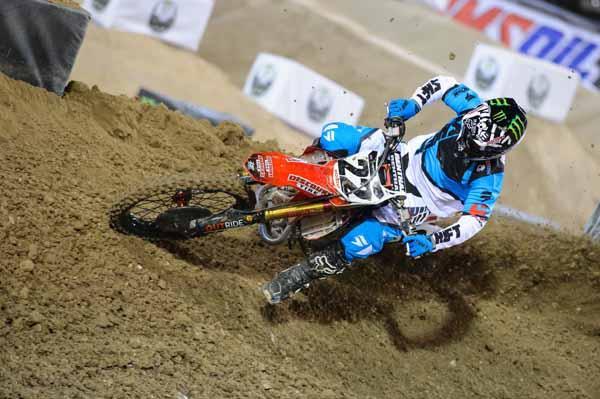 Chad Reed finished just off the podium in his first race back.
Simon Cudby photo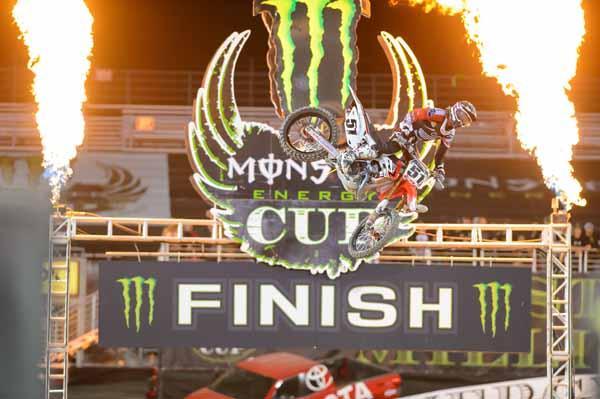 The night belonged to Justin Barcia, who won the overall in his Honda Muscle Milk debut.
Simon Cudby photo
Amateur All-Stars Overall
1. Cooper Webb 2-3 Yam
2. Adam Cianciarulo 5-1 Kaw
3. Paul Coates 7-2 Yam
4. Shane McElrath 1-11 Hon
5. Brady Kiesel 4-9 Hon
6. Nick Gaines 8-6 Kaw
7. Anthony Rodriguez 6-8 Yam
8. Jordon Smith 3-13 Hon
9. Mitchell Oldenburg 14-4 Kaw
10. Daniel Baker 13-5 Suz
11. Kyle Swanson 12-7 Hon
12. Jayme Gardiner III 11-10 Kaw
13. Cody Gragg 9-15 Yam
14. Keith Tucker 10-16 Yam
15. Zac Commans 16-12 Kaw
16. Jantz Grodzicki 15-14 Hon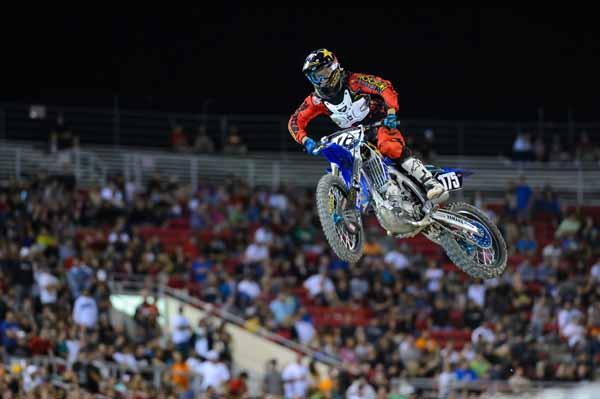 Star Racing's Cooper Webb took home the overall in the Amateur All-Stars class.
Simon Cudby photo
Super Mini Overall
1. Austin Forkner 1-1 Kaw
2. Chase Sexton 3-4 Yam
3. Kotaro Takahasi 7-3 Kaw
4. Joey Crown 11-2 Suz
5. Tommy Maxey 6-10 Kaw
6. Challen Tennant 5-11 KTM
7. Mark Worth 4-13 Kaw
8. Robbie Wagerman 9-9 Yam
9. Brandon Hartranft 14-6 Suz
10. Tristian Miller 2-18 Suz
11. Jeremy Byrne 8-14 Yam
12. Sean Cantrell 17-7 Kaw
13. Westen Wrozyna 16-8 Hon
14. Bret Welch 20-5 Kaw
15. Hunter Budde 15-12 Kaw
16. Tanner Stack 10-19 Kaw
17. Ashon Hayes 13-17 Suz
18. Luke Purther 12-20 KTM
19. Deegan VonLossberg 19-15 Yam
20. Javier Loera 18-16 Hon
Can-Am GNCC Championship
Ironman - Crawfordsville, IN
XC1 Overall
1. Charlie Mullins KTM
2. Thad DuVall Hon
3. Kailub Russell KTM
4. Christopher Bach Yam
5. Paul Whibley Yam
6. Jordan Ashburn Yam
7. Rory Mead KTM
8. Takeshi Koikeda KTM
9. Adrian Smith Yam
10. Jimmy Jarrett Hon
11. Nathan Kanney Hon
12. Brendan Ritzman Hon
13. Garrett Edmisten Kaw
XC1 Points Standings
Kailub Russell 291pts KTM
Paul Whibley 290pts Yam
Rory Mead 219pts KTM
Thad DuVall 211pts Hon
Charlie Mullins 198pts KTM
Jordan Ashburn 175pts Yam
Chris Bach 157pts Yam
Garrett Edmisten 145pts Kaw
Nathan Kanney 143pts Hon
Takeshi Koikeda 139pts. KTM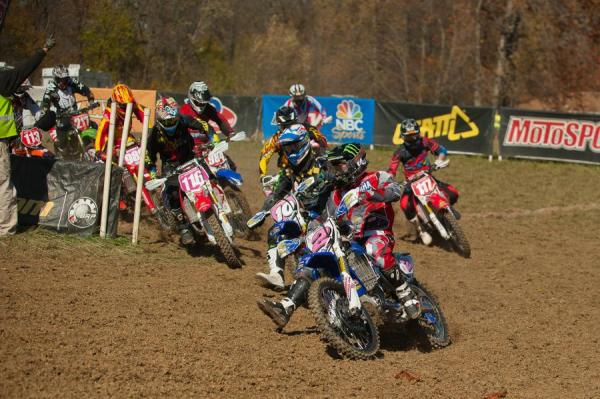 Paul Whibley (2) trails Kailub Russell by one-point with one round to go.
XC2 Overall
1. Steward Baylor Jr. KTM
2.
Jason Thomas
KTM
3. Andrew Delong HSQ
4. Scott Grills Hon
5. Shane Hufford Jr. HSB
6. Nick Davis HSQ
7. A.J. Stewart Yam
8. Jedediah Haines Yam
9. Christopher Douglas KTM
10. Nathan Ferderer HSQ
11. Morgan Moss Yam
12. Michael McGinnis KTM
13. Lucas Statom Yam
14. Larry Silvia KTM
15. Brandon Houts Yam
16. Ryan Echols Yam
XC2 Points Standings
Steward Baylor 267pts KTM
Jason Thomas 266pts HSQ
Andrew Delong 250pts. HSQ
Jedediah Haines 196pts YAM
Brad Bakken 159pts YAM
Jesse Robinson 156pts HSQ
AJ Stewart 145pts. Yam

Scott Grills 123pts. Hon

Michael McGinnis 110pts. KTM

Zach Nolan 107pts. KTM

GEICO AMA EnduroCross
Comcast Arena - Everett, WA
Expert Overall
1. Taddy Blazusiak KTM
2. Taylor Robert Kaw
3. Bobby Prochnau KTM
4.
Mike Brown
KTM
5. Kyle Redmond Husq
6. Cory Graffunder Hon
7. Justin Soule Kaw
8. Jamie Lanza Hon
9. Geoff Aaron Hon
10. Cody Webb Beta
11. Colton Haaker Kaw
Expert Points Standings
Taddy Blazusiak 159pts. KTM

Taylor Robert 123pts. Kaw

Mike Brown 114pts. KTM
Cody Webb 104pts. Beta
Cory Graffunder 84pts. Hon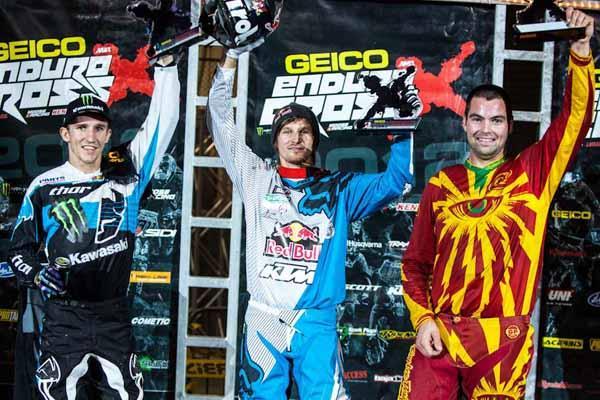 Robert (left), Blazusiak (middle) and Prochnau (right) would round out the podium in Washington.
Drew Ruiz photo
25th Annual Suzuki Top Gun Showdown
Muddy Creek Raceway - Blountville, TN
Super Mini 12-16
1. Mitchell Harrison 1-1 Suz
2. Scott Meshey 2-3 KTM
3. Bennett Mantooth 6-2 Yam
Schoolboy 1 12-16
1. Logan McConnell 2-1 Yam
2. Kyler West 1-2 Yam
3. Will Mcracken 3-4 Yam
Schoolboy 2 14-16
1. Matthew Burkeen 2-1 Suz
2. Kyler West 1-3 Hon
3. Logan McConnell 4-2 Suz
250 B
1. Matthew Burkeen 1-1 Suz
2. Tucker Maxwell 3-2 Yam
3. Chandler Lindsay 2-3 KTM
250 A/Pro
1. Jacob Hayes 1-1 Kaw
2. Jace Owen 2-2 Suz
3. Joshua Hall 6-3 Hon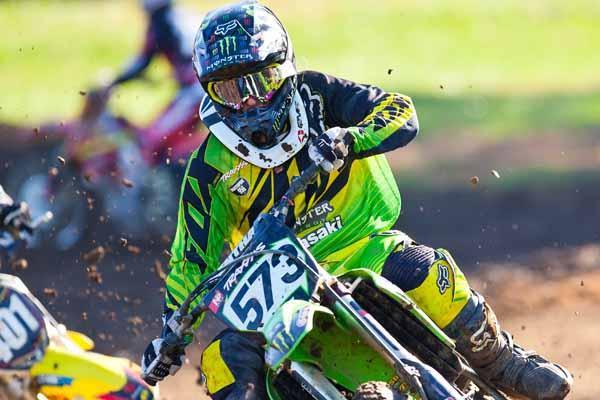 Jacob Hayes was dominate at the Suzuki Top Gun Showdown at Muddy Creek.
Andrew Fredrickson photo
450 B
1. Matthew Burkeen 1-1 Suz
2. Chandler Lindsay 2-2 KTM
3. keaton Robson 3-3 Hon
450 A/Pro
1. Jacob Hayes 1-1 Kaw
2. Austin Albers 3-2 Suz
3. Kyle Bitterman 5-3 Hon
Australian Supercross Championship
Open Point Standings
Jay Marmont 25pts.
Daniel McCoy 22pts.
Jake Moss 20pts.
Lawson Bopping 18pts.
Tye Simmonds 16pts.
Todd Waters 15pts.
Billy Mackenzie 14pts.
Cheyne Boyd 13pts.
Jacob Wright 12pts.
Sam Duncanson 11pts.
SX Lites
Gavin Faith 25pts.
Kade Mosig 22pts.
Luke Styke 20pts.
Steven Clarke 18pts.
Ryan Marmont 16pts.
Geran Stapleton 15pts.
Keiron Hall 14pts.
Scott Coloumb 13pts.
Nicholas Sutherland 12pts.
Mitchell Norris 11pts.
Dutch Motocross Championship
Final Round - Harfsen
MX1 Overall
1. Jeffrey Herlings KTM
2. Shaun Simpson Yam
3. Marc de Reuver KTM
4. Kristof Salaets Hon
5. Roberts Just's Hon
MX1 Final Points Standings
1. Herjan Brakke 230pts. Yam
2. Evgeny Bobryshev 212pts. Hon
3. Assign Dycker 178pts. Hon
4. Marvin van Daele 137pts. Kaw
5. Stuwey Reijnders 131pts. Suz
MX2 Overall
1. Jeffrey Herlings
2. Mike Kras
3. Erik Eggens
4. Ceriel Klein Kromhof
5. Jake Nicholls
MX2 Final Points Standings
1. Jeffrey Herlings 340pts.
2. Jake Nicholls 231pts.
3. Erik Eggens 225pts.
4. Glenn Coldenhoff 209pts.
5. Joel Roelants 167pts.
The 2012 WMN Racing Womens International
Glen Helen Raceway
Womens Expert
Tatum Sik
1-1 Hon
Shelby Ward 2-2 Kaw
Sarah Troxel 3-3 Kaw
Marsha Allen 4-5 Hon
Amber West 7-4 KTM
Heather Lockwood 5-6 Kaw
Staci Woodrom 6-7 Hon
Nadalie Logan DNF-DNS Kaw
Share this article:
Did you like this article?
Check out 10,000 MILES FROM HOME
in our Latest issue of Racer X available now.

Australian Dean Ferris hopes to follow in the footsteps of some of his legendary countrymen. Now contesting the FIM Grand Prix series, he made a huge impression at the Motocross of Nations. Page 138.
Look for the verified symbol
The Conversation