by
Chase Stallo
Racer X Race Report: RedBud
Saturday, July 7, 2012 | 8:40 PM
Since 1968,
Thor
has maintained its position as a top motocross apparel brand. From trails, deserts, to the most famous racetracks in the world,
Thor
supports racing on the track and off with its sponsorship of race reports.
Tweet
As shouts of RedBuuuuudddddd reverberated throughout the famous Buchanan, Michigan track, located just miles from the Indiana border, Red Bull KTM's Ryan Dungey was busy chalking up another impressive performance on what has already been a Hall of Fame type start to his career.
With a 1-1 performance in the books, Dungey has now accumulated eight straight moto wins and four consecutive overalls over the last four rounds and now holds a commanding 72-point lead over MotoConcepts' Mike Alessi.
The Red Bull RedBud National also marked the return of Yoshimura Suzuki's James Stewart who has missed the last three motos with a wrist injury suffered at Thunder Valley. The return of Stewart brought hopes that Dungey's reign of terror would finally be challenged. But Stewart was never able to mount a charge and stumbled to 6-3 finishes for third overall.
Muscle Milk Honda's Justin Brayton, who up to this point in the series has been a major disappointment, looks to have finally righted the ship as he picked up his first podium (second) of the season via 3-4 moto scores. Brayton reveled in the post-race press conference that he had a concussion and hand injury at the beginning of the season, which had contributed to some of his struggles.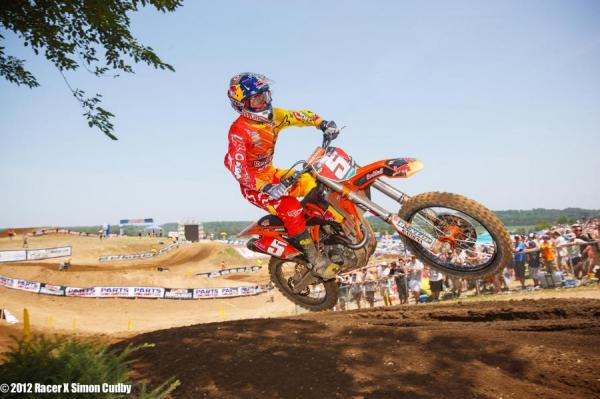 That's four-straight overalls for Dungey.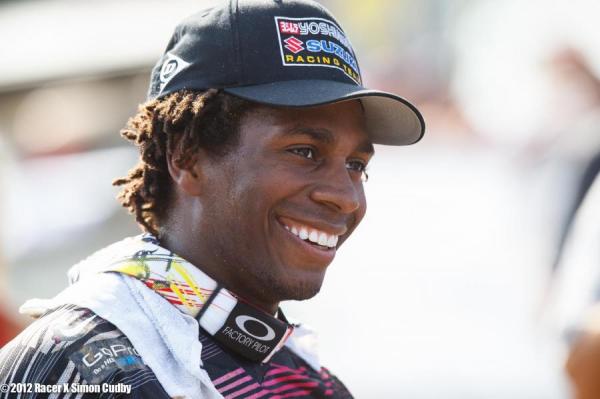 Stewart wasn't dissapointed with his third-place finish, saying he knew he needed to just get some races under his belt to get back to the form he showed at the beginning of the season.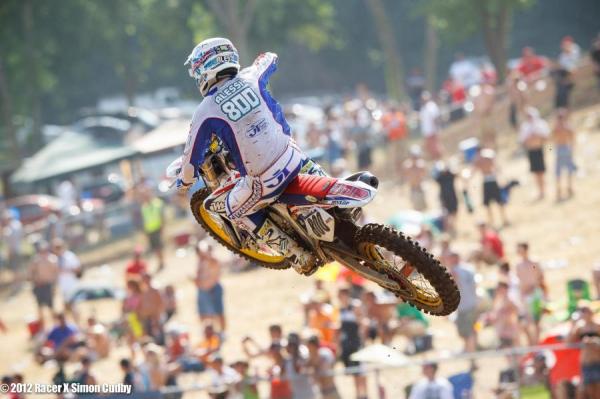 A first-turn crash ruined Mike Alessi's first moto, where he finished 11th. He rode strong in moto two for second, leading Dungey for a few laps.
Simon Cudby photos
The 250 Class continues to be the headliner of the series as the "Fantastic Five" of Blake Baggett, Justin Barcia, Eli Tomac, Ken Roczen and Marvin Musquin continued to trade blows in the sweltering Michigan heat. And for the second straight round it was Monster Energy Kawasaki's Baggett landing the knockout punch with two come-from-behind victories.
GEICO Honda's Barcia would finally cure his second moto blues with 2-2 moto scores, but it wasn't enough as Baggett was on another level at the historic track. Barcia's GEICO Honda teammate, Tomac, would round out the podium thanks to a late second moto pass on Red Bull KTM's Musquin.
The atypical brisk temperatures that have graced the Lucas Oil Pro Motocross Championships through the first four rounds finally dried up. The heat and humidity of RedBud pushed temperatures into triples digits at various points throughout the day, testing riders' physical and mental capacity.
Fitness has never been a question for Ryan Dungey, who prides himself on being a self motivated workout warrior, and with temperatures getting as high as 105 Fahrenheit, fitness would play a big role at round five of the championship.
Using a quick jump out of the gate in moto one, Dungey was able to settle into a quick pace. Stewart started behind him and pressed him for about a lap, but soon wasn't able to keep pace. Dungey was at points two seconds faster than the field, and didn't waver from the blistering speed until he had already built a twenty second lead. As Dungey was pushing the pace to new limits Stewart was left trying to pick up the pieces after an early tip over. Stewart later stalled his Suzuki, as well, and had to settle for sixth in his first moto back.
Behind Dungey the fight for the podium was beginning to heat up. The Kawasaki trio of Jake Weimer, Tyla Rattray and Broc Tickle found themselves in a dog fight with the aforementioned Brayton. The quartet of riders would fight tooth and nail throughout the moto with Weimer able to outlast Brayton for second. Brayton would take home his first moto podium finish of the year with a third, with Rattray and Tickle rounding out the top five.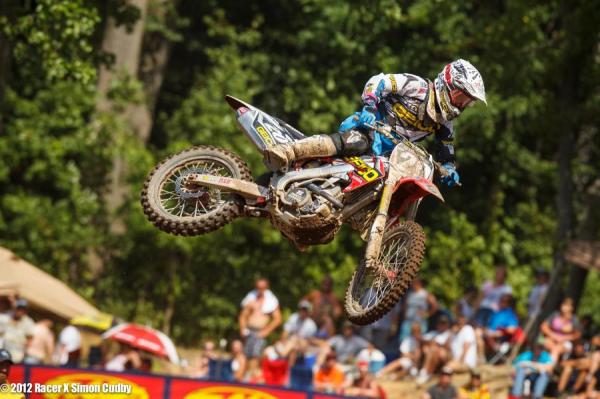 Justin Barcia led a bunch of laps in both motos but ended up 2-2.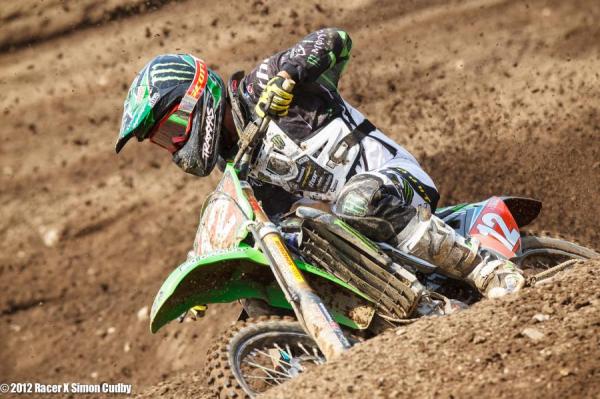 Blake Baggett was supposedly sick with a sinus infection before the race. It didn't show.
Simon Cudby photos
MotoConcepts' Mike Alessi was able to pull one of his patented holeshots in the second 450 moto and took the early lead over Dungey and Stewart. Meanwhile, the second moto brought trouble for Weimer. A crash would leave the Kawasaki rider stranded in last and out of overall podium contention. After a second crash, Weimer would charge back to salvage a point, finishing in twentieth.
Dungey wasted little time pouncing on Alessi, taking command of the race for the second straight moto. While he wasn't able to match his forty second moto one win, Dungey did manage to build an almost thirty-five second lead at races' end.
Alessi would rebound from a first moto crash to hold off Stewart for second, while Brayton would finish fourth to grab his first overall podium of the season. Rattray, Andrew Short, Josh Grant, Cole Thompson, Broc Tickle and Michael Byrne would round out the second moto top ten.
In the 250 Class, Justin Barcia shot out of the gate to secure the early lead in the first moto. The "Fantastic Five" were all in play for the win early as Roczen, Tomac, Musquin and Baggett nipped at the heels of Barcia's lead.
Tomac would be the first to falter as he suffered a small crash that left him secluded in fifth. Meanwhile, Baggett, using his typical late moto charge and the some very well-timed hucks of Larocco's Leap, had worked his way around the KTM duo of Roczen and Musquin.
After patiently waiting for the right place to strike, lap 13 finally proved to be the breaking point for Barcia. Baggett sliced his way through a set of lappers to take the lead, one that he would never relinquish, and grab the moto one win. Barcia would finish second with the KTM crew of Roczen and Musquin taking home third and fourth, respectfully.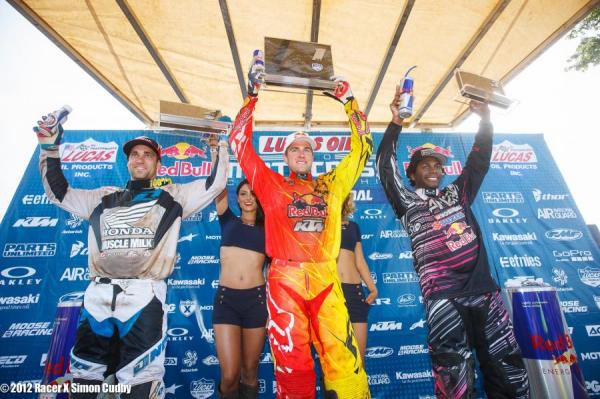 Brayton, Dungey and Stewart on the box.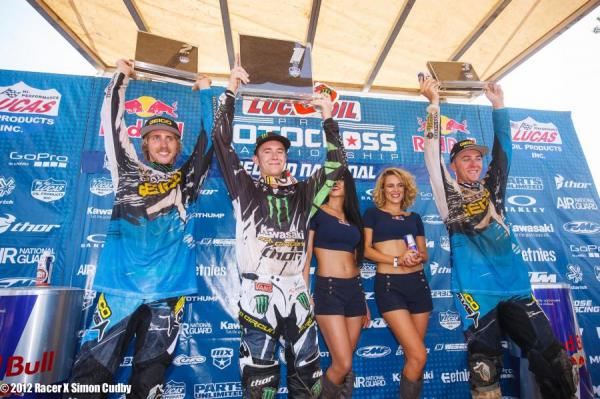 Barcia and Tomac flank Baggett on the podium.
Simon Cudby photos
Baggett actually got into the early lead in moto two, but tipped over. Barcia, feeling little ill effects of his late mishap in moto one, was able to overcome his recent second moto struggles and took the early lead, while first moto contenders Roczen and Tomac were both buried mid-pack.
Tomac wasted little time disposing of Roczen and teammate Wil Hahn but ran into a massive road block in the form Musquin. Although he was finally able to make a late pass stick on the World Champion to secure a spot on the overall podium, the time wasted getting around Musquin would cost Tomac any shot of a win.
The first moto donnybrook between Baggett and Barcia carried over into moto two, but this time the two were all by their lonesome. Barcia was more determined than ever to hold off the advances of Baggett. And he did, for quite some time. But as the moto began to dwindle down Baggett used the inside line at the bottom of Larocco's Leap to take the lead. The pass would lead to the moto win and the overall for Baggett—his second straight.
Barcia would finish second, with Tomac, Musquin and Hahn rounding out the top five. Roczen finished a career worst sixth in the second moto, robbing him of any chance of an overall podium.
In WMX action, the series took a major shakeup when Ashley Fiolek returned from a concussion suffered a few weeks back to go 1-1 on her Honda. Points leader Jessica Patterson was struggling all day due to breaking her hand in a practice crash a few days ago, and was only able to salvage a few points. Lucas Oil Troy Lee Honda's Tarah Gieger hoped to take advantage and grab a win and the points lead, but fell just short in moto one after a great battle with Fiolek. Gieger led moto two until she fell, and Fiolek took off for a 1-1 score. Gieger tried to work her way back up, but a rock jammed her rear brake on the last lap, slowing her charge and holding her to fourth. Meanwhile, Sweden's Sarah Pettersson snagged second overall on a crazy day in the WMX class. The women race next in two weeks at Washougal.
The 250 and 450 classes return next weekend at Spring Creek in Millville, Minnesota.
450 Overall
Ryan Dungey 1-1
Justin Brayton 3-4
James Stewart 6-3
Tyla Rattray 4-5
Mike Alessi 11-2
Broc Tickle 5-9
Cole Thompson 7-8
Josh Grant 9-7
Andrew Short 12-6
Jake Weimer 2-20
Michael Byrne 10-10
Kyle Chisholm 15-11
Christian Craig 16-13
Robert Kiniry 8-23
Nick Wey 17-14
Derek Anderson 13-18
Les Smith 36-12
Ben LaMay 14-22
Kyle Regal 24-15
Matt Lemoine 34-16
Jimmy Albertson 38-17
Heath Harrison 18-26
Drew Yenerich 26-19
Kevin Rookstool 19-21
Vince Friese 20-34
John Dowd 22-24
Jason Thomas 21-25
Jake Loberg 27-28
Dalton Carlson 25-30
Michael Giese 31-27
Michael Stryker 29-29
Dakota Kessler 28-31
Preston Mull 23-36
Fredrik Noren 33-32
Mike Brown 32-33
Tucker Saye 30-37
Josh Greco 37-35
Nico Izzi 35-38
Ryan Sipes 39-39
Sean Borkenhagen 40-40
450 Class Championship Standings
Ryan Dungey, Belle Plaine, Minn., KTM, 286
Mike Alessi, Victorville, Calif., Suzuki, 214
Jake Weimer, Rupert, Idaho, Kawasaki, 202
Andrew Short, Smithville, Texas, Honda, 178
Broc Tickle, Holly, Mich., Kawasaki, 162
James Stewart, Haines City, Fla., Suzuki, 151
Brett Metcalfe, Mannum, Australia, Suzuki, 142
Josh Grant, Riverside, Calif., Kawasaki, 137
Justin Brayton, Ft. Dodge, Iowa, Honda, 131
Kyle Chisholm, Valrico, Fla., Kawasaki, 100
250 Overall
Blake Baggett 1-1
Justin Barcia 2-2
Eli Tomac 5-3
Marvin Musquin 4-4
Ken Roczen 3-6
Wil Hahn 6-5
Gareth Swanepoel 9-7
Blake Wharton 7-12
Jessy Nelson 12-9
Travis Baker 11-10
Kyle Peters 8-13
Tommy Weeck 19-8
Jason Anderson 10-17
Malcolm Stewart 40-11
Jake Canada 13-19
Zack Freeberg 17-16
Phil Nicoletti 39-14
Jacob Hayes 14-21
Killy Rusk 34-15
Dakota Tedder 15-22
Sean Hackley Jr. 16-39
Mike McDade 22-18
Joey Peters 18-27
AJ Catanzaro 21-20
Broc Schmelyun 20-28
Gannon Audette 24-24
Ryan Zimmer 23-25
Kody Kamm 26-23
Matthew Babbitt 25-26
Michael Akaydin 28-31
Daniel Herrlein 27-32
Mitchell Dougherty 29-33
Eric Senk 30-34
Ricky Renner 31-35
David Buller 38-29
Hunter Hewitt 37-30
Lowell Spangler 33-36
Tevin Tapia 32-37
Topher Ingalls 35-38
Jerry Lorenz 36-40
250 Class Championship Standings
Blake Baggett, Grand Terrace, Calif., Kawasaki, 272
Justin Barcia, Monroe, N.Y., Honda, 253
Eli Tomac, Cortez, Colo., Honda, 236
Ken Roczen, Apolda, Germany, KTM, 235
Marvin Musquin, La Reole, France, KTM, 189
Wil Hahn, Decatur, Texas, Honda, 161
Blake Wharton, Pilot Point, Texas, Suzuki, 125
Jason Anderson, Edgewood, N.M, Suzuki, 121
Jessy Nelson, Paso Robles, Calif., Honda, 109
Jake Canada, Sun City, Calif., Honda, 105
WMX Class (Moto Finish)
Ashley Fiolek, St. Augustine, Fla., Honda (1-1)
Sara Pettersson, Sweden, KTM (3-4)
Tarah Gieger, Aguadilla, Puerto Rico., Honda (2-6)
Kasie Creson, Vallejo, Calif., Honda (5-3)
Jacqueline Strong, Sedona, Ariz., KTM (4-5)
Mariana Balbi, Belo Horizonte, Brazil, Honda (14-2)
Alexah Pearson, Sacramento, Calif., KTM (6-7)
Sarah Whitmore, Cheboygan, Mich., KTM (7-8)
Sade Allender, Sanford, Maine, Honda (8-9)
Brianna DeGray, Springfield, Mass., KTM (9-10)
WMX Class Standings
Jessica Patterson, Tallahassee, Fla., Suzuki, 201
Tarah Gieger, Aguadilla, Puerto Rico., Honda, 192
Ashley Fiolek, St. Augustine, Fla., Honda, 175
Mariana Balbi, Belo Horizonte, Brazil, Honda, 155
Jacqueline Strong, Sedona, Ariz., KTM, 148
Kasie Creson, Vallejo, Calif., Honda, 146
Sara Pettersson, Sweden, KTM, 139
Sayaka Kaneshiro, Osaka, Japan, Honda, 137
Alexah Pearson, Sacramento, Calif., KTM, 100
Sade Allender, Sanford, Maine, Honda, 99
Share this article:
Did you like this article?
Check out 10,000 MILES FROM HOME
in our Latest issue of Racer X available now.

Australian Dean Ferris hopes to follow in the footsteps of some of his legendary countrymen. Now contesting the FIM Grand Prix series, he made a huge impression at the Motocross of Nations. Page 138.
Look for the verified symbol
The Conversation