by
Austin White
Daily Report: Mammoth Motocross, Sunday
Monday, July 2, 2012 | 1:30 PM
Tweet
Sunday looked like it could be a more laid back day for the racers, as there were less classes and temperatures were soaring—marking the hottest day of the weekend. But it turned out to be the opposite, as the racing turned in heated battles and championships that came down to the wire.
The first main to kick it off was the 450 Int. Tyler Enticknap nailed his second holeshot of the week with Englishman Paul Coates in second. Enticknap put on an impressive first couple of laps and was able to distance himself from the field. But Coates fought back and was all over Enticknap until a crash derailed his chances and left him out of the race.
It looked like Enticknap had it all wrapped up as he held a huge lead over Matt Bisceglia, who had come roaring back from a mid pack start. Bisceglia started to slowly cut into the lead and was soon on the coat tails of Enticknap, bringing Kiesel with him. Bisceglia hounded Enticknap for a lap, patiently waiting for his moment. With two corners to go before the white flag Bisceglia swung wide and then down inside and put the pass on Enticknap to take over the lead. Enticknap was fired up and started to put some serious pressure back on, but in the end Bisceglia held on for his second win of the week. Enticknap had to settle for second with Kiesel rounding out the podium.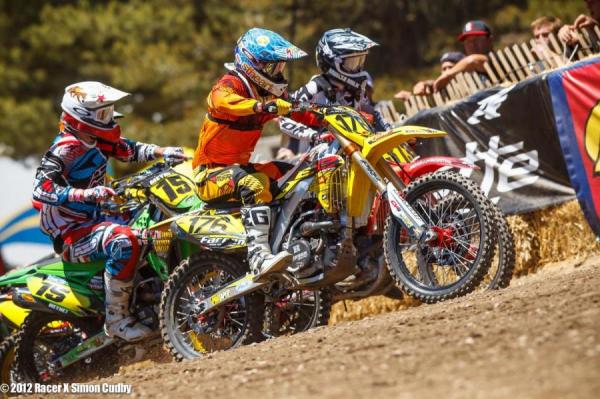 Joey Savatgy suffered a big crash on Sunday costing him a shot at the championship.
Simon Cudby photo
Just when you thought it couldn't get any better, the 450 Pro Class rounded the first corner with Dillan Epstein pulling the holeshot. Joey Savatgy and Austin Burns would round the first turn in second and third, respectfully. Epstein and Savatgy were quickly able to separate themselves from the field, pushing the pace faster than we have seen all week. This was the battle everyone had been waiting for, as both riders are at the top of their class and looking to graduate after Loretta Lynn's this year to the pro ranks.
Savatgy made a pass for the lead on lap three, but as they reached the highest point of the track Savatgy, pushing the pace, lost his front wheel on a rough little downhill and slammed head first into the ground. Savatgy wouldn't remount to finish, but looked to walk off under his own power.
Epstein would inherit the lead as they headed into the back but when they reappeared it was Brian Sjogren with the lead and Austin Politelli in second. Epstein was third.
After a small crash in the back Epstein wasted little time getting the lead back from Sjogren, with Politelli following. While the battle for the lead was heating up Christian Craig, who started way back, was charging and had worked his way up to fourth.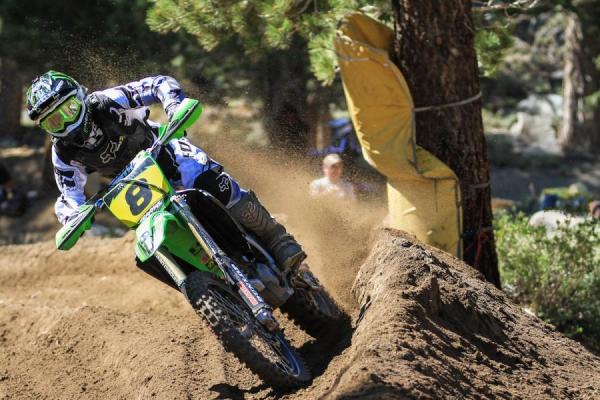 Dillan Epstein would take home the 450 Pro Class overall.
InsiderMX photo
A few laps later Politelli found himself out of the race after not being able to start his bike, handing over the second place position to Craig. Epstein started to stretch it out, but just when it looked like the race was all wrapped up Epstein suffered flat tire with a lap to go. But it didn't stop the Team Green rider as he held on for the win and the championship.
It was an emotional win for team Kawasaki and Epstein as they have been dealing with a tough week. Craig would pull through in second and Steven Tokarski would put on a hard charge to finish third.
Click HERE for results.
Share this article:
Did you like this article?
Check out MOTO GIFT GUIDE
in our Latest issue of Racer X available now.

Our annual gift guide has something (or maybe even a few somethings) for everyone on your holiday list. Page 146.
Look for the verified symbol
The Conversation