Open Mic: High Point Interviews
Monday, June 11, 2012 | 4:00 PM

KICKER

provides the sound from the Open Mic – since 1973 our concert-like acoustics and gritty design in mobile stereo put us on the map. KICKER Subwoofers and Amplifiers for vehicles and boats are sought worldwide, and now critically acclaimed MP3 Docks, Earbuds and Headphones are shaking up what remains.

Tweet

Interviews via post-race press conference, Steve Matthes and Jason Weigandt

Mike Alessi, MotoConcepts, 2-2 for 2nd in 450 Class

[Ryan] Dungey is riding really good. You've got to give it up to him, he's riding well. And so is Jake [Weimer]. So are all of these guys. You have to give them credit, they're the best riders in the world and everyone is giving it 110 percent. I'm trying!

Talk about your pace when you were running out front, and also getting around Ryan early in moto two.
I felt like the pace was good, but Dungey was riding better. There's really not much to say. In the second moto, he had made a mistake and that kind of allowed me to get in there. It was good, close racing, and that was fun.

 

Jake Weimer, Monster Energy Kawasaki, 3-3 for 3rd in 450 Class

I didn't get that good of a start, but I made some good moves on the first lap and got to fourth. I got around Shorty [Andrew Short], and got third. We made a few changes to the bike in the second moto, and I got a really good start, I almost had the holeshot but I just faded too wide in the first turn. I was just riding my own race alone in third. But nevertheless I felt good—physically I felt way stronger than I did last week, I didn't feel so good there.

How have you been working and improving outdoors?
In my eyes, there are two different kinds of riders, guys who just hold it wide open, and guys who try to be more technical about it. I think I'm in the second group. All year I feel like I've been rebuilding myself after last year and trying to find my groove again. I'm coming up with new little tricks, and it's working for me. It's been building blocks for me and stepping stones, and the last few weeks it's been going a lot better.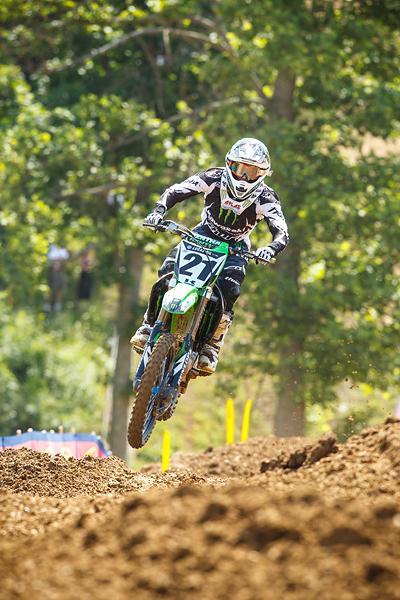 "In my eyes, there are two different kinds of riders, guys who just hold it wide open, and guys who try to be more technical about it. I think I'm in the second group." - Jake Weimer
Simon Cudby photo
Justin Barcia, GEICO Honda, 1-3 for 2nd overall in 250 class
I thought the first moto was good for me. I had a good start and pulled away pretty good. I got to a lapper and he was in the main line, I took a different line and actually ended up going down pretty good. I was able to get up and keep the lead. Second moto I got a pretty good start, but I got a little tight and started struggling with the track. This track, the first moto was awesome but the second moto, it got kind of dry and slick, so that was kind of tough. I usually struggle in that stuff, and in the second moto I definitely did struggle, but I did manage to keep it on the podium. Second overall is good and I'm looking forward to next week.
Ken Roczen, Red Bull KTM, 5-2 for 3rd in 250 class
First of all, the first race, I was going backwards. I don't know what happened I was just going super slow! In between motos I just tried to regroup. Second moto, I didn't get the best jump, but I guess I got a good drive and was able to get inside and take the lead. I was pumped because normally when you're leading the fast guys, they're able to go a little bit faster because they can see your fast lines. But I was able to pull a good lead, and there was absolutely nothing there to crash on. I guess I must have just lost concentration and washed out. I was so bummed. But I guess I've just got to keep looking straight—I was close, I guess at least it was a confidence booster to know I could go that fast, but it's time to start winning races. Otherwise this championship is going to be gone.
Andrew Short, Chaparral Honda, 4-8 for 4th overall in the 450 class
Somehow I got fourth overall today. One good start, one bad start. I rode decent but not at first. I rode okay in the start at the first moto but struggled with some things. The second moto it was okay, I wasn't lighting the world on fire out there. I lost some points to [Jake] Weimer and [Mike] Alessi so that's not good but we'll figure things out and hopefully go forward from here.
I fell in the first moto right in front of Larry Brooks, I'm so disappointed in that. I threw it down right in front of him. This isn't my best track but I have done well at times here. Today I struggled all day from the start of practices.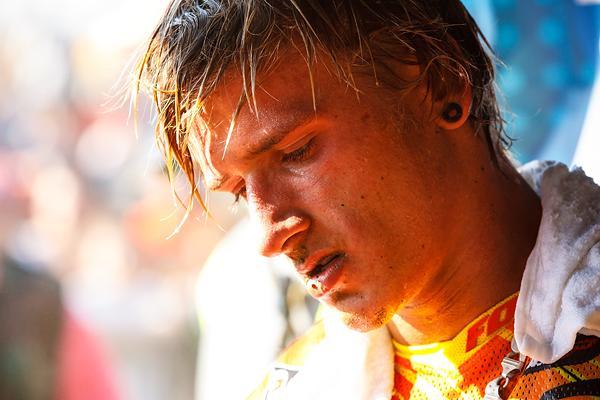 "But I was able to pull a good lead, and there was absolutely nothing there to crash on. I guess I must have just lost concentration and washed out." - Ken Roczen
Simon Cudby photo
Davi Millsaps, JGR Toyota Yamaha, 9-4 for 5th overall in the 450 class
I was way back in the first moto and I was a little rusty coming in. Practices didn't go well and I couldn't shake the cobwebs in that first moto. Second moto, I felt much better and came up to get fourth. It wasn't a great day but it wasn't a waster. I'm pumped the way I rode the second half of the second moto whether I passed [Brett] Metcalfe or not.
Ryan Sipes, Rockstar Valli-Star Yamaha, 12-6 for 8th in 450 Class
It's getting better. First moto I really thought would be good, I came up and passed a lot of people, but then I crashed and had to pass them all again. Second moto I was able to get a better start and put down some good laps. I wasn't as aggressive in the second one, and I feel like if I was it could have been better, but, it was super slick. I had some close calls and just backed 'er down from there.
Jessica Patterson, Rockstar Suzuki, 2-1 for 1st in WMX Class
Did you just want to make it more exciting today?
Yeah, I don't know, I struggled all day, and I made the whole day more interesting for myself. The first moto was pretty crazy, I was dead last, and they told me I was 18 seconds back on the fourth lap or so. I was riding pretty good, and next thing you know, I see Tarah [Gieger] up ahead, so I pinned it, but I came up just short in that one. Second moto, I was just starting to ride slow again, and then I picked it up, and unfortunately me and Tarah kind of hit a bit. I kind of misjudged a bit, I didn't expect her to be that far to the right. I was able to get up from there and take the lead.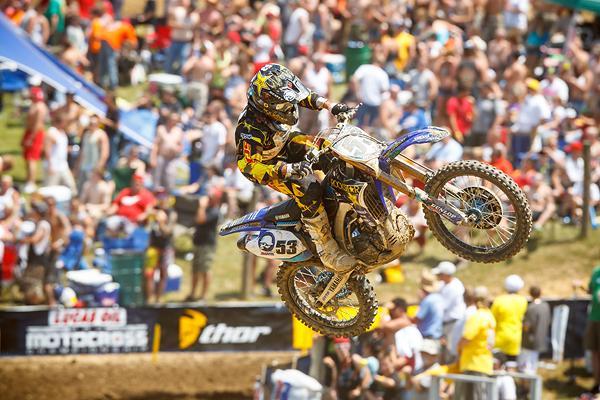 "I wasn't as aggressive in the second one, and I feel like if I was it could have been better, but, it was super slick." - Ryan Sipes
Simon Cudby photo
Tarah Gieger, Lucas Oil Troy Lee Honda, 1-5 for 2nd in WMX Class
It was a lot of fun. First moto was a little bit boring for me until the very end, maybe I put it on cruise control too early. We ended up going one lap longer than I thought, we got to the finish with like 10 seconds to go, so we had two laps to go. Second moto I was looking forward to a good battle, but just as it was about to get good, we crashed into each other and both went down. I ended up stalling my bike and losing a lot of ground. In that moto, I actually needed that extra lap because I could have gotten third, I think, but all in all it was an awesome day.
What happened when you and Patterson collided?
I jumped to the inside, I wasn't going to give up the inside. I think she just maybe overjumped it or didn't get on the brakes or something, so we hit and both went down. Her front wheel was stuck in my back wheel, so it stalled. It was still hooked up when we got up, so it ended up falling over again. It was okay though, I guess it's one of those racing deals.
Sayaka Kaneshiro, Team Honda Muscle Milk, 5-2 for 3rd overall in WMX
This is my first time to ride this track today, first practice was great and I got second in the moto. I was so happy to get that. I learned a lot riding up front with them, that has never happened before. I am so happy.
Wil Hahn, GEICO Honda  4-9 for 6th overall in 250 class
This is where I want to be, at the front, and be one of those guys. I belong there and my team feels that's where I belong. I feel like I should be on the box in that first moto but my mind didn't let me be. Second moto, I don't know what I was doing off the start but it wasn't good. I locked bars with the guy next to me and was way back. I got all the way to eighth and washed my front end. Picked it up in last and tried the best I could. I'm okay with the ride, sixth overall is the best result I had and I'm building. I want to be one of those top four.
I think getting up there with those guys will help me, I ran second for twenty minutes and it's good for me and good for my confidence. Now I hung with them and I can see what they're doing. Those guys are going for the title and I'm rebuilding myself.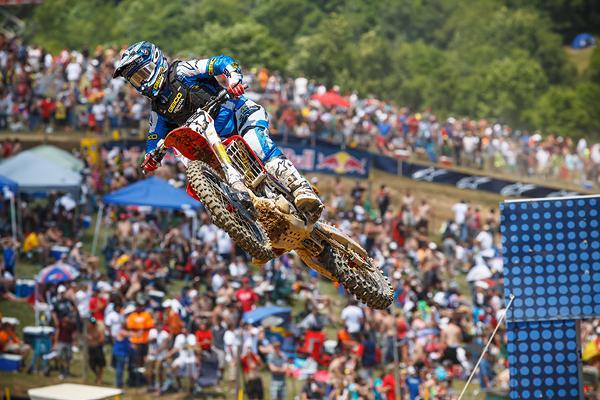 "This is where I want to be, at the front, and be one of those guys." - Wil Hahn
Simon Cudby photo
Alex Martin, Eleven-10 Mods 8-13 for 11th overall in the 250 class
I had a good day, the starts gave me confidence and in the first moto I came out second and then was third for a while. I made some mistakes and started thinking where was I, but ended up eighth. I've been struggling with some bike issues and I think we figured things out. My confidence has been down and today was a good day for that. Second moto myself and [Marvin] Musquin got into it and I hit him while he was in a rut and then [Jessy] Nelson just nailed us. I had to come from around twentieth to thirteenth.
I got some stitches and had to be in the medic unit for 45 minutes or so before my moto and I don't think that helped my preparation. I think the east coast tracks will be better for me from here on out.
Kyle Regal, JGR Yamaha- 25-11 for 16th overall in 450 class
The first moto didn't do well, we changed some things on the bike and I got a good start before I stalled it. I had to work my way up from that and had a decent moto. It's not where I or the team want to be but we're working on it and getting better. We'll go to Budds Creek and see how it's going.
I've ridden a bunch of different bikes, seven or so in the last year, I just need time on the bike and got to work hard during the week and change it up. We're four races in and there are still races left for me to get it together. I think after the break, at RedBud, I'll pull it together and things will change.
Share this article:
Did you like this article?
Check out KING CAIROLI
in our Latest issue of Racer X available now.

Americans know very little about seven-time FIM World Champion Tony Cairoli, but in Europe he's treated like royalty. Page 102.
Look for the verified symbol
The Conversation