Yamaha Wake-Up Call
Monday, June 4, 2012 | 6:00 AM Tweet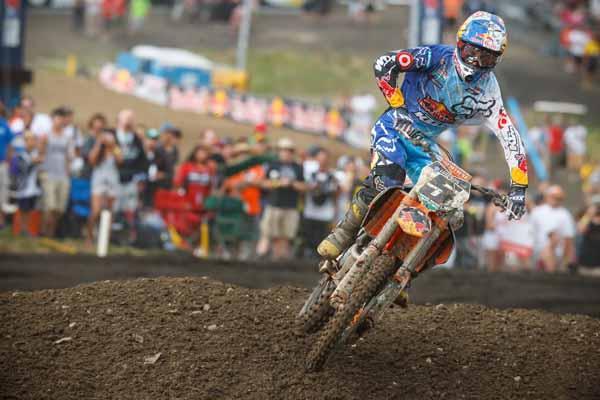 With his win at Thunder Valley Ryan Dungey is the new 450 points leader.
Simon Cudby photo
450 Overall Moto 1:
Shane Sewell
Derek Anderson
Kevin Rookstool
Ben LaMay
Evgeny Mikhaylov
Cole Thompson
Heath Harrison
Michael Giese
Dustin Pipes
Tye Hames
Robert Lind
Alexander Millican
Jake Loberg
Tucker Saye
Sean Collier
Preston Mull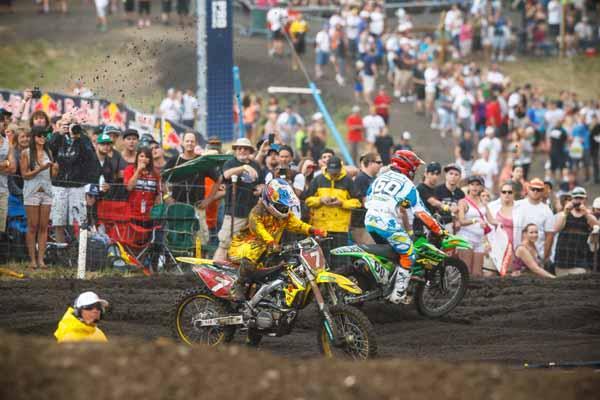 A hard crash in the first moto would end James Stewart's day.
Simon Cudby photo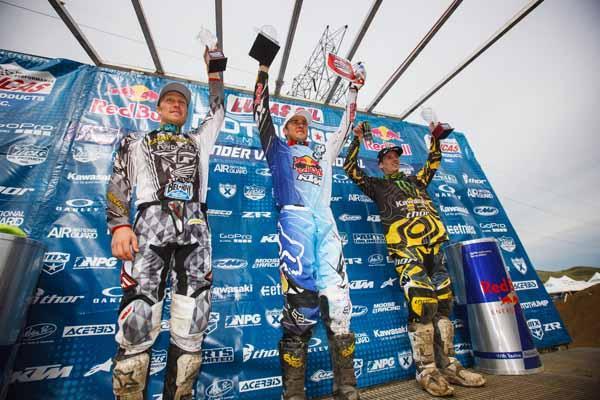 Andrew Short (left) and Jake Weimer (right) would round out the 450 podium.
Simon Cudby photo
250 Overall Results:
Justin Barcia 1-2 Hon
Blake Baggett 3-1 Kaw
Ken Roczen 2-4 KTM
Eli Tomac 4-3 Hon
Marvin Musquin 5-5 KTM
Malcolm Stewart 8-6 KTM
Blake Wharton 6-9 Suz
Wil Hahn 10-7 Hon
Kyle Cunningham 9-10 Yam
Jake Canada 7-14 Hon
Ivan Tedesco 14-8 Kaw
Gareth Swanepoel 13-13 Yam
Jason Anderson 12-15 Suz
Travis Baker 16-12 Hon
Hunter Hewitt 15-16 Suz
Jessy Nelson 22-11 Hon
Alex Martin 11-39 Hon
Zack Freeberg 17-19 KTM
Kyle Peters 20-17 Yam
Phil Nicoletti 27-18 Hon
Kellian Rusk 18-21 Hon
Tevin Tapia 19-36 KTM
AJ Catanzaro 40-20 KTM
Ryan Zimmer 21-24 Hon
Dakota Tedder 25-23 Kaw
Michael Akaydin 26-26 Kaw
Myles Tedder 24-33 Kaw
Kerim Fitz-Gerald 31-27 KTM
Dylan Schmoke 28-30 Kaw
Joey Peters 23-35 Yam
Travis Bell 38-22 Hon
Landon Powell 32-28 Hon
Ignacio Pazos 29-31 Hon
Erick Meusling 37-25 Hon
Shawn Rhinehart 36-29 Suz
Chad Crawford 34-22 Kaw
Trevor Whitmarsh 30-38 Yam
Ozzy Barbaree 35-34 Suz
John Pauk 33-37 Kaw
Garrett Eckman 39-40 Kaw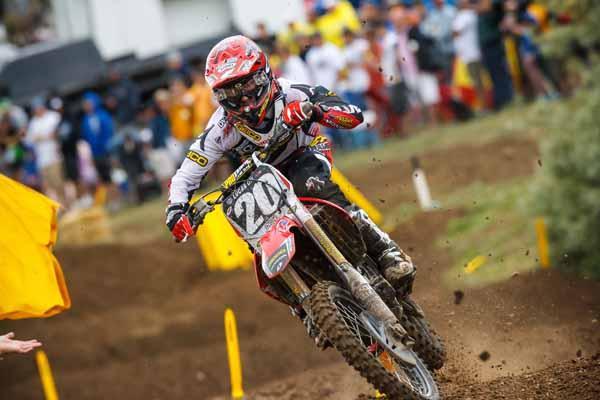 Justin Barcia captured his first overall of the year at Thunder Valley.
Simon Cudby photo
250 Moto 1 Overall:
Jake Canada
William Hahn
Zack Freeberg
Kellian Rusk
Kyle Peters
Ryan Zimmer
Jessy Nelson
Joey Peters
Michael Akaydin
Phillip Nicoletti
Dylan Schmoke
Ignacio Pazos
Trevor Whitmarsh
Kerim Fitz-Gerald
Landen Powell
John Pauk
Chad Crawford
Ozzy Barbaree
Shawn Rhinehart
Erick Meusling
Travis Bell
Garret Eckman
AJ Catanzaro
250 Overall Moto 2:
William Hahn
Jessy Nelson
Jake Canada
Kyle Peters
Phillip Nicoletti
Zack Freeberg
AJ Catanzaro
Kellian Rusk
Travis Bell
Ryan Zimmer
Erick Meusling
Michael Akaydin
Kerim Fitz-Gerald
Landen Powell
Shawn Rhinehart
Dylan Schmoke
Ignacio Pazos
Chad Crawford
Ozzy Barbaree
Joey Peters
John Pauk
Trevor Whitmarsh
Garret Eckman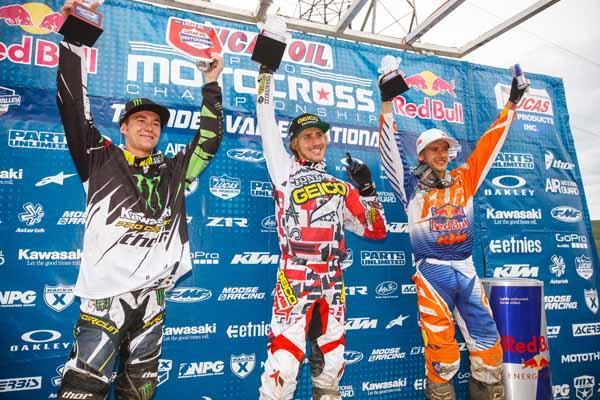 Blake Baggett (left) and Ken Roczen (right) would join Barcia (middle) on the 250 podium.
Simon Cudby photo
250 Points Standings
Blake Baggett 139pts. Kaw
Justin Barcia 123pts. Hon
Ken Roczen 120pts. KTM
Eli Tomac 117pts. Hon
Marvin Musquin 84pts. KTM
Blake Wharton 82pts. Suz
Wil Hahn 71pts. Hon
Kyle Cunningham 65pts. Yam
Jake Canada 62pts. Hon
Ivan Tedesco 61pts. Kaw
Jason Anderson 54pts. Suz
Jessy Nelson 48pts. Hon
Travis Baker 43pts. Hon
Gareth Swanepoel 42pts. Yam
Martin Davalos 40pts. Suz
Malcolm Stewart 38pts. KTM
Kyle Peters 27pts. Yam
Hunter Hewitt 25pts. Suz
Alex Martin 22pts. Hon
Zack Freeberg 17pts. KTM
WMX Overall:
Tarah Gieger 3-2
Ashley Fiolek 2-6
Sayaka Kaneshiro 7-3
Mariana Balbi 6-4
Sara Pettersson 5-7
Alexah Pearson 8-11
Sade Allender 12-9
Amanda Brown 11-10
Christina Reed 9 13
Brianna DeGray 10-14
Kasie Creson 20-8
Alyssa Fitch 17-12
Ashley Boham 14-15
Sarah Whitmore 13-18
April Zastrow 15-19
Sydney Dickson 18-17
Jackie Ives 16-20
Chelsea Newbold 21-16
Meghan McClain 19-21
Ashleigh Hall 22- 22
Tressa Rau 23-23
Lauren Volentir 24-24
Justine Cox 25-25
Cady VanCura 26-26
Meghan Rutledge 27-27
Christel Allen 28 28
WMX Moto 1 Overall:
Sara Pettersson
Sayaka Kaneshiro
Christina Reed
Brianna DeGray
Amanda Brown
Sade Allender
Ashley Boham
April Zastrow
Jackie Ives
Alyssa Fitch
Sydney Dickson
Meghan McClain
Kasie Creson
Chelsea Newbold
Ashleigh Hall
Tressa Rau
Lauren Volentir
Justine Cox
Cady VanCura
Meghan Rutledge
Christel Allen
WMX Moto 2 Overall:
Sayaka Kaneshiro
Sara Pettersson
Kasie Creson
Sade Allender
Amanda Brown
Alyssa Fitch
Christina Reed
Brianna DeGray
Ashley Boham
Chelsea Newbold
Sydney Dickson
April Zastrow
Jackie Ives
Meghan McClain
Ashleigh Hall
Tressa Rau
Lauren Volentir
Justine Cox
Cady VanCura
Meghan Rutledge
Christel Allen
WMX Points Standings
Jessica Patterson 141pts. Suz
Ashley Fiolek 125pts. Hon
Tarah Gieger 114pts. Hon
Sayaka Kaneshiro 99pts. Hon
Mariana Balbi 88pts. Hon
Jacqueline Strong 82pts. KTM
Meghan Rutledge 78pts. Kaw
Sara Pettersson 76pts. KTM
Kasie Creson 75pts. Hon
Sade Allender 52pts. Hon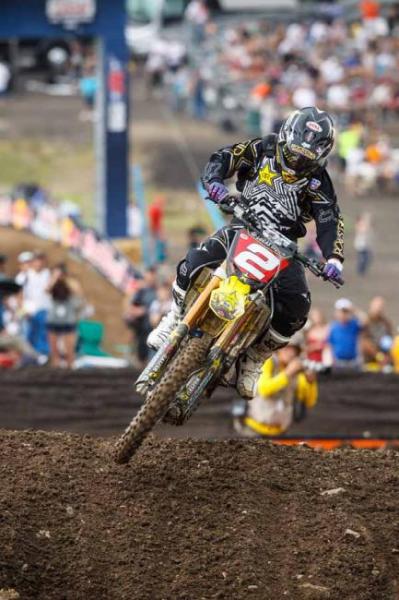 Jessica Patterson would extend her points lead at Thunder Valley.
Simon Cudby photo
FIM World Motocross Championship
Grand Prix of France

MX1 Overall
1. Antonio Cairoli KTM
2.
Christophe Pourcel
Kaw
3. Gautier Paulin Kaw
4. Clement Desalle Suz
5. Xavier Boog Kaw
6. David Pilippaerts Yam
7. Steven Frossard Yam
8. Sebastien Pourcel Kaw
9. Ken de Dycker KTM
10. Rui Goncalves Hon
11. Anthony Boissiere TM
12. Kevin Strijbos KTM
13. Matiss Karro KTM
14. Evgeny Bobryshev Hon
15. Tanel Leok Suz
MX1 Points Standings

Antonio Cairoli 253pts. KTM

Christophe Pourcel 214pts. Kaw
Clement Desalle 213pts. Suz
Gautier Paulin 212pts. Kaw
Ken de Dycker 179pts. KTM
David Phillippaerts 169pts. Yam
Xavier Boog 161pts. Kaw
Kevin Strijbos 154pts. KTM

Rui Goncalves 134pts. Hon
Tanel Leok 131pts. Suz
Evgeny Bobryshev 107pts. Hon

Shaun Simpson 91pts. Yam
Jonathan Barragan 88pts. Hon

Mattis Karro 86pts. KTM
Davide Guarneri 70pts. KTM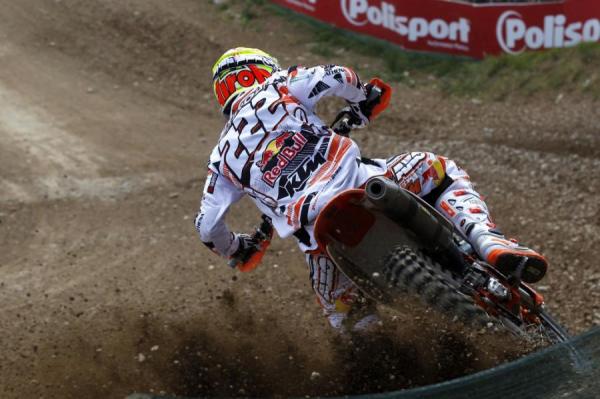 Antonio Cairoli took home the MX1 overall in France.Ray Archer/KTMImages photo

MX2 Overall
1. Jeffery Herlings KTM
2.
Tommy Searle
Kaw
3. Jeremy van Horebeek KTM
4. Joel Roelants Kaw
5. Jordi Tixier KTM
6. Valentin Teillet Kaw
7. Jake Nicholls KTM
8.
Max Anstie
Hon
9. Petar Petrov Suz
10. Romain Febvre KTM
11. Arnaud Tonus Yam
12. Juilen Lieber KTM
13. Alessandro Lupino Husq
14. Jose Butron KTM
15. Christophe Charlier Yam
MX2 Points Standings

Jeffery Herlings 270pts. KTM
Tommy Searle 248pts. Kaw
Jeremy van Horebeek 231pts. KTM
Joel Roelants 188pts. Kaw
Max Anstie 160pts. Hon
Jordi Tixier 159pts. KTM
Jake Nicholls 144pts. KTM

Alessandro Lupino 118pts. Husq
Jose Burton 110pts. KTM
Dylan Ferrandis 107pts. Kaw
Christopher Charlier 106pts. Yam
Harri Kullas 105pts. Suz
Petar Petrov 90pts. Suz
Michael Leib 69pts Yam
Glenn Coldenhoof 68pts KTM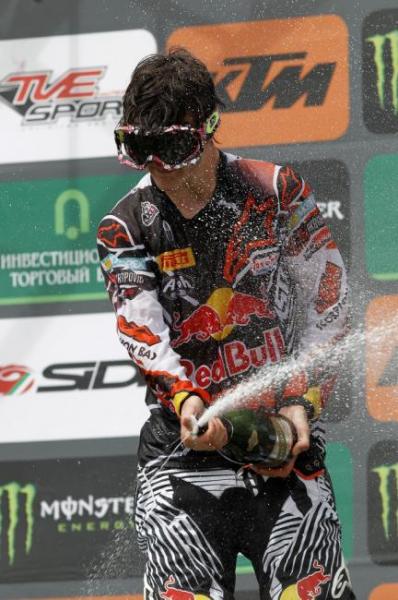 Jeffery Herlings celebrates his MX2 overall win in France.

Ray Archer/KTMImages photo

Can-Am GNCC Championship
XC1 Points Standings
Paul Whibley 177pts Yam
Kailub Russell 172pts KTM
Charlie Mullins 129pts KTM
Rory Mead 126pts KTM
Thad DuVall 115pts Hon
Jordan Ashburn 103pts Yam
Garrett Edmisten 93pts Kaw
Chris Batch 92pts BET

Cory Buttrick 77pts KTM
Nathan Kanney 76pts Hon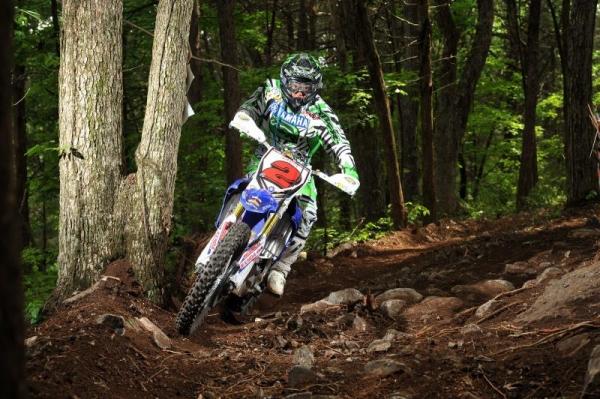 Paul Whibley leads the XC1 Class.
Ken Hill//GNCCRacing.com photo
XC2 Points Standings
Steward Baylor 161pts KTM
Jason Thomas 143pts HUSQ
Jesse Robinson 132pts HUSQ
Andrew Delong 123pts. HSQ
Jedediah Haines 119pts YAM
Brad Bakken 109pts YAM
AJ Stewart 79pts. Yam
Cody Gragg 74pts. Yam
Scott Grills 70pts. Hon
Michael McGinnis 66pts. KTM
Zach Nolan 59pts. KTM
Monster Energy Canadian Nationals
The Wasteland - Nanaimo, British Columbia
2. Colton Facciotti KTM
3. Bobby Kiniry Yam
4. Kyle Keast Yam
5. Tyler Medaglia Hon
6. Tyler Villopoto
7. Dusty Klatt LEM
8. Gavin Gracyk Kaw
9. Kyle McGlynn Yam
10. Shawn Maffenbeier Yam
11. Jaromir Romancik Kaw
12. Brock Hoyer Kaw
13. Morgan Burger Kaw
14. Shawn Robinson Yam
15. Josh Allen Kaw
MX2 Overall
1. Teddy Maier Kaw
2. Kyle Beaton Kaw
3. Jared Alllison Yam
4. Jeremy Medaglia KTM
5. Parker Allison Yam
6. Ross Johnson Suz
7. Zach Deiana Suz
8. Spencer Knowles Yam
9. Brad Nauditt Hon
Monster Energy MX Nationals Austrailan Nationals


Pro Open MX1 Points Standings

Josh Coppins 301pts. Yam
Todd Waters 280pts. Suz
Brad Anderson 274pts. Hon
Lawson Bopping 255pts. Yam
Tye Simmonds 234pts. Hon
Cody Cooper 232pts. Suz
Jay Marmont 207pts. Kaw
Jake Moss 171pts. Hon

Daniel McCoy 164pts. Suz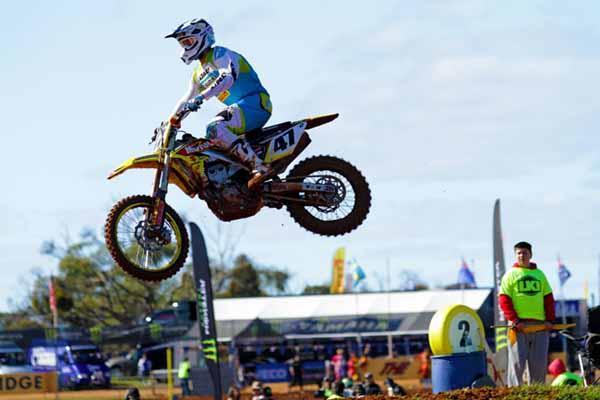 Todd Waters sits in second in the MX1 class.
Simon Makker/MotoOnline.com.au photo
Pro Lites MX2 Points Standings
Luke Styke 306pts. Yam
Ford Dale 274pts. Hon
Cheyne Boyd 258pts. Hon
Josh Cahcia 258pts. KTM
Kade Mosig 233pts. Kaw
Kirk Gibbs 229pts. Yam
Adam Monea 215pts. Suz
Justin McDonald 192pts. Hon
Lewis Woods 173pts. Suz
Errol Willis 168pts. Suz
Share this article:
Did you like this article?
Check out MY LIFE IN MOTORCYCLE RACING
in our Latest issue of Racer X available now.

Jean-Michel Bayle, the iconic superstar of yesteryear, raced motocross for the first time in twenty-one years at the Vets MXdN in England. Page 126.
Look for the verified symbol
The Conversation