by
Jason Weigandt
The List: Big Breaks
Thursday, May 31, 2012 | 4:00 PM
Developed in the USA and tested on the toughest tracks in the world, Maxima Racing Oils are proven to increased horsepower, prolong engine life and offer unsurpassed engine cleanliness. Maxima has been committed to MX & SX for over 30 years and is used by more factory teams, engine builders and racers. Know you're running the best with championship winning products. Maxima – Race Grade Formulas.
Tweet
Eli Tomac burst onto the scene at the 2010 Lucas Oil Pro Motocross Championship opener and won his first pro race. It seemed like a bunch more wins were soon to come, and they were, in supercross, but Tomac was unable to get back to the top spot outdoors until his win a few days ago at Freestone. That's 105 weeks between Tomac's first and second outdoor wins, and it probably feels like even longer considering how badly Tomac wants to win.
But we've seen some much longer waits between victories. This week for The List, we run through some of the longer breaks between wins. Enjoy!
8. Blake Wharton in Supercross: Blake won a supercross in his first year in supercross, 2009, in St. Louis. (Click to view results) That seemed to set him up as a SX Lites title contender for the future, but his 2010 and 2011 campaigns were not as strong, and he went winless. Blake finally took career SX Lites win #2, three years later, at Indy this March. But that's nothing compared to the rest of the guys on this list!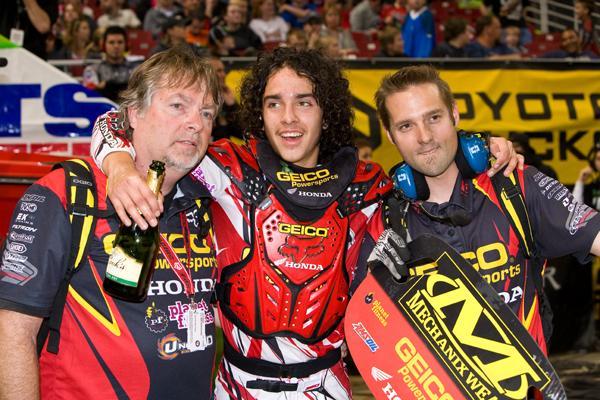 Blake Wharton celebrates his first career win in St. Louis.
Simon Cudby photo
7. John Dowd in Motocross: Dowd won his first race in a shocker. The 1991 Hangtown National may have been the wettest, rainiest AMA MX race ever, as the track got so bad that a river basically ran through the center of the track, and the second motos were cancelled. Dowd, a privateer mud-specialist from New England, won the 250 class that day. (Click to view results) But he would prove himself no fluke, steadily improving each year until 1994, when Yamaha rewarded him with a factory bike, and he repaid them with the overall win at Millville, Minnesota. And this time he did it on a dry track! (Click to view results)
6. Tim Ferry in Motocross: Red Dog won the opening round of the 2001 Nationals at Glen Helen on his big Yamaha thumper. (Click to view results). But despite repeated strong performances and podium visits, he would not return to the top spot overall on the Yamaha. But, in 2007, a wild race at Washougal allowed Ferry's trademark consistency to pull through. James Stewart won a moto but then tweaked his knee in moto two, and Kevin Windham mistaked the white flag for the checkered in moto two. Ferry rode solid and took his Kawasaki to the win, his first overall in six years! (Click to view results)
5. Tallon Vohland in Supercross: Back in the early 1990s, Tallon and his brother Tyson were two hot Team Green prospects. Tallon then scored a Team Suzuki ride for 1991 and won the East/West round in Houston on Jan 19, 1991. (Click to view results) But it never came together for him again after that, and Vohland ended up packing his bags for Europe and the GPs. In 1999, eight full years later, Vohland returned to the U.S. for the full tour on an FMF Honda. He won the Budds Creek National that year, (Click to view results) and then finally returned to victory in a 125 supercross in 2000 at Anaheim. That's nearly a decade between TV Show's SX wins!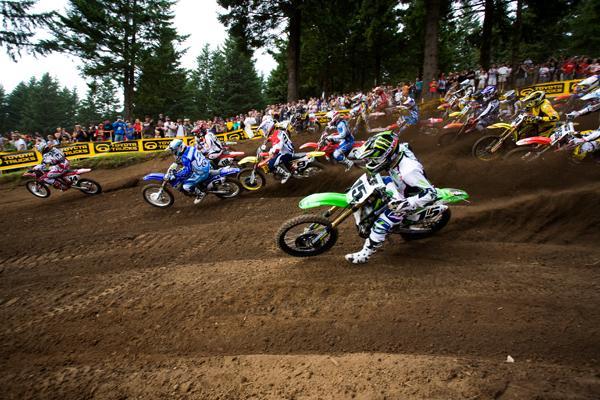 Tim Ferry en route to his second 450 National win at Washougal.
Andrew Fredrickson photo
4. Mike Brown in Motocross: Brownie has been around forever, and he's still going in the WORCS and Baja. Incredibly, even in the mid 1990's he was considered a veteran of the 125 class, and when he won the Washougal National on August 6, 1995 it represented a real breakthrough for the journeyman. (Click to view results) Then Brown pointed out of 125 supercross, sending him off to a few years in the GPs. He was back in the U.S. for 2001, and returned to victory on June 17, 2001 at Budds Creek. (Click to view results) That's six years between National wins!
3. Mike Brown in Supercross: But wait, Brownie waited even longer between wins indoors. He won a few 125 SX races in 1995, ending with the Cleveland (yup, Cleveland rocked Supercross. One time) win on May 20. (Click to view results) He would win another 125 Supercross at Daytona….in 2003! That's eight years between wins for Brown! (Click to view results)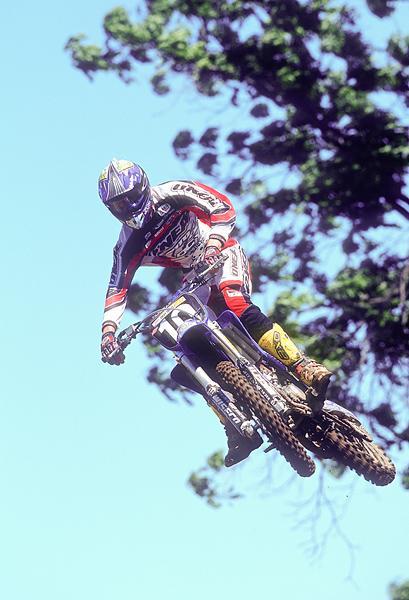 Larry on his privateer Yamaha took the win at RedBud.
Simon Cudby photo
2. Larry Ward in Motocross: No one, no one, no one had a career quite like Larry Ward. Big Bird never won an AMA title, but on the right day, in the right season, he could run with anyone, and he did it over an incredible 15-year span. Did it on a ton of different brands, in different classes, and as both a factory rider and a privateer, too. Outdoors, Larry won three 125 Nationals early in his career (one each in '89, '91 and '92, culminating that run with a victory at Southwick in 1992. (Click to view results) And then….Larry bounced around on 125s and 250s, as a privateer and a factory rider (he even raced for Team Suzuki twice) before finding new life when Yamaha unleashed the YZ250F on the 125 class. As a privateer, riding for Team Moto XXX, Larry won the 2001 RedBud National. That made Larry the first rider to ever win Nationals in three different decades, 80's, 90's and 2000s. Only Kevin Windham has since matched that feat. (Click to view results)
1. Larry Ward in Supercross: But Larry's 250 Supercross career was even stranger! Out of nowhere, as a rookie in the class, he won the famous 1990 Seattle Supercross. He thus became the first Suzuki rider to win a supercross since Mark Barnett in 1982 (eight years!), and he did it in front of his home-state Washington fans. And, he won after a crazy battle with Jeff Matiasevich, which might have been the peak night of the 1990s block-pass era. (Click to view results) Then? Larry went cold. Eventually lost the Suzuki ride and toiled as a privateer. In 1995 he caught fire again and took his Noleen/Sizzler privateer Yamaha to an astonishing second in the final SX standings, but a win still eluded him. As it did year after year until, miraculously, Team Suzuki came calling again for 1998. And then Larry won again, in Tampa, taking career supercross win number two eight years after his first. (Click to view results) For good measure, Larry won the Seattle Supercross in '99, nine years later. Like we said, no one had a career quite like Larry Ward! (Click to view results)
Share this article:
Did you like this article?
Check out MY LIFE IN MOTORCYCLE RACING
in our Latest issue of Racer X available now.

Jean-Michel Bayle, the iconic superstar of yesteryear, raced motocross for the first time in twenty-one years at the Vets MXdN in England. Page 126.
Look for the verified symbol
The Conversation