Yamaha Wake-Up Call
Monday, May 7, 2012 | 6:00 AM Tweet

Monster Energy AMA Supercross, an FIM World Championship
Sam Boyd Stadium - Las Vegas, NV


Supercross Overall


Supercross Heat 1 Overall (Top 9 Advance)

1. D. Millsaps


2. J. Weimer


3. A. Short


4. B. Tickle


5. J. Grant


6. T. Bowers


7. K. Regal


8. C. Blose


9. J. Thomas


10. R. Kiniry

11. R. Clark

12. G. Faith

13. C. Hinson

14. A. Ray

15. J. Potter

16. A. Enticknap

17. J. Oswald

18. R. Noftz

19. G. Crater

20. J. Albertson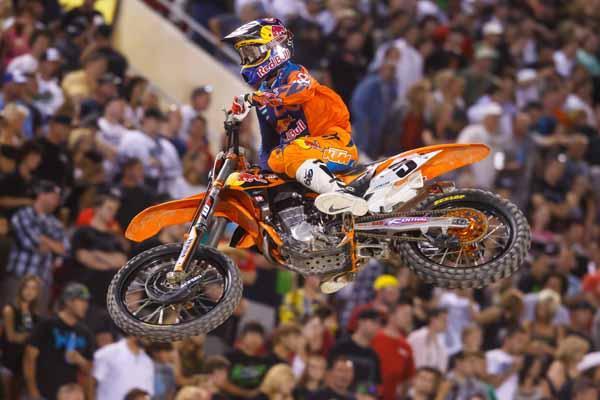 Ryan Dungey captured his fourth win of 2012 in Las Vegas.
Simon Cudby photo

Supercross Heat 2 Overall (Top 9 Advance)

1. J. Brayton

2. R. Dungey

3. M. Alessi

4. B. Metcalfe

5. N. Izzi

6. W. Peick

7. J. Sipes

8. N. Wey

9. M. Goerke
10. P. Mull
11. B. Lamay
12. D. Huddleston
13. S. Wennerstrom
14. T. Tapia
15. C. Howell
16. C. Gilmore
17. N. Schmidt
18. B. Ripple
19. B. Hall
20. M. Horban
Supercross LCQ (Top 2 Advance)

1. G. Faith

2. R. Clark

3. A. Enticknap
4. C. Hinson
5. N. Schmidt
6. T. Tapia

7. A. Ray
8. D. Huddleston
9. G. Crater
10. J. Oswald
11. J. Potter
12. B. Ripple
13. R. Notfz
14. C. Howell
15. S. Wennerstrom
16. P. Mull
17. B. LaMay
18. M. Horban
19. J. Albertson
20. R. Kiniry
21. C. Gilmore
22. B. Hall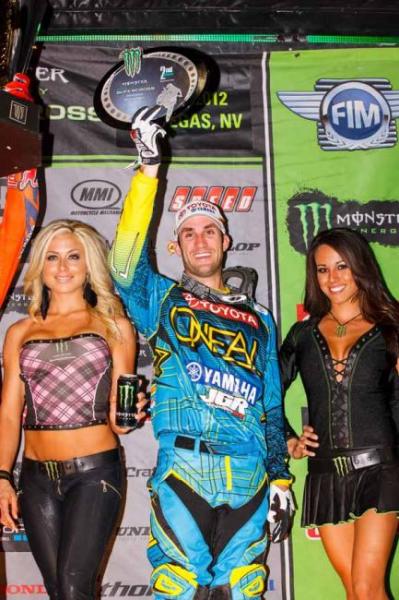 Davi Millsaps finished second behind Dungey.
Simon Cudby photo
East Region Lites Overall (Top 9 Advanced to Shootout)
8. Jake Canada Hon

10. Kyle Peters Yam
11. Justin Bogle Hon
12. AJ Catanzaro KTM
14. Austin Politelli Hon
15. Zack Freeburg Hon
16. Michael Akaydin Kaw
17. Shane Sewell KTM
18. John Pauk Kaw
20. Shawn Rife Hon
West Region Lites Overall (Top 9 Advanced to Shootout)
7. Matt Moss KTM

10. Landen Powell Hon
11. Chris Plouffe Hon
12. Ryan Smith Suz
13. John Greco Kaw
14. Cole Martinez Kaw
15. Preston Tilford Hon
16. Mitch Alcorn Kaw
18. Beau Hudson Kaw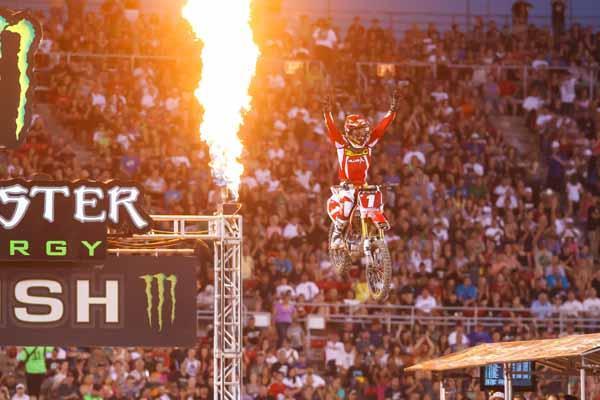 It was a clean sweep for Justin Barcia in Vegas.
Simon Cudby photo

West Region Lites LCQ Overall (Top 2 Advanced to Shootout)
1. B. Laninovich

2. J. Bogle

3. A. Politelli
4. K. Peters
5. L. Smith
6. A. Catanzaro
7. C. Plouffe
8. M. Akaydin
9. L. Powell
10. R. Smith
11. S. Rife
12. D. Tedder
13. M. Tedder
14. C. Martinez
15. K. Rusk
16. M. Alcorn
17. J. Greco
18. B. Hudson
19. J. Pauk
20. Z. Freeburg
21. S. Sewell
22. P. Tilford
Dave Coombs Sr. East-West Shootout Overall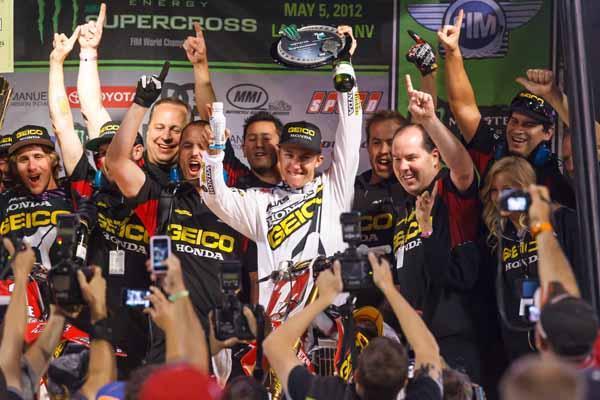 Eli Tomac would win the West Region Lites finale in Las Vegas.
Simon Cudby photo
Lites West Point Standings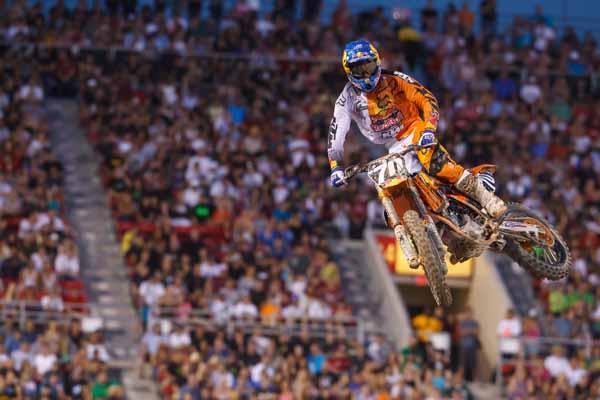 Ken Roczen finished second behind Barcia in the East Region Lites finale.
Simon Cudby photo

FIM World Motocross Championship


MX1 Points Standings

Antonio Cairoli 133pts. KTM
Gautier Paulin 116pts. Kaw
Christophe Pourcel 106pts. Kaw
Clement Desalle 105pts. Suz
Ken de Dycker 95pts. KTM
Kevin Strijbos 76pts. KTM
Xavier Boog 72pts. Kaw
Evgeny Bobryshev 69pts. Hon
David Phillippaerts 69pts. Yam
Tanel Leok 62pts. Suz
Shaun Simpson 58pts. Yam
Rui Goncalves 54pts. Hon
Steven Frossard 40pts. Yam
Davide Guarneri 36pts. KTM
Mattis Karro 35pts. KTM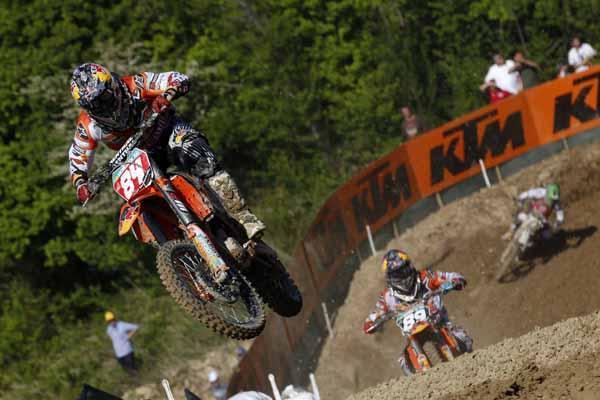 Herlings continues to lead the MX2 class.
Ray Archer / KTM Images photo
MX2 Points Standings

Jeffery Herlings 144pts. KTM
Jeremy van Horebeek 114pts. KTM
Tommy Searle 109pts. Kaw
Joel Roelants 85pts. Kaw
Max Anstie 80pts. Hon
Jordi Tixier 78pts. KTM
Dylan Ferrandis 73pts. Kaw
Jake Nicholls 69pts. KTM
Harri Kullas 65pts. Suz

Michael Leib 61pts Yam
Alessandro Lupino 60pts. Husq
Alexander Tonkov 55pts.Hon

Jose Burton 48pts. KTM
Petar Petrov 43pts. Suz
Mel Pocock 42pts. Yam
Can-Am GNCC Championship

XC1 Points Standings
Paul Whibley 119pts Yam
Kailub Russell 116pts KTM
Charlie Mullins 105pts KTM
Rory Mead 80pts KTM
Thad DuVall 79pts Hon
Cory Buttrick 77pts KTM
Jordan Ashburn 68pts Yam
Garrett Edmisten 65pts Kaw
Chris Batch 63pts BET
Nathan Kanney 58pts Hon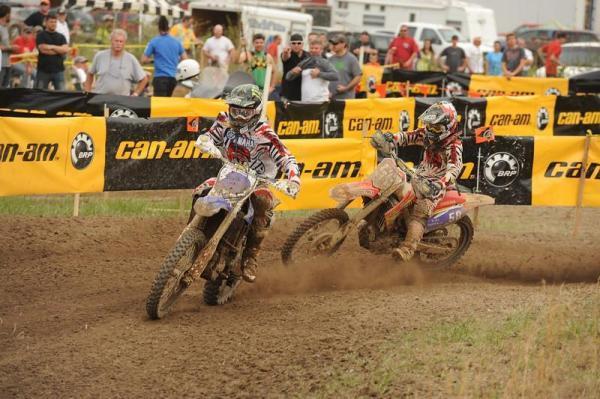 Paul Whibley leads Kailub Russell by three points in the XC1 class.
Ken Hill//GNCCRacing.com photo
XC2 Points Standings
Steward Baylor 140pts KTM
Jesse Robinson 102pts HUSA
Jason Thomas
93pts HUSQ
Jedediah Haines 80pts YAM
Brad Bakken 79pts YAM
AJ Stewart 53pts. Yam
Cody Gragg 50pts. Yam

Scott Grills 48pts. Hon
Glenn Kearney 42pts. HSQ
Dustin Gibson 41pts. KTM
Monster Energy MX Nationals Austrailan Nationals

Pro Open MX1 Points Standings

Josh Coppins 181pts. Yam
Brad Anderson 161pts. Hon
Todd Waters 152pts. Suz
Jake Moss 148pts. Hon
Lawson Bopping 146pts. Yam
Jay Marmont 139pts. Kaw

Cody Cooper 137pts. Suz
Tye Simmonds 133pts. Hon
Pro Lites MX2 Points Standings
Luke Styke 192pts. Yam
Ford Dale 179pts. Hon
Kirk Gibbs 162pts. Yam
Josh Cahcia 149pts. KTM
Kade Mosig 140pts. Kaw
Cheyne Boyd 136pts. Hon
Adam Monea 135pts. Suz
Errol Willis 115pts. Suz
Justin McDonald 110pts. Hon
Ryan Marmont 91pts. KTM
Belguim Motocross
Molenbergen MX Track - Wuustwezel, Belgium


MX1 Overall
1. David Guarneri KTM
2. Tanel Leok Suz
3. Herjan Brakke Yam
4. Julien Lieber KTM
5. Marvin van Daele Kaw

MX2 Overall
1. Glen Coldenhoff KTM
2. Kevin Fors Yam
3. Jeffrey Dewulf Hon
4. Pascal Rauschenecker KTM
5. Wiestse Brackman Kaw


German ADAC MX Masters
Bavaria, Germany
MX1 Overall
1. Marcus Schiffer Suz
2. Angus Heidecke KTM
3. Matthais Walker KTM
4. Romain Febvre KTM
5. Stefan Olsen Yam
MX2 Overall
1. Lars Reuther KTM
2. Brian Bogers KTM
3. Rasmus Jorgensen Suz
4. Lars Van Berkel Hon
5. Micha-Boy De Waal Suz
GEICO EnduroCross
Orleans Arena - Las Vegas, NV
Expert Overall
1. Colton Haaker Kaw
2. Justin Soule Kaw
3. Taddy Blazusiak KTM
4. Cody Webb BET
5. Taylor Robert Kaw
6.
Mike Brown
KTM
7. Cory Graffunder Husq
8. Kyle Redmond Husq
9. Kevin Rookstool Hon
10. Bobby Prochnau KTM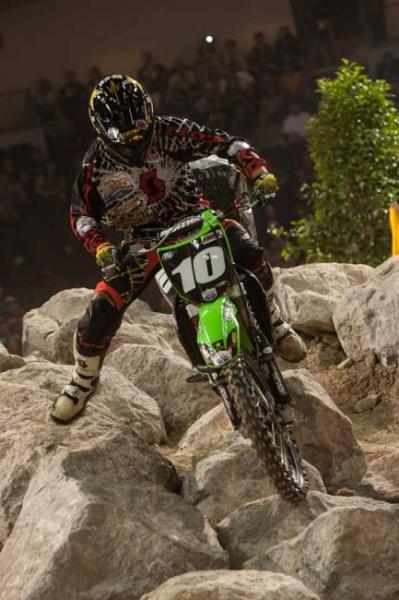 Colton Haaker en route to the opening round win in Las Vegas.
Drew Ruiz photo
AMA Rekluse National Enduro Series
Forest Hill, LA
Overall
1. Steward Baylor (KTM)
2. Michael Lafferty (Hsb)
3. Andrew DeLong (Hsq)
4. Jesse Groem (KTM)
5. Russell Bobbitt (KTM)
6. Shane Hufford (Hsb)
7. Nick Fahringer (Hsb)
8. Brad Bakken (Yam)
9. Cole Kirkpatrick (KTM)
Dade City MX
SponsorCup Overall
1.
Ricky Renner
2. RJ Hampshire
3. Cory Hubert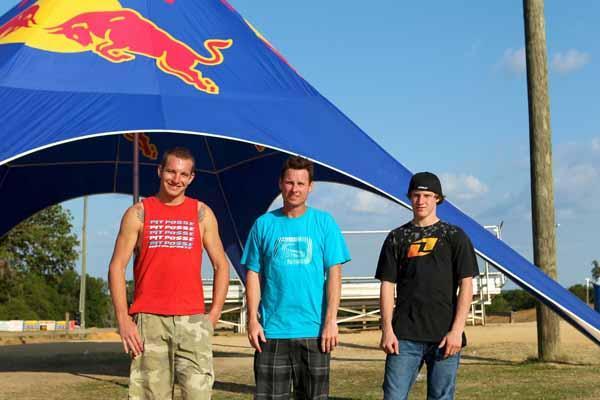 Tim Ferry (center) and his team took the overall at Dade City.
Rob Coy photo
Maxxis British Motocross Championship

MX1 Points Standings

Kevin Strijbos 131pts. KTM
Mattis Karro 115pts. KTM
Shaun Simpson 113pts. Yam
Gert Krestinov 92pts. Hon
Martin Barr 87pts. Kaw
Marc De Reuver 70pts. Kaw
Dorren Coutts 70pts. Hon
Jason Dougan 64pts. Hon
MX2 Points Standings
Mel Pocock 118pts. Yam
Neville Bradshaw 108pts. Hon
Elliot Banks-Brown 104pts. KTM
Nicolas Aubin 83pts. Hon
Steven Lenoir 81pts. Yam
Bryan Mackenzie 76pts. KTM
Jordan Booker 71pts. Hon
Zach Osborne 69pts. Yam
Stuart Edmonds 63pts. Suz
Graeme Irwin 51pts. Yam
Share this article:
Did you like this article?
Check out KING CAIROLI
in our Latest issue of Racer X available now.

Americans know very little about seven-time FIM World Champion Tony Cairoli, but in Europe he's treated like royalty. Page 102.
Look for the verified symbol
The Conversation