Yamaha Wake-Up Call
Monday, April 23, 2012 | 6:00 AM Tweet

Monster Energy AMA Supercross, an FIM World Championship
Century Link Field - Seattle, WA

Supercross Overall


Supercross Heat 1 Overall (Top 9 Advance)

1. R. Villopoto

2. K. Roczen

3. J. Brayton

4. A. Short

5. B. Metcalfe

6. B. Tickle

7. J. Grant

8. T. Bowers

9. C. Blose

10. N. Paluzzi

11. J. Albertson

12. B. Ripple

13. G. Crater

14. S. Wennerstrom

15. A. Ray

16. N. Wey

17. G. Faith

18. A. Albers

19. J. Alessi

20. R. Noftz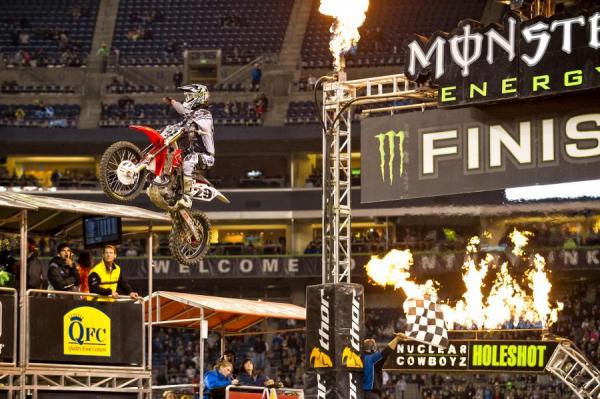 Andrew Short celebrates his first career Supercross class win in Seattle.
Garth Milan photo

Supercross Heat 2 Overall (Top 9 Advance)

1. R. Dungey
2. J. Weimer
3. D. Millsaps
4. K. Chisholm
5. M. Alessi
6. K. Regal
7. R. Kiniry
8. M. Goerke
9. J. Sipes
10. W. Peick
11. T. Tapia
12. C. Gilmore
13. M. Horban
14. C. Siebler
15. P. Mull
16. A. Enticknap
17. R. Clark
18. N. Izzi
19. C. Howell
20. J. Thomas
Supercross LCQ (Top 2 Advance)

1. W. Peick
2. N. Wey
3. N. Izzi
4. N. Paluzzi
5. J. Albertson
6. B. Ripple
7. R. Clark
8. G. Crater
9. G. Faith
10. J. Thomas
11. M. Horban
12. C. Gilmore
13. T. Tapia
14. P. Mull
15. C. Siebler
16. S. Wennerstrom
17. A. Enticknap
18. C. Howell
19. R. Noftz
20. A. Ray
21. A. Albers
22. J. Alessi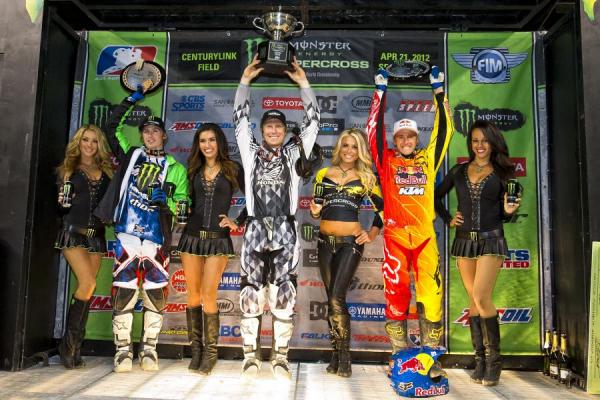 Weimer (left) and Roczen (right) joined Short (middle) on the poduim.
Garth Milan photo
West Region Lites Overall
12. Kyle Beaton Kaw
16. Beau Hudson Kaw
17. Matt Moss KTM
18. Erik Meusling Hon
19. Preston Tilford Hon
West Region Lites Heat 1 Overall (Top 9 Advance)
1. D. Wilson
2. M. Davalos
3. M. Moss
4. E. Tomac
5. V. Friese
6. T. Baker
7. B. Hudson
8. E. Meusling
9. P. Tilford
10. K. Rusk
11. T. Bright
12. J. Greco
13. R. Rangel
14. S. Rhinehart
15. C. Gores
16. C. Plouffe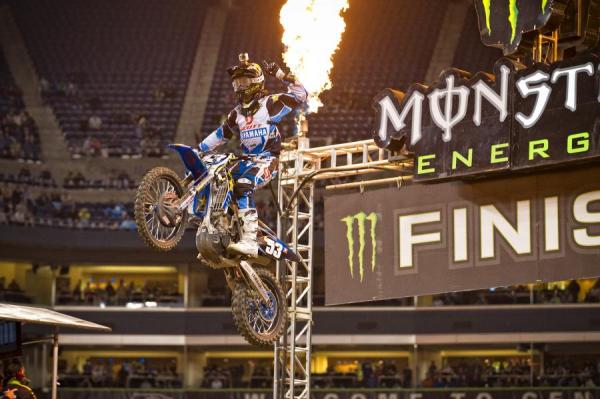 Ryan Sipes won his first Lites race since Indy last year in Seattle.
Garth Milan photo
West Region Lites Heat 2 Overall (Top 9 Advance)
1. M. Musquin
2. W. Hahn
3. C. Seely
4. J. Anderson
5. R. Sipes
6. B. Laninovich
7. K. Beaton
8. T. Ingalls
9. M. Tedder
10. R. Smith
11. D. Schmoke
12. C. Jurin
13. B. Rangel
14. B. Gillespie
15. B. Nauditt
16. R. Abrigo
17. S. Champion
West Region Lites LCQ (Top 2 Advance)
1. S. Champion
2. K. Rusk
3. C. Plouffe
4. J. Greco
5. R. Abrigo
6. R. Smith
7. D. Schmoke
8. B. Nauditt
9. C. Jurin
10. B. Rangel
11. S. Rhinehart
12. B. Gillespie
13. R. Rangel
14. T. Bright
15. C. Gores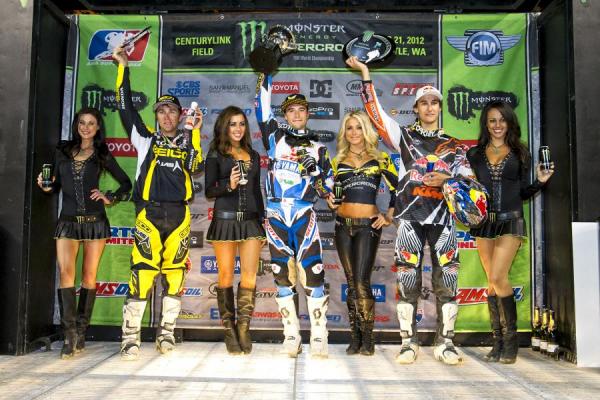 Musquin (right) and Tomac (left) joined Sipes on the podium.
Garth Milan photo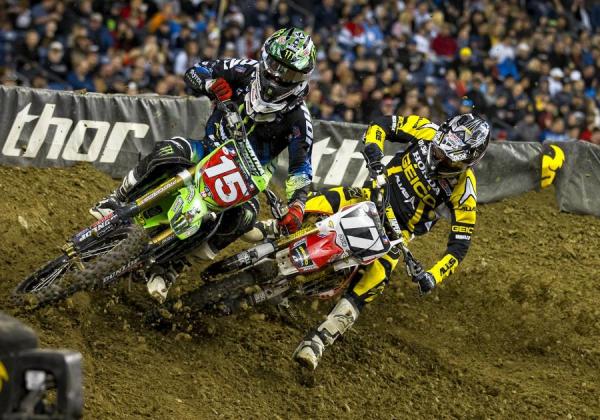 Tomac and Wilson provided plenty of drama in Seattle.
Garth Milan photo

FIM World Motocross Championship
Grand Prix of Bulgaria
MX1 Overall
1. Gautier Paulin 2-1 Kaw
2.
Christophe Pourcel
1-2 Kaw
3. Antonio Cairoli 4-3 KTM
4. Ken de Dycker 7-4 KTM
5. Evgeny Bobryshev 8-5 Hon
6. Xavier Boog 6-7 Kaw
7. David Phillppaerts 5-13 Yam
8. Clement Desalle 3-18 Suz
9. Shaun Simpson 11-9 yam
10. Sebastien Pourcel 15-6 Kaw
11. Tanel Leok 14-8 Suz
12. Kevin Strijbos 12-10 KTM
13. Cedric Soubeyras 13-14 Hon
14. Jonathan Barragan 16-12 Hon
15. Rui Goncalves 9-DNF Hon
16. Gregory Aranda 10-DNF Yam
17. Davide Guarneri DNF-11 KTM
18. Milko Potisek 18-16 Hon
19. Dean Ferris 20-15 Kaw
20. Matteo Bonini 19-17 KTM
MX2 Overall
1.
Tommy Searle
3-1 Kaw
2. Jeffery Herlings 2-2 KTM
3. Joel Roelants 1-4 Kaw
4. Jeremy van Horebeek 4-3 KTM
5.
Max Anstie
6-5 Hon
6. Harri Kullas 5-9 Suz
7. Dylan Ferrandis 8-10 Kaw
8. Alexander Tonkov 11-8 Hon
9. Jake Nicholls 7-12 KTM
10. Alessanro Lupino 14-6 Husq
11. Jose Butron 13-7 KTM
12. Michael Leib 10-11 Yam
13. Jordi Tixier 9-14 KTM
14. Petar Petrov 12-13 Suz
15. Mel Pocock 17-15 Yam
16. Nikolaj Larsen 15-22 Suz
17, Julien Lieber 35-16 Hon
18. Roman Febvre 16-DNF KTM
19. Andrea Cervellin 26-17 TM
20. Alessandro Battig 34-18 Yam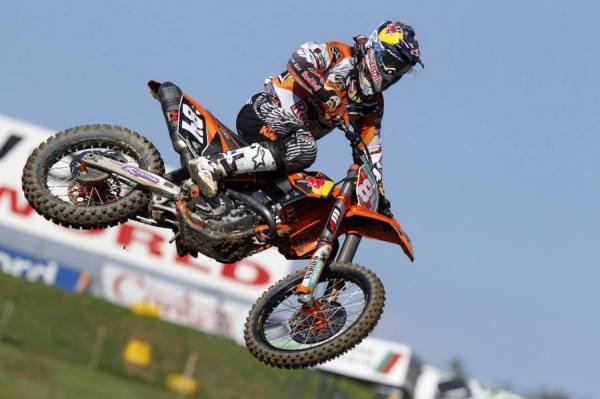 Herlings finished second overall in Bulgaria behind Tommy Searle.
Ray Archer / KTM Images photo
MX1 Points Standings

Antonio Cairoli 88pts. KTM
Gautier Paulin 79pts. Kaw
Clement Desalle 67pts. Suz
Ken de Dycker 63pts. KTM
Christophe Pourcel 59pts. Kaw
Kevin Strijbos 51pts. KTM
Shaun Simpson 45pts. Yam
David Phillippaerts 44pts. Yam
Tanel Leok 42pts. Suz
Rui Goncalves 41pts. Hon
Steven Frossard 40pts. Yam

Evgeny Bobryshev 38pts. Hon
Jonathan Barragan 26pts. Hon
Sebastien Pourcel 24pts. Kaw
MX2 Points Standings

Jeffery Herlings 94pts. KTM
Tommy Searle 87pts. Kaw
Joel Roelants 85pts. Kaw
Jeremy van Horebeek 74pts. KTM
Max Anstie 57pts. Hon
Jake Nicholls 51pts. KTM
Jordi Tixier 48pts. KTM
Dylan Ferrandis 48pts. Kaw
Harri Kullas 43pts. Suz
Alessandro Lupino 38pts. Husq
Mel Pocock 32pts.Yam

Petar Petrov 24pts. Suz
Valentin Teillet 23pts. Kaw
Jose Burton 22pts. KTM
Can-Am GNCC Championship


XC1 Points Standings
Paul Whibley 101pts Yam
Kailub Russell 99pts KTM
Charlie Mullins 86pts KTM
Thad DuVall 70pts Hon
Cory Buttrick 64pts KTM
Rory Mead 60pts KTM
Garrett Edmisten 54pts Kaw
Jordan Ashburn 52pts Yam
Chris Batch 48pts BET
Nathan Kanney 44pts Hon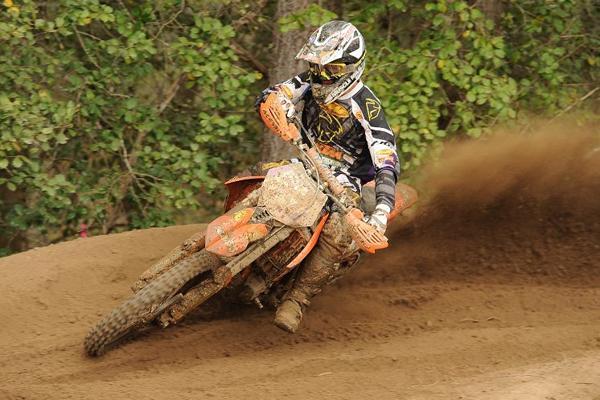 Kailub Russell sits just two points back of Paul Whibley in the XC1 class.
Photo: GNCCRacing.com
XC2 Points Standings
Steward Baylor 120pts KTM
Jesse Robinson 84pts HUSA
Jason Thomas
79pts HUSQ
Jedediah Haines 64pts YAM
Brad Bakken 64pts YAM
Glenn Kearney 42pts. HSQ
AJ Stewart 41pts. Yam
Cody Gragg 40pts. Yam
Andrew Delong 38pts. HSQ
Scott Grills 35pts. Hon

Monster Energy MX Nationals Austrailan Nationals
Pro Open MX1 Points Standings

Josh Coppins 125pts. Yam
Jake Moss 101pts. Hon
Jay Marmont 95pts. Kaw

Brad Anderson 94pts. Hon

Tye Simmonds 94pts. Hon
Lawson Bopping 89pts. Yam
Todd Waters 89pts. Suz
Cody Cooper 87pts. Suz
Pro Lites MX2 Points Standings
Luke Styke 132pts. Yam
Kirk Gibbs 119pts. Yam
Ford Dale 110pts. Hon
Kade Mosig 97pts. Kaw
Josh Cahcia 92pts. KTM
Justin McDonald 88pts. Hon
Cheyne Boyd 87pts. Hon
Adam Monea 80pts. Suz
Errol Willis 76pts. Suz
Ryan Marmont 67pts. KTM
Maxxis British Motocross Championship

MX1 Points Standings

Kevin Strijbos 131pts. KTM
Mattis Karro 115pts. KTM
Shaun Simpson 113pts. Yam
Gert Krestinov 92pts. Hon
Martin Barr 87pts. Kaw
Marc De Reuver 70pts. Kaw
Dorren Coutts 70pts. Hon
Jason Dougan 64pts. Hon
MX2 Points Standings
Mel Pocock 118pts. Yam
Neville Bradshaw 108pts. Hon
Elliot Banks-Brown 104pts. KTM
Nicolas Aubin 83pts. Hon
Steven Lenoir 81pts. Yam
Bryan Mackenzie 76pts. KTM
Jordan Booker 71pts. Hon
Zach Osborne 69pts. Yam
Stuart Edmonds 63pts. Suz
Graeme Irwin 51pts. Yam
Share this article:
Did you like this article?
Check out MY LIFE IN MOTORCYCLE RACING
in our Latest issue of Racer X available now.

Jean-Michel Bayle, the iconic superstar of yesteryear, raced motocross for the first time in twenty-one years at the Vets MXdN in England. Page 126.
Look for the verified symbol
The Conversation