by
Chase Stallo
Sign of the Lap Times: New Orleans
Tuesday, April 17, 2012 | 10:00 AM
Sign of the Lap Times is brought to you by Motion Pro, the original source for your cable, tool and control needs. Creating innovation and performance for over 25 years. Quality products for every rider and every mechanic, engineered for you.
Tweet
For the first time since 2009, New Orleans would play host to Monster Energy Supercross. Better known as "The Big Easy", due to its rich musical heritage as a haven of jazz and blues musicians, this year New Orleans provided plenty of supercross excitement … in the Lites class, that is.
Current, and reigning, Supercross champion Ryan Villopoto made "The Big Easy" look, well, just that, easy. Villopoto grabbed the early lead, leaving the rest of the field to play catch up. Not exactly the position you want to take with a man that has made the motocross world his own personal Kingdom the past year and a half. With a field decimated by injuries, Villopoto is in a league of his own. Although we may have been singing the same tune if the field were healthy, as the Washington native is on an absolute tear.
The biggest surprise of the night came from DNA Energy/Jeff Ward Racing's Josh Grant, who ran a solid second behind Villopoto, capturing his first podium since '09. Having been written off after an injury riddled two seasons, Grant, once again, showed the promise that has left many leaving with the thoughts of "what if" throughout the years.
Other than Grant's surprising run, the Lites class was left to provide the fireworks in a city that's known for its exuberance.
With champagne comfortably sitting on ice waiting for Justin Barcia waiting to celebrate his second consecutive East Region Lites Championship, the battle for second reached a fever pitch in New Orleans. Darryn Durham overcame late mistakes, and a late charge from Blake Baggett, to hold on for his first career Lites victory -- with his win, Durham joined Ken Roczen in a points tie to become bridesmaid to Barcia's celebration. Helped by Blake Wharton's fourteenth, only one point separates Durham, Roczen and Wharton for second heading to Vegas. The "Battle of Las Vegas" has been coined.
Now let's get to the lap charts to see how it all broke down.
With yet another dominating performance in New Orleans, any thoughts of Ryan Villopoto "backing it down" have been put to rest. Sure, he may be letting off the throttle a little, but not enough for anyone to take advantage. Cleary put; there's Villopoto, then the rest of the field. While his fastest lap wasn't exactly astonishing, comparatively, he wasn't exactly "pushing the limits" either, and he still took the fast lap crown. Villopoto looks content on cruising home with the title, and as many victories as he can gather, and looking towards the Lucas Oil Pro Motocross Championship.
Whether it was the switch from the unfamiliar 350-KTM to the familiar Suzuki, or a new-found passion for the indoors, Mike Alessi has been a completely different SX rider in 2012. Many will point to the depleted field, but Alessi had his best finish of the season in Dallas – where Dungey, Reed and Stewart still graced the line. Alessi would match that finish in Houston (4th), and was in prime position for his first podium of the year in New Orleans, before lapped traffic hindered his run. Unlike years past, where it seemed like he was looking forward to the outdoors as soon as A1 began, Alessi seems focused on SX.
"I know motocross is around the corner but I'm not focused on motocross. I'm focused on supercross until the last checkered flag, the last lap, the last corner at Vegas and trying to improve and get better," stated Alessi after New Orleans -- a far cry from the Alessi of the past.
Interesting stat of the night goes to… Weston Peick and Kyle Regal. Ten places separated the two riders (Peick 7th, Regal 17th), but it didn't stop the duo from setting identical fastest lap times – a 54.854. [Note: Regal went down in a big first turn crash.]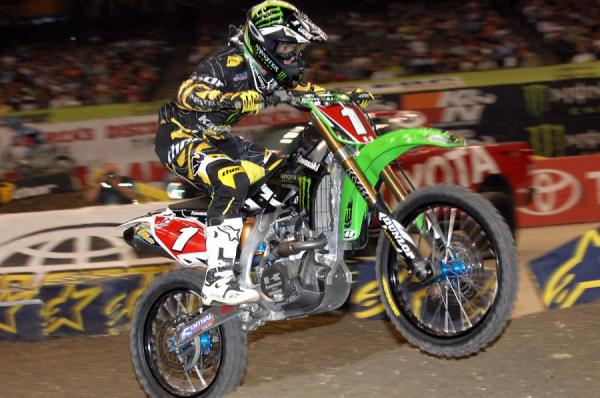 Villopoto walked away with the win and the fastest lap of the night.
Carl Stone photo
AMA Supercross Lites

What the SX class might lack in close competition, the Lites East division makes up for. Check out the three fast laps above and you'll see Ken Roczen, Blake Baggett and Justin Bogle all on the same tenth of a second!
Roczen grabbed the fastest time, but arm pump sent him reeling back off of the podium. Blake Baggett was right behind and looked like he could make a run at his teammate Darryn Durham at one point, but ultimately ended up second in the lap charts and the results.
But one fast lap only means so much. Darryn Durham stole the spotlight in New Orleans by winning the race! Not exactly a rags to riches story -- seeing as Durham is a former Horizon Award winner, which is delegated to the top amateur prospect, and Star Yamaha rider-- but an impressive showing, nonetheless, from the former privateer turned factory rider.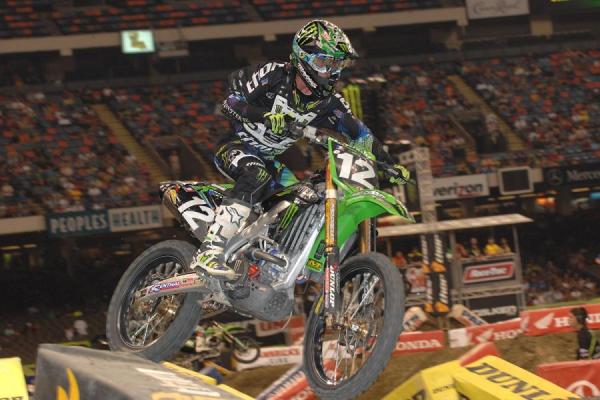 Blake Baggett was just off of Roczen's fast lap and just off of Durham's race win.
Carl Stone photo

Share this article:
Did you like this article?
Check out MONSTERBALL
in our Latest issue of Racer X available now.

Playing soccer on 250cc motorcycles might sound like a strange form of riding, but in Russia they do it with great passion—and for very little reward. Page 112.
Look for the verified symbol
The Conversation