by
Jason Weigandt
Open MIc Part 1: Rider Interviews from Houston
Monday, April 2, 2012 | 12:00 PM
KICKER
provides the sound from the Open Mic – since 1973 our concert-like acoustics and gritty design in mobile stereo put us on the map. KICKER Subwoofers and Amplifiers for vehicles and boats are sought worldwide, and now critically acclaimed MP3 Docks, Earbuds and Headphones are shaking up what remains.
Tweet
Davi Millsaps, JGR Toyota/Yamaha, 2nd in SX Class
It was a good race, you know? I felt strong the whole time, I was counting my laps. My goal with Ezra was to do the best I could for the first ten laps, and from there find a good rhythm. It was maybe a little bit slower, but it was good for me, and it was a good night. I was pumped because I was fifth and sixth in practice, and I felt like crap, so I was pumped that I could get second.
You are riding much better than the beginning of the season. Are you doing anything differently?
No.
You have no idea?
No.
Do you wish you could figure out what has changed?
I wish I could. I think just, now that things are the same every week, we have everything kind of dialed in now. We have it all down—what I eat and what I drink during the day. That helps a lot. I don't know, I feel like I'm getting stronger and stronger. I only had two weeks on the bike coming into Anaheim 1.
Wait, why was that? The knee from last year?
I had surgery over the summer, in July, and then when I was coming back to riding I had problems, again. So I had to have surgery again, without anyone ever knowing about it. It was beginning of December, so I was off for about two and a half weeks, which left me only about two weeks of riding to get ready for Anaheim.
You just went from not knowing why you have gotten better, to saying you had surgery right before the season began.
I know! I had to keep that secret. I'm definitely getting stronger now.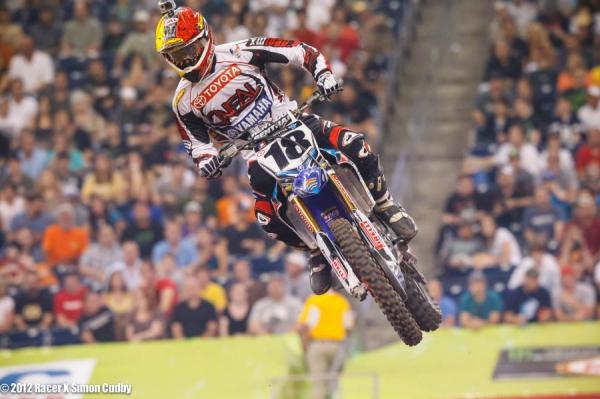 "I had surgery over the summer, in July, and then when I was coming back to riding I had problems, again." - Davi Millsaps
Simon Cudby photo
[Interview by Steve Matthes]
Jake Weimer, Monster Energy Kawasaki, 3rd in SX Class
Racer X: Podium. You rode great.
Jake Weimer: Thank you. I appreciate that. It was just steady. I mean the track was a little tricky. I had a decent start.
The 800 [Mike Alessi] was pushing you.
Yeah, he was fairly close there for a little bit. I passed him. I think I actually had to pass him twice. Then I got in front of him and there was a red cross flag. I don't know exactly what happened, but then he was on me again. But yeah, he rode really well.
Did you lose Millsaps early on?
By the time I got to third, he was gone.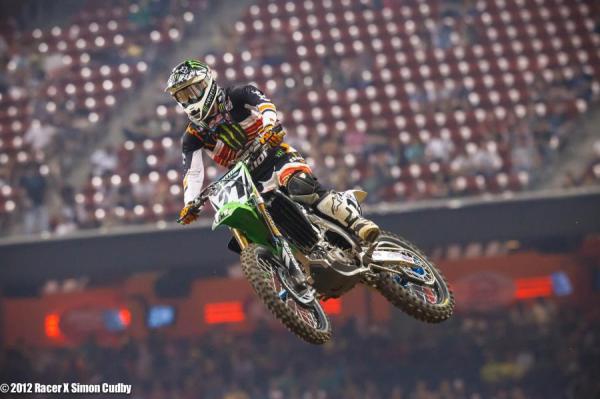 "Yeah, he [Mike Alessi] was fairly close there for a little bit. I passed him. I think I actually had to pass him twice." - Jake Weimer
Simon Cudby photo
Blake Baggett, Monster Energy Pro Circuit Kawasaki, 3rd in Lites Class
Racer X: Did you change something? Is something different?
Blake Baggett: Oh yeah. Something's different.
With you?
Yeah.
Not with the bike? Not like a big bike change?
No.
How much can a person change about themselves in seven days, though?
Fifteenth [last weekend] to third!
I know! But how's it possible? How's this possible?
How about this: I think I was like, what, ninth in practice? Ninth or eleventh or something in all the practices this year? Then I went to first in both of them! I've never done that before.
Have you ever been first in practice both times?
Not that I can ever remember. Indoors, outdoors, amateurs, nowhere. I don't even think on Excite Bike I could get first in practice.
When you were first in practice both times, we were saying on Twitter that it was a surprise. And we didn't mean that as disrespect. Like even you admit, even when you were killing it outdoors, you were not winning practice.
No, I got 23rd at Colorado. I qualified 23rd and won both motos.
So what got into you today? Was there a problem? Is there something wrong with you?
No. I'll be back in New Orleans like that.
Can you do that again?
Yeah.
So you might actually go fast in practice again.
Yeah. I think I got it figured out now.
So in seven days, something big changed?
Yep. Three days, actually
Three days? I know you want to keep it a secret, but if you sold this secret, you could make a lot of money. Three days. What did you change?
I know. But those people might take my money. Like they might be better than me if they knew.
I'm going to ask you one more question. Was it physical or mental? Can you go that far?
I'm gonna' have to go with more on the mental, but a little bit of both.
In the race, you were battling with Roczen for a bit. Take me through the actual race. How did it go?
You know, I got a decent start and just worked my way up there to battle with the guys that I should be battling with. I was right there and the track was super one-lined. It was hard. If you weren't a lot faster than the guy, it was hard. And then that one rhythm lane was kind of rolling the dice if you got it clean or not. In a few laps, I got it clean and he didn't then a few laps he got it clean and I didn't. He got away from me and then I closed back up but I never really was able to seal the deal. I just couldn't find a way around him and he got me there and the end because I missed the rhythm lane twice. I'm pumped to get third, though.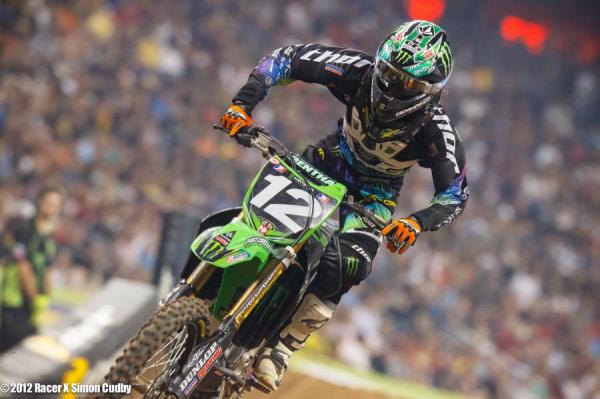 "You know, I got a decent start and just worked my way up there to battle with the guys that I should be battling with." - Blake Baggett
Simon Cudby photo
Justin Brayton, Honda Muscle Milk, 5th in SX Class
Racer X: How was the night?
Justin Brayton: The night was not as good as the past few weekends have been, that's for sure.
The standards have been set pretty high now.
Yeah, the standards are definitely high, but I feel like that's really where I belong is at the front. I just got to an average start in the main and I needed a great start. I didn't get that and just, yeah, fifth on the night. It's one of those things where you always want more. But I feel bad for Windham tonight. He's going home injured and I'm still racing and I'm bummed with a fifth. So I've got to take some positives away from it. But it definitely lights a fire under me again to go into this break to come back swinging for the next four. I really want to end it on a high.
So you feel like you actually rode okay? The results difference isn't like you rode that much worse or anything?
No. I did struggle with the track kind of all day. But I think that if I'd started up front, the result would have been a lot different. But you start at seventh or eighth and that's where it put me, was in fifth. So yeah, I didn't ride terrible. Just ended up fifth.
Was there anything in the main event that people figured out they could do different? Or had everyone figured everything out by then?
Everything was pretty much figured out. I think the best line of the night was K-Dub right after the start, where he was wheel tapping the third jump over the fourth one. I never did that all night. But I think everyone had the track pretty much figured out. It was weird. It was like the track was so fast. There was no section that you really had to time and it seemed like everything was just really, really fast and it came up quick, so there was not much to separate. It came down to the first 50 feet of the race, which is kind of a bummer. But I didn't mind the track. I had fun with it and I need to do better at New Orleans, that's for sure.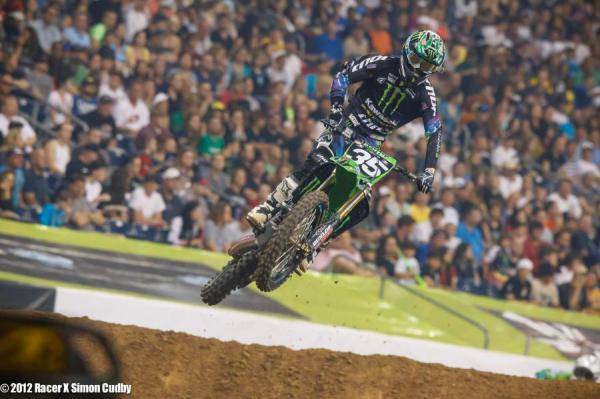 "I was up to sixth, I think I probably could have got fifth, but tossed it away in the whoops with like two to go." - Darryn Durham
Simon Cudby photo
Darryn Durham, Monster Energy Pro Circuit Kawasaki, 17th in Lites Class
Yeah, I was laying in a pile in the first turn for a little bit, got cruising again, and was actually riding pretty good. I was passing people and just putting together good laps. I was up to sixth, I think I probably could have got fifth, but tossed it away in the whoops with like two to go.
You had passed for sixth, and you had that spot for about ten feet.
Yeah, and it was Alex [Martin, who I was passing].
Yeah, your teammate from last year.
Yeah, so I booked it in the whoops so I had enough of a gap so I didn't have to hit him in the corner. I would've had him even if I would've cruised into the whoops, so I was like ah, I'll just book it into 'em, so it would be clean and I wouldn't have to touch him going into the corner. Well, I booked it in and dropped the front end and lost it. Oh well!
Just take me through that first turn deal. You said that you were trying everything you could to just not get in a first-turn crash.
Yeah, I got in a pileup in the heat race, then I got a crappy gate pick, so I was on the inside. So I was like alright, if I don't get the jump, then I'll just back off and cruise to the inside, and then I'll be on the inside for the next corner. That was my game plan. I let off early and I don't know. A bike hit me or something and then, all of a sudden, I was flipping. It sucks, man. That was a nasty first turn tonight!
Share this article:
Did you like this article?
Check out MONSTERBALL
in our Latest issue of Racer X available now.

Playing soccer on 250cc motorcycles might sound like a strange form of riding, but in Russia they do it with great passion—and for very little reward. Page 112.
Look for the verified symbol
The Conversation