AUS Nats Round 1 Race Report
Sunday, April 1, 2012 | 10:45 AM Tweet

Courtesy of MotoOnline.com.au

New Zealand's former world champion Ben Townley took a clean sweep at a high-drama opening round of the Monster Energy MX Nationals, Australian Motocross Championship, at Conondale in Queensland today.

The Carlton Dry Honda Thor Racing rider blitzed the field by leading all 34 laps over the three MX1 races – with some of his laps up to three seconds quicker than his nearest rivals – leaving the rest of the field and the vocal crowd dumbfounded in the process.

Townley, who's signed up to race for Chad Reed's TwoTwo Motorsports team in the AMA Motocross Championship this year, was pleased with his form to date, saying he feels at the top of his game at the moment.

"I feel like I can't put a foot wrong right now," he explained. "I've been putting in a lot of work after last year when everything went pear-shaped, but I believe my life and career are back on track now, and heading in the right direction.

"The whole team has worked extremely hard to get me to this point, and I couldn't stand on the top of the podium without their help. This was a perfect hit-out before I head to America."

It was a great showing for the Carlton Dry Honda team, with Townley's teammate and current British Motocross Champion Brad Anderson finishing second to BT in both the opening motos.

Anderson was running strong in the final 30-minute race, but a mechanical problem forced him to withdraw, and slide out of podium contention in the process.

Anderson's demise was CDR Yamaha's Josh Coppins' gain, as he finished the day in second overall, with a strong 3-3-2 result for the day.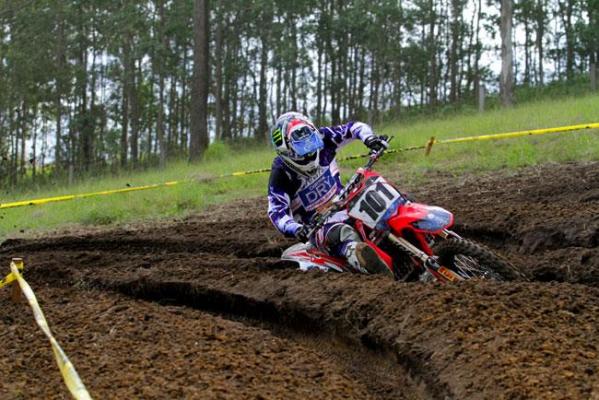 Ben Townley dominated with three from three on debut in the MX Nationals.
Image: Simon Makker
"My starts were nothing special, but I felt like I rode the races well around this fast circuit," Coppins reflected. "I can't complain too much.
"I'm off to a half-pie decent start to the championship, but I'm a little relieved Ben is heading to the U.S, to be honest. The pace he was running today was at another level."
Motul Pirelli Suzuki's Todd Waters rounded out the podium as one of the two Australians in the top five. Waters managed to stay out of trouble through the entire day and his consistent 4-4-4 results have cemented him as strong contender for the rest of the series.
Campbell Mining Honda's Jake Moss was directly behind training partner Waters after a standout performance, while CDR Yamaha newcomer Lawson Bopping rode to sixth on debut with the team.
Defending four-time champion Jay Marmont had a day he'd rather forget, as he carried a knee injury into the series opener. Still, the tough Monster Energy Kawasaki rider fought through the pain to finish the day in seventh overall.
"I haven't been able to ride for three weeks after I made a Grade Two tear on my MCL. Every time I tried to train it'd just hurt more and more," he revealed. "I should stay off the bike for six to eight weeks and I've spent the past three weeks on the couch.
"This was only my second ride back and I'm definitely not 100 percent. Today was about damage control and I felt like I had to just grit my teeth and bulldog my way through it."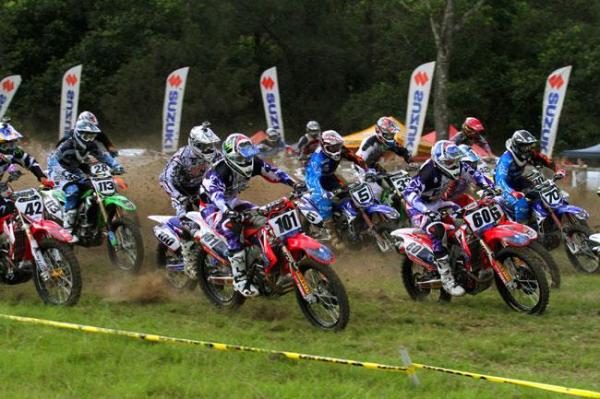 This is about as close as the MX1 field came to BT all day long.
Image: Simon Makker
In the Motul MX2 class Serco Yamaha Metal Mulisha Racing's Kirk Gibbs claimed the overall from Carlton Dry Honda Thor Racing's Ford Dale and Gibbs' teammate Luke Styke.
Sunshine Coast local Dale proved he's carrying some great form into the 2012 season by winning the opening two back-to-back motos before a huge crash in the final race left him circulating in a daze.
"It was definitely a big one," Dale smiled afterward. "My back-end bucked out on me and I cartwheeled pretty hard. I was a bit woozy out there for a few laps, but my head cleared and I was able to finish the race in ninth and minimise any damage to the points."
The day belonged to Gibbs however. The South Australian finished second in moto one and fifth in the second, before a solid win in the third moto sealed him the overall victory by one point for the round.
Gibbs's health was also less than 100 percent entering the series, after fracturing his scaphoid in the lead-up to the championship.
"It's pretty sore and I had to wear a wrist brace to get me through the day, but it's one of those things you can't do much about," Gibbs explained. "I wasn't going to let it stop me today, even though I've barely ridden the past two weeks."
Third-placed Luke Styke impressed many with his speed, as he cemented his position as a genuine title contender going into the round two of the championship at Coonabarabran.
Melbourne's Adam Monea finished the day in fourth overall for Zero Seven Suzuki, and Christchurch's Justin McDonald in fifth for the brand new MX Factory Honda team.
The Pirelli MXD Under 19s category saw a number of newcomers rise to the occasion with Choice Motorsports KTM's Dylan Long taking out the round win ahead of fellow KTM rider Kayne Lamont and GYTR Yamaha's Sam Martin.
Long took out the opening 15-minute moto, before Kiwi contender Kayne Lamont surprised the field with his speed in the second, as he streaked to a convincing win.
Long struck back in the third and final race to take the overall win.
"It's awesome, the Choice Motorsports KTM team backed me all the way to get the win," Long said. "I finished the day strong and that allowed me to take the overall win.
"I just want to finish as close to the front that I can the whole season and hopefully it will end up good."
GYTR Yamaha racer Sam Martin's consistent 5-6-4 result saw him finish the day on the podium, while one of the MXD's early title favourites, Raceline Suzuki's Jay Wilson, battled through a wrist injury to finish fourth overall.
The series continues at Coonabarabran, New South Wales, in a two-day event on 14-15 April.
Stay tuned for more on MotoOnline.com.au, the official digital media partner of the MX Nationals, as we dissect and break down the opener all week long.
2012 Monster Energy MX Nationals, Australian Motocross Championship
Round One – Conondale, QLD
MX1 Overall Results:
1. Ben Townley 75
2. Josh Coppins 62
3. Todd Waters 54
4. Jake Moss 46
5. Brad Anderson 44
6. Lawson Bopping 41
7. Jay Marmont 41
8. Cody Cooper 38
9. Tye Simmonds 38
10. Billy Mackenzie 34
MX2 Overall Results:
1. Kirk Gibbs 63
2. Ford Dale 62
3. Luke Styke 57
4. Josh Cachia 56
5. Adam Monea 50
6. Justin McDonald 48
7. Kade Mosig 44
8. Cheyne Boyd 35
9. Lewis Woods 35
10. Brock Winston 31
MXD Overall Results:
1. Dylan Long 72
2. Kayne Lamont 58
3. Sam Martin 49
4. Jay Wilson 48
5. Dylan Leary 47
6. Kale Makeham 45
7. Mitch Norris 43
8. Dion Picard 41
9. Mitch Budd 38
10. Joel Milesevic 34
Share this article:
Did you like this article?
Check out THE MOTOCROSS OF 40 NATIONS
in our Latest issue of Racer X available now.

The 2013 FIM Motocross of Nations at Teutschenthal, Germany, hosted teams from a record forty countries. Here's how it played out for each of them. Page 90.
Look for the verified symbol
The Conversation