by
Aaron Hansel
Bench Racing Ammo: Massive Point Leads
Wednesday, March 28, 2012 | 11:25 AM
MOTOREX is used by factory teams worldwide, by independent pros and by top amateurs who demand the best performance from their race machines. The complete MOTOREX line includes a broad range of synthetic engine oils, lubricants, aerosol sprays, cleaners and care products. MOTOREX is available at dealerships nationwide.
Tweet
What do you get when you combine mind blowing speed with the ability to stay healthy? In
Ryan Villopoto
's case, you get a massive points lead in Monster Energy Supercross. In fact, if Villopoto wins in Houston this weekend, and
James Stewart
finishes worse than third (if he even races), RV will wrap up the title with four rounds of racing yet to go. That's pretty impressive, and it got us wondering whether or not Villopoto has a chance to set the record for the largest championship lead in the sport's history. In order to find out, we did a little research to come up with a list of every championship that has ever been decided by 50 points or more.
1975            Jim Ellis                   Can-Am            202
1978            Bob Hannah            Yamaha             52
1984            Johnny O'Mara        Honda               53
1986            Ricky Johnson         Honda               52
1989            Jeff Stanton             Honda               57
1991            Jean-Michel Bayle   Honda               72
1993            Jeremy McGrath      Honda               57
1995            Jeremy McGrath      Honda                50
1996            Jeremy McGrath      Honda               132
1998            Jeremy McGrath      Yamaha              51
1999            Jeremy McGrath      Yamaha              83
2001            Ricky Carmichael Kawasaki               64
2007            James Stewart Kawasaki                    51
2010            Ryan Dungey Suzuki                         70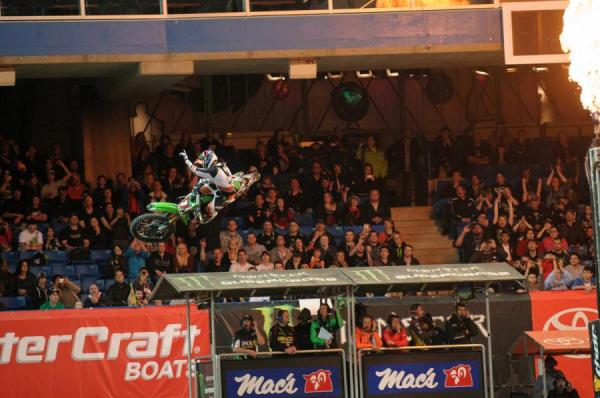 Villopoto is on his way to one of the biggest points lead in history.
James Lissimore photo
If you look at these results, the initial conclusion is that it's highly unlikely that Villopoto could match Jimmy Ellis's 202-point lead form 1975. Even if Ryan Dungey and Stewart don't return, RV would still have to put a good 100 additional points between himself and Davi Millsaps in the remaining five rounds….but wait, there's more!
The AMA used a different points structure in 1975 when Ellis beat Marty Smith by 202 points. That year, wins earned 150 points! The season was also much shorter, and consisted of just four races, only three of which paid points.
So if we want to compare apples to apples, we have to hold Villopoto's current situation against a season with the same point structure. McGrath set that record with a 132-point lead in 1996. This is what happens when you win an astonishing fourteen of fifteen races.
With five races to go, the return of Dungey and Stewart (second and third in points) in question, and 102 points already separating Villopoto from fourth-place Millsaps, a 133-point lead is not out of reach for RV. He would have to put about seven points per race between himself and Millsaps, and, by the way, he scored exactly seven more than Millsaps in Toronto.
Of course, things get a little complicated when you consider the fact that RV has two more races in which to gain points this year than McGrath did in 1996. But either way, when the discussion is not if you're going to win the title, but by how many points the final gap will be, you're doing something right!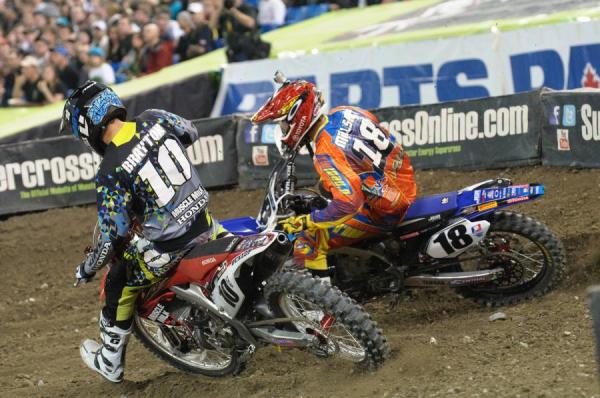 Can Brayton, Millsaps and the rest of the Supercross class slow down Villopoto in Houston?
James Lissimore photo
Share this article:
Did you like this article?
Check out MOTO GIFT GUIDE
in our Latest issue of Racer X available now.

Our annual gift guide has something (or maybe even a few somethings) for everyone on your holiday list. Page 146.
Look for the verified symbol
The Conversation