by
Jordan Roberts
Race Report: Indianapolis
Sunday, March 18, 2012 | 3:00 AM
Since 1968,
Thor
has maintained its position as a top motocross apparel brand. From trails, deserts, to the most famous racetracks in the world,
Thor
supports racing on the track and off with its sponsorship of race reports.
Tweet
The riders of the Monster Energy AMA Supercross Series were looking forward to a race that came closer towards their measure of normality after barely being able to keep their heads above water in Daytona. With the Indianapolis round being inside of the covered Lucas Oil Stadium, the riders could rest assured that Mother Nature wouldn't be their lingering nemesis. This weekend's conditions let the teams get back to business as usual and many were looking for redemption after Daytona nearly swallowed them whole.
After struggling with starts throughout the majority of the East Region rounds, it was Ken Roczen who would find himself at the front of the pack battling with Blake Baggett for the lead immediately after the first turn. The two were neck and neck as they fought for the holeshot, but Baggett would be the first to take the green flag heading into the second lap. Undeterred, Roczen charged hard and put himself out front soon after the two crossed the finish line jump. Justin Barcia was still quite a ways back at this point; he sat just inside the top ten. Barcia had his work cut out and it looked like this race was shaping up to be a potential win for Roczen.
Then the red flag came out. Kyle Cunningham had knocked himself out cold at the end of the whoops section and the officials attempted to deflect oncoming riders from coming in contact with the downed rider. They called for a restart after the fourth lap and the remaining riders made their way back to the starting gate. This is where it started to get weird. The AMA officials called for a staggered start and proceeded to line the riders up down the start straight based on the position they logged on the last lap.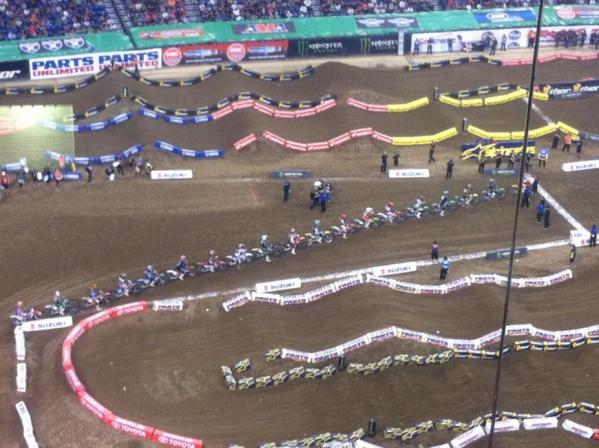 The staggered restart after four completed laps in the Lites Main.
Jordan Roberts impromptu iPhone photo
At that point Roczen still had six riders in between him and Barcia, but was far from getting off easy with riders like Blake Baggett, Blake Wharton, and Darryn Durham right behind him. Wharton and Durham worked quick on Baggett, making passes on him within the first half of a lap after the restart. Wharton was looking to close in on Roczen, but Roczen threw it away after making a mistake and launching his bike off of a jump sans rider. Roczen scrambled back to his bike, but must have discovered some out of place components since he pulled into the mechanics area. He reentered the track almost a lap down and never made up any ground.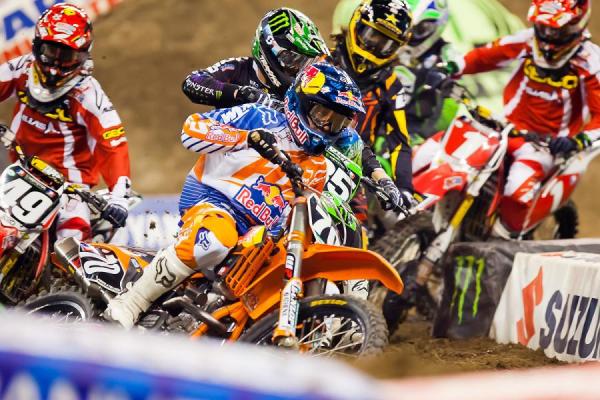 Ken Roczen leading the rest of the field off of the first start.
Andrew Fredrickson photo
Meanwhile, Wharton inherited the lead. Durham would also move up with Wharton but there was still a gap sizeable enough to let the Rockstar Energy Racing rider breathe easy. Barcia quickly sliced his way into a distant third by the end of the seventh lap. Lap by lap he gained time on Durham, and all of a sudden, lapped traffic quickly became a factor and the two were playing a game of cat and mouse with two laps left. You could see from any seat in the house that Barcia wanted that second place position. A couple last ditch efforts by Barcia resulted without change and a new chapter was written in this championship series. Blake Wharton ended Justin Barcia's win streak with a win of his own while Durham and Barcia rounded out the podium.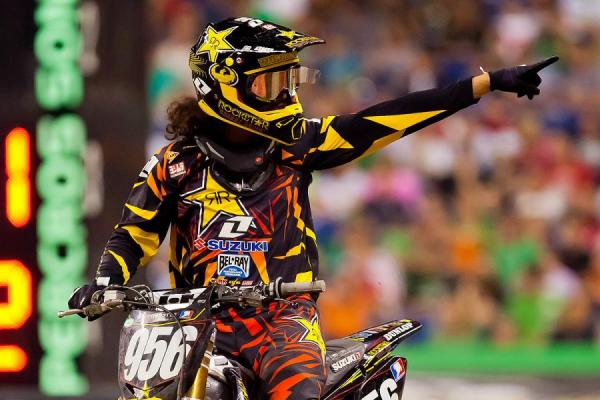 Babe Ruth gesture?
Andrew Fredrickson photo
The eye openers did not stop with the Lites class. The Supercross Main Event was missing the likes of James Stewart, Jake Weimer, Josh Hansen, and Nick Wey. Stewart, Weimer, Wey, and more would all have troubles in their heat races while Hansen didn't even line up due to a suspected foot/ankle injury. Stewart may possibly have an injury of his own to deal with after a mistake in the rhythm lane after the first turn led to a small pile-up. He did not reenter the race. Weimer was the only one of that group to line up for the LCQ, but a bad start would keep him from sealing a transfer spot. Kevin Windham and Kyle Regal were the two riders to make it to the Main Event by way of the LCQ.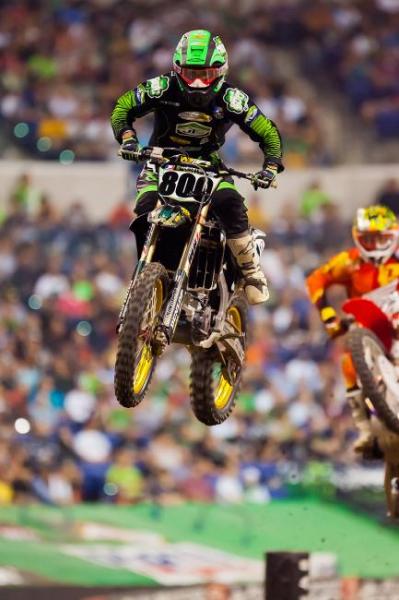 Alessi held strong for some time after grabbing
the holeshot.
Andrew Fredrickson photo
Weimer retired to the Kawasaki rig for the night as the remaining unbroken riders headed to the starting gate for the main. The riders lined up, the gate dropped, and Mike Alessi grabbed a familiar holeshot to kick off the twenty-lap race. He led a season-high five laps before succumbing to the pressure applied by Justin Brayton. Brayton seemed like a formidable candidate to fend off any advances in the main by the defending champion Ryan Villopoto after doing just that in the heat race earlier in the night. Villopoto started fifth but quickly moved past Marvin Musquin to take over fourth. Mike Alessi and Brett Metcalfe would stand between Villopoto and the leading ride by Brayton for roughly five laps. A three man battle ensued for second as Brayton attempted to strengthen his lead. Alessi dropped back behind Metcalfe and Villopoto, but Metcalfe wouldn't let Villopoto by quite as easily. The two had quite the battle going with Villopoto making a handful of pass attempts, and eventually making one stick out of frustration, before he set his sights on Brayton. Villopoto was gaining time on Brayton, and still had some time to catch up.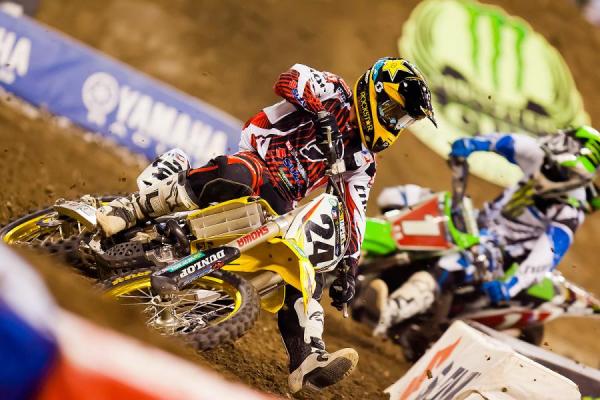 Metcalfe rode strong despite losing a couple positions late in the race.
Andrew Fredrickson photo
In the meantime, Davi Millsaps was picking off riders one by one under the radar en route to another podium position. He was able to get past Alessi for fourth, and then challenge and pass Metcalfe to step inside the top three.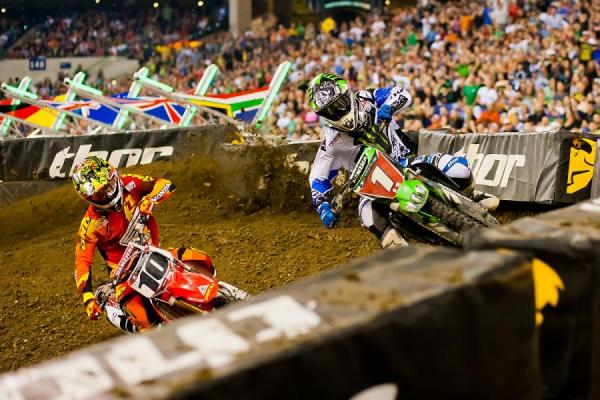 Villopoto makes an attempt for the lead.
Andrew Fredrickson photo
By now, Villopoto was all over Brayton, but Brayton was not one to crumble under pressure. He was able to hold off Villopoto in the shorter heat race by matching his speed and riding smart lines, and then Villopoto fell. In the main, his efforts paid off for a few laps but Villopoto used his experience up front to claim the lead. Brayton hardly gave up, showing his front wheel at times soon after the pass was made, but all attempts to regain the lead were just short of successful. Ryan Villopoto claimed a meaningful win on St. Patty's day with Justin Brayton and Davi Millsaps rounding off the podium.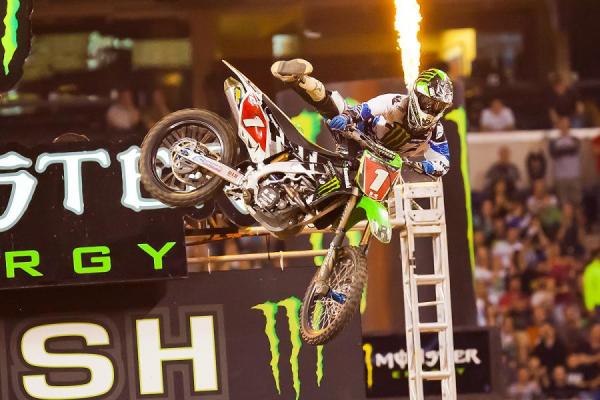 Villopoto takes the checkered flag.
Andrew Fredrickson photo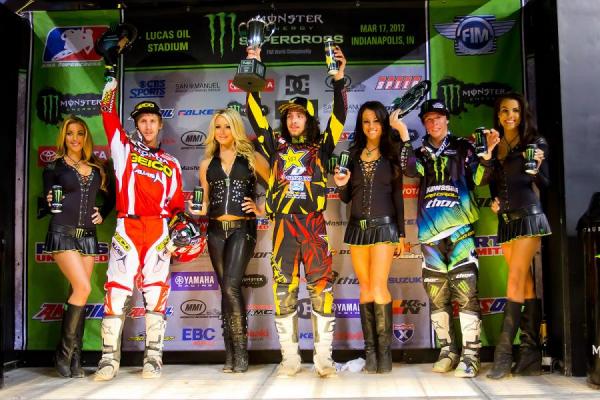 Lites podium.
Andrew Fredrickson photo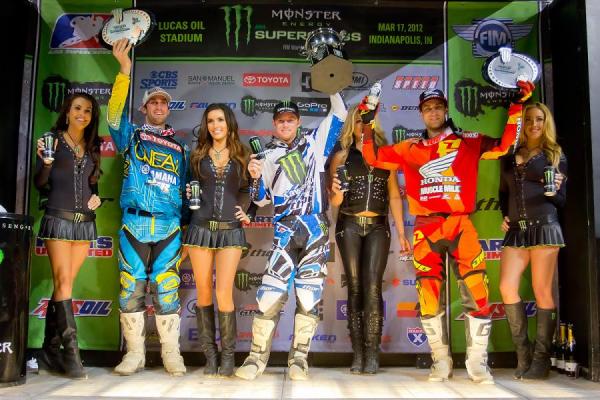 Supercross podium.
Andrew Fredrickson photo
SX Class Results
1. R. Villopoto
2. J. Brayton
3. D. Millsaps
4. B. Metcalfe
5. C. Seely
6. M. Alessi
7. M. Musquin
8. B. Tickle
9. W. Peick
10. N. Izzi
11. J. Grant
12. J. Sipes
13. R. Kiniry
14. M. Goerke
15. J. Alessi
16. K. Regal
17.  R. Clark
18. K. Windham
19. G. Faith
20. K. Chisholm
SX Class Standings
SX Lites Results
1. B. Wharton
2. D. Durham
3. J. Barcia
4. B. Baggett
5. J. Canada
6. J. Bogle
7. M. Lemoine
8. T. Bowers
9. L. Smith
10. S. Rife
11. A. Pellegrini
12. K. Peters
13. S. Sewell
14. P. Larsen
15. A. Martin
16. T. Weeck
17. K. Smith
18. B. Ripple
19. K. Roczen
20. K. Cunningham
SX Lites East Standings
1. Just Barcia 120
2. Darryn Durham 98
3. Blake Wharton 97
4. Blake Baggett 80
5. Ken Roczen 80
6. Jake Canada 72
7. Justin Bogle 61
8. Kyle Cunningham 43
9. Malcom Stewart 42
10. PJ Larsen 38
Share this article:
Did you like this article?
Check out MONSTERBALL
in our Latest issue of Racer X available now.

Playing soccer on 250cc motorcycles might sound like a strange form of riding, but in Russia they do it with great passion—and for very little reward. Page 112.
Look for the verified symbol
The Conversation