by
Aaron Hansel
The Moment: Musquin and Seely
Monday, January 23, 2012 | 4:40 PM
The Moment is brought to you by
Factory Effex
who is a world leader in graphic kits, Custom number plate back grounds, high end Factory Wheel sets and components; specializing in cutting edge decorative accessories for your motorcycles and ATV.
Tweet
In every race, there is a moment in which the outcome of the race is altered. Sometimes that moment is minor, and sometimes its magnitude is so great it creates shockwaves large enough to affect the championship itself. In the Lites class on Saturday night, both
Cole Seely
and
Marvin Musquin
experienced incidents of the latter proportion.
Seely's dose of bad luck was delivered early when he thundered into the first turn, mere inches from securing the holeshot. Instead, he went off the track and crashed after being pushed wide by the pack. By the time Seely rejoined the race, he was in a very distant twentieth place. Several laps later, Seely would go down again, and ended up finishing the night a lap down in fifteenth place.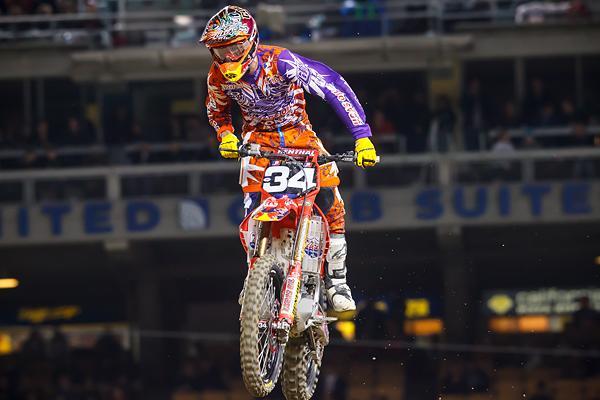 Seely was unable to rebound from a bad start in L.A.
Photo: Simon Cudby
Marvin Musquin, who was running in fourth after a lousy start, experienced his moment on the thirteenth lap. Just when it looked like he was going to transform the fight for second between Dean Wilson and Zach Osborne into a three-man battle, he went down in a rhythm section, and a DNF ensued.
"I was really close to Wilson and he didn't jump the last triple in the rhythm section, and I landed too far and too much on the left side in the corner," Musquin explained to Racer X Senior Editor Jason Weigandt. "It was soft and muddy and I didn't expect that my bike would stop when I landed. I hit my handlebars really bad and I couldn't breathe after that crash."
Consisting of just nine races, the Lites SX series' are short, and even one bad result can prove devastating to a racer's title hopes. With just six races remaining in the Western Regional SX Lites series, Seely (sixteen points down) and Musquin (twenty-one points down) are now faced with the daunting reality of a must-win situation every time they line up for a main event. With Tomac and Wilson both riding extremely strong right now, that's going to be tall order to fill.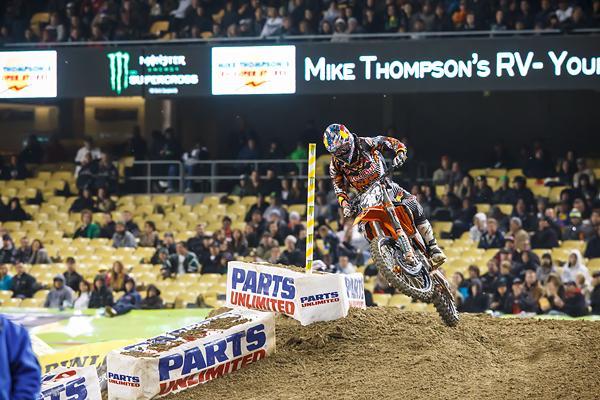 Musquin's title chances took a hit after crashing in L.A.
Photo: Simon Cudby
Share this article:
Did you like this article?
Check out MOTO GIFT GUIDE
in our Latest issue of Racer X available now.

Our annual gift guide has something (or maybe even a few somethings) for everyone on your holiday list. Page 146.
Look for the verified symbol
The Conversation