Yamaha Wake-Up Call
Monday, November 28, 2011 | 6:00 AM Tweet

Mini O's


Gatorback - Florida

Mini O's Supercross

250 A/Pro Stock
1. Jeremy Martin 2-1 Yam
2. Justin Hill 7-2 Kaw
3. Dylan Slusser 8-3 Hon
4. Dillan Epstein 1-4 Kaw
5. Vann Martin 5-5 Hon

250 A/Pro Modified
1. Zach Bell 1-1 Hon
2. Grant Ransdell 3-2 Yam
3. Jessy Nelson 4-3 Hon
4. Jeremy Martin 2-4 Yam
5. Dillan Epstein 16-5 Kaw

250 B/Stock
1. Jace Owen 2-1 Suz
2. Daniel Baker 5-2 Suz
3. Shane McElrath 6-3 Hon
4. Anthony Rodriguez 2-4 Yam
5. Jesse Pierce 4-5 Suz

250 B/Modified
1. Cooper Webb 1-1 Yam
2. Anthony Rodriguez 7-2 Yam
3. Shane McElrath 2-3 Yam
4. Matt Bisceglia 3-4 Hon
5. Jace Owen 2-5 Suz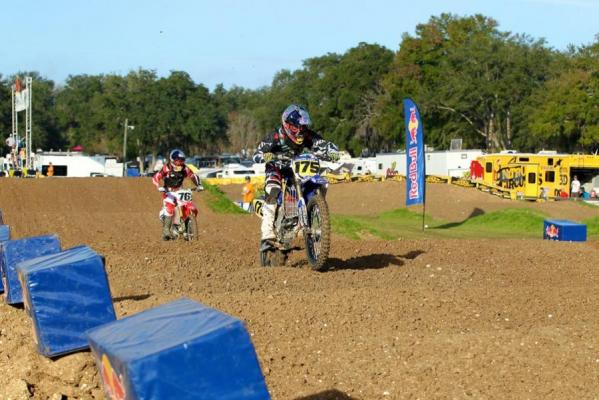 Cooper Webb made his debut for Star/Valli Racing at the Mini O's.Photo: Rob Koy
250 C/Stock
1. Austin Cox 2-1 Yam
2. Dylan Rouse 1-2 Kaw
3. Brice Klippel 4-3 Kaw

250 C/Modified
1. Austin Cox 1-1 Yam
2. Cameron Fasnacht 5-2 Suz
3. Blake Neiheiser 4-3 Yam

Open A/Pro Stock
1. Jessy Nelson 1-1 Hon
2. Justin Hill 5-2 Kaw
3. Jeremy Martin 2-3 Yam
4. Dillan Epstein 3-4 Kaw
5. Dylan Cox 9-5 Kaw

Open A/Pro Modified
1. Jessy Nelson 1-1 Hon
2. Grant Ransdell 3-2 Yam
3. Justin Hill 4-3 Kaw
4. Vann Martin 9-4 Hon
5. Dillan Epstein 2-5 Kaw

Open B/Stock
1. Anthony Rodriguez 3-1 Yam
2. Jake Baumert 2-2 Kaw
3. Colt Nichols 1-3 Kaw
4. Dion Picard 7-4 Suz
5. Tanner McCullers 11-5 Kaw

Open B/Modified
1. Cooper Webb 1-1 Yam
2. Matt Bisceglia 2-2 Hon
3. Jace Owen 3-3 Suz
4. Colt Nichols 4-4 Kaw
5. Max Tannenbaum 5-5 Yam

Open C/Stock
1. Austin Cox 14-1 Kaw
2. Cameron Fasnacht 11-2 Suz
3. Dylan Rouse 1-3 Kaw

Open C/Modified
1. Austin Cox 1-1 Yam
2. Cameron Fasnacht 6-2 Suz
3. Dylan Rouse 2-3 Kaw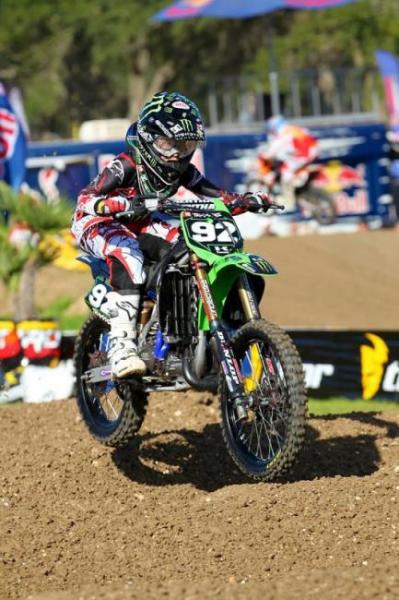 Adam Cianciarulo dominated both Supermini classes at Mini O's.Photo: Rob Koy

Supermini 1
1. Adam Cianciarulo 1-1 Kaw
2. Blake Green 2-2 Kaw
3. Mitchell Harrison 10-3 Kaw
4. Andrew Pierce 3-4 Hon
5. Keith Tucker DNF-5 KTM

Supermini 2
1. Adam Cianciarulo 1-1 Kaw
2. Chase Bell 2-2 KTM
3. Blake Green 5-3 Kaw
4. Andrew Pierce 3-4 Hon
5. Ashton Hayes 4-5 Suz

SchoolBoy
1. Colt Nichols 3-1 Kaw
2. Anthony Rodriguez 5-2 Yam
3. Dakota Alix 3-3 KTM
4. Jace Owen 2-4 Suz
5. Shane McElrath 7-5 Yam


Mini O's Motocross

250 A/Pro Stock
1. Zach Bell 1-1 Hon
2. Dillan Epstein 2-2 Kaw
3. Jeremy Martin 3-3 Yam
4. Tony Archer 5-4 Suz
5. Eric Goodson 10-5 Suz

250 A/Modified
1. Zach Bell 1-1 Hon
2. Jeremy Martin 2-2 Yam
3. Jessy Nelson 5-3 Hon
4. Dillan Epstein 3-5 Kaw
5. Justin Hill 4-6 Kaw

250 B/Stock
1. Claudio Leocata 1-1 Suz
2. Cooper Webb 2-2 Yam
3. Shane McElrath 3-3 Hon
4. Anthony Rodriguez 4-5 Yam
5. Luke Clout 2-6 Suz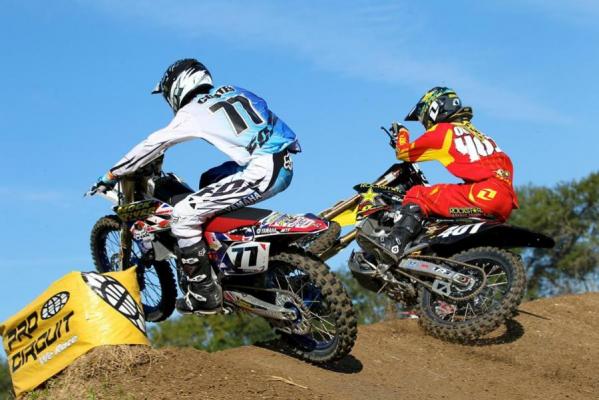 Jace Owen (far) battling with Paul Coates (near).Photo: Rob Koy
250 B/Modified
1. Claudio Leocata 2-1 Suz
2. Matt Bisceglia 1-2 Hon
3. Jace Owen 3-4 Yam
4. Anthony Rodriguez 4-4 Yam
5. Luke Clout 4-7 Suz

250 C/Stock
1. Jared Jackson 1-1 Hon
2. Brice Klippel 2-3 Kaw
3. Austin Cox 4-3 Yam

250 C/Modified
1. Jared Jackson 1-1 Hon
2. Austin Cox 2-3 Yam
3. Cameron Fasnacht 4-2 Suz

Open A/Pro Stock
1. Dillan Epstein 8-1 Kaw
2. Jeremy Martin 4-2 Yam
3. Raimundo Trasolini 5-3
4. Franta Smola 6-4 Suz
5. Jessy Nelson 2-5 Hon

Open A/Pro Modified
1. Justin Hill 1-1 Kaw
2. Dillan Epstein 2-2 Kaw
3. Vann Martin 3-3 Hon
4. Grant Ransdell 4-4 Yam
5. Jessy Nelson 5-5 Hon

Open B/Stock
1. Cooper Webb 2-1 Yam
2. Anthony Rodriguez 1-2 Yam
3. Matt Bisceglia 3-3 Hon
4. Jace Owen 4-4 Suz
5. Dakota Robins Kaw

Open B/Modified
1. Claudio Leocata 1-1 Suz
2. Daniel Baker 2-2 Suz
3. Cody Silver 4-4 KTM
4. Alvaro Cardenas 3-5 Hon
5. Noah McConahy 7-3 Hon

Open C/Stock
1. Austin Cox 1-1 Yam
2. Matt Beers 2-2 Kaw
3. Cameron Fasnacht 3-3 Suz

Open C/Modified
1. Jared Jackson 1-1 Hon
2. Cameron Fasnacht 2-2 Suz
3. Austin Cox 3-3 Yam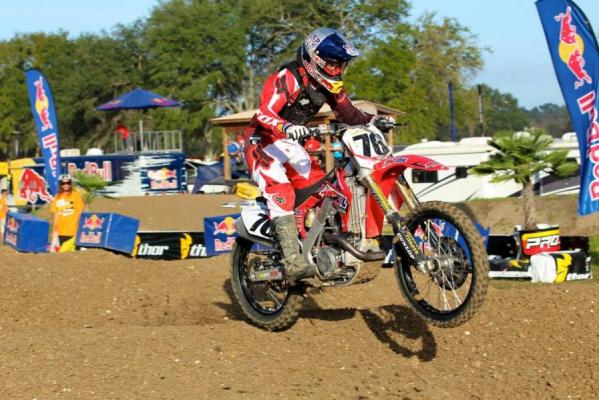 Matt Bisceglia at had consistent week in the B Class at Mini O's.Photo: Rob Koy
Supermini 1
1. Adam Cianciarulo 1-1 Kaw
2. Chase Bell KTM
3. Stone Edler Yam
4. Bradford Young Kaw
5. Alexander Frye Suz

Supermini 2
1. Adam Cianciarulo 1-1 Kaw
2. Chase Bell 2-2 KTM
3. Keith Tucker 3-3 KTM
4. Bradford Young 4-4 Kaw
5. Andrew Pierce 5-5 Hon

SchoolBoy
1. Claudio Leocata 1-1 Suz
2. Paul Coates 2-2 Yam
3. Luke Clout 3-3 Suz
4. Jace Owen Suz
5. Anthony Rodriguez Yam



AMA Arenacross Series
Arenacross Points Standings
Jeff Gibson
104pts. (Hon)
Josh Demuth
98pts. (Kaw)
Tyler Bowers
97pts. (Kaw)
Chad Johnson 84pts. (Kaw)
Kelly Smith 77pts. (KTM)
Nathan Skaggs 72pts. (Hon)
Tyler Bright 56pts. (KTM)
Zach Ames 55pts. (Kaw)
Willy Browning
50pts. (KTM)
Kurtis McCabe 46pts. (Kaw)
Current Arenacross class points leader Jeff Gibson.
Photo: Arenacross.com
Arenacross Lites East Points Standings
Michael McDade 70pts. (Kaw)
Michael Willard
69pts. (KTM)
Dave Ginolfi 64pts. (KTM)
Travis Sewell 59pts. (KTM)
Steven Mages 54pts. (Kaw)
TJ Phillips 44pts. (Kaw)
Sean Lipanovich
34pts. (Suz)
Kevin Johnson 34pts. (Kaw)
Maxx Malatia 34pts. (Hon)
Cody Robbins 33pts. (Kaw)
Arenacross Lites West Points Standings
Michael Willard
25pts. (KTM)
Aaron Gulley 22pts. (Kaw)
Dave Ginolfi 20pts. (KTM)
Adam Gulley 18pts. (Kaw)
Daniel Blair
16pts. (KTM)
Tanner Moore 15pts. (KTM)
Kevin Markwardt 14pts. (Hon)
TJ Phillips 13pts. (KTM)
Maxx Malatia 12pts. (KTM)
Aviery Hickey 11pts. (Hon)
Tyler Bowers trails Jeff Gibson by seven points through three rounds.
Photo Arenacross.com
FMF Indoor MX Winter Series
Fletcher, NC

Friday
250 Pro
1. Tyler Bright  Hon
2. Robbie Marshall  KTM
3. Ryan Zimmer  Hon
4. Michael McDade  Kaw
5. Chris Fisher  Kaw
6. Robbie Horton  Suz
450 Pro
1. Ryan Zimmer  Hon
2. Tyler Bright  Hon
3. Robbie Marshall  KTM
4. David Ginolfi  KTM
5. Garrett Church  KTM
6. Jared Tuten  Suz

Saturday
250 Pro
1. Seth Caldwell  Yam
2. Tyler Bright  KTM
3. Justin Henderson  Yam
4. Robbie Horton  Suz
5. Michael McDade  Kaw
6. Robbie Marshall  KTM
450 Pro
1. Michael McDade  Kaw
2. Robbie Marshall  KTM
3. Robbie Horton  Suz
4. Tyler Bright   KTM
5. Paul Justus  Kaw
6. Garrett Church  KTM

2012 FIM SuperEnduro World Championships
Round 1
SuperEnduro Final 1
1. Taddy Blazusiak (KTM)
2. Cristobal Guerrero (KTM)
3. Jonny Walker (KTM)
4. Xavier Galindo (Husaberg)
5. Cody Webb (Beta)
6. Joakim Ljunggren (Husaberg)
7. Rodrig Thain (Honda)
8. Ivan Cervantes (Gas Gas)
9. Dani Gibert (Husaberg)
10. Alex Salvini (Husqvarna)
SuperEnduro Final 2
1. Taddy Blazusiak (KTM)
2. Alex Salvini (Husqvarna)
3. Joakim Ljunggren (Husaberg)
4. Alfredo Gomez (Husaberg)
5. Jonny Walker (KTM)
6. Cristobal Guerrero (KTM)
7. Xavier Galindo (Husaberg)
8. Ivan Cervantes (Gas Gas)
9. Cody Webb (Beta)
10. Dani Gibert (Husaberg)
SuperEnduro Final 3
1. Taddy Blazusiak (KTM)
2. Joakim Ljunggren (Husaberg)
3. Xavier Galindo (Husaberg)
4. Cody Webb (Beta)
5. Alfredo Gomez (Husaberg)
6. Jonny Walker (KTM)
7. Cristobal Guerrero (KTM)
8. Ivan Cervantes (Gas Gas)
9. Dani Gibert (Husaberg)
10. Alex Salvini (Husqvarna)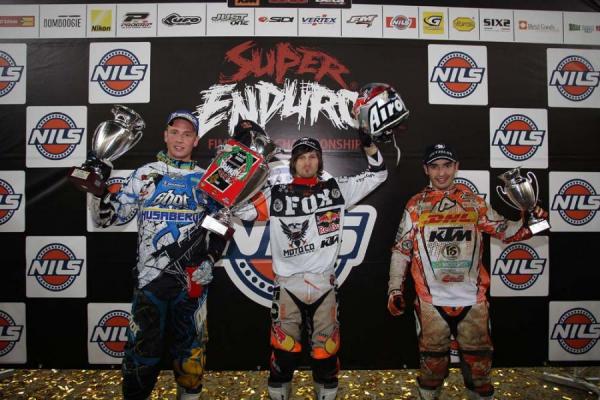 Taddy Blazusiak took the win at round 1 of the SuperEnduro World Championships.
Share this article:
Did you like this article?
Check out KING CAIROLI
in our Latest issue of Racer X available now.

Americans know very little about seven-time FIM World Champion Tony Cairoli, but in Europe he's treated like royalty. Page 102.
Look for the verified symbol
The Conversation