Race Report: Australasian Super X Rd. III
Monday, November 7, 2011 | 9:45 AM Tweet

By: Alex Gobert // MotoOnline.com.au

Round three of the Monster Energy Super X, Australasian Supercross Championship, saw the first dry round of the 2011 title chase, with Yamaha's Jay Marmont putting in a dominant performance to seal his first win of the year.

Marmont, 28, scored 2-1-1 results in the Triple Header event that saw the 450s contest three seven-lap finals back-to-back.

The four-time national outdoor champion was at his brilliant best at Campbelltown Stadium in New South Wales, picking up the victory just days after the birth of newborn son, Jax, on Wednesday before the race.

"I had the same feeling at [the final national], just more butterflies inside me before going out and racing," Marmont said. "As an athlete, a dirt bike rider, that's what we all want to achieve. I had a lot of fun out there, everything was hooking up, my Yamaha worked great and it was awesome."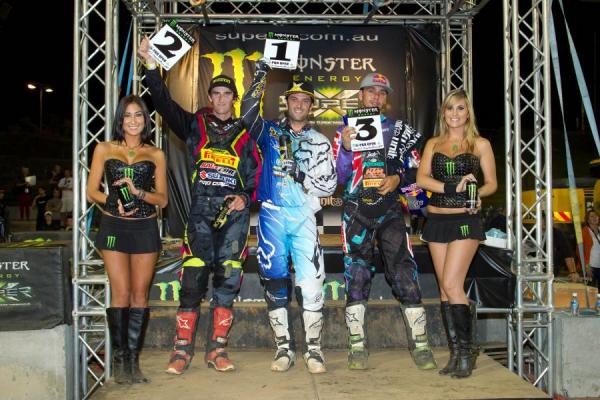 Marmont (center) picked up his first win of the season at Campbelltown Stadium.
Photo: MotoOnline.com.au
Behind Marmont was rookie wonder Lawson Bopping, the 21-year-old Suzuki rider scoring his first podium and final victory with 1-5-2 results. Third was 19-year-old KTM rising star Tye Simmonds, fresh from a full season in the U.S. with JDR Motorsports.
Simmonds reclaimed the series lead from factory Suzuki rider Dan McCoy, fourth in Campbelltown, by a single point. Marmont is just one point further in arrears.
Monster Energy Kawasaki's Billy Mackenzie finished sixth. The former GP race winner is now fourth in the championship. American Chris Blose was ninth in round three.
A new winner emerged in the Pro Lites class, with Brenden Harrison claiming his first ever professional main event win in Monster Energy Super X. Harrison took 4-1-3 results for the JDR team, winning ahead of Honda's U.S. amateur Gavin Faith and Yamaha's Luke Styke.
"I'm just so ecstatic to be up here. I work so hard and my team works even harder," Harrison said. "I just need to thank everybody behind me, I really don't know what to say. I'm not worried about the championship, I just want to concentrate on myself and doing the best I can."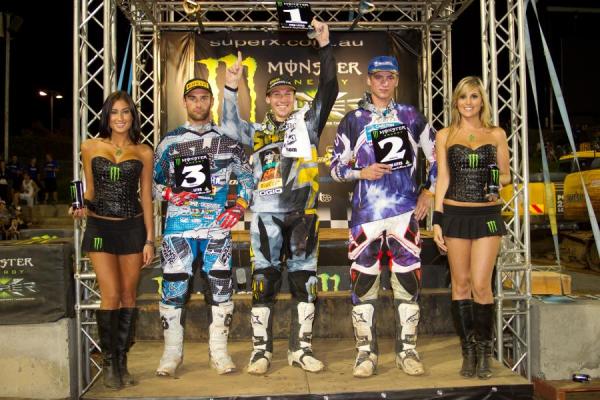 Harrison (center) won his first career overall at Campbelltown Stadium.
Photo: MotoOnline.com.au
Monster Energy Kawasaki's Dean Ferris finished seventh for the round in a night plagued by crashes. However he recorded his second final victory of the season in the third moto of the Triple Header main event.
Series leader Matt Moss was fourth in Campbelltown, now just three points ahead of Harrison in the championship standings.
The Under 19s final was won by outdoor champion, Raceline Pirelli Suzuki's Errol Willis, after taking charge in the early laps. Second was Mitch Norris aboard a Yamaha YZ250 two-stroke, while Corey Lucas took his first podium of the season aboard the privateer Suzuki.
The Junior Development class was taken out by Yamaha Junior Development Team rider Joel Dinsdale ahead of Honda young gun Hayden Melross and Kurt Waterman.
Monster Energy Super X will continue next weekend in the Hunter Valley of New South Wales at Maitland, marking the penultimate round on Saturday, November 12.
2011 Super X, Australasian Supercross Championship
Round Three – Campbelltown, NSW

Pro Open Results:
1. Jay Marmont 72
2. Lawson Bopping 62
3. Tye Simmonds 56
4. Daniel McCoy 51
5. Cody Mackie 40
6. Billy Mackenzie 39
7. Craig Anderson 38
8. Jake Moss 38
9. Chris Blose 37
10. Ryan Marmont 36
Pro Open Standings (after 3 of 5 rounds):
1. Tye Simmonds 60
2. Daniel McCoy 59
3. Jay Marmont 58
4. Billy Mackenzie 441
6. Lawson Bopping 40
7. Dan Reardon 39
8. Todd Waters 38
9. Jake Moss 35
10. Michael Phillips 29
Pro Lites Results:
1. Brenden Harrison 63
2. Gavin Faith 60
3. Luke Styke 58
4. Matt Moss 55
5. Steven Clarke 43
6. Robbie Marshall 43
7. Dean Ferris 42
8. Adam Monea 40
9. Luke Arbon 38
10. Nicholas Sutherland 36
Pro Lites Standings (after 3 of 5 rounds):
1. Matt Moss 68
2. Brenden Harrison 65
3. Luke Styke 58
4. Steven Clarke 53
5. Gavin Faith 49
6. Adam Monea 41
7. Robbie Marshall 33
8. Casey Turner 33
9. Luke Arbon 32
10. Dean Ferris 30
Share this article:
Did you like this article?
Check out THE MOTOCROSS OF 40 NATIONS
in our Latest issue of Racer X available now.

The 2013 FIM Motocross of Nations at Teutschenthal, Germany, hosted teams from a record forty countries. Here's how it played out for each of them. Page 90.
Look for the verified symbol
The Conversation