by
Adam Wheeler
Racer X Race Report: Motocross of Nations
Sunday, September 18, 2011 | 7:15 PM
Since 1968,
Thor
has maintained its position as a top motocross apparel brand. From trails, deserts, to the most famous racetracks in the world,
Thor
supports racing on the track and off with its sponsorship of race reports.
Tweet
Seven times then. That puts the current success pretty much in the same bracket as 1987 (Hannah, Johnson, Ward) in terms of the last American streak to decimate the list of Chamberlain Trophy winners. As in the previous two editions of this tournament—Italy in 2009 and USA in 2010—the Nations went down to the last of the three motos and the trio of the Ryans and Blake Baggett were able to reign supreme over France and a buzzing Australian crew for the USA's twenty-second victory.
After going 1-1-1 on the first day it would have taken something pretty special to replicate the same level of dominance across all three motos, and when the rain came on Saturday evening the playing surface changed. A slippery, soft and heavily rutted terrain contained more than enough rocky hard-pack; the St Jean stones also led to the sight of broken roll-offs, lens' and even eye injuries (check Christophe Pourcel, Ken Roczen and Evgeny Bobryshev for examples). Baggett, a little reckless with two crashes in both motos to go 17 and the scratched score, said "this track was by far the most difficult I have ridden." While Villopoto (3-1, MX Open winner and victim of an impressive Jeffrey Herlings shining for Holland on a factory KTM 450SX-F) also had his opinion: "It was a tough track for us because we don't have ones like that in the States. Our learning curve had to be really quick and we had to make adjustments to the bike to make us feel better. The complete rock hillside with a little bit of dirt on top of it was the hardest part of the track; it was tough for us but we were able to get it done so it feels great."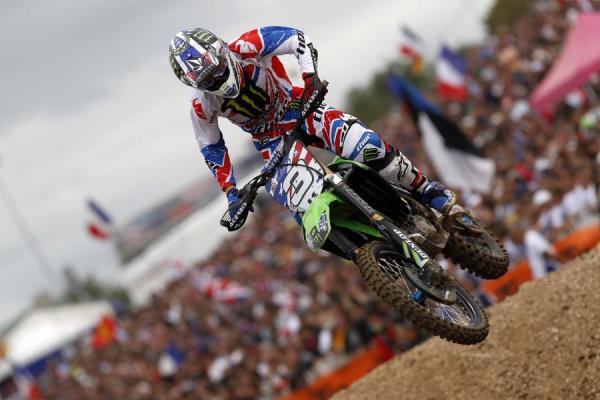 Villopoto won the MX Open class in France.
Photo: Ray Archer
So Villopoto won MX Open, Dungey went 3-2 in MX1 and Baggett was fourth overall in MX2, but his contribution—certainly in terms of the enthusiasm he projected towards the whole experience—was essential. Chad Reed placed one collective Australian hand on the podium champagne with his second Nations victory (the first exactly ten years ago at Namur) in the first sprint as Dungey had to watch Roczen display bravado through a five minute heavy downpour on the 250SX-F in front.
The Aussies would suffer with Matt Moss incurring technical trouble—which meant he didn't even start the second race—but Brett Metcalfe was up to the task (7-10) for a historic first podium: "We came here Friday for the press conference and it almost felt like we were the laughing stock, like 'here comes Team Australia again, a great team but they'll probably take seventh again like every year.' To finally get that out of the way and get on the podium is awesome for Australian motocross, Chad rode incredible in the first moto. This is a big moment for us," exclaimed Metcalfe.
This was a dramatic Nations and it was fuelled by a crowd that numbered 68,000 for the weekend. Gautier Paulin, one week after his Italian Grand Prix victory, created the defining moment for the majority of the noisy flag-waving public when he beat Herlings and Villopoto in Moto2. The Brits were winning overall after the first (Dean Wilson managing a ninth even with a broken scaphoid and Tommy Searle a whirlwind after his quiet performance on Saturday by going 4-4 on the KX450F), and the French had a nine point gap over the USA after the second. It would take something special to ease this away from the home nation and both Ryans were in the top three by the first corner of the last affair; part of the job—lacking earlier in the day—was done.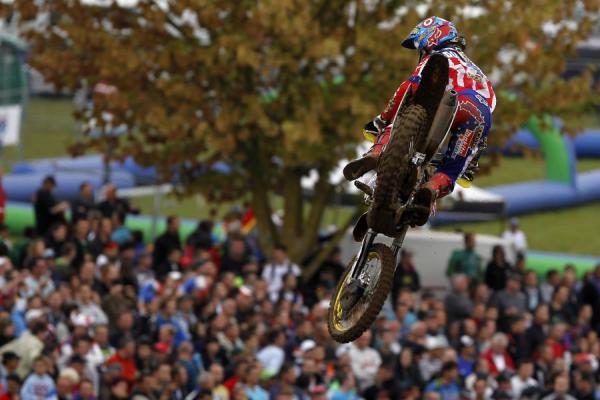 Dungey helped the United States to its seventh consecutive Chamberlain Trophy.
Photo: Ray Archer
For many non-USA followers the crucial incident of the day took place in the opening laps of that last race when Team France's chances of success evaporated with the air inside Christophe Pourcel's rear tire as the former AMA star was on the verge of following Villopoto and opening up a duel for the trophy that might have had onlookers talking about this meeting for years to come. The DNF—that saw the rider punching the air in fury—pretty much guaranteed American glory and the entertainment factor of the moto then came from the tussle between Russian Evgeny Bobryshev, Searle, Reed and Paulin; the latter needing to up his game to make sure France did not lose the second plinth of the podium.
What else emerged from this 65th incarnation? Roczen, as said, was superb and Honda's works bike can certainly get off the line as Bobryshev was able to be a protagonist despite not being fully fit and being smashed in the face by a rock in the first moto. Team Italy could only take consolation for Davide Guarneri's decent showing to fourth in the MX Open class as Alex Lupino crashed heavily and Tony Cairoli misjudged the ground on the first corner and also went down. A second fall while clawing back through the field completely smashed his handlebars and also caused a fracture to his left scaphoid; a truly draining and testing two weeks for the MX1 World Champion.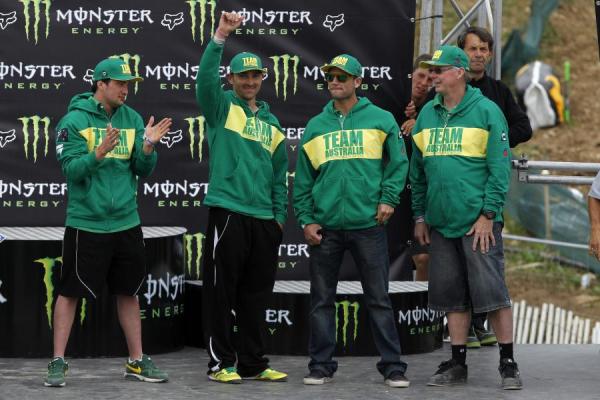 Australia celebrates its first career MXoN podium.
Photo: Ray Archer
Team Belgium achieved their top five goal—and full credit to Mavin Van Daele, a postman by trade, for his ninth place finish overall in MX1. Team Germany were undone by Danny Siegl's second moto DNF; the rider was a late replacement for factory KTM star Max Nagl.
The important factor in Team USA's comeback from the points deficit was highlighted by both Roger De Coster and Dungey. "In 2009 and 2010 we were going into the last race and I remembered what I said at the beginning of the day to Blake and Ryan and that's to never give up," said the outgoing Suzuki racer. "It will go down to the wire and it always has. That never say die mentality was there the whole day."
After a lengthy AMA season indoors and out and an intense FIM World Championship the motocross campaign can now down-tools with only a few scattered national series left to run and, of course, the novel Monster Energy Cup will take over Vegas in the middle of next month.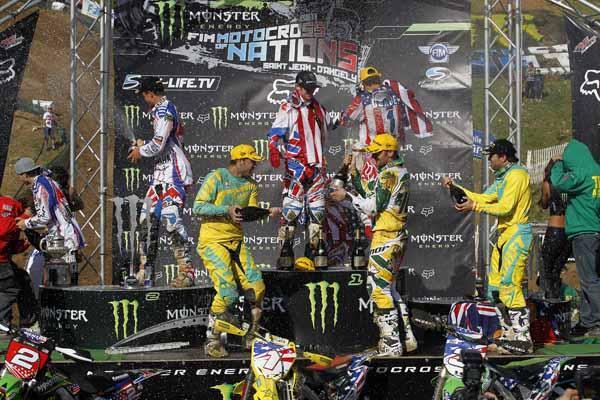 The 2011 Motocross of Nations podium.
Photo: Ray Archer
MX2 Classification
1. Ken Roczen, KTM, GER;
2. Marvin Musquin, KTM, FRA;
3. Joel Roelants, KTM, BEL;
4. Blake Baggett, Kawasaki, USA;
5. Dean Wilson, Kawasaki, GBR;
6. Donny Bastemeijer, Honda, NED;
7. Shannon Terreblance, Honda, RSA;
8. Stuart Edmonds, TM, IRL;
9. Priit Ratsep, Honda, EST;
10. Aleksandr Tonkov, Yamaha, RUS
MX1 Classification
1. Ryan Dungey, Suzuki, USA;
2. Tyla Rattray, Kawasaki, RSA;
3. Tommy Searle, Kawasaki, GBR;
4. Chad Reed, Honda, AUS;
5. Tanel Leok, TM, EST;
6. Jonathan Barragan, Kawasaki, SPA;
7. Rui Goncalves, Honda, POR;
8. Yoshi Atsuta, Suzuki, JPN;
9. Marvin Van Daele, Honda, BEL;
10. Antti Pyrhonen, Honda, FIN
MX Open Classification
1. Ryan Villopoto, Kawasaki, USA;
2. Gautier Paulin, Yamaha, FRA;
3. Jeffrey Herlings, KTM, NED;
4. Davide Guarneri, Kawasaki, ITA
5. Kevin Strijbos, Suzuki, BEL
6. Brett Metcalfe, Suzuki, AUS
7. Arnaud Tonus, Yamaha, SUI
8. Gareth Swanepoel, Yamaha, RSA
9. Carlos Campano, Yamaha, SPA
10. Brad Anderson, Honda, GBR
65th Motocross of Nations Classification
1. USA, 26 points; 2. France 39p; 3. Australia 44p; 4. Great Britain 46p; 5. Belgium 54p; 6. South Africa 56p; 7. Germany 58p; 8. Spain 58p; 9. Netherlands 81p; 10. Estonia 86p; 13. Japan 98p
Share this article:
Did you like this article?
Check out MY LIFE IN MOTORCYCLE RACING
in our Latest issue of Racer X available now.

Jean-Michel Bayle, the iconic superstar of yesteryear, raced motocross for the first time in twenty-one years at the Vets MXdN in England. Page 126.
Look for the verified symbol
The Conversation