by
Andy Bowyer
One Industries Thursday Rev Up: Vegas
Thursday, May 5, 2011 | 10:50 AM
Dragon
is a leading mx goggle manufacturer with innovative new styles like the NFX frameless goggle with patented lens technology. To win a  pair of these premium NFX goggles, go to Dragon's
Facebook
or
Instagram
page and pick this week's 450 AMA Supercross winner.
Tweet

Hello, everyone, and welcome to the Rev Up. In the beginning, the forecast was frail. So much was anew, and there were so many emotional circumstances fueling the charge into the 2011 Monster Energy AMA Supercross season.
It's been a season for the ages. Perhaps all-time.
The man I thought was going to win the title belt, James Stewart, isn't going to win it. The rookie that captivated the industry with his courage and speed, Trey Canard, fell victim to injury. The defending champion, and perhaps the statistical favorite to repeat, Ryan Dungey, now needs a miracle. The man a lot of us forgot about, Ryan Villopoto, now holds the world in his hands.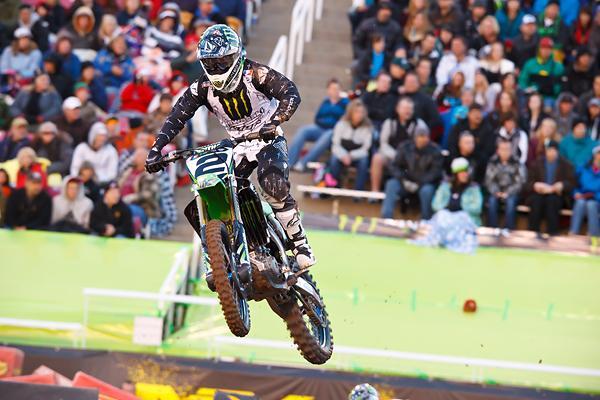 Villopoto controls his own destiny at Vegas.
Photo: Simon Cudby
RV Park came out swinging when the bell rang and he's fought all season long for his chance to earn his supercross championship. That said, I can't remember the last time a rider failed to make the main event during a championship effort and still pushed his motorcycle to the final round with a nine-point lead. A statement of how downright crazy this year has been.
All of the wins and the losses, the crashes and take outs, all come down to this shining moment in Las Vegas.
Ah, Sin City. The biggest dump in the world. The evil luminescent lubricant for all of the vices we are born with and are taught our entire lives to suppress. Las Vegas brings out the worst in every soul that dares to enter its realm. My first experiences of Vegas came from racing the World Mini Grand Prix as a youth. Back then, I loved all of the lights and the fact that Circus Circus had the biggest arcade in the world. Being set loose with a roll of quarters in the gargantuan game rooms remains my favorite memory of the rotten metropolis. Those memories are, ahem, clouded, if you will, by too many weird walks through the MGM lobby at 8:00 a.m. as I saw clean and fresh people heading to the breakfast buffet. "Don't see me," pretty much covers those moments. Remember that scene in the cornfield in Casino with Joe Pesci's character, Nicky? That almost matches some of the mornings I've had in the devil's playground.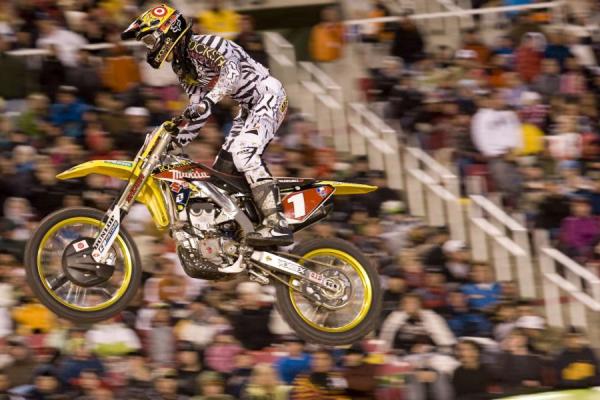 Dungey is still alive, but will need a miracle to win his second career title.
Photo: Matt Pavelek
I have no use for the place. I see it as a symbol and a resounding reminder of how not to behave. Maybe I just took too many laps around the Hard Rock circle bar in the late '90s...
But, the way we do it is we finish our supercross season in Vegas. There is an elaborate banquet and a decadent party that falls in the wake of the crowning champion. The pool at "Rehab" the following morning is quite the scene. Yep, sure is.
You see, there is just one thing though, there is still a race to be ran. There are still twenty laps left on the table and nobody has won yet. If this hyper-dramatic season has taught us anything, it is that we shouldn't expect anything. The forecast remains frail.
Chad Reed is still alive. Nine points? Man, all bullshit aside, that is a lot to make up on a rider as solid as RV. The Thunder is going to have to just go out and win, and hope that something goes wrong with Villopoto. That said, it has gone wrong before! Damn, dude didn't even QUALIFY at Jacksonville. The theme of the 2011 Supercross series is we're all ready for anything.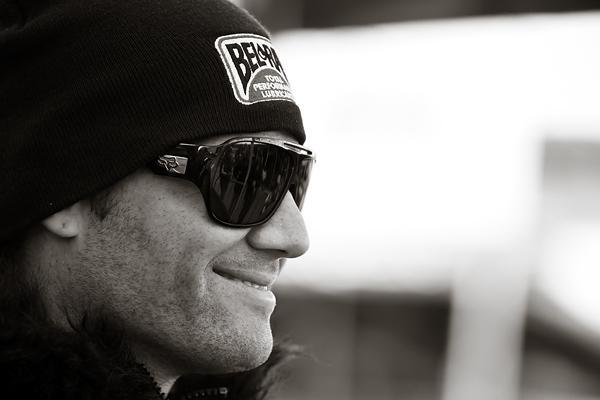 Reed is still alive, but will need help from Villopoto.
Photo: Simon Cudby
I'm just excited to see them go at it one last time this year. And why wouldn't we all be? It's been quite the show, folks. A chicken-skin, heart-pounding roller coaster that's had all of us out of our minds.
Time for the final charge. Time to finish the game. It all unfolds live on SPEED on Saturday night. If you're not at the race, I hope you're tuning in.
Thanks for reading, see you next week.
Share this article:
Did you like this article?
Check out 10,000 MILES FROM HOME
in our Latest issue of Racer X available now.

Australian Dean Ferris hopes to follow in the footsteps of some of his legendary countrymen. Now contesting the FIM Grand Prix series, he made a huge impression at the Motocross of Nations. Page 138.
Look for the verified symbol
The Conversation