by
Jason Weigandt
Racer X Race Report: Salt Lake City
Sunday, May 1, 2011 | 4:00 AM
Since 1968,
Thor
has maintained its position as a top motocross apparel brand. From trails, deserts, to the most famous racetracks in the world,
Thor
supports racing on the track and off with its sponsorship of race reports.
Tweet
In a season filled with missed opportunities, big crashes, gifts, and what-ifs, it seemed impossible that this year's Monster Energy Supercross Championship could ever be determined without someone second-guessing something that happened earlier in the season. And yet somehow, in one big swoop, Ryan Villopoto has managed to silence all of that talk. At round sixteen of the series tonight in Salt Lake City, Utah's Rice-Eccles Stadium, the Big Four contenders for the 2011 SX Title all saw the proverbial brass ring right in front of them, all had the opportunity to seize the moment, win the race and put themselves in a championship position heading into next weekend's finale in Las Vegas.

Ryan Villopoto earned the win, putting in a clutch ride that should be remember not only in the points standings, but in the level of respect for how he did it. In a race the presented the opportunity to wipe out any of the highs and lows of the previous 15 races, Villopoto performed best. Talk about gifts or points given away at other moments is moot, because to win this year's title, all you had to do was go out and win the race tonight.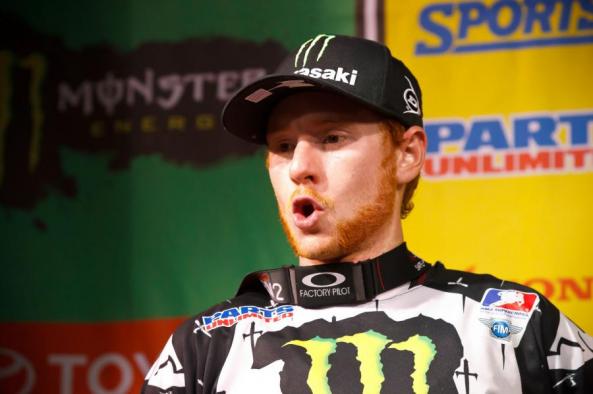 Ryan Villopoto stepped up when it mattered most.
Simon Cudby photo
The contenders were up front from the start. San Manuel Red Bull Yamaha's James Stewart grabbed the lead, while Chad Reed was soon right behind him. Muscle Milk Toyota's Justin Brayton was next, but Ryan Villopoto soon cleared him to put his Monster Energy Kawasaki into third. By the second lap, Dungey had moved his Rockstar Makita Suzuki into fourth, leaving the four contenders in the top four spots, and not separated by too much ground.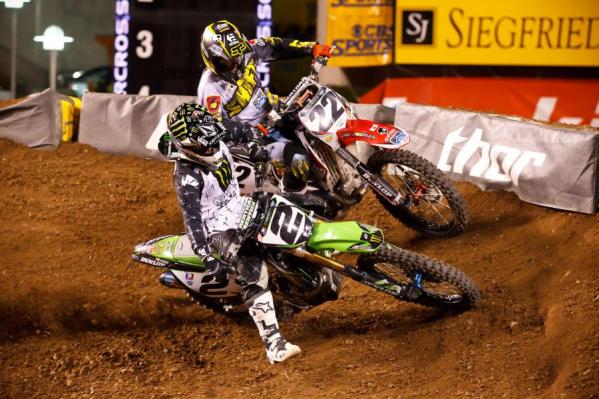 Villopoto went after Reed and made the move for second on the seventh lap.
Simon Cudy photo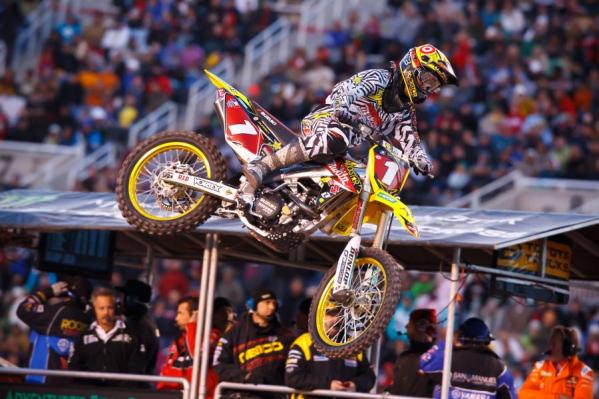 Ryan Dungey got to fourth, but couldn't reel in the lead three.
Simon Cudby photo
Early it looked like Stewart was going to make a run to extend his two-race win streak. If Stewart snagged the win, he would put himself with striking distance of the series' lead at the finale next weekend, especially with Villopoto running third early. But that didn't last. Villopoto upped his pace and went after Reed, while Reed kept Stewart within a reasonable distance. Once Villopoto figured out the whoop section, he immediately closed on Reed, and then on the seventh lap he ran hard down the inside whoops and made a block pass to take over second.

Clearly, Villopoto was riding better than he had in the last month, and he and Reed worked together to keep Stewart in sight. Then on lap eight, Stewart crashed in a left hand bowl turn, handing the lead to Villopoto. Stewart tried to get back up and going quickly, but dropped his front end dropped in the whoops, sending him flying. By the time he got up, he was in eighth, and his bike was all twisted up. He stopped in the mechanics' area to straight his front end, and by the time he got back going, he was on the verge of being lapped by Villopoto—and essentially out of the championship chase.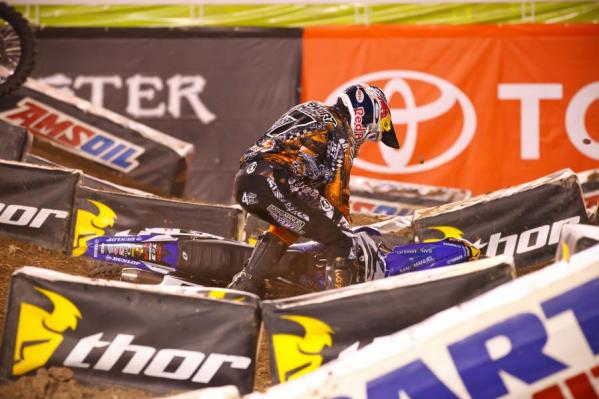 Stewart had the lead just like he did for the last two races. But it didn't last.
Simon Cudby photo
Stewart would later even pull over to let his rival Reed go past. He then stayed closed to the lead duo for the rest of the race, eventually finishing tenth.

Dungey was not able to keep pace with Villopoto and Reed, which left the lead two riders to decide the race—and possibly the championship--between themselves. Reed started stepping up in the whoops, blitzing through while Villopoto backed it down a bit and stared jumping through. Reed got close as they negotiated packs of lappers, and with a lap to go had Villopoto's lead down to 1.3 seconds. They both dug deep, Reed pushing it with everything he had to try to get Villopoto and not lose any points. He couldn't pull it off, and Villopoto sailed through the finish with his sixth win of the year. It's also, unquestionably, his biggest win of the year, because he now holds a nine-point lead in the series (requiring only a top-five finish at the finale to win the title).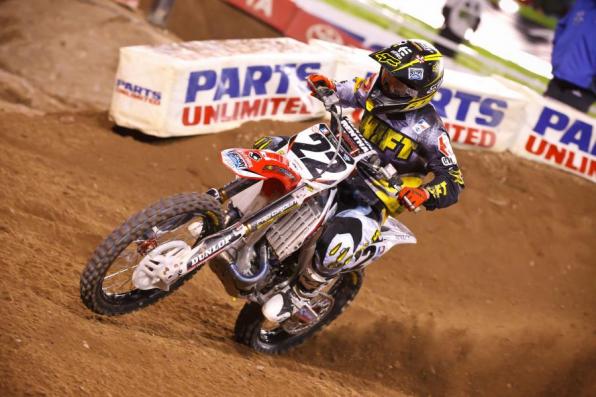 Reed charged hard down the stretch and got close to RV, but wasn't close enough to try a pass.
Simon Cudby photo
Reed took the runner up spot by just .95 seconds, and Dungey came through 15 seconds back. Red Bull KTM's Andrew Short was fast all day and took fourth, and Muscle Milk Toyota's Davi Millsaps rode solidly, as well, to finish fifth. GEICO Honda's Kevin Windham was sixth ahead of Monster Energy Kawasaki's Jake Weimer, who made his season debut. Motoconcepts Yamaha's Tommy Hahn, Brayton and Stewart rounded out the top ten.

The Lites class features a similarly close championship chase, and again the three title contenders found themselves up front early. Eli Tomac—third in points coming in on his GEICO Honda—got the early lead, but Josh Hansen—second in points on his Monster Energy Pro Circuit Kawasaki—was right behind him. Hansen started working Tomac hard, diving deep inside in every turn. At the beginning of the second lap, Hansen attempted a hard block pass (if not a straight takeout) on Tomac, but Tomac braced himself for the hit and stayed up while Hanny went down. Hansen was then stuck under his bike, so by the time he got up, he was in 17th.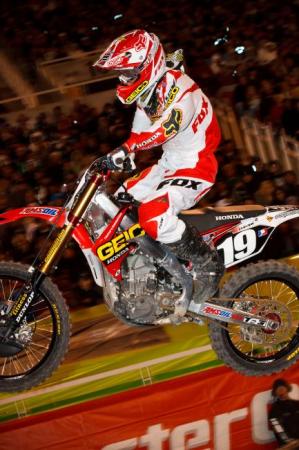 Eli Tomac delivered a clutch win in West Lites to pull within two points of the lead heading into the Las Vegas finale.
Simon Cudby photo
Tomac then dealt with pressure from the Lites West points leader Broc Tickle, but Tickle was under pressure from Red Bull KTM's Ken Roczen, Lucas Oil Honda's Cole Seely and DNA Shred Stix Star Racing Yamaha's Kyle Cunningham. Pressure was everywhere, especially when you consider Tomac and Tickle are close in points, but Tomac withstood it for a clutch win. Roczen made a move on Tickle and held on for second, with Tickle third. Seely and Cunningham passed a bunch of times late, with Seely hanging on for fourth.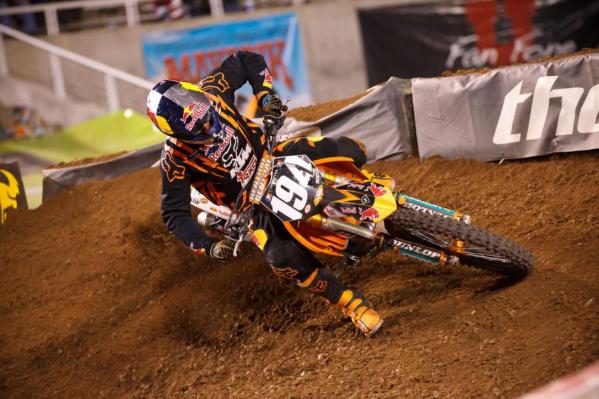 Ken Roczen made an impact in his return to supercross, scoring second.
Simon Cudby photo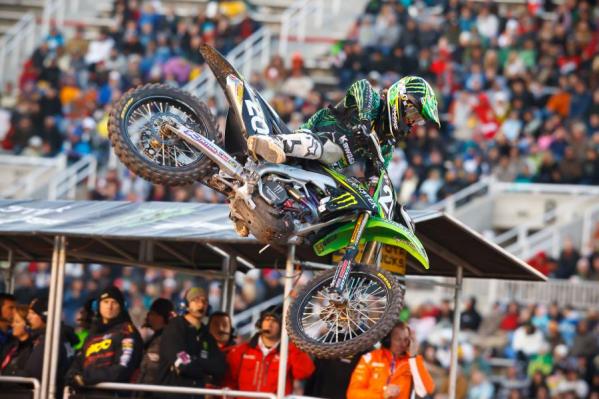 Tickle took third and maintains a slim points lead.
Simon Cudby photo
Roczen's second looms large, as Tomac made up five points and now sits just two back of Tickle heading into Vegas. Hansen finished 13th and is now way back.

The race airs Sunday at noon EST on CBS for the SX Class, and 6 p.m. EST for the Lites class on SPEED.
SX Class Results
1. R. Villopoto
2. C. Reed
3. R. Dungey
4. A. Short
5. D. Millsaps
6. K. Windham
7. T. Hahn
8. J. Weimer
9. J. Brayton
10. J. Stewart
11. N. Wey
12. K. Regal
13. M. Byrne
14. C. Blose
15. T. Bowers
16. J. Thomas
17. R. Kiniry
18. C. Siebler
19. B. Lamay
20. M. Alessi
Supercross Class Season Standings
1.      Ryan Villopoto, Poulsbo, Wash., Kawasaki – 318
2.      Chad Reed, Tampa, Fla., Honda – 309
3.      Ryan Dungey, Belle Plaine, Minn., Suzuki – 306
4.      James Stewart, Haines City, Fla., Yamaha – 295
5.      Trey Canard, Shawnee, Okla., Honda – 255
6.      Andrew Short, Smithville, Texas, KTM – 214
7.      Kevin Windham, Centreville, Miss., Honda – 202
8.      Davi Millsaps, Carlsbad, Calif., Yamaha – 172
9.      Justin Brayton, Cornelius, N.C, Yamaha – 153
10.   Nick Wey, Dewitt, Mich., Yamaha - 139
Lites West Class
1. E. Tomac
2. K. Roczen
3. B. Tickle
4. C. Seely
5. K. Cunningham
6. T. Rattray
7. R. Morais
8. M. Davalos
9. T. Baker
10. B. Evans
11. T. Weeck
12. J. Canada
13. J. Hansen
14. T. Ingalls
15. B. Rutherford
16. C. Hinson
17. D. Vawser
18. L. Powell
19. T. Tapia
20. N. Paluzzi
Western Regional Supercross Lites Class Season Standings
1.      Broc Tickle, Holly, Mich., Kawasaki – 165
2.      Eli Tomac, Cortez, Colo., Honda – 163
3.      Josh Hansen, Elbert, Colo., Kawasaki – 151
4.      Cole Seely, Corona, Calif., Honda – 131
5.      Ryan Morais, Murrieta, Calif., Suzuki – 124
6.      Tyla Rattray, Wildomar, Calif., Kawasaki – 111
7.      Ken Roczen, Germany, KTM – 105
8.      Kyle Cunningham, Aledo, Texas, Yamaha – 105
9.      Martin Davalos, Cairo, Ga., Suzuki – 95
10.   Ben Evans, Garden City, Idaho, Kawasaki – 68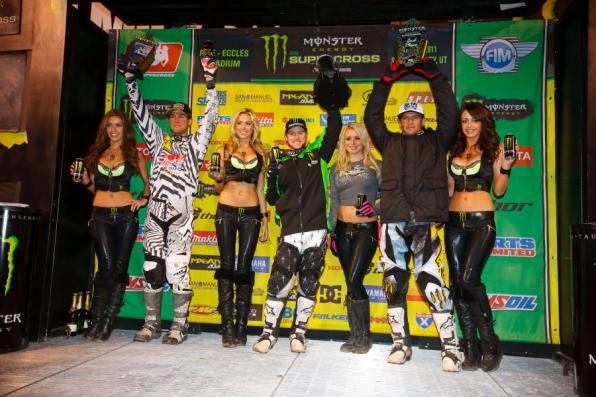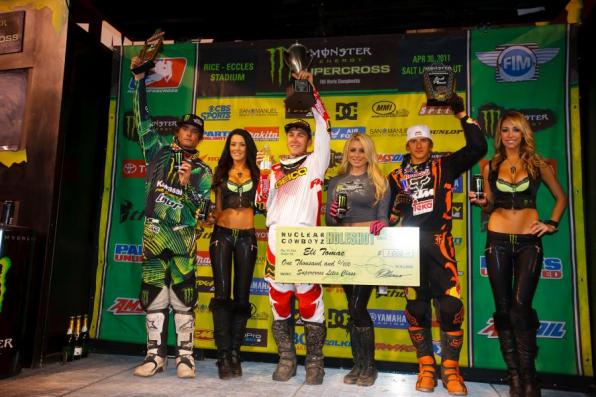 Share this article:
Did you like this article?
Check out MY LIFE IN MOTORCYCLE RACING
in our Latest issue of Racer X available now.

Jean-Michel Bayle, the iconic superstar of yesteryear, raced motocross for the first time in twenty-one years at the Vets MXdN in England. Page 126.
Look for the verified symbol
The Conversation