by
Andy Bowyer
One Industries Thursday Rev Up: Two To Go
Thursday, April 21, 2011 | 4:30 PM
Dragon
is a leading mx goggle manufacturer with innovative new styles like the NFX frameless goggle with patented lens technology. To win a  pair of these premium NFX goggles, go to Dragon's
Facebook
or
Instagram
page and pick this week's 450 AMA Supercross winner.
Tweet
Hello, everyone, and welcome to the Rev Up. What a week. We missed the win at Talladega by .002 of a second last Sunday, which pretty much is what it is. Excruciating. That said, the thrill of watching those guys all power out of turn four together was astonishing. I was screaming and jumping up and down like a damn lunatic. Those moments are why I'm a race fan and if you ever share a room with me while there is a race going on, and race, you will certainly know it.
As the weekend approaches there is a four-soul conundrum heading our way, and we haven't a clue who is going to pull this one in.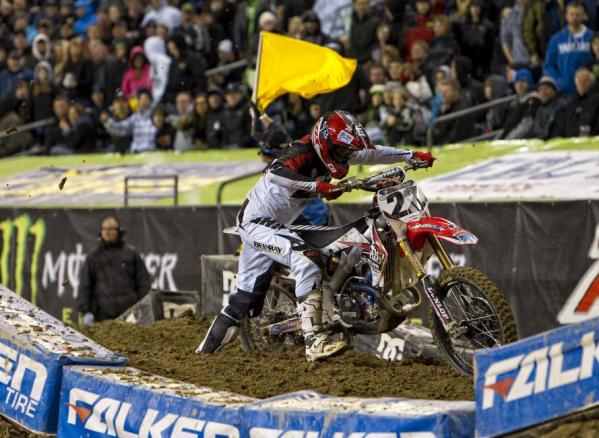 Reed survived a gnarly get-off in Seattle to capture third.
Photo: Garth Milan
Eleven points is the writing on the wall. It's time to go, folks. There are forty laps remaining to see who is going to win the championship. And the beat down continues. The Thunder took a header at Seattle that had me grimacing and just hoping he was going to shake it off. He did, and he remains in the fight.
The theme of 2011 is a collage of broken chains, take-outs, huge crashes, and chest-pounding racing action. As the four horsemen power down the final stretch, it's going to be beautiful to experience. I'm going reach into my rabbit's hat of cliches and remind that you can't win the title at the next to the last race, but you sure can lose it. What kind of a mindset do the title contenders carry into the last two main events? Do you ride conservative and save it for Vegas or go full balls to the wall and try to get as much of a cushion as you can and save the final salvo for Sin City? Those scenarios manifest a burden that Villopoto, Dungey, Reed, and Stewart are capable of carrying. Who can shoulder the load the best?
I say James Stewart can. He's been through, ahem, a lot this season, and with two races to go I think he has the most confidence to take care of business.
On the other hand, look at the season Ryan Dungey has had. Bike failures, mediocre early season performances, and a late season surge has him poised to repeat as champion. The heartbreak of his early woes has surely been healed by this shining moment to be able to have a shot.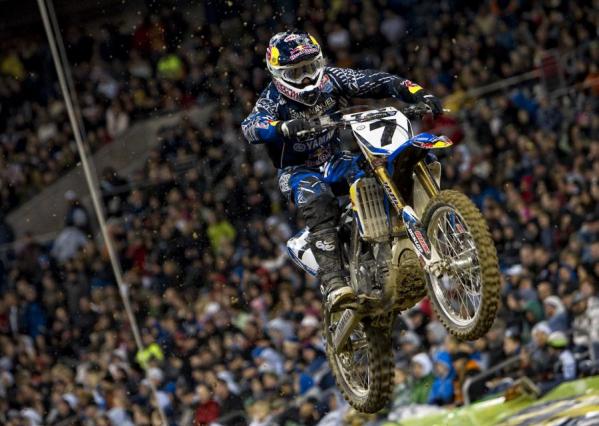 Can Stewart track down RV with only two to go?
Photo: Garth Milan
Then you have one, Ryan Villopoto. The man came back from a broken leg to bust the series wide open, riding an early wave of domination that looked like would never crest. Surfers call this situation a wave, "closing out." One minute they are pitted inside the "almond eye" alone in a blue barrel, the next the wave just fails and they're inside the washing machine dodging reef. Can RV scratch his way into another wave and carry it all the way to the beach? He can. He's shown he has the salt.
How about Chad Reed? When the series began he looked tight and that familiar style he's always had was reduced to, well, less than championship form. The two-time champ gradually found the balance and by the time Atlanta came, the Thunder was crackling and shaking the walls. I still can't believe how fast he hit the sand section at that race. The thing with Reed is he is ready to do what it takes. If Stewart gives up the inside this weekend or next, he'll have a red fender plate up his tail pipe.
The gloves are off and the title is on the line. Take no prisoners, show no mercy. Vanquish and conquer.
The championship in the 250 Class is going to be really special too. Can Josh Hansen take the pain and take the title that is rightly his? Can Broc Tickle pull off his season of dreams? They both have a big problem with the Honda's of Cole Seeley and Eli Tomac riding with only victory on the brain.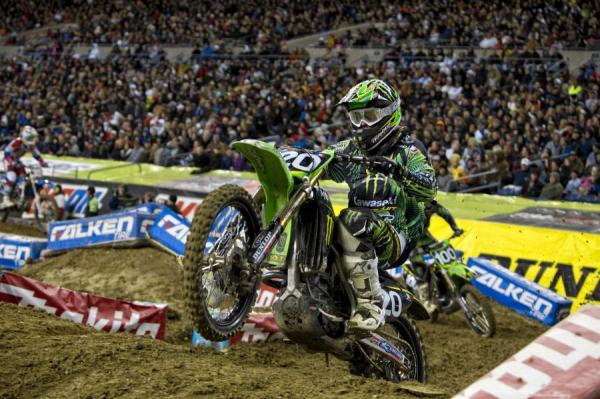 Tickle holds the slimmest of leads over teammate Josh Hansen with only two to go.
Photo: Garth Milan
Well, here they come, boys! Who is ready to scream and jump up and down like a loon? We are the race fans of the world, the few, the weird, and the proud. As this one explodes down the final stretch, any venue with a flat screen had better prepare. How about a little Slipknot lyric to warn the timid:
"Remember / Surrender / The Time is Now
Continue / We're in you… and we will BURN YOUR CITIES DOWN!"
That would be Gem atria. Listen to it as you read, or before the main event next Saturday night to get your mind right. The penultimate charge of the 2011 Monster Energy AMA Supercross, an FIM World Championship is here. Two to go. Forty laps of the heavy to decide who will be the man.
Thanks for reading, see you next week.
Share this article:
Did you like this article?
Check out MOTO GIFT GUIDE
in our Latest issue of Racer X available now.

Our annual gift guide has something (or maybe even a few somethings) for everyone on your holiday list. Page 146.
Look for the verified symbol
The Conversation