by
Chase Stallo
Bench Racing Ammo: King of the Podium
Thursday, April 21, 2011 | 9:45 AM
MOTOREX is used by factory teams worldwide, by independent pros and by top amateurs who demand the best performance from their race machines. The complete MOTOREX line includes a broad range of synthetic engine oils, lubricants, aerosol sprays, cleaners and care products. MOTOREX is available at dealerships nationwide.
Tweet
During the 1990s, the world of supercross had been brought to its knees in the form of a dominant superstar.  At the head of the roundtable sat a Southern California kid with a flair for the dramatic named Jeremy McGrath. McGrath would take the supercross world by storm with a style and consistency that had never been witnessed. Recording a record 72 Supercross class wins by the time his career was over, McGrath was deservingly anointed "King of Supercross."
But what many forget is that while McGrath was mowing down wins faster than cupcakes at fat camp, he was also racking up podiums at a record rate, one hundred and eleven to be exact, and that would stand the test of time—until this past weekend in Seattle that is.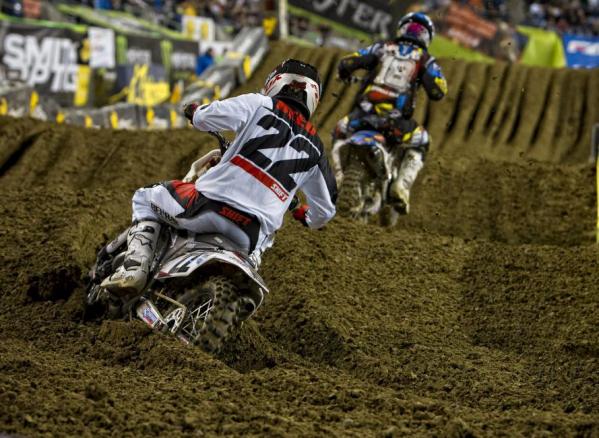 The model of consistency.
Photo: Garth Milan
While McGrath was tearing up the supercross world throughout the decade, a young boy a world away was modeling his style after one of the greatest to ratchet up a pair of boots.
Chad Reed's humble beginnings would begin half way around the world but the native Australian always knew where his career would one day end. After a brief stop in Europe to compete in the Grand Prix tour Reed would embark on his life-long dream of heading to the United States to compete on the biggest stage in the world.
Signing with the now defunct Yamaha of Troy in 2002, Reed, much like McGrath, took the supercross world by storm winning all but two races in his rookie season en route to 125cc East Coast Lites Championship. The following year Reed moved to the Supercross class and began to rack up podiums. Reed would finish his rookie season a mere seven points behind Ricky Carmichael despite taking eight wins to Carmichael's seven. With fourteen podiums, including eight wins, a star was slowly blossoming.
Now almost nine years later Reed has come full circle. Gone are the days of private jets and factory tents. Reed now stands alone with his own team, TwoTwo Motorsports. Yet the results continue to remain the same.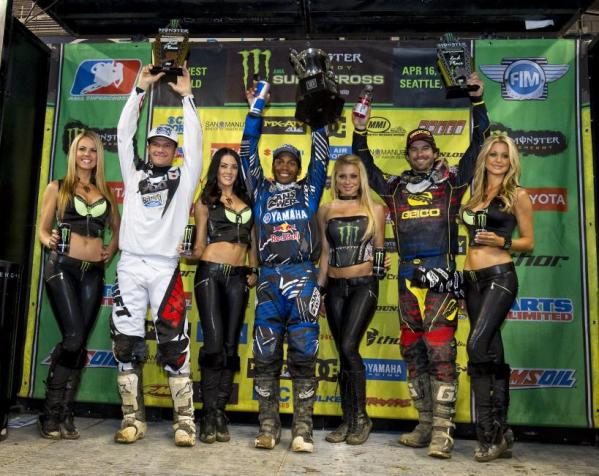 Reed (left) celebrating his all-time record 112th podium.
Photo: Garth Milan
Consider this. With nine podiums this year (60 percent) Reed is well off his blistering 83.8 percent podium percentage (through 2010), yet is still in the thick of another championship hunt. He's only  won one race, but consistency, as always, moves him forward. Check out his record:
2003: Podium finish in 14 of 16 races
2004: Podium finish in 16 of 16 races (The AMA record book shows Reed received zero points in Dallas due to a penalty for illegal fuel. But he did finish on the podium in that actual race)
2005: Podium finish in 14 of 16 races
2006: Podium finish in 14 of 16 races
2007: Podium finish in 15 of 16 races
2008: Podium finish in 13 out of 17 races
2009: Podium finish in 16 out of 17 races
2010: Podium finish in 1 out of 6 races
Reed has been the model of consistency throughout his entire career and on Saturday night in Seattle he was rewarded. Passing his hero, McGrath, for most career podiums (112) is an achievement that probably seemed unreachable in his wildest dreams. Now, maybe his headstone should read, "King of the Podium."
Share this article:
Did you like this article?
Check out MY LIFE IN MOTORCYCLE RACING
in our Latest issue of Racer X available now.

Jean-Michel Bayle, the iconic superstar of yesteryear, raced motocross for the first time in twenty-one years at the Vets MXdN in England. Page 126.
Look for the verified symbol
The Conversation