WORCS Round One Race Report
Monday, January 31, 2011 | 4:40 PM Tweet

WORCS Champion Dedicates the Victory and the Season to the Late Nathan Woods

By Joe Colombero

Taft, CA: In a fitting twist of irony, the Honolulu Hills Race course in Taft has never been better. The recent rains had left the hills covered in thick green grass, the dirt of the track was dark chocolate cake that offered Velcro-like traction and the early morning fog had left zero opportunity for dust anywhere on the nearly six mile course. The motocross course was perfectly groomed and the off road section was fast, tough, and technical. It was the perfect course for Nathan Woods.

But the former 2-time WORCS Champion was not on the line with his friends and competitors, having passed away on Friday from injuries resulting from a crash in Pro Practice. A memorial parade lap in Nathan's honor was held on Saturday in place of the Pro race and Promoter Sean Reddish awarded the victory for the whole weekend of Pro racing to Woods giving him the points lead in the 2011 WORCS Championship one more time in his career. Nathan's wife Amanda Woods and his oldest son rode the parade lap wearing Nathan's #54 jerseys, the young Woods riding with his father's good friend Kurt Caselli. The entire WORCS family of amateur riders, Pros, and fans came to the starting line to pay tribute and remember the great Champion and good man that was Nathan Woods.

The Pro class lined up on Sunday with the former Champion on their minds. "Nathan loved to race, and would want us to keep racing," was a common sentiment. The rain started pouring in just before the gate dropped, causing many to smile, "Nathan was a good mud rider, he would've loved this."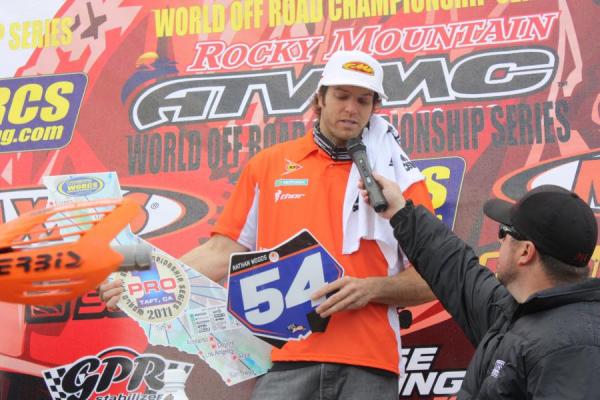 Caselli holds Nathan Woods #54 plate as he dedicates the race to his late friend.
Defending WORCS Champion Kurt Caselli dedicated the race and the rest of the season to Nathan and drove home the point by getting a massive holeshot and running away with the win. Caselli and his KTM were virtually uncatchable as he extended his lead lap after lap to take the win by more than a full minute. The battle for second place was a mêlée that included Kyle Summers, Mike Brown, Bobby Bonds, Taylor Robert, Justin Soule, Kevin Rookstool, and Bobby Garrison. Summers eventually pulled out ahead of the pack and earned the second slot on the podium. Third fell to Garrison after he battled for the entire hour with Brown, Bonds, Robert and Soule.
Robert came from way back to take fourth with Brown in fifth and Rookstool in sixth. Bonds, riding a Zip-Ty Husky and still recovering from shoulder surgery took seventh with Robby Bell eighth, Destry Abbott ninth and Brenden Ritzman 10th.
Caselli came to the podium with Nathan Wood's #54 plate in his hand, and again dedicated the victory and the season to Nathan. "This is a tough weekend for everybody," said Caselli. "We lost one of our greatest riders in this sport on Friday. Nathan was a close friend of mine; we went to the ISDE together and got to be good friends. He was a down-to-earth, awesome guy, a great competitor, so tough, so strong. Today I was riding for him. Nathan and I shared a pure enjoyment of the sport and always wanting to win. I think everybody rode today for Nathan Woods. I'm going to miss him, he taught me a lot. He was winning WORCS Championships when I was coming up into the Pro ranks and I learned by watching him. He was one of my idols. I want to thank all of my sponsors, my KTM is awesome, but this race is for Nathan and his family. My heart goes out to all of them."
WORCS round 1 Results:
1.    Nathan Woods (KTM)
1.    Kurt Caselli (KTM)
2.    Kyle Summers (Yam)
3.    Bobby Garrison (Kaw)
4.    Taylor Robert (Kaw)
5.    Mike Brown (KTM)
6.    Kevin Rookstool (KTM)
7.    Bobby Bonds (HSQ)
8.    Robby Bell (Kaw)
9.    Destry Abbott (Kaw)
10. Brenden Ritzman (Kaw).
Share this article:
Did you like this article?
Check out 10,000 MILES FROM HOME
in our Latest issue of Racer X available now.

Australian Dean Ferris hopes to follow in the footsteps of some of his legendary countrymen. Now contesting the FIM Grand Prix series, he made a huge impression at the Motocross of Nations. Page 138.