Yamaha Wake-Up Call
Monday, August 9, 2010 | 6:00 AM Tweet

GP of Czech Republic

MX1 Event Results
| | | | | | | |
| --- | --- | --- | --- | --- | --- | --- |
| Pos | Nr | Rider | Bike | Race 1 | Race 2 | Total |
| 1 | 222 | Cairoli, Antonio | KTM | 22 | 25 | 47 |
| 2 | 25 | Desalle, Clement | Suzuki | 20 | 22 | 42 |
| 3 | 40 | Leok, Tanel | Honda | 25 | 16 | 41 |
| 4 | 11 | Ramon, Steve | Suzuki | 15 | 20 | 35 |
| 5 | 2 | Nagl, Maximilian | KTM | 16 | 18 | 34 |
| 6 | 19 | Philippaerts, David | Yamaha | 18 | 12 | 30 |
| 7 | 777 | Bobryshev, Evgeny | Honda | 12 | 14 | 26 |
| 8 | 22 | Goncalves, Rui | KTM | 11 | 13 | 24 |
| 9 | 4 | Strijbos, Kevin | Suzuki | 5 | 15 | 20 |
| 10 | 6 | Coppins, Joshua | Aprilia | 8 | 11 | 19 |
| 11 | 24 | Church, Tom | CCM | 4 | 10 | 14 |
| 12 | 90 | Pourcel, Sebastien | Kawasaki | 14 | 0 | 14 |
| 13 | 331 | Aubin, Nicolas | Kawasaki | 13 | 0 | 13 |
| 14 | 9 | de Dycker, Ken | Yamaha | 10 | 0 | 10 |
| 15 | 15 | Bill, Julien | KTM | 0 | 9 | 9 |
| 16 | 120 | Soubeyras, Cedric | KTM | 6 | 3 | 9 |
| 17 | 8 | Swanepoel, Gareth | Honda | 9 | 0 | 9 |
| 18 | 702 | Albertson, Jimmy | Honda | 0 | 8 | 8 |
| 19 | 52 | Walkner, Matthias | KTM | 0 | 7 | 7 |
| 20 | 7 | Barragan, Jonathan | Kawasaki | 7 | 0 | 7 |
| 21 | 36 | Bonini, Matteo | Yamaha | 0 | 6 | 6 |
| 22 | 71 | Sword, Stephen | CCM | 0 | 5 | 5 |
| 23 | 17 | Söderström, Tom | Yamaha | 0 | 4 | 4 |
| 24 | 14 | de Reuver, Marc | Suzuki | 2 | 2 | 4 |
| 25 | 57 | Neugebauer, Filip | Kawasaki | 3 | 0 | 3 |
| 26 | 383 | Bellino, Mathias | KTM | 1 | 1 | 2 |
| 27 | 95 | Justs, Augusts | Honda | 0 | 0 | 0 |
| 28 | 74 | Steinbergs, Ivo | Honda | 0 | 0 | 0 |
| 29 | 201 | Smola, Frantisek | Suzuki | 0 | 0 | 0 |
| 30 | 66 | Hirata, Yu | Honda | 0 | 0 | 0 |
| 31 | 76 | Sandberg, Rickard | Kawasaki | 0 | 0 | 0 |
| 32 | 608 | Degousee, Arnaud | TM | 0 | 0 | 0 |
| 33 | 174 | Smith, Alfie | Aprilia | 0 | 0 | 0 |
| 34 | 45 | Leonce, Loic | Suzuki | 0 | 0 | 0 |
| 35 | 221 | Wicht, Gregory | Honda | 0 | 0 | 0 |
| 36 | 32 | Priem, Manuel | Aprilia | 0 | 0 | 0 |
| 37 | 75 | Wouts, Kevin | Kawasaki | 0 | 0 | 0 |
| 38 | 39 | Guarneri, Davide | Honda | 0 | 0 | 0 |


MX1 Season Standings

1.   Antonio Cairoli   KTM   Team Red Bull De Carli   531  
2.   Clement Desalle   Suzuki   Team Teka   447  
3.   David Philippaerts   Yamaha   Team Yamaha Monster   394  
4.   Max Nagl   KTM   Team Red Bull De Carli   382  
5.   Steve Ramon   Suzuki   Team Teka   376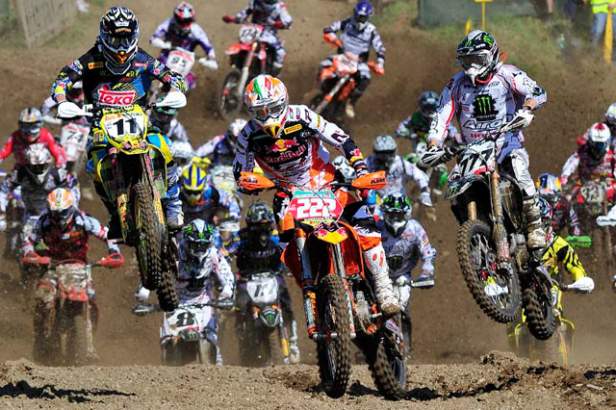 Antonio Cairoli continues to gain points on the competition.

MX2 Event Results
| | | | | | | |
| --- | --- | --- | --- | --- | --- | --- |
| Pos | Nr | Rider | Bike | Race 1 | Race 2 | Total |
| 1 | 1 | Musquin, Marvin | KTM | 22 | 25 | 47 |
| 2 | 94 | Roczen, Ken | Suzuki | 25 | 22 | 47 |
| 3 | 21 | Paulin, Gautier | Yamaha | 15 | 20 | 35 |
| 4 | 89 | van Horebeek, Jeremy | Kawasaki | 18 | 16 | 34 |
| 5 | 11 | Simpson, Shaun | KTM | 16 | 15 | 31 |
| 6 | 23 | Tonus, Arnaud | Suzuki | 13 | 14 | 27 |
| 7 | 183 | Frossard, Steven | Kawasaki | 7 | 18 | 25 |
| 8 | 34 | Roelants, Joel | KTM | 12 | 12 | 24 |
| 9 | 338 | Osborne, Zach | Yamaha | 10 | 13 | 23 |
| 10 | 151 | Kullas, Harri | Yamaha | 11 | 10 | 21 |
| 11 | 111 | Herlings, Jeffrey | KTM | 20 | 0 | 20 |
| 12 | 181 | Michek, Martin | TM | 8 | 8 | 16 |
| 13 | 91 | Karro, Matiss | Suzuki | 9 | 6 | 15 |
| 14 | 77 | Lupino, Alessandro | Yamaha | 5 | 9 | 14 |
| 15 | 430 | Charlier, Christophe | Yamaha | 14 | 0 | 14 |
| 16 | 335 | Verbruggen, Dennis | KTM | 6 | 7 | 13 |
| 17 | 37 | Teillet, Valentin | KTM | 0 | 11 | 11 |
| 18 | 35 | Larsen, Nikolaj | Honda | 0 | 5 | 5 |
| 19 | 71 | Butron, Jose Antonio | Suzuki | 2 | 3 | 5 |
| 20 | 152 | Petrov, Petar | Honda | 0 | 4 | 4 |
| 21 | 22 | Delince, Jeremy | KTM | 4 | 0 | 4 |
| 22 | 75 | Triest, Nick | KTM | 1 | 2 | 3 |
| 23 | 25 | Coldenhoff, Glenn | Yamaha | 3 | 0 | 3 |
| 24 | 36 | Ullrich, Dennis | Honda | 0 | 1 | 1 |
| 25 | 260 | Nyegaard, Remi | Yamaha | 0 | 0 | 0 |
| 26 | 173 | Guillod, Valentin | KTM | 0 | 0 | 0 |
| 27 | 100 | Auberson, Killian | KTM | 0 | 0 | 0 |
| 28 | 92 | Battig, Alesandro | Honda | 0 | 0 | 0 |
| 29 | 262 | Del Segato, Giacomo | Suzuki | 0 | 0 | 0 |
| 30 | 824 | Kouwenberg, Nick | Suzuki | 0 | 0 | 0 |
| 31 | 26 | Eriksson, Alexander | KTM | 0 | 0 | 0 |
| 32 | 119 | Pocock, Mel | Yamaha | 0 | 0 | 0 |
| 33 | 54 | Balazs, Deczi | Suzuki | 0 | 0 | 0 |
| 34 | 90 | Moroni, Rudi | Yamaha | 0 | 0 | 0 |
| 35 | 45 | Nicholls, Jake | KTM | 0 | 0 | 0 |
| 36 | 550 | Mitchell, Sean | Suzuki | 0 | 0 | 0 |
| 37 | 30 | Klein Kromhof, Ceriel | Yamaha | 0 | 0 | 0 |
| 38 | 130 | Lieber, Cedric | Suzuki | 0 | 0 | 0 |
| 39 | 170 | Leib, Michael | Kawasaki | 0 | 0 | 0 |


MX2 Season Standings

1.   Marvin Musquin   KTM   Team Red Bull Factory   527  
2.   Ken Roczen   Suzuki   Team Teka   449  
3.   Steven Frossard   Kawasaki   Team CLS   404  
4.   Jeffrey Herlings   KTM   Team Red Bull Factory   391  
5.   Shaun Simpson   KTM   Team Red Bull Factory   329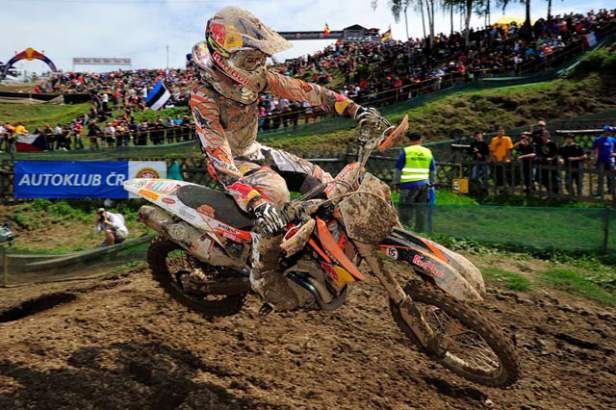 Marvin Musquin won the second moto of the GP of the Czech Republic.

2010 Loretta Lynn's Amateur National Champions

250 A
Ian Trettel

250 A / Pro Sport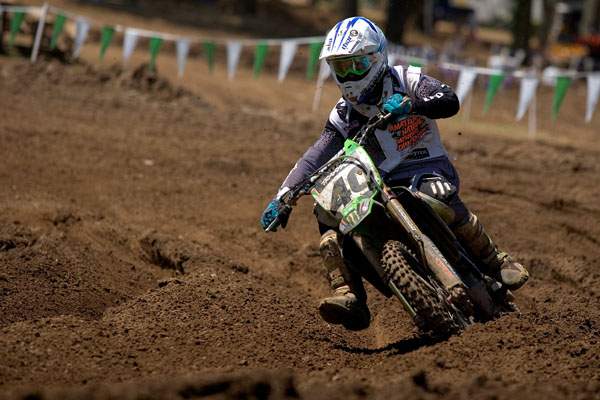 Zackery Freeberg.
Photo: Matt Ware

450 A
Jason Anderson

450 A / Pro Sport
Gannon Audette

250 B Stock
Brad Frace

250 B Mod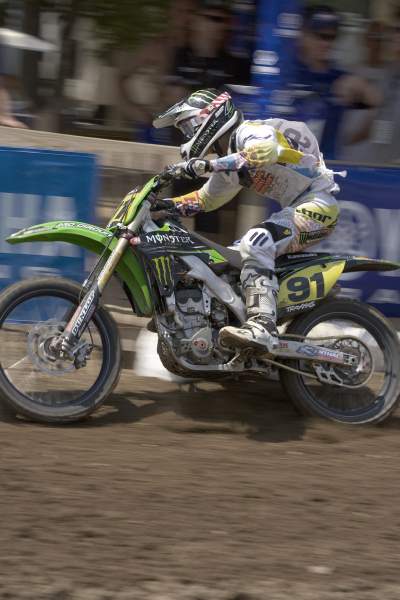 Justin Bogle
Photo: Matt Ware

450 B Stock
Justin Bogle

450 B Mod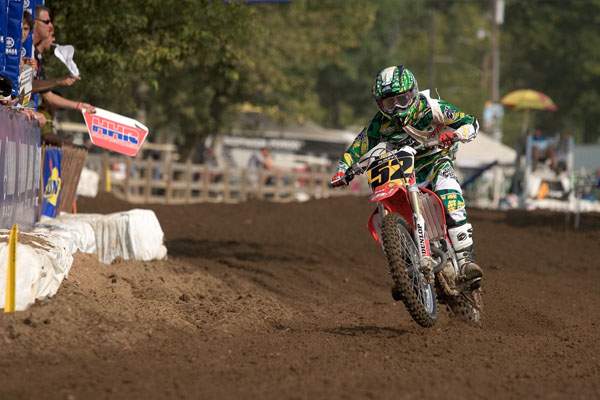 Chris Plouffe
Photo: Matt Ware

Women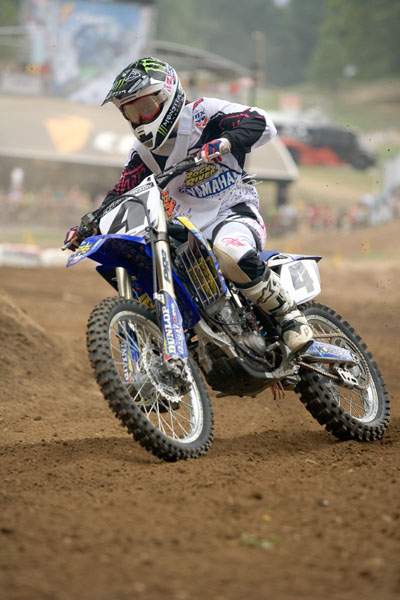 Alexah Pearson
Photo: Matt Ware

250 C Stock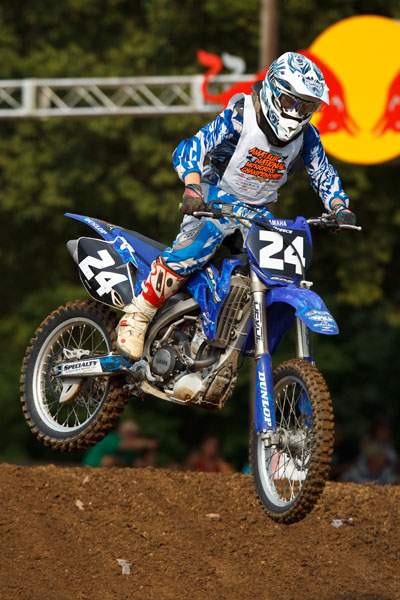 Ryan Breece
Photo: Simon Cudby

250 C Mod
Broc Gourley

450 C
Sean Baxley

Collegeboy B/C (17-24)
Tyler Bereman

Jr. 25+
Robbie Reynard

Vet B/C 30+
David Jones

Vet 35+
Keith Johnson

Sr. 40+
Kevin Walker

Sr. 45+
Doug Doubach

Masters 50+
Matt Tedder Sr.

51 (4-6) Stock Multi Spd
Dylan Varn

51 (4-6) Stock Shaft Drv
Steel Gately

51 (4-6) AMA 1 Stock
Gage Linville

51 (7-8) AMA 2 Stock
Jackson Turpin

65 (7-9) Stock
Jordan Bailey

65 (10-11) Stock
Jake Pinhancos

65 (7-11) Modified
Luke Purther

85 (9-11) Stock
Austin Forkner

85 (9-11) Modified
Austin Forkner

85 (12-14) Stock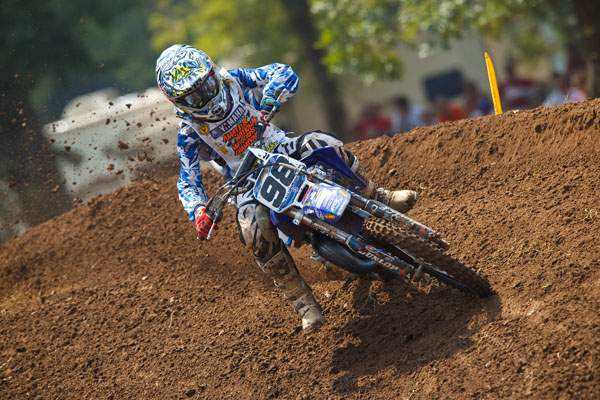 Chris Alldredge
Photo: Simon Cudby

85 (12-14) Modified
Steven Gretchen

Super Mini 1 (12-15)
Cooper Webb

Super Mini 2 (13-16)
Jace Owen

Schoolboy 1 (12-16) B/C
Luke Renzland

Schoolboy 2 (13-16) B/C
Joey Savatgy

Girls (12-15)
Amanda Maheu

Results from Loretta Lynn's can be seen in full HERE.
Share this article:
Did you like this article?
Check out MOTO GIFT GUIDE
in our Latest issue of Racer X available now.

Our annual gift guide has something (or maybe even a few somethings) for everyone on your holiday list. Page 146.
Look for the verified symbol
The Conversation