by
Adam Wheeler
Mike Alessi Peerless in GP Qualifying
Saturday, May 29, 2010 | 11:05 PM
Tweet
In this article…
Riders
Races
A fresh wind blew in for the new era of the USGP; quite literally. The first half-day of round six of the 2010 FIM World Championship was canceled as swirling gusts rendered a baking Glen Helen un-rideable until after lunch. An anxious paddockful of riders were left between twiddling thumbs, swallowing dust on a track walk, or being occupied by a copious showing of media. Somewhat expectedly, the hills around the fast and jumpy venue in San Bernardino were bereft of spectators, but the general feeling is that the awakening of this event is merely a step - rather than a stride - into the re-establishment of an institution.
"It is great to be here against the world's best, and I had fun," commented a certain number '800' on his second GP appearance of his career. "The 350 worked really well on the down-hills and through the bumps and I could roll through those big ruts maybe a little easier than I could have done on the 450. I was getting good drive going up the hills."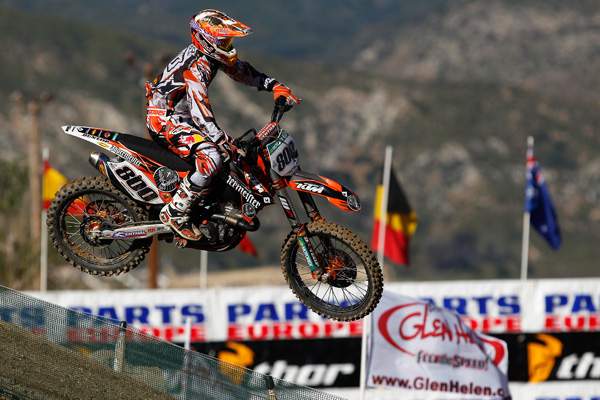 Mike Alessi dominated on Saturday, and if he keeps it up for Sunday, things look grim for the GP contingent.
Ray Archer Photo
On the track, KTM's Mike Alessi was sprightly and not only set the best lap-time in Pre-Qualification while the rest of the GP field was discovering a much longer and faster circuit compared to what they usually face in Europe, but also cleared-off with the Qualification Heat for his pole position. Alessi enacted a typical National performance by escaping from the field and winning the race in the first two laps. "I live twenty minutes from here, and of course I know the track probably more than anyone else, but the layout here is completely different," he reasoned. "Everybody is doing a great job here and it looks first-class. I am not here to say I am going to win but I just want to enjoy myself against these guys."
Troy Lee Designs/Lucas Oil Honda's Ben Townley was second after a lively launch, but admitted his race pace would be lucky to extend to the full GP-moto 35-minute-and-two-lap distance. The Kiwi, winner here in 2007 in the AMA 250cc class, commented on the difference the rule change with regard to the noise restrictions and running a quieter Honda with the greener FIM specs: "I noticed a huge difference. We have been working really hard on our bike for the AMA this week and we missed out on time for a setup here. When I came onto the track for the first time and I went up the hill, I was shocked. Obviously I support making the bikes quieter and anything that is for the good of the sport, but it was tough."
World Champion Tony Cairoli was fourth behind teammate Max Nagl and speculated as to whether he would be able to find the extra seconds to be able to challenge his brand-mate Alessi, while also stating the title was his aim; a case of dismissing the 'battle' in favor of a better strategy for the 'war'. Veteran Ryan Hughes could still mix-it-up and will be pleased with seventh.
Elsewhere, Seb Pourcel, Evgeny Bobyshev, Catalan GP winner Tanel Leok (twice) and Clement Desalle were fallers, but perhaps the worst casualty was Yamaha Monster Energy's David Philippaerts, who lost the rear end of his Yamaha on one of the steep descents and was lucky to escape injury as he rolled his way to a DNF. Martin Honda's Jimmy Albertson was again in the wars and came off worse than the Italian in a similar downhill crash. The Missourian was beaten-up but again tested lady luck's patience by being relatively fit to compete tomorrow.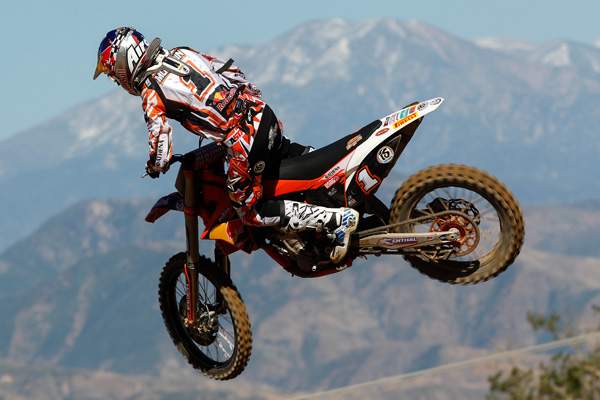 Marvin Musquin made it a KTM pole-position sweep with his MX2 qualifying victory.
Ray Archer Photo
In MX2, Red Bull KTM gave the Austrians another double pole with an 'Alessi-esque' domination by World Champion Marvin Musquin, who must have been at least five meters ahead of the field entering the first turn. CLS Kawasaki's Jeremy Van Horebeek made the most of the Pro Circuit connection with the French crew to rasp his way up the hills and take second place (a personal best for Saturday) while British-American Max Anstie was third and the top AMA runner to classify. Van Horebeek's teammate Steven Frossard tumbled from fourth and finished ninth with an injured thumb. Ken Roczen, in fourth, admitted that he needed time riding in the US during the week and was unhappy with the lack of mileage on the Glen Helen ripples, and Zach Osborne rode well to sixth behind Gautier Paulin, but suffered with lack of pace on the start straight. Jeffrey Herlings was a clear second but crashed unharmed on the quick downhill approach back to the central part of the circuit.
In other news, the Moates Cup was launched with a donation principally by Lucas Oil for this and the next USGP for $5000 heading to the first-placed US rider and involving presentation of a trophy given by Ricky Johnson that was actually gleaned at a Supercross success in Japan in 1983. Doug Dubach took his Yamaha to first place in the first moto of the Veteran's World Cup and toasted a win just ahead of Darryl King, with reigning champ Mats Nilsson in third.
MX1 Qualification Heat
1. Mike Alessi (USA, KTM), 25:24.830;
2. Ben Townley (NZL, Honda), +0:08.431;
3. Maximilian Nagl (GER, KTM), +0:10.173;
4. Antonio Cairoli (ITA, KTM), +0:20.216;
5. Davide Guarneri (ITA, Honda), +0:28.445;
6. Steve Ramon (BEL, Suzuki), +0:29.758;
7. Ryan Hughes (USA, Honda), +0:31.036;
8. Clement Desalle (BEL, Suzuki), +0:34.224;
9. Xavier Boog (FRA, Kawasaki), +0:43.217;
10. Anthony Boissiere (FRA, TM), +0:49.521;
MX2 Qualification Heat
1. Marvin Musquin (FRA, KTM), 25:28.165;
2. Jeremy van Horebeek (BEL, Kawasaki), +0:07.826;
3. Max Anstie (GBR, Yamaha), +0:11.446;
4. Ken Roczen (GER, Suzuki), +0:16.895;
5. Gautier Paulin (FRA, Yamaha), +0:19.246;
6. Zach Osborne (USA, Yamaha), +0:22.223;
7. Shaun Simpson (GBR, KTM), +0:26.272;
8. Arnaud Tonus (SUI, Suzuki), +0:41.715;
9. Steven Frossard (FRA, Kawasaki), +0:45.423;
10. Harri Kullas (FIN, Yamaha), +0:49.165;
Share this article:
Did you like this article?
Check out MOTO GIFT GUIDE
in our Latest issue of Racer X available now.

Our annual gift guide has something (or maybe even a few somethings) for everyone on your holiday list. Page 146.