by
Steve Cox
250 Words: Jacksonville
Wednesday, March 31, 2010 | 4:04 PM
GYTR (Genuine Yamaha Technology Racing)
is Yamaha's performance and racing accessory brand. GYTR products are developed and tested to the highest standards by Yamaha's in-house factory engineers. Used extensively by the Yamaha Race Teams, these factory parts are readily available to every Yamaha rider.
Tweet
Passion is what racing is all about. You're supposed to be upset when you lose, and you're supposed to be happy when you win. Last Saturday night in Jacksonville, we got to see a rare show of passion from Rockstar/Makita Suzuki's
Austin Stroupe
.
Stroupe is a bit of a standoffish guy most of the time. He's quiet, keeps to himself, and he's difficult to read. We all know he's fast, but it's hard to get a feel for what he's all about.
However, it's obvious that he's not just out there collecting a paycheck. He has passion for racing, and it showed last Saturday night in Jacksonville when he crossed the finish line just a second behind rival and former teammate
Christophe Pourcel
, and when he rode by on his way to the podium, he let go an extremely loud and frustrated-sounding yell. I'm not going to repeat the word he yelled, but it's safe to say that he wasn't happy with the way the race ended up.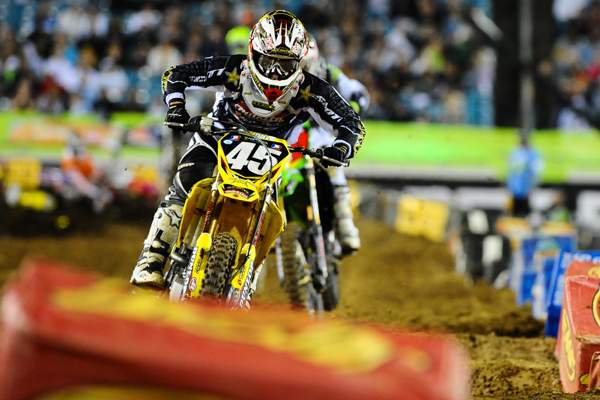 Stroupe had a golden opportunity when Pourcel fell late in the race to make up three more points on the Frenchman. If he had, he would've gone into the final two rounds with only two points separating him and Pourcel, and that would've meant that he controlled his own destiny in the last two races – beat Pourcel, and he's the champ.
However, now he has eight points to make up, which means he's going to have to win and have Pourcel finish second or worse, mathematically. The odds are stacked against him now, it seems.
Share this article:
Did you like this article?
Check out MY LIFE IN MOTORCYCLE RACING
in our Latest issue of Racer X available now.

Jean-Michel Bayle, the iconic superstar of yesteryear, raced motocross for the first time in twenty-one years at the Vets MXdN in England. Page 126.