by
Dr.Crack
Bench Racing Ammo: Night MX in Philly
Friday, June 20, 2008 | 7:49 AM
Tweet
Next Saturday evening, David Clabaugh and his
Thunder Valley MX
crew in Lakewood, CO, will ride into the history books as the first-ever AMA Toyota Motocross Championship race to be held under the lights. With the help of Musco Lighting, Clabaugh will light up his mountainside racetrack as brightly as Musco lights up NASCAR's races.
While this will be a historic first for the AMA Motocross series, it will not be the first time an AMA Pro Racing motocross event was held under the lights and NOT a part of the AMA Supercross Series. In fact, back in September of 1973, a Trans-AMA race was held in John F. Kennedy Stadium in Philadelphia, PA. The race night race marked the second stop on the 12-race Trans-AMA tour that pitted Europe's finest racers against the best Americans. (My mom and dad actually went to this race back in the day so that he could race in the 250cc Support class.) The race followed the '72 Superbowl of Motocross as far as under-the-lights races go, and it predated the Yamaha Super Series (which became the AMA Supercross Championship by one year).
Here's the thing: If the race were held today, it would automatically be considered an AMA Supercross because it fits the definition: a motocross race held in a veue with more than 35,000 permanent bleachers.
While recently digging through the Dick Miller Archives, I stumbled upon two contact sheets from the race. In honor of the big night coming up, here's a look at some of the action from that night almost 35 years ago in Philadelphia…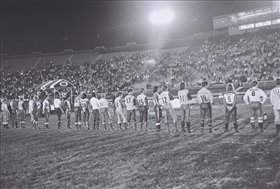 Opening ceremonies saw the riders all line up on the infield of the stadium where the Army-Navy football game used to be played.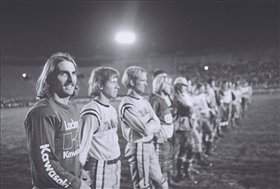 America's top 500cc rider of the time, "Bad" Brad Lackey, anchors one end of the line alongside Team Yamaha's Tim Hart and Pierre Karsmakers, and Honda factory rider Gary Chaplin….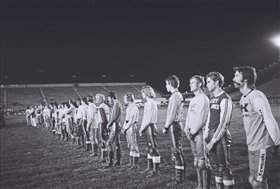 … While Kawasaki factory rider Jim Cooke anchored the other end alongside 250cc National Champion Gary Jones.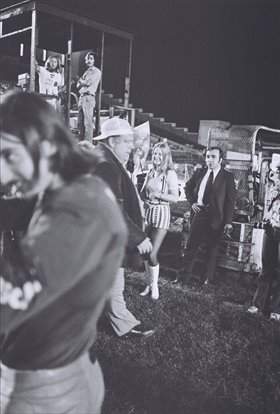 Check out the prehistoric "Monster Girl" standing next to a man who looks a lot like the actor Kevin Spacey!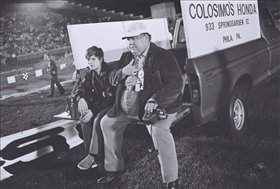 Colosimo's Honda must have been the big sponsor of the event.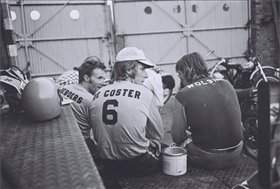 Back in the pits, top Europeans Sylvain Geboers, Suzuki teammate Roger DeCoster, and eventual race winner Gerrit Wolsink do a little bench racing.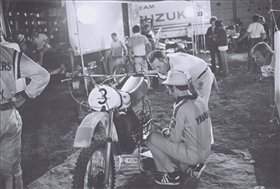 Team Yamaha has come a long way from this setup for Karsmakers' works bike.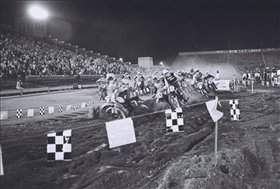 And they're off! DeCoster leads Maico-mounted Gary Jones and Adolf Weil.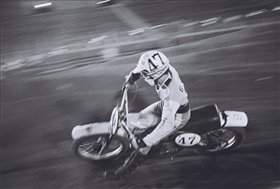 That's Kawasaki factory rider Billy Grossi.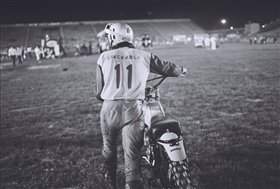 Steve Stackable is out early with a breakdown.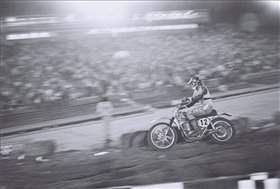 Here's Wolsink powering past the grandstands on his coffin-tanked Maico.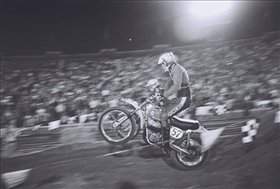 Bultaco-mounted Jim Pomeroy was America's best 250cc rider at the time, though he did most of his racing on the Grand Prix circuit in Europe.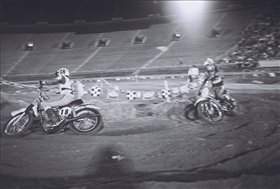 Germany's Willi Bauer leads Pomeroy.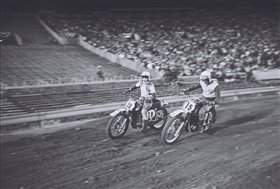 Willi Bauer and Adolf Weil dice on the floor of JFK.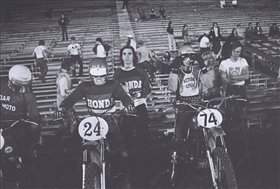 The 250cc Support class starting gate shows Honda rider Rich Eierstadt, his mechanic Roy Turner, and Action Cycle-backed Jon Borg (Action Cycle also sponsored a guy named John Ayers at this race!)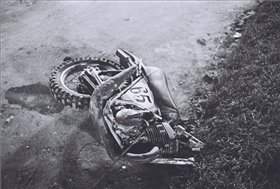 "Jammin'" Jimmy Weinert's Kawasaki after not making it to the finish line! A few weeks later, he would become the first American to win a Trans-AMA race when he won at Rio Bravo in Texas.
Share this article:
Did you like this article?
Check out MONSTERBALL
in our Latest issue of Racer X available now.

Playing soccer on 250cc motorcycles might sound like a strange form of riding, but in Russia they do it with great passion—and for very little reward. Page 112.
Look for the verified symbol
The Conversation