by
Bryan Stealey
Yamaha's Monday Wake-up Call
Monday, June 16, 2008 | 6:21 AM
Tweet
In this article…
Riders
Races
AMA Toyota Motocross Championship: Motocross / Lites • FIM World Motocross: MX1 / MX2 • World Off Road Championship Series: Pro / Pro 2 / Women
AMA Toyota Motocross Championship
presented by FMF
High Point Raceway - Mt. Morris, PA
June 15, 2008
---
FIM MX World Championships
GP of France, St. Jean d'Angely
June 15, 2008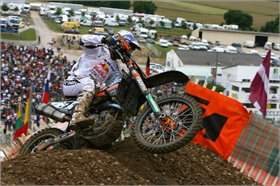 Jonathan Barragan
Ray Archer photo courtesy of KTM
MX1 Race 1
1.
Sebastien Pourcel
FRA
Kawasaki
2.
Josh Coppins
NZL
Yamaha
3.
Jonathan Barragan
ESP
KTM
4.
Tanel Leok
EST
Kawasaki
5.
Max Nagl
GER
KTM
6.
Ken de Dycker
BEL
Suzuki
7.
Clement DeSalle
BEL
Suzuki
8.
Kornel Nemeth
HUN
KTM
9.
Manuel Priem
BEL
Kawasaki
10.
Julien Bill
SUI
Honda
11.
Steve Ramon
BEL
Suzuki
12.
Mike Brown
USA
Honda
13.
David Philippaerts
ITA
Yamaha
14.
Julien Vanni
FRA
KTM
15.
Steve Boniface
FRA
Yamaha
16.
James Noble
GBR
KTM
17.
Tom Church
GBR
Kawasaki
18.
Scott Columb
NZL
Suzuki
19.
Cyrille Coulon
FRA
Yamaha
20.
Alessio Chiodi
ITA
TM

MX1 Start
Photo courtesy of Suzuki

MX1 Race 2
1.
Sebastien Pourcel
FRA
Kawasaki
2.
Josh Coppins
NZL
Yamaha
3.
Steve Ramon
BEL
Suzuki
4.
Marc de Reuver
NED
Honda
5.
Steve Boniface
FRA
Yamaha
6.
Jonathan Barragan
ESP
KTM
7.
Julien Bill
SUI
Honda
8.
Max Nagl
GER
KTM
9.
James Noble
GBR
KTM
10.
Mike Brown
USA
Honda
11.
Ken de Dycker
BEL
Suzuki
12.
Manuel Priem
BEL
Kawasaki
13.
Cyrille Couleon
FRA
Yamaha
14.
Brad Anderson
GBR
Suzuki
15.
Clement DeSalle
BEL
Suzuki
16.
Tom Church
GBR
Kawasaki
17.
Tanel Leok
EST
Kawasaki
18.
Alessio Chiodi
ITA
TM
19.
Kornel Nemeth
HUN
KTM
20.
Scott Columb
NZL
Suzuki
MX1 Points
1.
David Philippaerts
231
2.
Steve Ramon
225
3.
Josh Coppins
212
4.
Sebastien Pourcel
201
5.
Ken De Dycker
200
6.
Jonathan Barragan
185
7.
Max Nagl
161
8.
Billy Mackenzie
159
9.
Marc de Reuver
156
10.
Tanel Leok
151
11.
Clement Desalle
115
12.
Mike Brown
107
13.
Manuel Priem
104
14.
Kornel Nemeth
95
15.
Julien Bill
76
16.
Marcus Schiffer
71
17.
James Noble
65
18.
Aigar Leok
60
19.
Tom Church
40
20.
Kevin Strijbos
36
KTM podium sweep
Ray Archer photo courtesy of KTM

MX2 Race 1
1.
Tommy Searle
GBR
KTM
2.
Jeremy Tarroux
FRA
KTM
3.
Anthony Boissiere
FRA
KTM
4.
Xavier Boog
FRA
Suzuki
5.
Nicolas Aubin
FRA
Yamaha
6.
Tyla Rattray
RSA
KTM
7.
Gregory Aranda
FRA
Kawasaki
8.
Marvin Musquin
FRA
Honda
9.
Manuel Monni
ITA
Yamaha
10.
Jeremy Van Horebeek
BEL
KTM
11.
Jason Dougan
GBR
Suzuki
12.
Loic Larrieu
FRA
Kawasaki
13.
Loic Rombaut
FRA
Kawasaki
14.
Stephen Sword
GBR
Kawasaki
15.
Luigi Seguy
FRA
Kawasaki
16.
Rui Goncalves
POR
KTM
17.
Shaun Simpson
GBR
KTM
18.
Evgeniy Bobryshev
RUS
Yamaha
19.
Joel Roelants
BEL
KTM
20.
Deny Philippaerts
ITA
Yamaha

MX2 Start
Ray Archer photo courtesy of KTM

MX2 Race 2
1.
Tommy Searle
GBR
KTM
2.
Tyla Rattray
RSA
KTM
3.
Antonio Cairoli
ITA
Yamaha
4.
Shaun Simpson
GBR
KTM
5.
Steven Frossard
FRA
Kawasaki
6.
Anthony Boissiere
FRA
KTM
7.
Xavier Boog
FRA
Suzuki
8.
Gregory Aranda
FRA
Kawasaki
9.
Marvin Musquin
FRA
Honda
10.
Nicolas Aubin
FRA
Yamaha
11.
Rui Goncalves
POR
KTM
12.
Loic Larrieu
FRA
Kawasaki
13.
Jeremy Tarroux
FRA
KTM
14.
Luigi Seguy
FRA
Kawasaki
15.
Wyatt Avis
RSA
Honda
16.
Evgeniy Bobryshev
RUS
Yamaha
17.
Alessandro Lupino
ITA
Yamaha
18.
Joel Roelants
BEL
KTM
19.
Manuel Monni
ITA
Yamaha
20.
Deny Philippaerts
ITA
Yamaha
MX2 Points
1.
Tommy Searle
283
2.
Tyla Rattray
279
3.
Antonio Cairoli
263
4.
Nicolas Aubin
185
5.
Shaun Simpson
178
6.
Rui Goncalves
163
7.
Stephen Sword
151
8.
Xavier Boog
151
9.
Manuel Monni
133
10.
Anthony Boissiere
126
11.
Jeremy van Horebeek
120
12.
Marvin Musquin
99
13.
D. Guarneri
97
14.
G. Paulin
95
15.
S. Frossard
92
16.
Jeremy Tarroux
89
17.
Gregory Aranda
83
18.
Joel Roelants
73
19.
Carl Nunn
54
20.
Erik Eggens
51
---
WORCS
Round 6: Prarie City MX, Sacramento, CA
June 15, 2008
Pro Class Results
1.
Ricky Dietrich
Kawasaki
2.
Bobby Bonds
Kawsaki
3.
Kurt Caselli
KTM
4.
Tim Weigand
Honda
5.
Justin Soule
KTM
6.
Sean Collier
Kawasaki
7.
Nathan Woods
Suzuki
8.
Destry Abbott
Kawasaki
9.
Jamie Lanza
Kawasaki
10.
Gary Sutherlin
Kawasaki
11.
Russell Pearson
Kawasaki
12.
Kyle Summers
KTM
13.
Ryan Orr
Suzuki
14.
Damon Huffman
Kawasaki
15.
Dennis Stapleton
Honda
Pro Points
1.
Ricky Dietrich
147

Share this article:

Did you like this article?

Check out THE MOTOCROSS OF 40 NATIONS

in our Latest issue of Racer X available now.

The 2013 FIM Motocross of Nations at Teutschenthal, Germany, hosted teams from a record forty countries. Here's how it played out for each of them. Page 90.